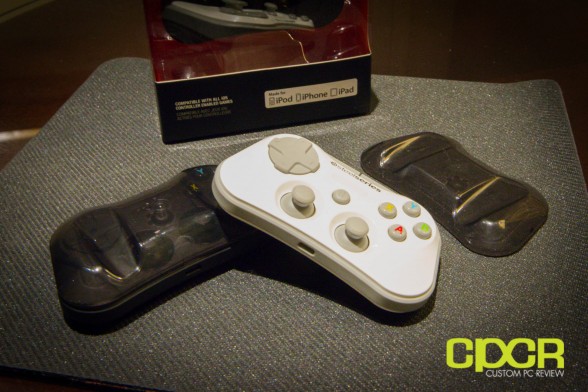 Here at CES 2014, we had the opportunity of checking out two of SteelSeries' latest gaming peripherals – the Stratus Wireless Gaming Controller and the Sensei Wireless Gaming Mouse.
The Stratus is SteelSeries latest attempt at wooing the hearts of mobile gamers. Designed for mobile use and MFi approved for use with iOS devices (iPad, iPod touch, iPhone, etc), the Stratus is looking to bring a whole new level of control experience to mobile devices. Its features include pressure sensitive buttons, dual analogue sticks, and 10+ hours of battery life. The Stratus uses Bluetooth to connect to your device and supports up to four players on one device. It also comes with a protective cover that doubles as a grip when attached to the underside. 
The Stratus Wireless Gaming Controller will be available for pre-order in both black and white variations at the SteelSeries web shop for $99.
Additionally, SteelSeries also introduced the Sensei Wireless gaming mouse for PC gamers. The Sensei Wireless is based on SteelSeries' popular Sensei gaming mouse, except now it loses the cord. The Sensei Wireless comes equipped with an 8200 CPI laser sensor, the signature Sensei ergonomic shell, and brand new SteelSeries Switches which supposedly have a lifespan of over 30 million clicks. Popular features such as on-board memory and customizable LEDs also see a return with the Sensei Wireless and according to SteelSeries, the Sensei Wireless can last up to 20 hours of continuous use on one charge. While 20 hours is pretty good for a wireless gaming mouse, if you still find yourself  running out of battery, the Sensei Wireless can still be connected via a USB cable.
The Sensei Wireless will be available end of Q1 2014 for $159 at the SteelSeries web shop.
http://www.youtube.com/watch?v=H7a10wPI2Q8