Every SSD controller manufacturer was out in full force at FMS this year including JMicron, who showed off three of their controllers catering towards all performance ranges.
JMF815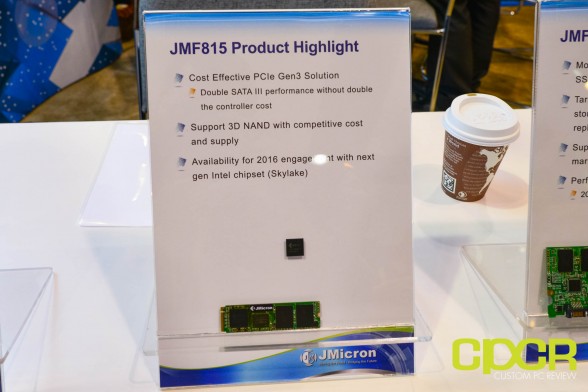 The JMF815 is JMicron's offering for the high-performance market. Utilizing a PCIe Gen 3 x2 interface, the JMF815 can reach speeds up to 1,200/1,000 MB/s sequential reads and writes. Unfortunately, no NVMe support has been announced at this time. Supporting a maximum capacity of up to 2TB, the JMicron JMF815 is expected to support all the latest NAND including 3D NAND from various vendors.
The JMF815 is expected to launch early 2016.
JMF680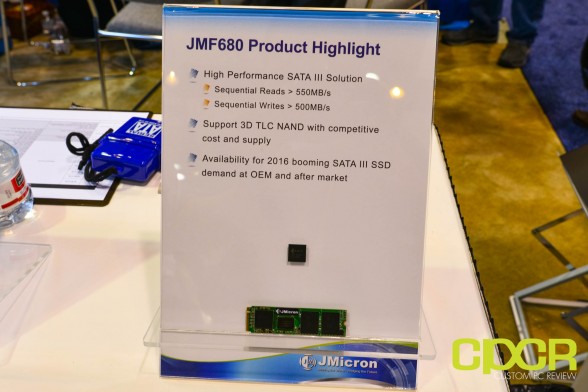 The JMicron JMF680 is the successor to the JMF670H, bringing 3D TLC NAND support. The JMF680 uses the SATA 6Gb/s interface and can support capacities of up to 2TB. In terms of performance, the JMF680 can achieve a sequential read/write performance of 550/500 MB/s sequential reads/writes. It also uses JMicron's "Advanced ECC" algorithm to boost reliability.
The JMF680 is expected to launch in 2016.
JMF60F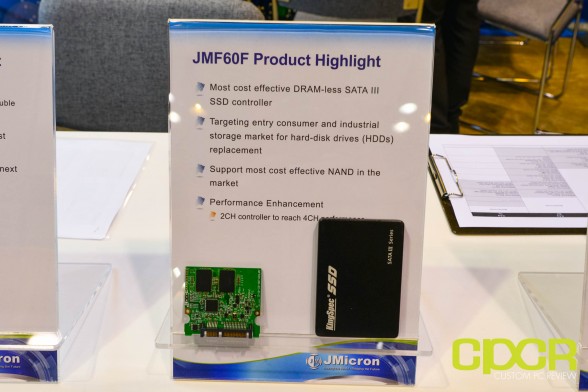 The JMF60F is a SATA 6Gbit/s controller designed to replace JMicron's JMF608 released in 2013. Targeted towards the entry level and embedded market, the JMF608 focuses heavily on cost efficiency with its DRAM-less design. Although it uses just two channels, JMicron claims that it can compete with the four-channel solutions offered by other manufactures.
The JMF60F supports the latest 1x/1y/1z nm MLC and the ONFI 3.0 and Toggle 2.0 standards. In terms of performance, the JMF60F can achieve a sequential read/write performance of 510MB/300MB/s and a 4K random read/write performance of 17.5K/26.9K IOPS.
Write Booster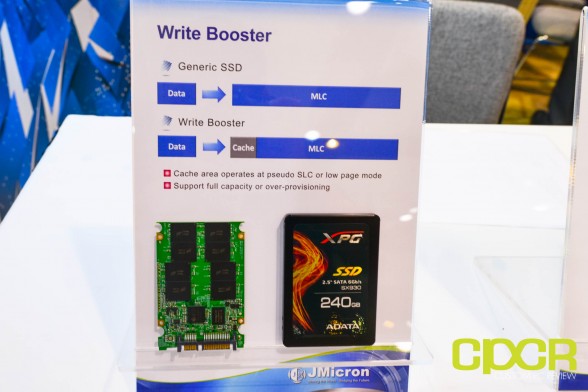 JMicron also showed off their Write Booster technology which is essentially a device level caching technology designed to improve SSD performance. Similar to solutions we've seen from other vendors, JMicron's solution turns a portion of main MLC into pseudo-SLC mode which then acts as a write cache for the drive, speeding up write performance for cached files. ADATA's XPG SX930 featuring the JMF670F controller already features this technology.