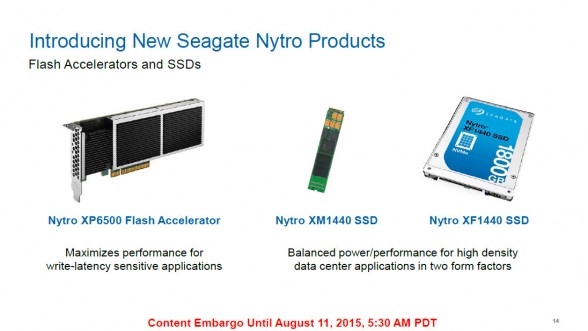 For FMS 2015, Seagate recently introduced a full lineup of Nytro SSDs including the Nytro XP6500, Nytro XM1440 and the Nytro XF1440.
Nytro XP6500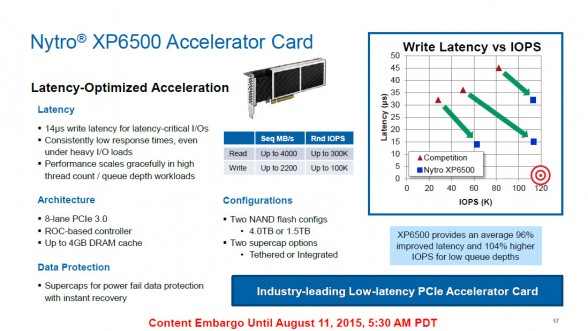 The first product is the Seagate Nytro XP6500 accelerator card which is designed for application acceleration. Powered by a ROC based controller capable of supporting a PCIe Gen 3 x8 interface and up to a 4GB DRAM cache, the Seagate Nytro XP6500 is capable of performance up to 4,000/2,000 MB/s sequential reads/writes and up to 300,000/100,000 IOPS 4K random reads/writes with latencies of just 14μs.
The Seagate Nytro XP6500 will be available in capacities of up to 1.5TB or 4.0TB either with integrated or tethered supercap power loss protection. The Segate Nytro XP6500 is currently shipping.
Nytro XM1440, XF1440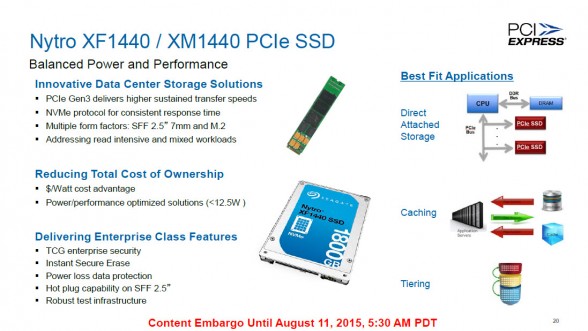 The next two products is the Seagate Nytro XF1440 and the XM1440, which identical, but in two different form factors. With these two Nytro SSDs, Seagate is focusing on reducing TCO while still delivering top notch performance for read intensive and mixed workloads.
The XF1440 will come in the 2.5″ 7mm SFF form factor while the XM1440 will come in the M.2 form factor. Utilizing a Marvell 88SS1093 "Eldora" controller paired with eMLC NAND, the XF1440/XM1440 will be capable of up to 2,700/1,200 MB/s sequential reads/writes and up to 200,000/34,000 IOPS 4K random reads/writes for their endurance optimized drives while capacity optimized drives will offer sequential read/write performance up to 2,700/1,200 MB/s and 4K random read/write performance up to 200,000/7,000 IOPS.
One of the major benefits for the XM1440/XF1440 is its active power draw. According to its specs, the XM1440/XF1440 has an average active power draw of just 9W.
The Seagate Nytro XF1440 will launch at the end of October with the XM1440 to come early 2016.