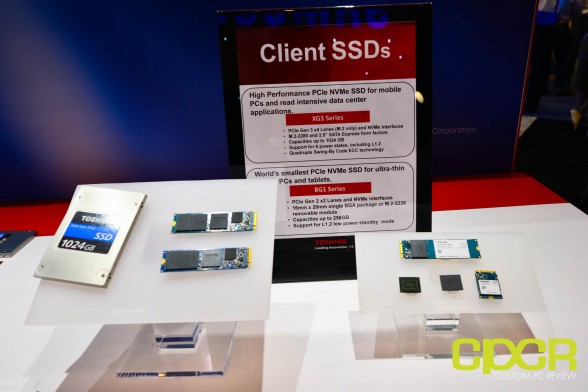 FMS was a huge show for Toshiba this year and at their booth, they showed off several new NVMe-based PCIe and SAS SSDs for both their client and enterprise storage lines.
The Toshiba XG3 SSD family is designed for high-performance notebooks and PCs. Utilizing a Toshiba branded controller (likely a jointly developed controller with Phison) along with Toshiba 15nm MLC, the XG3 is capable up to 2,400/1,500 MB/s sequential reads/writes thanks to its PCIe Gen 3 x4 NVMe interface. As usual, Toshiba also brings their proprietary QSBC (Quadruple Swing-By Code) ECC algorithms.
Maximum capacity on the XG3 is 1TB with a dual sided M.2 2280 form factor drive. As a client SSD, the XG3 also supports up to 6 different power states, with the lowest being L1.2 (DevSleep). So it's no suprise that it's compliant with the TCG Pyrite power specifications.
The XG3 family will be available in the M.2 2280 PCIe and 2.5″ SATA Express form factors. No word on availability at this time.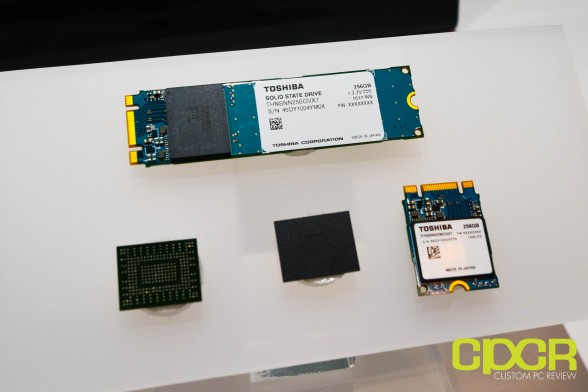 Along with the high performance XG3 client SSD, Toshiba also announced a high performance Toshiba BG1 series of SSDs designed for notebooks and tablets. Utilizing a Toshiba branded controller (once again probably a co-developed controller with Phison) along with Toshiba's 15nm MLC, Toshiba claims that the BG1 series SSDs will be the world's smallest NVMe SSDs, available in M.2 1620 BGA, M.2 2230, and M.2 2280 form factors. The BG1 series SSDs will have a maximum capacity of 256GB. The BG1 family is also ultra power efficient, supporting TCG Pyrite power specifications.
No word on availability of the BG1 series SSDs just yet.
In addition to several new client SSDs, Toshiba also introduced the PX04P and PX04S enterprise SSDs for enterprise and datacenter applications. Although not the fastest drive in the world, Toshiba claims that the PX04P has the lowest active power in the industry and is capable of 680K IOPS in sustained 4K random reads utilizing just 18W power. It can also retain the same level of performance when power is scaled down to 12W. This is quite impressive as most enterprise solutions on the market today utilize up to 35w power for similar performance. The PX04P will support a PCIe Gen 3.0 x4 NVMe interface, and is available in both HHHL and 2.5″ SFF form form factors.
For severs that use SAS drives, Toshiba also displayed the PX04S dual SAS 12Gbit/s SSD which was announced several weeks ago.
Manufacturer
Toshiba
Model
PX04P
PX04S
Form-Factor
HHHL/2.5″ 15mm
2.5″ 15mm
Controller
Unknown Toshiba
Unknown Toshiba
NAND
Toshiba A19nm MLC NAND
Toshiba A19 19nm MLC NAND
Capacity
Up to 4 TB
Up to 3.8 TB
4K Random Read
Up to 680K IOPS
Up to 270K IOPS
4K Random Write
Up to 160K IOPS
Up to 145K IOPS
Interface
PCIe Gen 3 x4
Dual SAS 12Gb/s
Warranty
5 Years
5 Years
Toshiba had a few demos running for its PX04P and PX04S drives. The PX04P achieved 685K  IOPS in sustained 4K random read while the PX04S managed to edge out 150K IOPS.