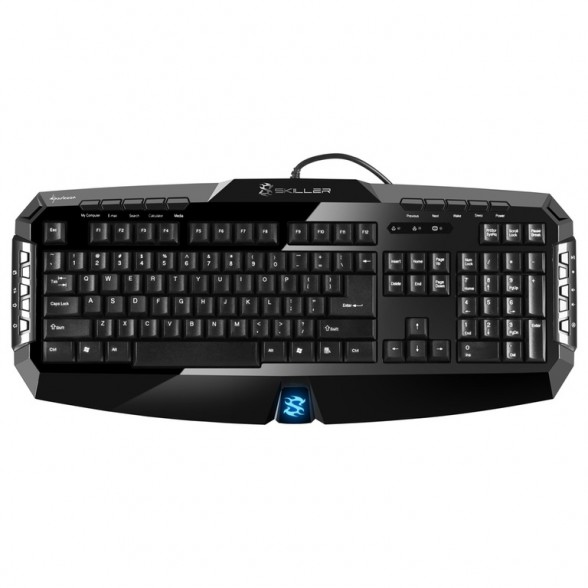 As gamers, we're all accustomed to dropping a hundred bucks or more to get their hands on an amazing gaming keyboard. While it seems like every company is out there trying to find ways to charge more and more, there are companies out there who try their hand in the budget market. After all, not everyone can drop $100+ on a fully backlit mechanical gaming keyboard.
Earlier, German gaming peripherals company, Sharkoon introduced their new Skiller gaming keyboard which does just that.  Featuring a full 107-key QWERTY layout, twenty multimedia keys (that double up as Windows 7-compatible quick-access keys), eight swappable gaming keys, and 18-key rollover, the keyboard isn't short on features either. Additionally, users will be able to create up to ten macro profiles that can be stored locally on the keyboard. The WASD keys are interchangeable with haptic ones, which will allow even easier access to the all important WASD keys for first and third-person action games. Furthermore, the twenty multimedia keys are split into three sub-levels located on the left, right, and top sections of the gaming keyboard.
So you're asking, what kind of pricing are we looking at? Well, Sharkoon announced that the Skiller gaming keyboard will be sold for a mere 14.99 Euros, which is roughly about $19 US dollars.
Anybody interested in seeing if this keyboard can match up with its price tag? Leave a comment below!
Source: Sharkoon