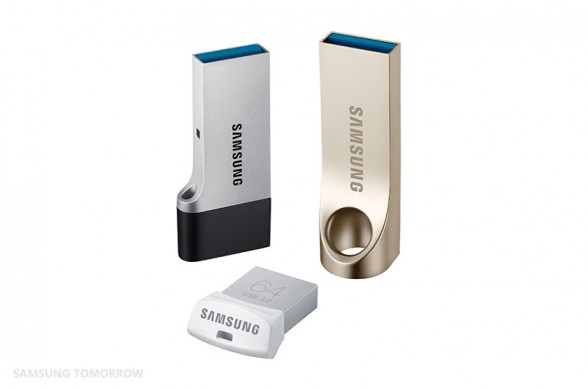 Over the past few years, Samsung has been aggressively pushing into the consumer storage market. Several years ago, Samsung first introduced branded SSDs which saw huge success, claiming well over 50% market-share within a couple years. This was then followed by memory cards and external SSDs.
Now, Samsung is pushing into the branded USB Flash Drive (UFD) market with three new flash drives.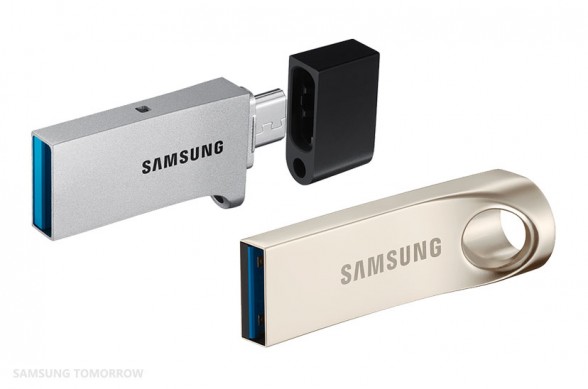 The first is what Samsung calls the USB 3.0 "Bar" flash drive (lower right in the image above). Utilizing a USB 3.0 interface and all metal construction, the Samsung Bar flash drive measures in at just 40mm long, weighs under 9 grams, and is only available in super fancy "champagne".  The Samsung Bar flash drive will be available in capacities of 16GB, 32GB, and 64GB, and will be capable of sequential read speeds of up to 130MB/s.
The second is the Samsung USB 3.0 Duo flash drive (upper right in image above). Just like the Bar flash drive, the Duo flash drive utilizes a USB 3.0 interface which supports performance up to 130MB/s, but also includes a micro USB 2.0 interface for Android OTG support. The Samsung Duo also features all metal construction, measures in at just 37mm long and weighs in at under 6 grams. The Samsung Duo will be available in capacities of 32GB and 64GB.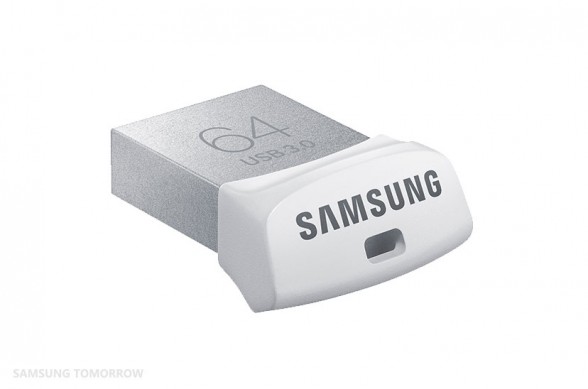 Finally, Samsung also launched the Samsung USB 3.0 FIT flash drive, designed for ultraportables and automotive applications. This is Samsung's most compact flash drive measuring in at under 20mm long and weighing just over 2 grams. Despite its diminutive size however, the FIT is still capable of sequential read performance up to 130MB/s. The Samsung USB 3.0 FIT will be available in capacities of 32GB and 64GB.
All of Samsung's new USB flash drives will utilize Samsung in-house NAND and will be covered by a 5 year warranty as well. It'll also be covered by Samsung's 5-Proof technology which guarantees each drive to "withstand up to 72 hours in seawater and survive operating temperatures from -0°C to 60°C (32°F to 140°F). Data stored on the drives will not be affected by standard airport X-ray machines or extreme levels of shock up to 1,500g (gravitational force), and can resist up to 15,000 gauss magnetic force, which is the equivalent of a high-field MRI scanner."
Samsung's new UFDs will be available globally soon if not already. For those who need higher capacities, Samsung will also introduce 128GB UFDs later this year.