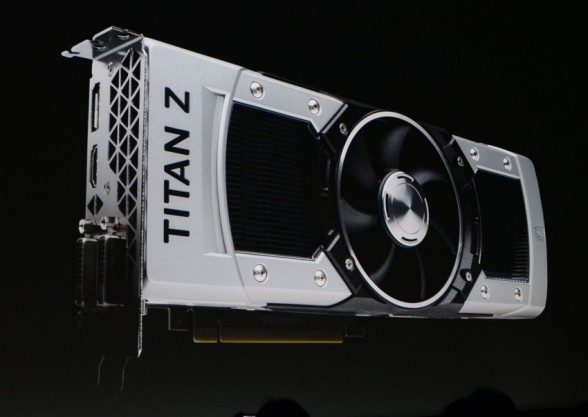 It looks like there's a new super GPU solution in town as Nvidia recently announced the GeForce GTX Titan Z at their annual GPU Developer's Conference in San Jose. The GeForce GTX Titan Z is a dual GPU solution equipped with 12GB 7Gbps GDDR5 memory, 5760 CUDA cores, and 8 Teraflops of pure processing power. Essentially, it's like having twin Titans optimized to run with the same clock speed with dynamic power balancing for some supremely amazing graphics processing performance.
Of course with great performance does come great price and the Nvidia GeForce GTX Titan Z will be priced at around $3000 when it launches sometime in April. Nvidia is aiming the new GeForce GTX Titan Z at users looking to do next generation 5K and multi-monitor gaming with no compromise in performance.
"If you're in desperate need of a supercomputer  that you need to fit under your desk, we have just the card for you," Jen-Hsun Huang, Nvidia CEO.