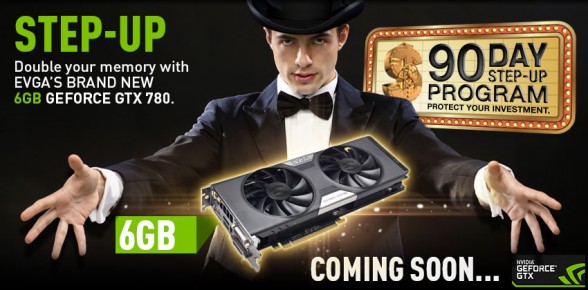 It looks like the GeForce GTX Titan can no longer claim to be the only single Nvidia GPU carrying 6GB of VRAM any longer. EVGA has recently announced the arrival of a couple new GeForce GTX 780 variants carrying 6GB of GDDR5 VRAM. The 6GB variants will launch with either Nvidia's reference cooler design (GeForce GTX 780 SC) or EVGA's own ACX cooler design (GeForce GTX 780 ACX). Like all GeForce GTX 780s, the GPUs come with 2,304 CUDA cores and a 384-bit memory bus however, the new 6GB GeForce GTX 780 SC 6GB with the reference design cooler will come in clocked at 941 MHz core (993MHz boost) while the 6GB GeForce GTX 780 ACX edition will be clocked at 967MHz (1,020MHz boost).
For those loyal EVGA fans out there who recently purchased an EVGA graphics card, EVGA is sweetening the deal by making these 6GB GeForce GTX 780s a part of their "Step-Up Program". If you purchased an EVGA Graphics Card within the past 90 days, you have the option of trading up for a  new EVGA GeForce GTX 780 6GB graphics card – given that you pay the price difference, of course.
Exact pricing is currently unknown at this time however, EVGA expects the cards to start at $550 and should be available shortly.
Source: EVGA