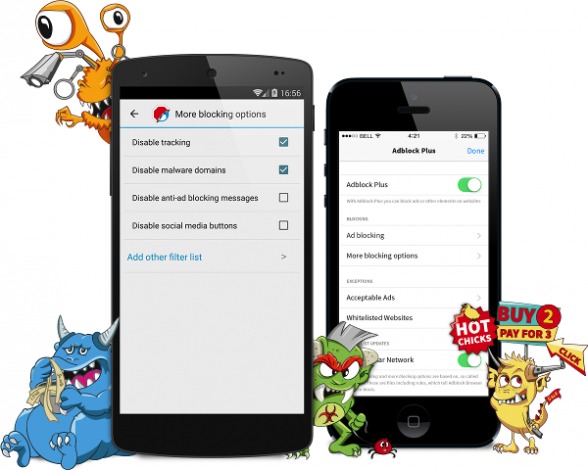 Adblock Plus has released the Adblock Browser for Android and iOS devices. Its release marks the first appearance of Adblock Plus in two and half years in the Google Play Store. It's also released ahead of Safari's ad blocking feature that will be introduced in iOS 9.
The new browser aims to help users reduce mobile data usage, save battery power, and improve performance and security. According to Adblock Plus, ads can consume up to 23% of your phone's battery. They are also good tools to hide malware and malicious code.
Adblock Plus has a rocky history with Google. In March of 2013, Google deleted AdBlock Plus from the Google Play Store on the grounds othat it "interferes with or accesses another service or product in an unauthorized manner". This was seen as a huge breach of trust to the Android community. Users were required to download the APK through Adblock Plus' official site to receive updates. Not long after, Adblock Plus developed an auto update feature independent from the Google Play Store. While that eliminated the need of manual updates, there was no fix for the reduction of exposure Adblock Plus suffered due to the removal.
Adblock Plus' dealings with Apple is another story. The Adblock Browser was released before the release of iOS 9, which will most likely feature ad blocking for its Safari browser. The Adblock Browser for iOS is built on top of Salsita's Kitt browser, which features the same extension framework as Google Chrome. According to Salsita this framework is more powerful than the one natively supported by Apple and takes advantage of standard web technologies.
You can find and download the Adblock Browser in the Apple App Store and the Google Play Store.
Source: Adblock Plus