Warning
: Undefined array key "width" in
/var/www/vhosts/custompcreview.com/public_html/wp-includes/media.php
on line
1381
Warning
: Undefined array key "width" in
/var/www/vhosts/custompcreview.com/public_html/wp-includes/media.php
on line
1386
Warning
: Undefined array key "height" in
/var/www/vhosts/custompcreview.com/public_html/wp-includes/media.php
on line
1386
Warning
: Undefined array key "width" in
/var/www/vhosts/custompcreview.com/public_html/wp-includes/media.php
on line
1381
Warning
: Undefined array key "width" in
/var/www/vhosts/custompcreview.com/public_html/wp-includes/media.php
on line
1386
Warning
: Undefined array key "height" in
/var/www/vhosts/custompcreview.com/public_html/wp-includes/media.php
on line
1386
Warning
: Undefined array key "width" in
/var/www/vhosts/custompcreview.com/public_html/wp-includes/media.php
on line
1381
Warning
: Undefined array key "width" in
/var/www/vhosts/custompcreview.com/public_html/wp-includes/media.php
on line
1386
Warning
: Undefined array key "height" in
/var/www/vhosts/custompcreview.com/public_html/wp-includes/media.php
on line
1386
[section label=1. Introduction]
Good Sound, Inexpensive Headphones. Possible?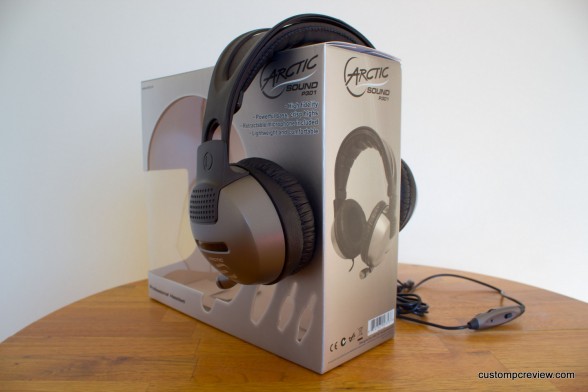 Most of us know ARCTIC as Arctic Cooling only, so for the most part, I was actually quite surprised to find that while ARCTIC is most renowned for their cooling products, they actually make other stuff – quite a bit of other stuff, actually.
For those have taken a look at the ARCTIC website lately, you'll find that ARCTIC actually dabbles in practically everything, and over the past couple of years ARCTIC has introduced products from headsets to mouse surfaces to even remote-controlled vehicles. True story. They've even created a gaming console to try their hand in the gaming industry. Not sure how well that's doing, but that'll be another discussion for another time.
Today, we'll be taking a look at the ARCTIC Sound P301 Headset. This headset is actually one of ARCTIC's mid range offerings despite the line at the bottom left of the box suggesting that it's a "professional headset". In terms of features, the P301 carries two high fidelity 50mm drivers, circumaural cups, a retractable microphone, in-line volume control, and gold-plated 3.5mm connector.  ARCTIC claims that this  headset will offer uncompromised sound details and dynamics, maximum comfort and noise isolation, and is ideal for voice applications.
So far it "sounds" like a winner. (No pun intended) Let's find out how well it performs!
Specifications
| | |
| --- | --- |
| Frequency Response (Hz-kHz) | 12-24 |
| Dimensions (Packaging) | 260 L x 237 W x 100 H mm |
| Impedance (ohm) | 32 |
| Sensitivity (dB/mW) | 97 |
| Driver Unit (Ømm) | 50 |
| Output Power (mW) | 40 |
| Plug | Gold-plated 3.5mm x2 |
| Cable | 2.5 |
| Limited Warranty | 2 years |
| itemnumber | ORACO-ERM26-GBA01 |
| UPC | 0872767003538 |
| Gross Weight | 0.52 kg |
[section label=2. A Closer Look]
A Closer Look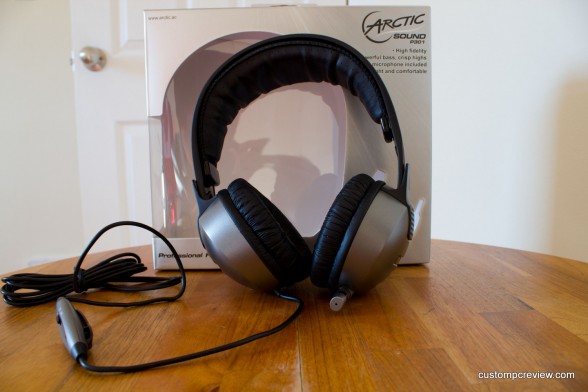 You're probably looking at this picture and wondering "where are all the accessories?" Well, you are looking at it. The sample I received from ARCTIC included pretty much nothing but the headset itself. Talking about packing light. The big bundle of cabling connected to the right ear cup measures in at about 2.5m long, or about 8.2-ish feet.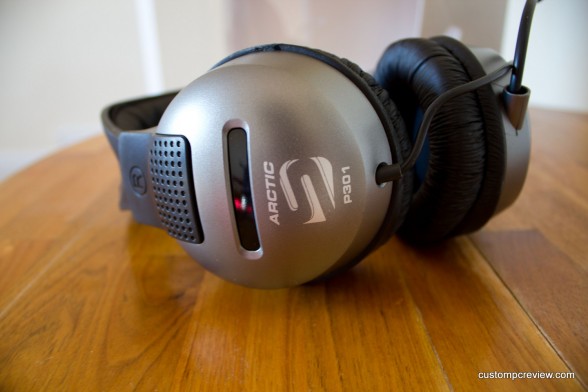 As expected of a budget headset, the P301 features an all plastic construction. The ear cups are much larger and bulkier than one may expect, and features nothing but the ARCTIC logo. The ear cups also received a nice matte finish to reduce fingerprints. Despite their size, the headset is pretty light weight. Sitting at only 225g, it shouldn't cause any fatigue in the user's neck even after extended use.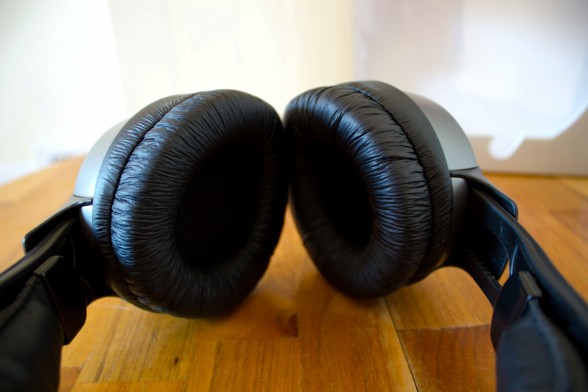 The two ear cup cushions are quite thick and is covered by a thin layer of pleather-like material. The fillings of the ear cups are a little stiffer than I'd have liked.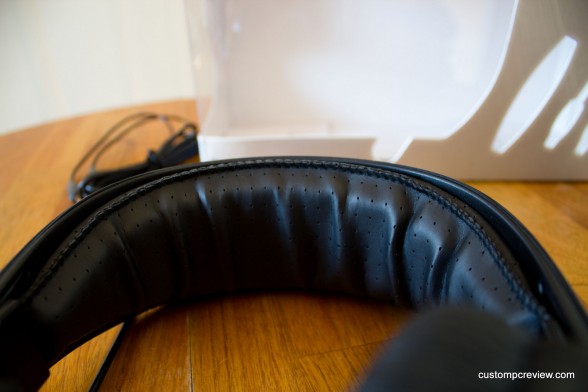 The padding on the headrest is not as thick as the padding on the ear cups and are even stiffer. The entire length of the headset is covered by synthetic leather with ventilation holes to keep the top of your head cool during long periods of use.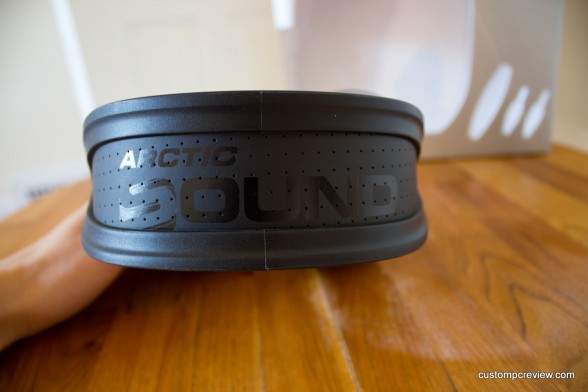 The top of the headset features the ARCTIC Sound logo and ventilation holes directly connected to the ones on its backside. It's also covered by synthetic leather and is stitched together with the underside. The compromise in quality can be evidently seen here as we can clearly see where the two plastic pieces meet. Maybe it's for tyle? Who knows.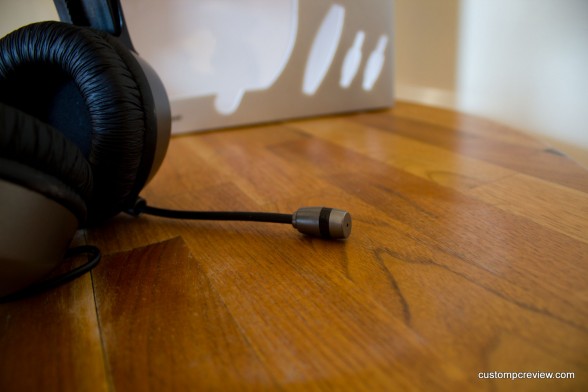 The P301 features a retractable mic that can be pushed into the left ear cup when not in use. (Think SteelSeries headsets) This will definitely come in handy when you don't need a microphone floating in your face.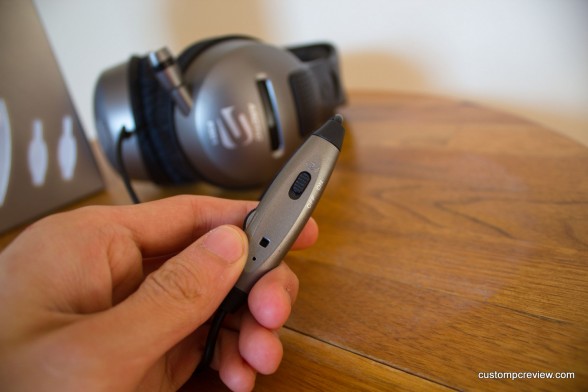 The inline volume control is a nice touch. The control dongle features a mic on/off switch and a simple volume adjustment wheel. It even has a clip on the back to clip on to your shirt convenient locating and more importantly keeps the cable from swinging all over the place.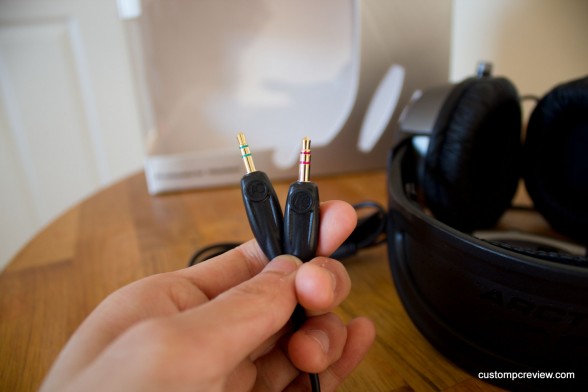 The P301 uses two gold-plated 3.5mm connectors – one for audio and one for the microphone. This means that it will use analogue signals and will probably benefit from a decent sound card.
[section label=3. Performance]
Performance
Test 1: Gaming
The P301 performed decently well in gaming. While playing EA's Battlefield 3, I was able to clearly hear my enemy's footsteps, and gunfire sounded crisp and satisfying. Environmental sounds were clean and clear, too. But what's even more amazing is that there was no static or sound distortion even during intense firefights with grenades going off all around you. The P301 definitely performed beyond my expectations in this test reaffirming ARCTIC's decision to use 50mm drivers in the headset.
Test 2: Movies
Movies were very enjoyable with the P301. In Mission Impossible 3 the P301 was able to output exchanges of dialogue between characters very well. The explosions in intense action scenes sounded just a tiny bit lacking, but satisfying non the less. Also, similar to the gaming test, there was no distortion in sound.
Test 3: Music
Music was actually quite good. No drowning out of sounds was detected even when percussion is beating full on, and at high-end there was no static or noise. The mids were a bit weak, and so is the bass. For the audiophiles in the room, I did some bass testing on YouTube and the headset was able to output up to 32Hz. Not too bad, but I've seen better.
Comfort
Comfort was a mixed bag for me. Although the earcups was able to accommodate my ears very well, there was a  small gap measuring about 1cm between the area under my ear and the ear pad. This is an issue as this allows sound leakage, which reduces the quality of sound. Since I have a small head, this may be an issue for others with smaller heads. Otherwise, the headset was actually quite comfortable. The thick ear pads were a bit stiff, but they were still quite comfortable throughout testing. After long-term use however, my ears felt a bit warm, but this is to be expected from leatherette earpads. This was easily alleviated by lifting up the ear cups for a few seconds. Most of you probably know exactly what I'm talking about as you've at some point used headphones with leatherette earpads. Weighing in at only 520g, the headset did not put any strain on my neck even after extended use.
Microphone
The P301's microphone was decent. It did not produce any unwanted sounds while I chatted on Skype with our Editor-in-Chief, Sam, nor did it miss a beat when I ranted incessantly to my teammates in TeamSpeak. Its only flaw is that it doesn't cancel out background noise very well. Both Sam and my teammates noted that they could clearly hear the clacking of my keyboard and clicking of my mouse while I spoke, so if you are looking to use the P301's microphone in a conference, make sure you're not in a loud place or furiously smashing keys on your keyboard.
[section label=4. Conclusion]
Conclusion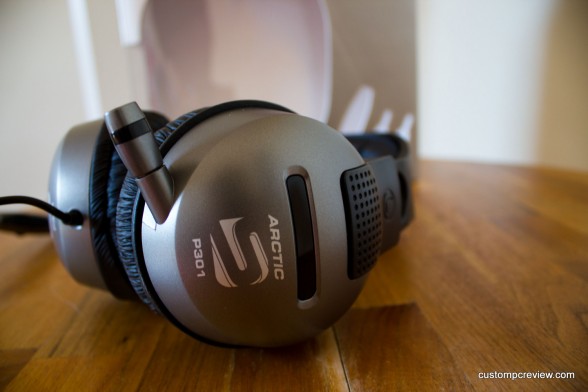 No, the Arctic Sound P301 isn't going to become the new king of the hill when it comes to headsets, but for the price it's probably one of the best budget headsets out there. Overall, the P301 is a very balanced headset (not bass or treble boosted), that definitely made movies and games quite enjoyable. Even with the volume cranked up, when the screen was filled with yelling and explosions I didn't notice any distortions or static – something you'd typically find on headsets of this price range. I know most of you know exactly what I'm talking about (simply crank up the volume on a cheap headset if you don't) and I'm confident that's because of ARCTIC's decision to drop in larger, 50mm drivers instead of cheap 30mm drivers. While it should be noted that driver size isn't everything when it comes to sound quality, in my experience larger drivers typically will deliver a deeper bass response and cleaner treble.
The padding used on the eacups and the headrest was quite stiff, but were fairly comfortable to wear, causing almost no fatigue after continuous use. Although not braided, the cable feels long and durable so it should be able to handle at least several run-over's by your chair. The microphone quality is decent as well, producing clear and strong sounds in Skype as well as TeamSpeak (just keep your hands off your keyboard and mouse). What's most impressive about this headset though is the price. Currently, you can find the P301 for only $21.95 on Amazon with ARCTIC's MSRP on the headset set at only $24.99. So, 50mm drivers, gold-plated connectors, decent microphone and sound quality for only $22 bucks? You'd be hard pressed to find a headset with a comparable price tag that can match it. Believe me, I've looked.
However, the headset isn't all rainbows and unicorns as it does still have its weak points. I'd say its biggest downside is probably its construction quality. While many headsets use plastic, I've typically had bad experiences when the hinges are plastic as that point tends to break quite easily. While it's to be expected that a cheaper headset will be built from less durable materials, I'd like to see better construction quality since a broken headset isn't going to be much use no matter the price point. As mentioned earlier, there's also that area at the top of the head rest. Just doesn't scream high quality to me. Additionally, this headset might not fit so well on people with small heads. Although the headset fit around my ears comfortably and without issue, there's a small gap between the back of my jaw and the ear pads. This resulted in a bit of sound leakage which reduced the headset's noise insulation capabilities and of course, caused a slight decrease in sound quality when I'm not physically pressing the headset up against my head.
Bottom Line
Overall, the headset matches its price quite well then gives you a bit on top of that. If you've got good speakers and are just looking for something inexpensive for occasional Skype conferencing or some light gaming/movies, I'd definitely check this out. While I'm still not convinced that the sacrifices made in quality here is worth the cost savings, I still think this headset is among the best in the under $25 category; and it won't even cost you $25 either. Even better.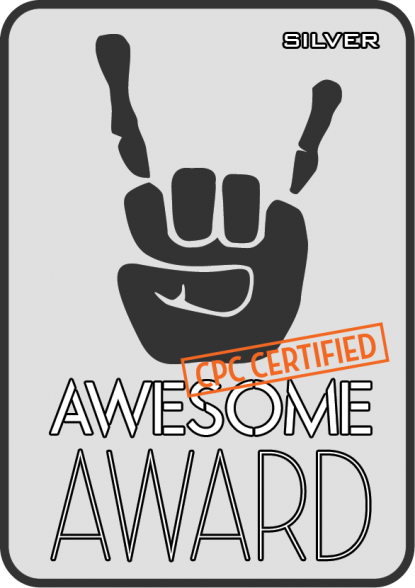 Special thanks to ARCTIC for making this review possible.
The ARCTIC Sound P301 Professional Headset is currently available on Amazon.