[section label=1. Introduction]
Razer's First Ever Gaming Sound Bar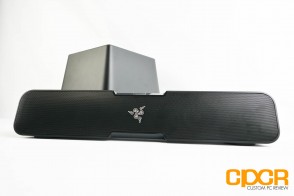 Over the past couple years, I'd have to say that I've become pretty impressed with Razer. Despite being a relatively small, privately owned gaming peripherals company, they've successfully managed to enter and reinvigorate a number of product markets that have stagnated for a long time. A perfect example of this is the gaming notebook market where Razer not only helped renew and reinvigorate the market, but also spurred development in the industry as a whole.
One market Razer abandoned several years ago is the premium PC gaming speaker market and it looks like they're ready to finally jump back in. Back in 2008, Razer introduced their first premium gaming speaker, the Razer Mako, which was fairly well received however, Razer silently discontinued the product several years later. As such, Razer was lacking a premium desktop speaker offering until now.
Dubbed the Razer Leviathan, Razer's latest gaming speaker is unique in that uses a sound bar design rather than the traditional 2.1 or 5.1 channel speaker designs we've become accustomed to. Razer's given us the opportunity to review the new Leviathan, let's go ahead and take a closer look!
Razer Leviathan Specifications
| | |
| --- | --- |
| Manufacturer | Razer |
| Model | Leviathan |
| Type | Sound Bar + Subwoofer |
| Connectivity | 3.5mm Analog, Optical |
| Wireless Technology | Bluetooth 4.0, NFC |
| Audio Codec | AAC, aptX |
| Sound Bar Specifications | |
| Power Output | 30W (15W x 2RMS) |
| Full Range Drivers | 2 x 2.5″ / 63.5mm |
| Tweeter Drivers | 2 x 0.74″ / 19mm |
| Impedance | 8Ω |
| Frequency Response | 180Hz – 20KHz |
| Weight | 4.4lbs / 2Kg |
| Subwoofer Specifications | |
| Power Output | 30W RMS |
| Full Range Drivers | 5.25″ / 133mm |
| Impedance | 8Ω |
| Frequency Response | 20Hz – 180Hz |
| Weight | 5.1lbs / 2.35Kg |
| Check Pricing | Click Here |
[section label=2. A Closer Look]
A Closer Look at the Razer Leviathan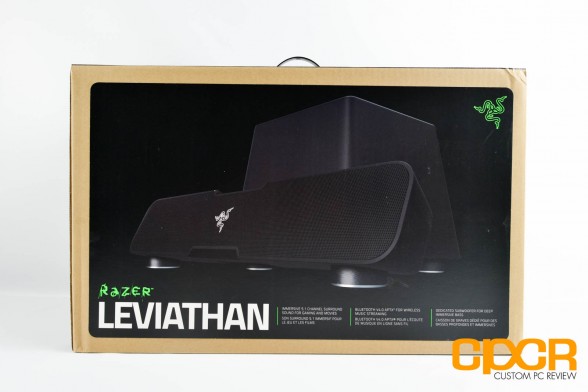 Here's a look at the packaging for the Razer Leviathan 5.1 Channel Surround Sound Bar.
Included in the packaging we get some documentation, the usual set of Razer stickers, an AC power adapter, optical cable, 3.5mm to 3.5mm audio cable, two sets of feet, and the Leviathan sound bar along with the Leviathan subwoofer.
Here's a closer look at the Leviathan sound bar. It's a fairly small, fairly stylish sound bar measuring in at 19.7″ wide, 3″ tall and 2.8″ deep weighing in at ~4.4lbs. The entire unit is constructed primarily of plastic.
At the top of the sound bar there's a large power button along with your usual set of speaker controls (volume up/down, mute, source switch, and Bluetooth). Additionally, there's also a Dolby button and a preset button. The Dolby button engages Dolby Pro Logic II which uses Dolby algorithms to expand stereo audio to 5.1 channel audio. There's also a preset button which optimizes the sound bar's sound profile for either gaming, music, or movies.
At the front of the unit there's a speaker grille that protects the drivers and tweeters behind it. Razer has also included their iconic logo up front to let everyone know exactly what you've got.
At the rear of the unit you get all the I/O ports. Razer makes it pretty simple as it only includes a 3.5mm input, optical input, DC in and a proprietary subwoofer out. There's also hanging points in the back for those looking to wall-mount the sound bar.
Finally at the bottom, Razer includes two slots designed to accommodate the two sets of feet provided.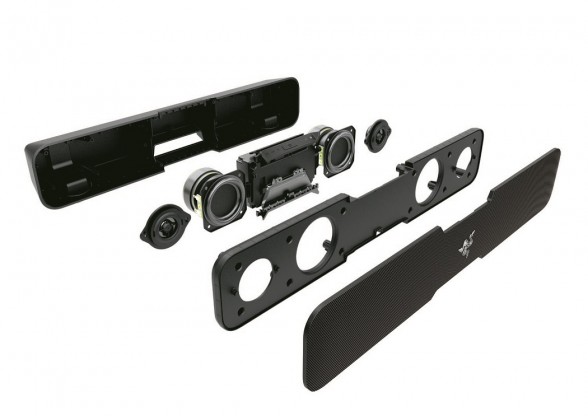 Since the sound bar is glued together, we couldn't take it apart without destroying the unit. That said, Razer does offer a nice exploded view of the sound bar. We can see here that Razer is using two 0.74″ tweeters along with two 2.5″ full range drivers.
Along with the Leviathan sound bar is the Leviathan subwoofer, which is fairly small for a subwoofer (the Leviathan subwoofer weighs in at a mere ~5.1lbs). It uses a ported design and a 5.25″ down firing driver. It also uses an interesting proprietary cable which delivers both power and audio to the subwoofer. Unfortunately this also means that if the connector or the cable breaks, you'll probably need to contact Razer to get that fixed.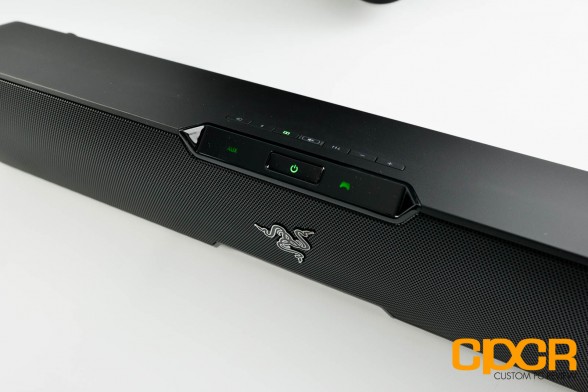 When powered on, LED indicators will let you know which input and which audio preset has been selected. Several buttons are backlit as well including the power, mute, and Dolby buttons which indicate their status.
[section label=3. Performance & Conclusions]
Razer Leviathan Performance & Conclusions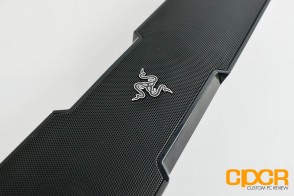 Out of the box, setting up the Razer Leviathan is incredibly easy. To get started, there's really just two wires to connect – the power and the subwoofer. Then it's just a matter of either connecting to the Leviathan via 3.5mm in, optical in, or Bluetooth. This gives the Leviathan the capability of interfacing with pretty much every PC, gaming console, tablet, smartphone, etc. on the market.  To make things even easier, the Leviathan also includes NFC support for easy pairing with host devices that include the capability. There's no software needed with the Leviathan.
Sound quality on the Razer Leviathan is acceptable although it's clearly designed for mass market rather than audio enthusiasts. As usual for a Razer audio product, the Leviathan is tuned to heavily favor bass which is great for users who favor this style of audio profile. In the past couple weeks testing the Leviathan, I spent quite a bit of time playing Far Cry 4, and it provided a very enjoyable experience, filling my room with explosions and rumbling of heavy machinery that was not only heard, but felt as well. Unfortunately, the enjoyable experience quickly changed when I popped in some vocal heavy music. Razer's overdone bass on the Leviathan caused sound in the mid to high ranges to sound unnaturally deep and muddled.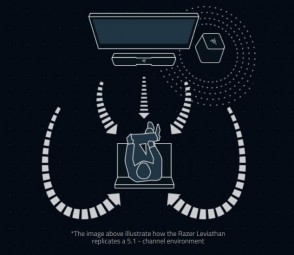 One of the big features of the Razer Leviathan is simulated 5.1 surround sound through various Dolby technologies. Although Razer's marketing department would like you to think the Leviathan has the ability to bend soundwaves to reach your ears in a true 5.1 surround sound way, in actuality it's very difficult to get to work right. First, in order to get virtual speaker to work properly, the sound bar needs to be placed in a room where sound waves can properly bounce off the walls. This means rectangular or square rooms with the sound bar placed somewhere near a wall in the center of the room is ideal. Second, you'll need to sit somewhere in the middle of the room to allow soundwaves to properly bounce to your ears. Then on top of that, you'll need to hope that Dolby Pro Logic II will do a good job of converting the stereo audio you've got into 5.1 channel audio. In ideal scenarios, the Razer Leviathan does manage to work reasonably well however, it's certainly no substitute for a proper 5.1 channel system. During most of my testing however, the Razer Leviathan was used on a desk, in front of my monitor with me sitting only a couple inches in front of the speaker. Safe to say, 5.1 virtual surround was not very effective at all.
As far as complaints go, the biggest one I have is this annoying auto-shutoff feature that can't be disabled. Once the Leviathan sits idle for a short period of time, the unit turns itself off. While that's great for the marginal energy savings it provides, it really sucks to have to periodically turn the thing on. Paused the music to take a 15 minute phone call? Oops. Your speaker just turned off. Take a break from a game by browsing the web for 15 minutes? Oops. Your speaker just turned off. Catch my drift? Razer really needs to provide a disable auto shutoff button for those who want to disable the feature. Or a remote. That would be nice… Oh, and EQ settings. Somehow.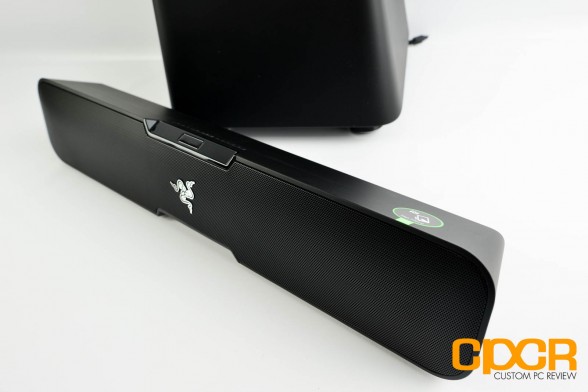 The Razer Leviathan can be found at various online e-tailors for just shy of $200 which is a bit on the high side for entry level sound bars however, Razer is really the only company out there pushing a premium sound bar designed primarily with PC gaming in mind. I'm not quite sure why it hasn't been done before given that so many of us are now running huge monitors or multi-monitor configurations that limit the amount of space that can be used for speakers, but I'm glad to see Razer pushing the edge in terms of form factor.
Overall the Razer Leviathan is a decent first generation gaming sound bar offering from Razer, but there is definitely some room for improvement. If you're a huge basshead, need the sound bar form factor, or just like how cool the Leviathan looks in general and don't mind the auto-shutoff "feature", the Razer Leviathan is an decent choice. However those who really want the best sound quality or a real surround sound experience will be much happier with traditional high end 2.1, 5.1, or 7.1 channel speaker alternatives.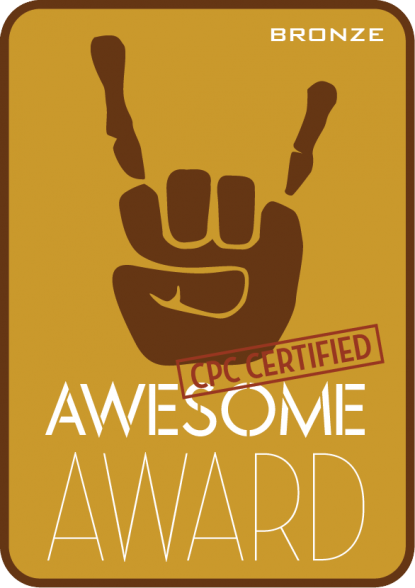 Sample provided by: Razer
Available at: Amazon