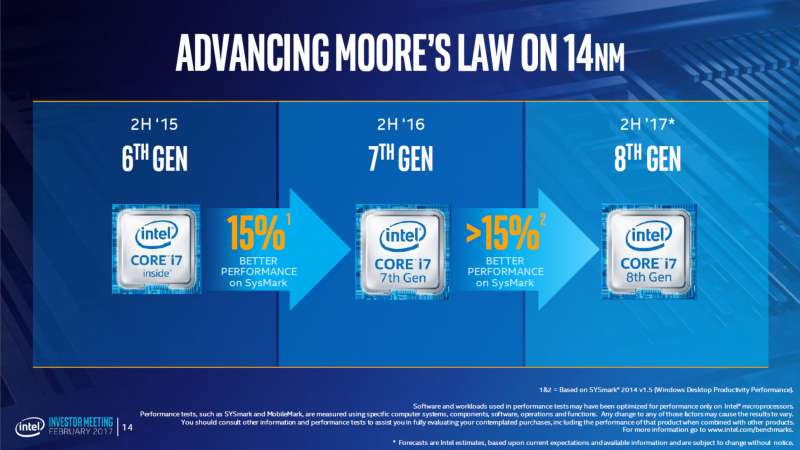 Although AMD's Ryzen chips are the hot topic at least until their launch either end of this month or early next month, Intel recently held their investor day to convince investors why it's still a great idea to invest in Intel.
During the presentation, Intel President of Client & IoT Business and Systems Architecture Group President, Dr. Murthy Renduchintala, told investors that Intel's upcoming 10nm Cannonlake CPUs (8th Generation Core) will perform over 15% better when compared to current generation 14nm Kaby Lake CPUs (7th Generation Core). Of course, these numbers are only based on the SYSmark 2014 benchmark, so it's unclear where the performance improvement is coming from. In the same slide, it shows a 15% increase in performance from Skylake to Kaby Lake although 15% was more of an optimistic number for certain applications rather than something that was seen across the board.
According to Dr. Renduchintala, 10nm Cannonlake is also expected to significantly reduce power consumption although no specifics were provided at this time. Cannonlake is expected to ship in the 2H2017. Previously, Intel CEO Brian Krzanich showed off a laptop running 10nm Cannnonlake at their CES press conference and stated that Cannonlake would begin shipping before the end of the year.
Source: Intel