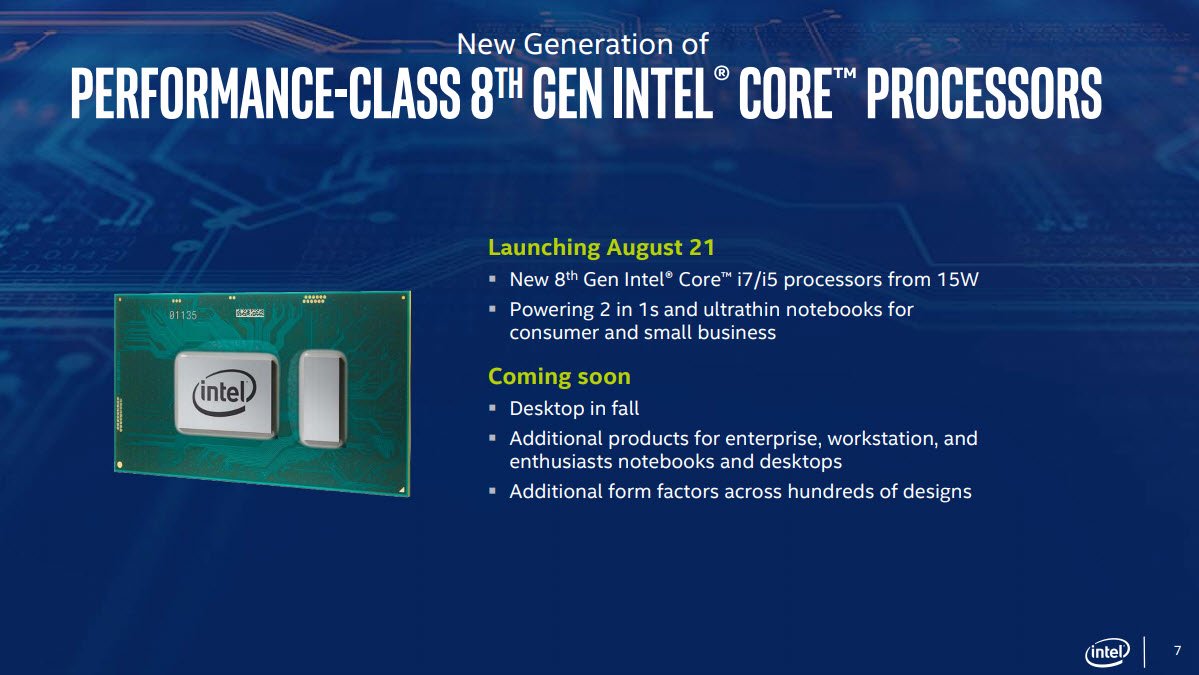 Intel recently announced the first member of its 8th Generation Core processors, Kaby Lake R, with Coffee Lake and Cannon Lake coming down the line.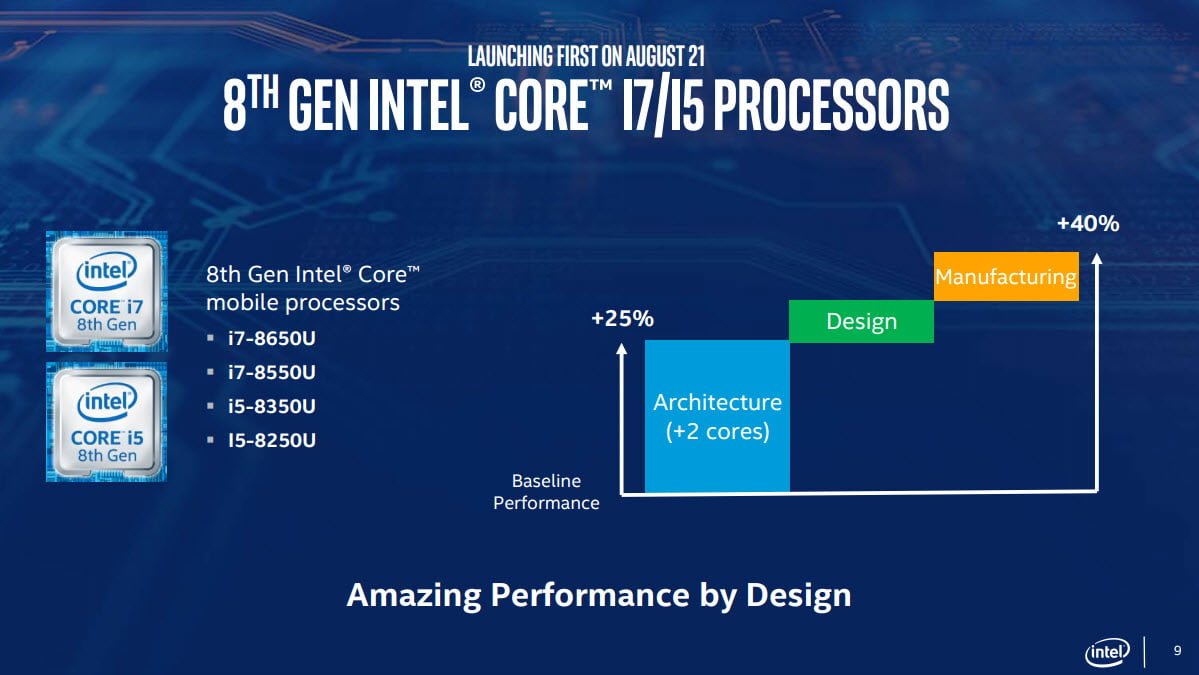 Kaby Lake R(efresh) is Intel's Mobile 8th Generation Core processor still using the same 14nm FinFET process node as Intel's Kaby Lake lineup of CPUs. While a transistor size shrink won't happen until the release of Intel's Cannon Lake CPU, there are some major design changes which Intel says will provide some substantial performance and power efficiency benefits.
Manufacturer
Intel
Model
i7-8650U
i7-8550U
i5-8350U
i5-8250U
Core Count
4 Core / 8 Threads
4 Core / 8 Threads
4 Core / 8 Threads
4 Core / 8 Threads
Base Clock
1.9GHz
1.8GHz
1.7GHz
1.6GHz
Max Turbo Clock
4.2GHz
4.0GHz
3.6GHz
3.4GHz
Cache
8MB
8MB
6MB
6MB
Memory Channels
2
2
2
2
Memory Support
2,400MHz DDR4 / 2,133 LPDDR3
2,400MHz DDR4 / 2,133 LPDDR3
2,400MHz DDR4 / 2,133 LPDDR3
2,400MHz DDR4 / 2,133 LPDDR3
TDP
15W
15W
15W
15W
Graphics
UHD 620
UHD 620
UHD 620
UHD 620
Graphics Frequency
Up to 1150MHz
Up to 1150MHz
Up to 1100MHz
Up to 1100MHz
Intel's low power mobile processors have traditionally settled for two cores, but with Coffee Lake, two extra cores have been added for the low powered "U" series of mobile processors. As such, Intel's next generation Core i7-8650U, i7-8550U, i5-8450U, and the i5-8250U now pack four cores while maintaining the same 15W TDP as the Kaby Lake predecessors.
In keeping up with the times, Intel has also re-branded its on-board graphics to "Intel UHD Graphics", but architecturally it's the same as the HD Graphics 620 from the Kaby Lake family.
Performance wise, the new Core i7 and i5 processors will be capable of up to 40% performance improvement, up to 2x better performanc e in productivity applications and up to 1.9x better web performance. Intel did not elaborate as to how the performance improvements were achieved although a significant portion is likely due to the quad core architecture.
Although widely expected to be released today, Intel did not launch its Coffee Lake series of desktop CPUs noting that it will launch later this year, followed by HEDT and enterprise chips. Intel's 8th generation launch is quite a confusing one. It will encompass not only the Kaby Lake R architecture, but also Coffee Lake putting two different architectures in the same generation of CPUs. Then there's the small time gap between the launch of Coffee Lake and Cannon Lake, which is expected to also be an 8th Generation Core Processor expected to launch in 1H2018.
The new 8th Generation mobile processors processors will appear in the new batch of laptops starting September. Expect a massive influx of laptop refresh announcements from now till the beginning of next year.