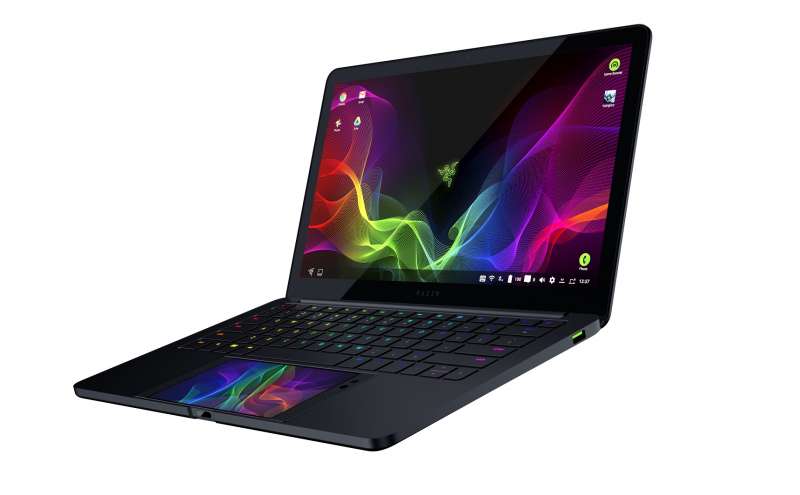 Razer is demoing its newest concept design, Project Linda, at CES 2018. Razer's project Linda aims to leverage the power of the Razer Phone and instantly transforms it into an Android based laptop PC. The concept is similar to the Windows Dock or the Samsung DeX Station, but rather than dock to a desktop PC, Project Linda seamlessly docks the phone right into the laptop.
The way it works is that the Razer Phone docks in face-up position where the touchpad would normally be found. This allows the phone to be used as the touchpad and the phone's forward facing onboard speakers serve as speakers for the system as well. Having the phone in a face-up position also allows users to access the fingerprint sensor.
The Project Linda laptop dock is a mere 5.7″ thick at its thickest point and weights just 3lbs. It features a gorgeous, 13.3″ display and a full sized keyboard. It also has a microphone and webcam, just like a laptop. Connectivity options include a USB Type-C port and 3.5 mm audio jack.
Project Linda also comes with extra features that integrate works with the Razer Phone. In addition to specially tailored keys for Android, the dock also has a completely resigned UI. The dock can display all the notifications from the phone from any app and allow users to reply, ignore, or open the software directly from the dock.
As with many of Razer's concepts, there's currently no release date for Project Linda. However, given enough interest, I'm sure this could easily change. What do you think? Let us know in the comments below!