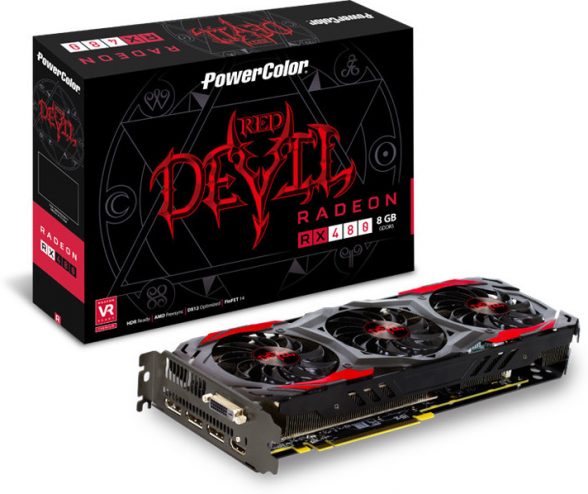 Today, PowerColor has finally officially launched their fully custom Radeon RX 480 RED DEVIL, after a slew of leaks and rumors revealed many details about the card, including the design.
PowerColor RX 480 RED DEVIL 8GB
The PowwerColor RX 480 RED DEVIL features 8GB of GDDR5 memory with a memory clock speed of  2000MHz, which is the same as the reference RX 480 8GB, we recently reviewed.What is different from the reference model, however, is the GPU core clock which ships with a factory overclock of 1330MHz, which is up from 1266MHz for the reference card. While this isn't as high of a factory OC as some of the rumors suggested, it is at least 30MHz higher than we are able to get our own reference sample to overclock.
The RX 480 RED DEVIL also features a 6+1 phase power design which is supplied by a single 8-pin PCIe connector, which should allow for even more overclocking headroom and ensure there are no issues with motherboard PCIe slot  power draw, as we seen on the reference models early on.  There's also a dual BIOs switch for enabling overclocking mode, for increased performance.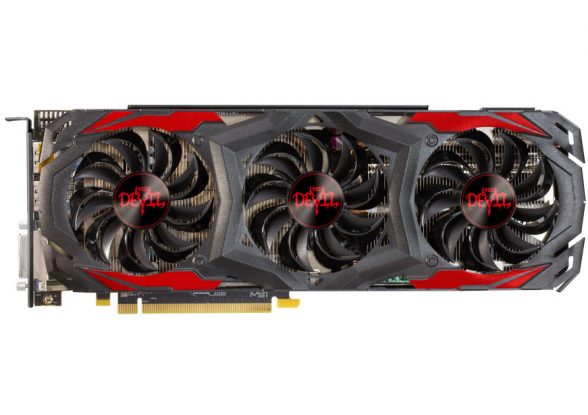 To cool down the card, PowerColor has employed a triple 80 mm dual ball bearing fan design which utilizes the company's newest technology called Double Blade III which is meant to increase airflow and prevent dust accumulation on the fans. Along with the triple fans, we have a large heatsink which features  four nickel-plated copper heat pipes (2x 8 mm and 2x 6 mm) for increased heat dissipation. All of this should result in one of the coolest air-cooled RX 480s available. The card also includes a fully custom backplate.
The card also measures quite a bit longer than the reference model, at just over 12.2 inches long. However, it does appear as though the PCB itself may be a bit shorter as the cooling shroud  seems to protrude past it with the backplate featuring ventilation improved airflow.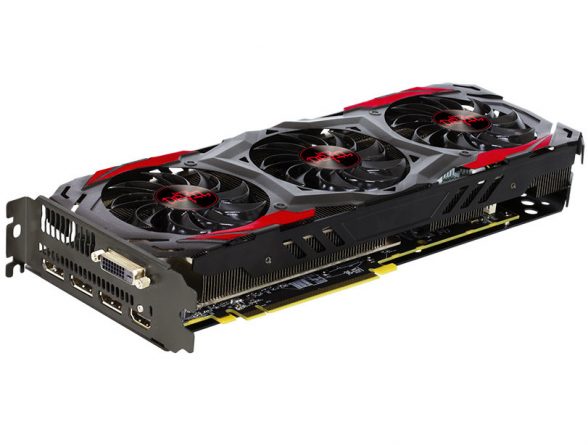 For connectivity, we're happy to report that in addition to the reference specification of 3x DisplayPort 1.3/1.4 ports and a single HDMI 2.0 port, PowerColor has also opted to include a single dual link DVI-D port. All of these enhancements do not come cheap, as the card will be retailing for $269 USD  about $30 more than the reference 8GB model.  PowerColor tells us the card will start shipping on July 29th from major e-tailers.
Source: PowerColor