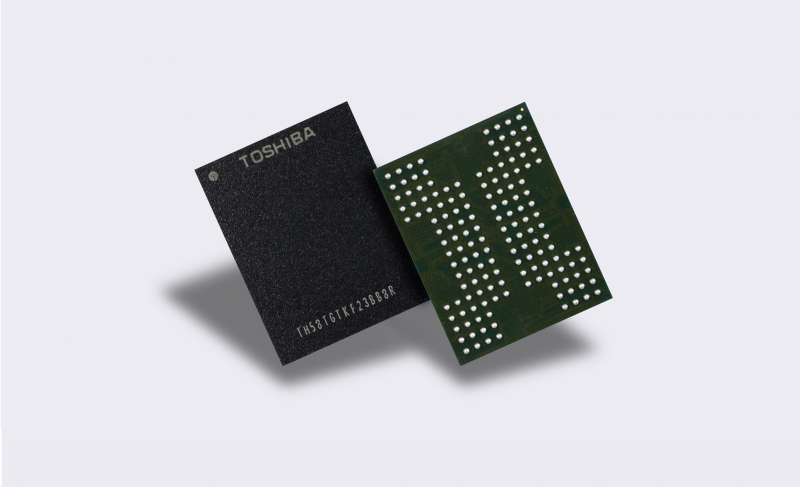 Over the past few months, there hasn't been a whole lot of good news coming out of Toshiba, but here's a recent announcement that I think we can all appreciate. In a recent announcement, Toshiba shared news that they've developed the industry's first 4-bit per cell, Quad Level Cell (QLC) BiCS NAND flash memory chips.
The new QLC NAND features a 64-layer cell structure and boasts up to 768Gbit / 96GB per die making it currently the densest dies on the market. By using 16 dies, Toshiba is able to cram as much as 1.5 TB in a single package. This is a 50% increase over a comparable TLC NAND package with the same number of dies.
"From SLC to MLC and MLC to TLC, large technology shifts are often met by industry resistance and the introduction of QLC is no exception," noted Scott Nelson, senior vice president of TAEC's memory business unit. "There will always be demand for compelling storage solutions that bring higher densities and produce a favorable cost/performance equation – our QLC technology falls squarely into that sweet spot. History has proven us right in the past when it comes to our visionary flash memory roadmap, and we fully expect QLC BiCS FLASH to continue our industry-leading track record."
QLC will be used for both capacity-driven data centers as well as consumer drives. With a higher storage density, both enterprise and consumers will likely be able to expect lower prices for the same amount of storage.
Toshiba has already begun sending out test samples to different SSD vendors for testing. Physical samples will be on display at the 2017 Flash Memory Summit.
Source: Toshiba