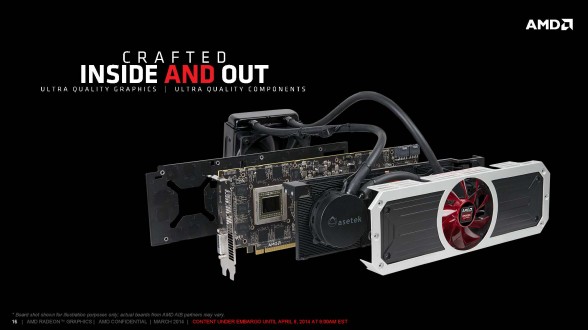 In case you haven't paid attention to any of the recently leaked info on AMD's upcoming graphics card, AMD recently launched their most ambitious graphics card ever, the AMD Radeon R9 295X2. This latest graphics card is an AMD dual-GPU behemoth containing two full featured Hawaii based flagship AMD Radeon R9 290X GPUs carrying a grand total of 5,632 stream processors, 352 TUs, 128 ROPs, and 8GB of GDDR5 (4GB per GPU) running off a 512-bit memory interface.
Since cooling these dual-GPU monsters has always been a huge problem in the past, AMD has tapped Asetek's experience in AIO water cooling to create a hybrid liquid cooling solution for the graphics card. By using an AIO water cooling solution with a 120mm radiator, AMD is able to effectively cool both GPUs, allowing both GPUs to run at their maximum boost frequency of up to 1018 MHz sans throttling, which is slightly even faster than AMD Radeon R9 290X which the Radeon R9 295X2 is based off of.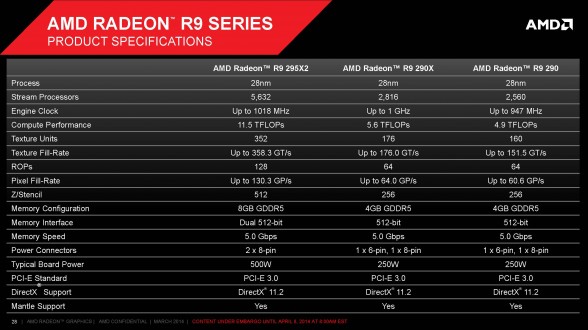 Of course, this graphics card isn't for the faint of heart as AMD has told us that it will require proper power supplies for the job. As the 500W TDP graphics card runs off of only dual 8-pin connectors, power supplies that merely meet the ATX spec will not be capable of powering the card. AMD has specified that the Radeon R9 295X2 will require a power supply capable of providing a minimum of 28 amps per 8-pin connector. AMD currently does not have a list of certified power supplies for the card and it will be up to users looking to purchase a Radeon R9 295X2 to purchase a proper power supply.
The AMD Radeon R9 295X2 is expected to be available around the week of April 21 at a MSRP of $1,499.
http://youtu.be/W9pB2IYOI9Q