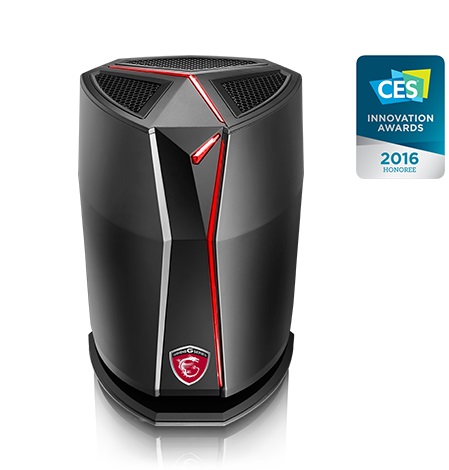 MSI officially starts shipping its Vortex Gaming PCs decked out for VR gaming.
The MSI Vortex miniature PC features a design similar to a upward-facing jet engine. The cylindrical case draws air from the bottom and pushes it out the top. The components sit vertically inside the chassis and are distributed across three sections, saving space while packing tons of hardware. MSI touts that this design features superior upgradability and expandability.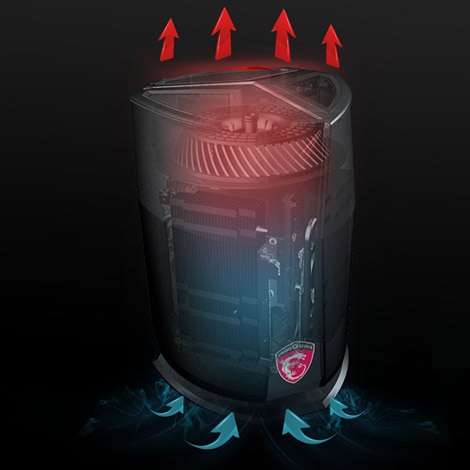 Up to a pair of Nvidia GTX980s can be fitted into the case along with an Intel Core-i7 6700K CPU, 32GB of DDR4 RAM and SSDs in Super Raid 4 configuration (AKA having 2 PCIe SSDs in RAID 0). Surprisingly, despite housing two graphics cards, the Vortex only comes with a 450W Gold rated built-in power supply.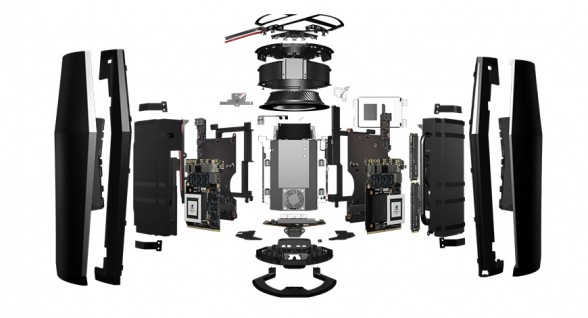 Although the power supply may seem skimpy, the graphics cards onboard the Vortex also use less power. The graphics cards in the Vortex are in the MXM form factor, which is usually reserved for mobile devices. Despite carrying the full GM204 GPU, the MXM (most likely the MXM-B) PCIe connector limits the power draw to 100W. The GPU reserved for the MXM cards are also higher-binned, meaning that they operate more efficiently and has higher stability.
Manufacturer
MSI
Model
Vortex G65 SLI-002
Vortex G65 SLI-011
Processor
Intel Core i7-6700K
Chipset
Z170
RAM
32GB DDR4
16GB DDR4
Graphics
2x GTX 980 SLI
2x GTX 960 SLI
Storage
Super RAID 4 256GB SSD (PCIe Gen3X4), 128GB *2 + 1TB (SATA) 7200 RPM
Networking
Dual Killer Gaming Network E2400
Price
$3,999
$2,199
All of the space-saving features and high-grade GPUs do not come cheap. The Vortex starts at $2,199 for the model equipped with dual GTX960s and a whopping $3,999 for the model with dual GTX980s.