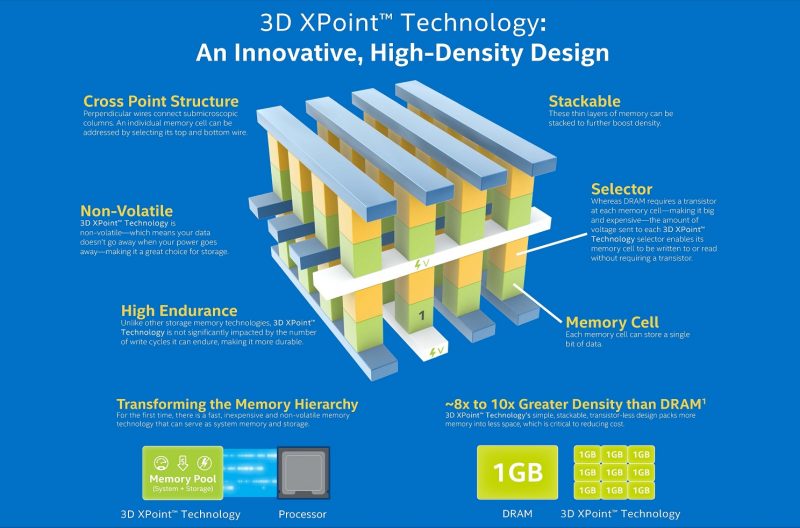 It's been well over a year since Intel and Micron launched 3D Xpoint, but we've seen very little additional information from both companies regarding the upcoming technology or its products. A recent leak from Chinese publication Benchlife however, sheds some light onto Intel's upcoming product, named Optane, which will feature 3D Xpoint technology.
The information comes in the form of a spec sheet which details the upcoming Intel Optane Memory 8000p Series including performance and capacities.

Here we can see that Intel's Optane 8000p Series will contain two drives, a 16GB model and a 32GB model. The 16GB model will be rated at performance up to 1.4GB/s sequential reads and 300MB/s sequential writes. 4K random reads are rated at up to 285K IOPS and 4K random writes are rated up to 70K IOPS. The 32GB model on the other hand is rated at up to 1.6GB/s sequential reads and 500MB/s sequential writes. 4K random reads are rated up to 300K IOPS and 4K random writes are rated up to 120K IOPS. The two drives will support the PCIe Gen 3 x2 interface and come in the M.2 2241 and M.2 2280 form factors.
While performance here appears a bit slow, it's important to keep in mind that these are very low capacities. As 3D Xpoint dies are 128Gb (16GB), these performance figures reflect what we can see with just one or two dies.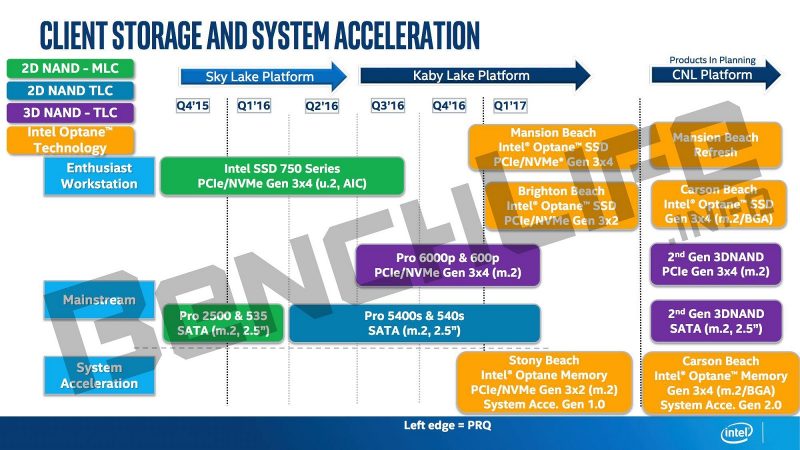 Further, here's a look at a previously leaked roadmap for Intel's upcoming storage products. This suggests that these Optane 8000p drives are likely to be in the mid-range compared to the PCIe Gen 3 x4 SSDs which are also expected to be revealed 4Q16 or 1Q17.
Currently no pricing information is available at this time however, Intel has previously noted that the cost of 3D Xpoint will likely be between DRAM and NAND. Depending on the accuracy of previously leaked roadmaps, we'll likely see these 3D Xpoint based Optane drives during CES 2017.
https://www.youtube.com/watch?v=IWsjbqbkqh8
Source: Benchlife