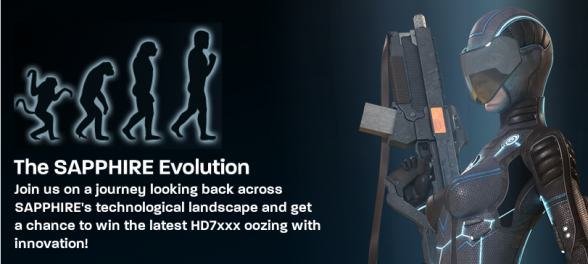 Press Release
Join SAPPHIRE on a journey looking back across SAPPHIRE's technological landscape and get a chance to win the latest HD7xxx oozing with innovation.
For the week between July 10th and July 17th, SAPPHIRE will tell you on their Facebook page (www.facebook.com/SapphireTechnology) the stories of their technology innovations counting down to the launch of SAPPHIRE's latest breakthrough graphics card.
During this time you'll be able to enter a competition for the chance to win the most highly anticipated card of 2012. Go to the SAPPHIRE Evo application at SAPPHIRE's Facebook page, take a picture of your SAPPHIRE graphics card and send it to us. From the group of correct entries, one lucky winner will be selected.
Don't miss this unique opportunity to take a look at the evolutionary history of SAPPHIRE's graphics cards and maybe win our latest APEX Predator!