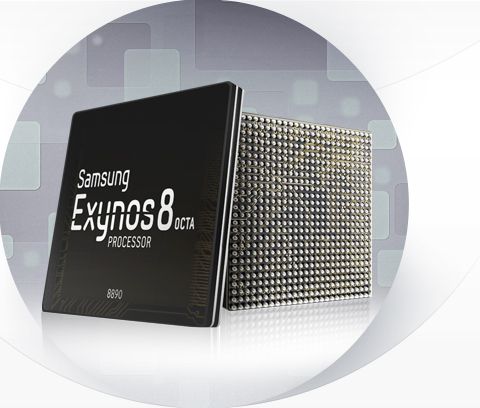 There have been talks for a long time that Samsung is planning on releasing it own custom mobile CPU architecture. Today Samsung has finally solidified the rumours with the introduction of the Samsung Exynos 8 Octa 8890 System on a Chip (SoC).
Built using Samsung's 14nm FinFET transistors, the Exynos 8 SoC will follow the same big.LITTLE design principle as the previous generation Exynos 7. However, this time around Samsung has developed its proprietary CPU architecture for the Exynos M1 cores in its big cluster. The Exynos 8 will use the ARM Cortex-A53 for its little cluster.
The Exynos 8 8890 also brings improved graphics performance with the latest Mali T880 GPU. Samsung claims that the new graphics processors can provide 30% more performance and 10% increase in power efficiency.
On top of everything, Samsung has also developed its own LTE modem and baked it onto the SoC. This was one of their greatest hurdles when migrating to a custom CPU design. The custom Samsung category 12/13 modem is capable of speeds of up to 600Mbps download (category 12) and 150Mbps upload (category 13) with carrier aggregation.
The Exynos 8 Octa 8890 is expected to go into production late 2015.