Warning
: Undefined array key "width" in
/var/www/vhosts/custompcreview.com/public_html/wp-includes/media.php
on line
1381
Warning
: Undefined array key "width" in
/var/www/vhosts/custompcreview.com/public_html/wp-includes/media.php
on line
1386
Warning
: Undefined array key "height" in
/var/www/vhosts/custompcreview.com/public_html/wp-includes/media.php
on line
1386
Warning
: Undefined array key "width" in
/var/www/vhosts/custompcreview.com/public_html/wp-includes/media.php
on line
1381
Warning
: Undefined array key "width" in
/var/www/vhosts/custompcreview.com/public_html/wp-includes/media.php
on line
1386
Warning
: Undefined array key "height" in
/var/www/vhosts/custompcreview.com/public_html/wp-includes/media.php
on line
1386
Warning
: Undefined array key "width" in
/var/www/vhosts/custompcreview.com/public_html/wp-includes/media.php
on line
1381
Warning
: Undefined array key "width" in
/var/www/vhosts/custompcreview.com/public_html/wp-includes/media.php
on line
1386
Warning
: Undefined array key "height" in
/var/www/vhosts/custompcreview.com/public_html/wp-includes/media.php
on line
1386
Meet the Flagship Freezer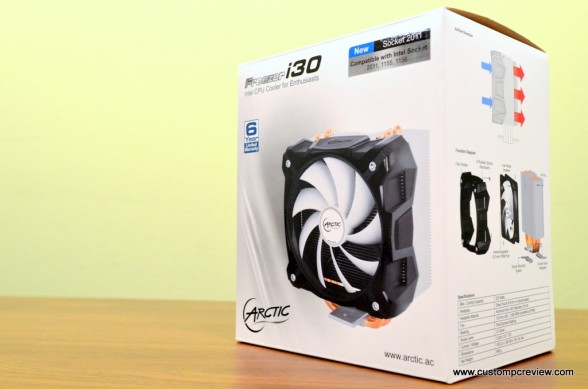 We recently reviewed ARCTIC's new flagship GPU cooler, the ARCTIC Accelero Xtreme 7970, and along with that, ARCTIC also gave us the opportunity to check out their new flagship Freezer CPU cooler. What's interesting about the new Freezer CPU cooler is that they've introduced two SKUs of the exact same cooler, whereas one, the i30, is compatible with Intel sockets only while the other, the A30, is compatible with AMD sockets only. Considering most people don't really need the mounting brackets for both Intel and AMD sockets when purchasing a new CPU cooler, I think this is a pretty wise move by ARCTIC to create less unnecessary waste, and potentially turn it into savings that could be passed onto the consumer.
Today, we'll be taking a look at the ARCTIC Freezer i30. The new CPU cooler sports a removable 120mm fan, 4x 8mm direct touch heatpipes, and supports up to 320 watts of cooling performance. Does the Freezer actually do any "freezing"? Well, read on!
Video Unboxing
Specifications
[box_light]
Max. Cooling Capacity
320 Watts
Heatpipe
Direct-Touch Ø 8 mm x 4 (double-sided)
Heatsink Material
Aluminum fins x 48, thickness: 0.5 mm
Fan (mm)
ARCTIC F12 PWM:
120 mm, 400 – 1,350 RPM (PWM controlled)
Airflow
74 CFM / 125.7 m³/h
Bearing
Fluid Dynamic Bearing
Noise Level
0.3 Sone (@1,350 RPM)
Current, Voltage
0.22A / 3.5 – 12V
Dimensions (Product)
100 (L) x 139 (W) x 161 (H) mm
Dimensions (Packaging)
123 (L) x 161 (W) x 187 (H) mm
Net Weight
0.9 kg
Limited Warranty
6 years
itemnumber
UCACO-FI30001-GB
UPC
0872767005051
Gross Weight
1.4 kg
[/box_light]
Looking at the specifications here, the Freezer i30 seems like a pretty standard CPU cooler. But what really jumps out at me is that the fan is only rated to spin at 400 – 1,350RPMs. This means that the cooler should be pretty quiet during operation, even with the fan churning at 100%.
Additionally, the Freezer i30 also comes with a 6 year warranty, which is awesome, but taking a look at their warranty page, it looks like the warranty is only honored if you purchase direct from ARCTIC. While it's very reassuring to know that the manufacturer believes in their own products, it would be even nicer to see the warranty extend to 3rd party resellers as well.
A Closer Look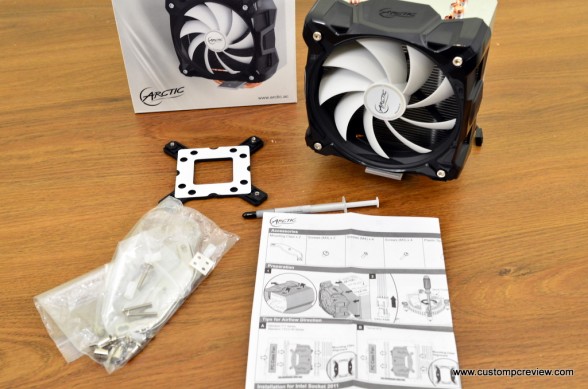 Included with the Freezer i30 CPU cooler is an installation manual, mounting accessories, and a tube of ARCTIC MX-4 thermal paste. Once again, remember that the Freezer i30 only supports Intel LGA 1155, 1156, and LGA 2011, so if you've got an AMD FM1, AM3+, AM3, AM2+, AM2 motherboard/CPU, be sure to purchase the Freezer A30.
On a sidenote, it's funny how ARCTIC includes an installation guide for the Freezer i30, but leaves one out for the Accelero Xtreme 7970 despite the fact that the Accelero Xtreme 7970 is much more difficult to install.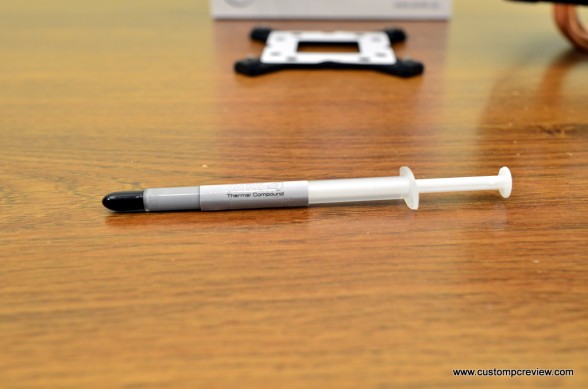 Here's another look at the little tube of ARCTIC MX-4. It's easy to apply, easy to remove, non conductive, and offers low thermal resistance and great performance. It's one of my favorite thermal pastes of all time and it's great to see ARCTIC including it with the Freezer i30.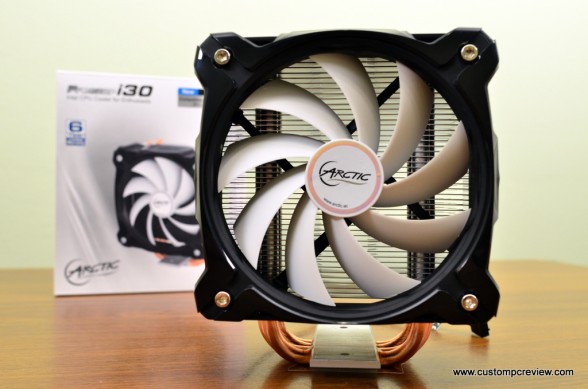 Here we get a full frontal view of the 120mm fan. As you can see, the fan can be removed and replaced with any other fan by removing the screws attaching the fan to the shroud. What's strange is that ARCTIC has decided to use torx screws instead of the standard Phillips screws, so you'll need a torx screwdriver to replace the fan.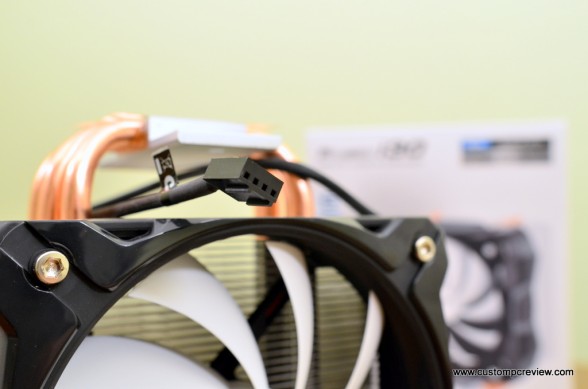 Here we can see that the fan uses a 4 pin PWM connector, so the fan will ramp up and ramp down based on how hot the CPU gets. Additionally the fan cable is braided, which is much more aesthetically pleasing.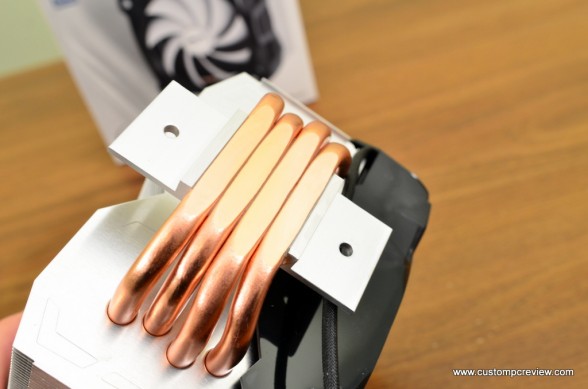 Finally, we get to take a look at the direct-touch heatpipes on the heatsink. This basically means that the heatpipes directly "touch" the CPU when installed. And by packing the heat pipes closely together, a virtual vapor chamber is created to increase heat dissipation.  One problem with this design is that thermal paste should be applied to the gaps between the heatpipes as well as the flat surfaces of the heatpipes to maximize coverage.
Installation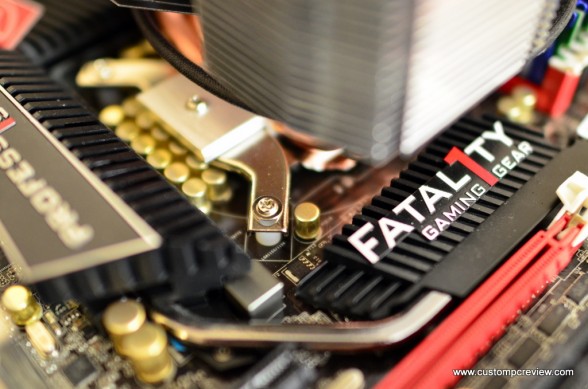 Installation of the Freezer i30 was quite painless and  involved only 6 screws and around 15 minutes. Above, we  have the Freezer i30 installed on the ASRock Z68 Fatal1ty Professional, which is a socket LGA 1155 motherboard.
As you can see here, the fan shroud is attaches to the heatsink via clips directly installed on the shroud itself. The cooler doesn't have much clearance over the memory and blocks the first DIMM slot (At least on the ASRock Z68 Fatal1ty motherboard), so make sure you purchase low profile memory if you're planning to fill up all four DIMM slots.
Test Setup
CPU: Intel Core i5 2500K
Motherboard: Asrock Z68 Fatal1ty Professional Gen 3
Graphics: Intel HD3000 Graphics
Memory: Kingston HyperX Genesis DDR3 2133MHz
Storage: Patriot Pyro SE 120gb
Power Supply: Corsair HX650
Case: HSPC High Speed Tech Station
Special thanks to High Speed PC (HSPC) for providing us with the High Speed Tech Station (Large) for our test bench.
Special thanks to Kingston Technology for providing us with the Kingston HyperX Genesis DDR3 2133MHz for our test bench.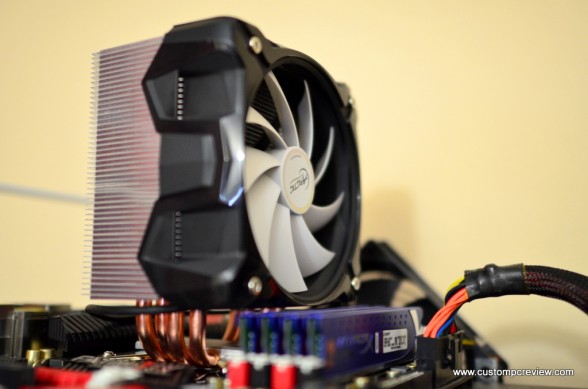 Here we see the Freezer i30 fully installed. The black and white color scheme definitely looks quite nice here.
Performance
| | | | | |
| --- | --- | --- | --- | --- |
| CPU Cooler (Ambient 19°C) | Idle | Burn 3.4GHz Stock (1.104v) | Burn 4.7GHz OC (1.392v) | Burn 5GHz OC (1.520v) |
| Phanteks PH-TC14PE (3 Fans) | 24 | 38 | 57 | 72 |
| Xigmatek Prime SD1484 | 25 | 41 | 64 | 80 |
| Corsair H70 | 27 | 42 | 67 | 83 |
| Noctua NH-C14 | 27 | 43 | 67 | 85 |
| Cooler Master V6GT | 26 | 41 | 68 | 85 |
| Hyper 212 Plus | 26 | 44 | 68 | n/a |
| Xigmatek Dark Knight | 28 | 44 | 69 | n/a |
| Gelid GX-7 Rev 2 | 27 | 44 | 72 | n/a |
| Arctic Cooling Freezer i30 | 27 | 45 | 75 | n/a |
Here we see that the Freezer i30 does a good job when the processor isn't overclocked, but temperatures start going off the charts as soon as clock speeds get cranked up. While it's at the bottom of the charts in our testing, it still far outperforms a stock Intel CPU cooler, being able to maintain the Intel Core i5 2500K overclocked to a 4.7GHz under 80°C. Unfortunately, like many other coolers, it wasn't able to maintain the coveted 5GHz overclock, but 5GHz probably isn't going to be a typical overclock for most users out there.
Conclusion
Let's first start with performance, and I'm going to be brutally honest here. I was expecting a lot more from the Freezer i30. The cooler was touting a 320w maximum cooling capacity and is currently supposed to be the flagship cooler from ARCTIC. Because of that, I was quite disappointed when the cooler wasn't able to outperform any other cooler we've tested so far. Yes, this CPU cooler will still be boatloads better than the stock Intel cooler, but ultimately it just didn't have the performance I was expecting.
With that out of the way, let's move onto everything else, which is generally positive. First and foremost I want to reiterate how much I love the styling of this cooler. The white fan looks great and the large shroud gives the cooler a very aggressive look. However, still I can't really figure out why ARCTIC went with torx screws over more standard Philips screws to mount the fan onto the shroud.
As far as installation is concerned, the entire process was a breeze. The cooler can be installed within minutes and because the cooler is Intel only, there's no confusion as to which set is AMD or which set is Intel because there's only one set. Additionally, the installation instructions were clear, precise and easy to follow. For those familiar working with CPU coolers, the instructions might not even be needed. (Might not be needed, but you should read them first anyway!)
Finally, the best part about the Freezer i30 is in its acoustic performance. It's very quiet during operation, idle or load. This is definitely rare for a CPU cooler with only a 120mm fan. Whereas most companies would decide to upgrade to a 140mm fan in order to produce a more silent cooler, it looks like ARCTIC decided otherwise. While this decision may be the cause of not-so-good cooling performance when the CPU is overclocked, it is near inaudible during operation, and that's a trade-off I can accept.
Taking a quick look at the pricing of the Freezer i30, it'll currently run you around $45, which isn't that competitive if you're looking for a performance CPU cooler; however, if you're looking for a silent cooler, it's actually quite a good deal. Comparably quiet CPU coolers with 140mm fans would run you at least in the $60-$70 range or higher, while near silent coolers with 120mm PWM fans are extremely rare – rare to the point I can't really think of one off the top of my head. However, that being said the Xigmatek Prime SD1484, a 140mm CPU cooler was able to beat the Freezer i30 by 11°C during our 4.7GHz overclocked run,  so it'll be up to you if it's worth it. Of course, it's also worth noting that larger coolers may not fit into certain cases, so that might be something to think about as well.
Bottom Line
Overall, if you're looking for a new CPU cooler, you're running stock clocks or mild overclocks, and want a dead silent cooler, the ARCTIC Freezer i30 isn't a bad choice.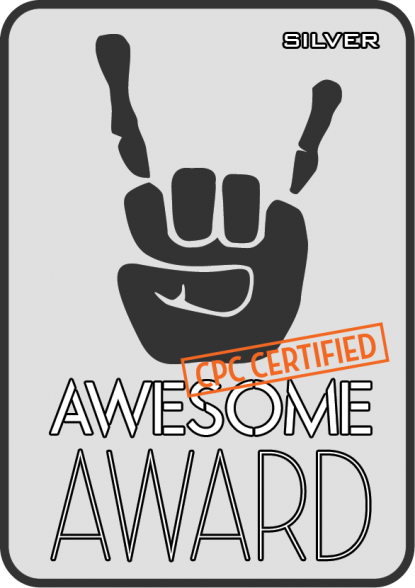 Special thanks to ARCTIC for making this review possible.
The ARCTIC Freezer i30 CPU Cooler is currently available at Amazon.
[signoff1]