Z77 motherboards are a dime a dozen these days at CeBIT 2012, but it seems like there's one motherboard manufacturer who's missing from the lineup… Yup you guessed it, EVGA.
Well, no longer because according to FudZilla, EVGA has decided to show off a yet unnamed motherboard! Anyway, the board features a pretty high end design, so I'm going to venture a guess that it's going to be more along the lines of the FTW or Classified series.
So, for starters the first you you see is that the board will feature a EVGA's usual red and black color design. For power, there's dual 8-pin power connectors, a right angled 24 pin power connector (why haven't more motherboard manufacturers done that?), and dual 6-pin PCIe power connectors for additional power to the PCIe slots. It's also got a 10 phase VRM design, 4 DDR3 DIMM slots, 5 PCIe x16 slots, and apparently a thunderbolt port as well.
Other features include an onboard debug LED, onboard power, reset and clear CMOS buttons, PCIe disable switches, 4 SATA 3 6Gb/s headers, 4 SATA 2 3Gb/s headers, tons of USB headers, and a PCIe bridge chip to drive all those PCIe lanes.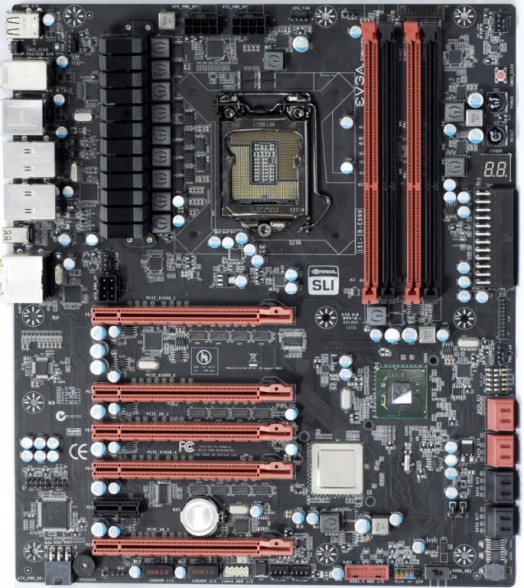 Pricing, availability and the name of this board is currently unknown at this time, but considering the entire design looks pretty much done, I'm going to assume that all that should be around the corner. Stay tuned!
Source: FudZilla
For those who missed all the EVGA action at CeBIT…
http://www.youtube.com/watch?v=J3_Crzey0as