OCZ Technology recently unveiled their new Indilinx Everest 2 based Vertex 4 SSD over at CeBit 2012 and our friends over at The SSD Review have been able to get some benchmarking done on the new drive. From the screenshots they've posted, the Vertex 4 is without a doubt quite impressive.
Below we've got a couple screenshots of the new drive in action.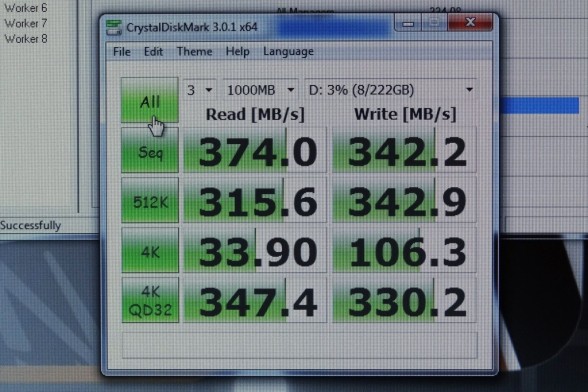 Above we get a quick snap of Crystal Disk Mark benchmark running Random Fill (Incompressible data). As you can see, the write speeds are very impressive with this drive, especially the 4k writes achieving 106.3MB/s. Since most daily operations rely on 4k (small random transfers), the drive should be very, very snappy for day to day use.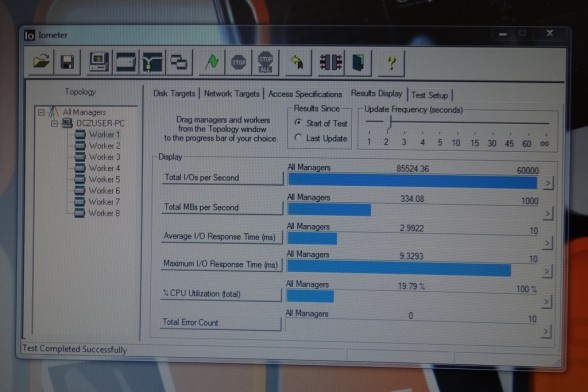 Additionally, we also have a screenshot of the Iometer. As you can see above, the drive gets approximately 85,524 IOPS, which is definitely up there. For reference, the OCZ Vertex 3 240GB Max IOPS SSD, which boasts one of the highest IOPS on the market today is rated for 85,000 IOPS.
All in all, the OCZ Vertex 4 looks a very promising SSD, one that I can't wait to get my hands on!
For more pictures/details on the Vertex 4, please hit up the link below!
Source and Image Credit: The SSD Review