No doubt most of you are eagerly awaiting the next NVIDIA graphics card release, and today we have one. Well, sort of. NVIDIA has quietly launched the low-end GT 710, which is aimed at the low-cost sector of the market.
NVIDIA GeForce GT 710, Low-Profile Discrete GPU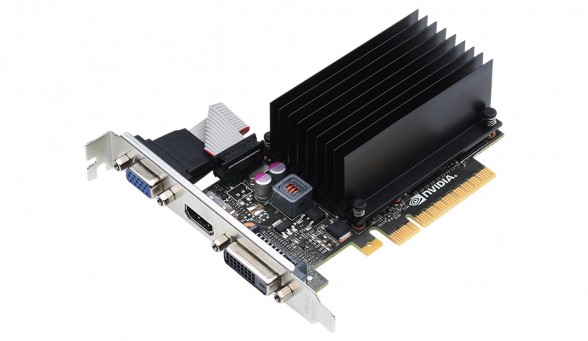 The GeForce GT 710 is aimed at the low-end market, which does not require high-performance for things such a games. The new GPU is definitely not based on NVIDIA's next-generation Pascal architecture, in fact, it doesn't even feature the company's current-generation Maxwell architecture. Instead, it based on the older Kepler, specifically the GK208, which is a revised version of the GK108 graphics core and features 192 CUDA cores in total meaning only 1 SMX is found on the graphics chip. The GPU core is clocked at 954 MHz. It is paired with up to 2 GB of DDR3 memory which features a clock speed of 1.8 Gbps and runs along a 64-bit bus interface,  giving it a total bandwidth of 14.4 GB/s. It also features a 19W TDP.  Display outputs include HDMI, Dual Link DVI-D and VGA ports. The card will be available in several form factors that range from single-slot, low-profile and dual-slot models. MSRP if between $30-$40 USD.
All of that may not sound that impressive, but NVIDIA has claimed that the GeForce GT 710 can outperform 80% of integrated GPUs on the market, which seems to be a counter to Intel's recent boast of its Iris Pro graphics, which are featured in its latest Skylake processor family.