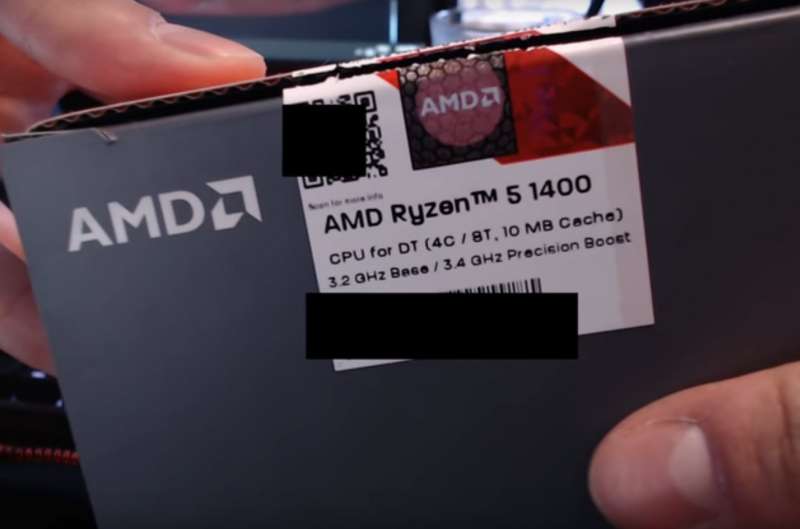 AMD's Ryzen 5 CPUs aren't expected to launch until April 11 so up until now, benchmarks for the Ryzen 5 series were simulated by disabling cores on the octa-core Ryzen 7 series CPUs. However, according to a recent video released by Youtube channel Santiago Santiago, we get a glimpse at Ryzen 5 1400 performance in the flesh thanks to a retailer which appears to have jumped the gun on sales of the upcoming CPU.
In the video, the CPU was benchmarked with eight games: Battlefield 1 (DX12), Fallout 4, GTA 5, Hitman (DX12), Just Cause 3, Assassin's Creed: Unity, The Witcher 3, and Rise of the Tomb Raider (DX 12). The test bench consists of an HIS Radeon RX 480 IceQ and 8GB of DDR4 RAM clocked at 2,666MHz using Intel's XMP. For the sake of comparison, an Intel Core i5-7400 was thrown into the mix.
The quad-core Ryzen 5 series is architecturally similar to the octa-core Ryzen 7. It uses two partially-disabled CCXs linked together using the Infinity Fabric. Since the Ryzen 7 CPUs suffered from improper thread scheduling and latency introduced by the Infinity Fabric, it produced sub-par gaming performance at 1080p. Gamers worried that because Ryzen 5 does not use a single quad-core CCX, it will suffer the same issues that plagued the Ryzen 7.
However, this apparently wasn't the case. The Ryzen 5 1400 (when clocked at 3.8GHz) traded blows against the Intel CPU, trailing behind slightly at times and leading in others. All-in-all, the video demonstrated that Ryzen 5 can perform on par with current generation Intel CPUs. With that said, more in depth testing will have to be done to reach a concrete idea of how it performs.
The AMD Ryzen 5 1400 is slated to be priced at $169. The only differentiating factor between it and the higher-end SKUs in its family is the clock speed. All Ryzen CPUs are multiplier-unlocked, so it's possible to push its performance to over match that of the Ryzen 5 1600X.