[section label="Introduction"]
Stop Sitting, Start Standing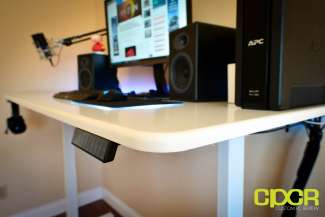 Over the past few years, numerous studies have been released linking sitting for prolonged periods of time as a contributor to health issues such as diabetes, cardiovascular disease and even death. What's more, the this is true even if you spend several hours a week engaging in vigorous exercise. (1, 2, 3) As a result, sitting/standing height adjustable computer desks have become quite popular over the past few years as a way to help mitigate against the negative effects of sitting for prolonged periods of time.
As a tech reviewer, the new studies on prolonged sitting is quite concerning as I spend a lot of time sitting and writing at my desk. Given that death by sitting is a pretty lame way to die, I jumped when the opportunity to review the Autonomous SmartDesk 2 Sit/Stand Desk presented itself.
Before we begin, for those unfamiliar with Autonomous, the company produces several lines of office products including desks, chairs, and even teleconferencing robots. However, Autonomous's biggest claim to fame is the SmartDesk which was kicked off with a wildly successful Indiegogo campaign several years back which raised $216,229, a whopping 1,257% of its original funding goal. Today we'll be reviewing the second generation of this popular desk.
Specifications
| | |
| --- | --- |
| Manufacturer | Autonomous |
| Model | SmartDesk 2 |
| Frames | Home Edition (Single Motor), Business Edition (Dual Motor) |
| Desktops | 53″ x 30″ (Classic, Curve, Ergonomic, Wave), 70″ x 30″ (XL Classic, XL Wave) |
| Warranty | 5 Years |
The Autonomous SmartDesk 2 comes in a variety of frame and surface options. All desks are warranted for 5 years. For our review, we'll be taking a look at the Business Edition Frame which features two motors coupled with the 30″ x 70″ XL Classic Surface. Those picking up a 30″ x 70″ desktop requires the business edition motor.
[section label="Set Up"]
The Set Up
The Autonomous SmartDesk 2 configuration we received came shipped in two packages – one package for the frame and one for the desktop. This allows Autonomous to separately stock frames and desktops.
Opening the package, we can see that there aren't a whole lot of parts to the desk as the design is quite simple. For those experienced in the art of IKEA furniture building, it should be pretty easy to put together the desk with minimal use of the instructions, but a manual is provided for those who need it.
Here's a look at how the frame is put together. In total, there's about seven pieces to put together making it super easy even for novice furniture builders.
Once the frame is put together, the frame can be attached to the desktop via pre-drilled holes. Autonomous includes rubber grommets to prevent damage to the desktop. In order to operate the motors, Autonomous also includes a control module along with a power supply which must be plugged in. Autonomous includes pre-drilled holes at the bottom of the desktop to attach these items.
For cable management, Autonomous includes several cable ties for basic cable management. They work well for the most part however, if you have a busy desk, you'll likely want to add some more things like I did above.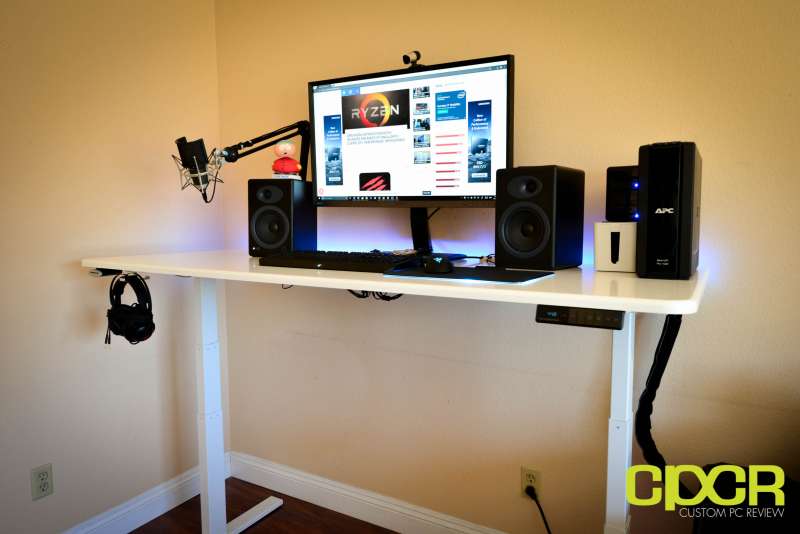 Here's a look at the Autonomous SmartDesk 2 fully set up in a typical home or office. I've added a couple things such as a LED strip to the rear of the table for ambient lighting, a USB hub for cable management, as well as a headphone mount for keeping headphones organized.
[section label="Performance"]
Performance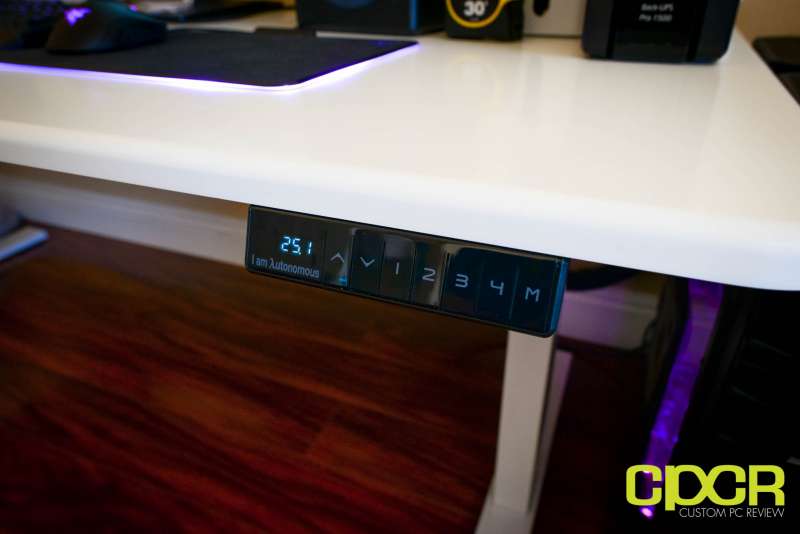 Using the Autonomous SmartDesk 2 is fairly straightforward. The control module consists of simply an up and down arrow to adjust the height of the desk upwards or downwards, four programmable presets (1,2,3,4) to adjust the height of the desk automatically to preset heights, and a program button for programming presets.
The Autonomous SmartDesk 2 starts at a minimum height of 25.1 inches and is capable of up to a maximum height of 50.7 inches. Here's a look at the Autonomous SmartDesk 2 in action.
In total, it takes the Autonomous SmartDesk 2 approximately 10 seconds to go from its minimum height to its maximum and another 10 seconds to go from its maximum height to its minimum. That said, this does depend on the weight on the table as it will take slightly longer to reach its maximum height with a lot of weight placed on the table. The Autonomous SmartDesk 2 configuration with the Business Edition frame is capable of a maximum capacity of 300lbs. It had no issue lifting me although I only weigh a little more than half the maximum capacity.
As far as stability, I had the desk sitting on wood flooring, so it's very stable and requires a bit of effort to tip the table over, even at its maximum height setting.
[section label="Conclusion"]
Conclusion
After spending several weeks with the Autonomous SmartDesk 2, I can say with confidence that it's easily one of the best sitting/standing height adjustable computer desks on the market. During a typical day, I raise and lower the desk on average about 6-8 times and the SmartDesk 2 performed flawlessly. Having used a manual cranking adjustable computer desk in the past and ending up not really using the height adjustment functionality due to the annoyance of cranking the desk, an automated mechanism really does encourage you to actually use the height adjustment and is a must for anyone considering a sitting/standing desk. After all, there's no benefit to owning a sitting/standing desk if you end up using it exclusively in its sitting position.
Using the SmartDesk 2, I've also noticed that productivity has also increased significantly especially later in the day. By standing periodically, I've found that it's much easier to stay awake which in turn has boosted productivity during hours where I typically take frequent, drawn out breaks. As for health effects, it's difficult to say as I don't measure stuff like cholesterol, blood sugar, and all that on a regular basis, but not immediately crashing at my desk after lunch is a good sign.
As far as issues, I haven't had any. A quick search for Autonomous SmartDesk issues did however, yield a lot of results which was a bit odd given the lack of any issues I experienced. Reaching out to the Autonomous team for some more information on this, I was told that changes were made to not only the SmartDesk, but the processes at Autonomous as well which has mitigated many of these issues.
Statement from Autonomous:
We have come a long way since our first model. We have fixed a lot of things, to name a few: re-enforced the motor housing for added stability and reduce noise; re-designed the memory pad, it now has the one-touch function; improved packaging since Fedex usually abuses our shipment; changed manufacturer and hired an entirely new QC team to make sure our products quality is consistent and fix stock issue, we now offer same day shipping . You can see that we really improved ourselves.
As for improvements, the only thing I can think of is for the desk is to add some sort of automatic timer functionality to have the table automatically raise after a certain period of time. In many instances, I've found myself working for hours at a time completely forgetting to raise the desk. While alarms can be setup on a phone or PC, I find myself dismissing the alarms far too often.
Pricing on the Autonomous SmartDesk 2 as reviewed today (Business Edition Frame + 70″ x 30″ XL Classic Wood White Surface) is $549, which is competitive against many of the smartdesks on the market today such as the Fully Jarvis, The Human Solution UPLIFT, or EvoDesk Pro which costs at least $700+ for a desk with comparable functionality.
Overall the Autonomous SmartDesk 2 is an excellent sitting/standing desk that's functional, good looking, and reasonably priced. Those considering making a switch to an automated sitting/standing desk should definitely give the Autonomous SmartDesk 2 a good hard look. Highly recommended!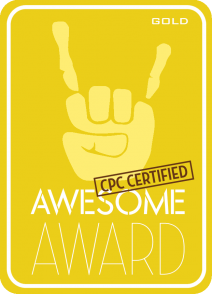 Sample provided by: Autonomous
Available at: Autonomous