Warning
: Undefined array key "width" in
/var/www/vhosts/custompcreview.com/public_html/wp-includes/media.php
on line
1381
Warning
: Undefined array key "width" in
/var/www/vhosts/custompcreview.com/public_html/wp-includes/media.php
on line
1386
Warning
: Undefined array key "height" in
/var/www/vhosts/custompcreview.com/public_html/wp-includes/media.php
on line
1386
Warning
: Undefined array key "width" in
/var/www/vhosts/custompcreview.com/public_html/wp-includes/media.php
on line
1381
Warning
: Undefined array key "width" in
/var/www/vhosts/custompcreview.com/public_html/wp-includes/media.php
on line
1386
Warning
: Undefined array key "height" in
/var/www/vhosts/custompcreview.com/public_html/wp-includes/media.php
on line
1386
Warning
: Undefined array key "width" in
/var/www/vhosts/custompcreview.com/public_html/wp-includes/media.php
on line
1381
Warning
: Undefined array key "width" in
/var/www/vhosts/custompcreview.com/public_html/wp-includes/media.php
on line
1386
Warning
: Undefined array key "height" in
/var/www/vhosts/custompcreview.com/public_html/wp-includes/media.php
on line
1386
Warning
: Undefined array key "width" in
/var/www/vhosts/custompcreview.com/public_html/wp-includes/media.php
on line
1381
Warning
: Undefined array key "width" in
/var/www/vhosts/custompcreview.com/public_html/wp-includes/media.php
on line
1386
Warning
: Undefined array key "height" in
/var/www/vhosts/custompcreview.com/public_html/wp-includes/media.php
on line
1386
Kingston's Business Ready SSD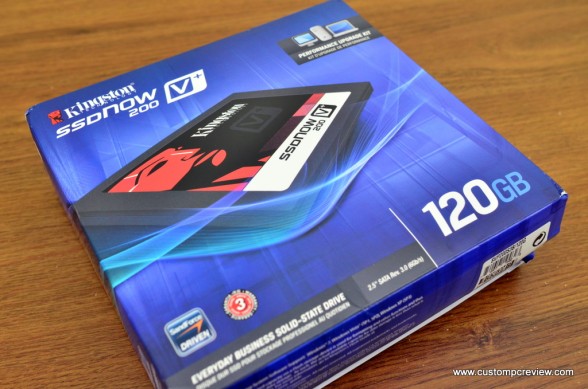 A few years ago, SSDs typically existed for the hardcore enthusiast market only. Prices were high, capacities were small and reliability was questionable. But, like many great things in history, it has evolved, and is continuing to do so at an incredible rate. This evolution in technology has drastically decreased the manufacturing costs of SSDs and boosted performance exponentially. Today, the SSD dominates traditional hard disk drives in terms of performance, and with lowering costs and improvements in reliability, it is becoming a commodity more and more users are putting into their new systems.
Today we'll be taking a look at the SSDnow V+200 120GB SSD Upgrade Bundle Kit from Kingston. The SSDnow line was originally designed to provide consumers with more affordable SSDs at the cost of a performance hit, but over the years, Kingston has improved many aspects of SSDnow and added oodles of features, such as DuraClass Technology data integrity protection, RAISE advanced date reliability, and DuraWrite write cycle optimization. Today we'll be taking a look at the 120GB SSDNow V+200, which boasts a sequential read  speed of 535MB/s and a sequential write speed of 480MB/s, Sustained Random 4k Read/Write: 20,000/44,000 IOPS, and Max Random 4k Read/Write: 85,000/55,000 IOPS.
Not bad from the perspective of the spec sheet.  But as always, will it perform as advertised? Let's find out!
Specifications
Interface: SATA Rev. 3.0 (6Gb/s) — with backwards compatibility to SATA Rev. 2.0
Form factor: 2.5″
Vibration operating: 2.17G Peak (7–800 Hz)
Vibration non-operating: 20G Peak (10–2000 Hz)
Life expectancy: 1 million hours MTBF
Sequential Reads:
128GB — 300 MB/s
Sequential Writes:
64GB —100MB/s
128GB — 190MB/s
256GB — 230MB/s
Sustained Random 4k Read/Write:
128GB — up to 36K/ up to 2.5K IOPS
Power Consumption: 0.491 W (TYP) Idle / 1.87 W (TYP) Write
Storage temperatures: -40 to 85°C
Operating temperatures: 0 to 70°C
Dimensions:
69.8mm x 100.1mm x 7mm
Weight:
88g
A Closer Look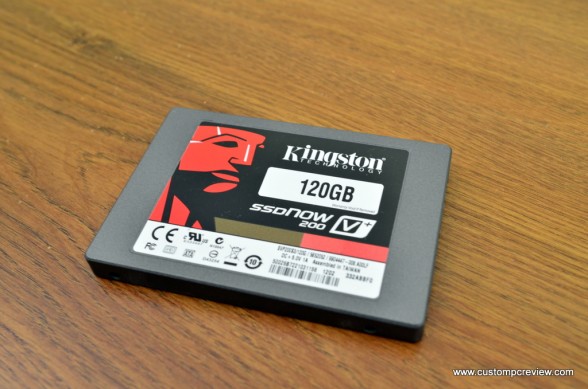 The 2.5 inch SSD looks plain and simple, just like it should. The entire high quality metallic case is colored in grey with a silver hue and are void of any fancy colors.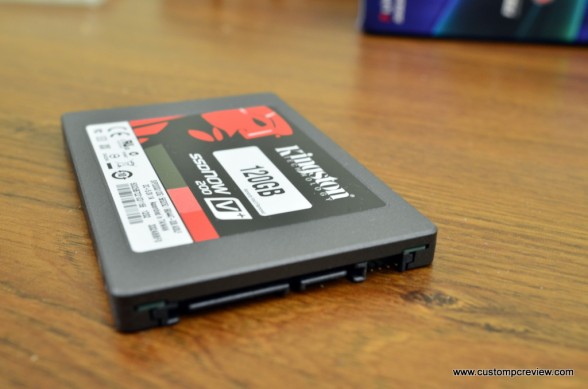 The drive uses SATA 3 6Gb/s ports, which have a maximum transfer rate of 600 MB/s. If you're planning on purchasing this SSD, make sure to connect the SSD to the SATA 3 6Gb/s ports on your motherboard in order to fully utilize the performance of this SSD.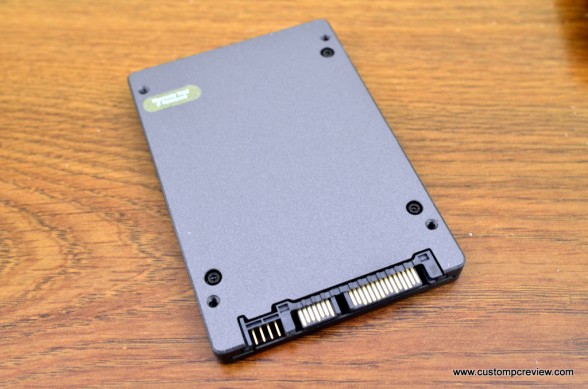 The back of the SSD is even more simple than the front. nothing but the exposed pins on the SATA interface and the screws which holds the SSD together.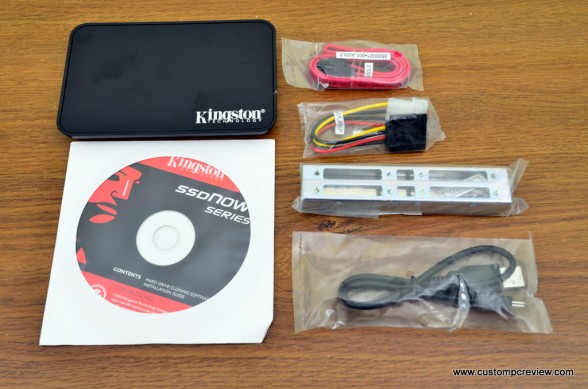 The accessories include: An external enclosure (for people who want to use it as an external hard drive), a SATA-3 cable, a SATA to Molex 4 pin power adapter cable, a 2.5″ to 3.5″ mounting bracket, a USB to mini USB cable for the enclosure, and disk cloning software.
Test Bench
Intel Core i5 2500K
Asrock Z68 Fatal1ty Professional Gen 3
Gskill Sniper 1866MHz DDR3 1.5v
Patriot Pyro SE 120gb
Corsair HX650
HSPC High Speed Tech Station
Special thanks to HSPC for providing us with the High Speed Tech Station (large) for our test bench.
Performance
ATTO Disk Benchmark
ATTO Disk Benchmark is one of the industry's most popular benchmarks for testing SSD read/write speeds. This benchmarks allows read and write testing using predefined block sizes and gives us a good idea of read/write speeds with different sized files.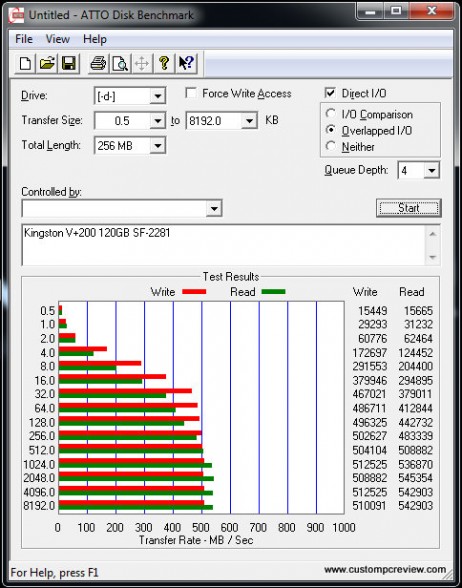 Overall, the V+200 performed very similarly to other SandForce SF-2281 based SSDs on the market. It was able to perform very close to its advertised specifications, pumping out 542MB/s reads and 510MB/s writes.
Crystal Disk Mark 3.0.1 x64
Crystal Disk Mark is another popular benchmark which allows us to measure both sequential read/write speeds as well as random read/write speeds. With this benchmark, tests may be run using both random fill (more incompressible data which simulates music, video, pictures, etc.) and 0 fill (compressible data).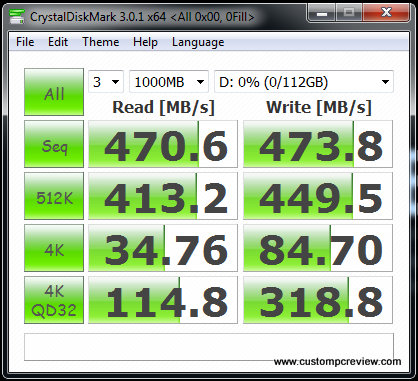 The numbers for the 0 fill test is quite nice. The V+200 scored 473.8MB/s in sequential write and 47.6MB/s in sequential reads. This is a bit below the advertised 535MB/s read and 480MB/s write, but it's what we typically see with SandForce based drives.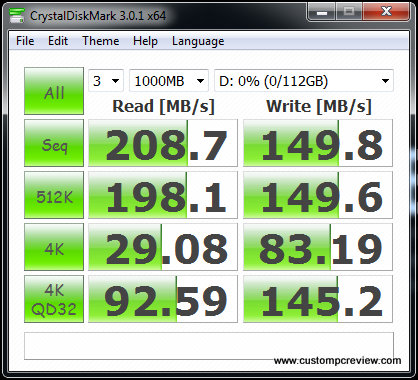 Because the SSDnow line falls closer to the budget end, it uses less expensive asynchronous NAND flash memory. While it's less expensive, it isn't as good as more expensive synchronous NAND for writing and reading incompressible data.  As you can see above, both read and write performance take some pretty serious hits; however, the 4k performance is still quite good, so any system running on this drive should still feel quite snappy.
Performance (Cont…)
HD Tune 2.55
HD Tune is a pretty standard benchmark originally for hard drive testing as the name implies, but also works for SSD testing as well.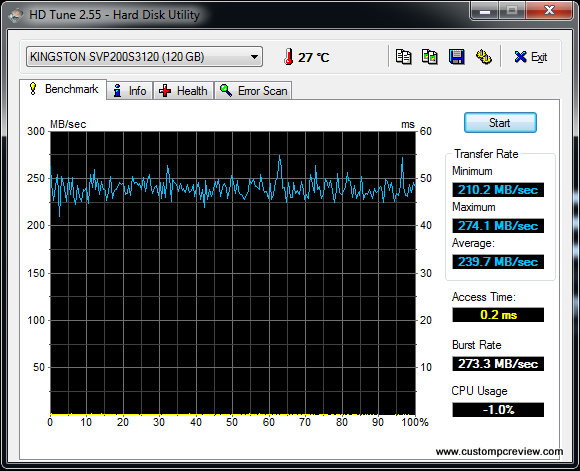 The read speed of this drive is quite decent, and like all solid state drives, the access time is near instant.
PC Mark 7
The PC Mark 7 storage test tests the SSD under many different real world tests such as gaming, video editing, etc. This is most representative of the SSD's performance under real world situations.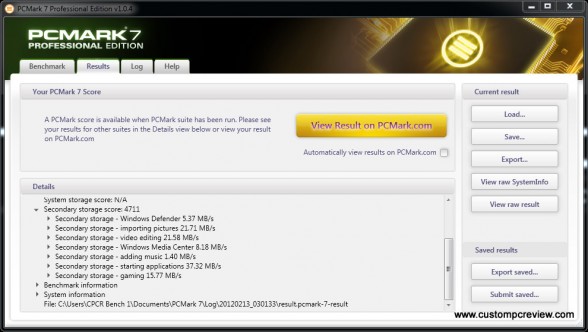 With a score of 4711, the Kingston SSDnow V+200 beat out the previously reviewed Corsair Force 3 180GB by almost 100 points in PCMark 7's storage test. This is most likely attributed to a more optimized firmware which gives this drive the slight edge in performance.
Software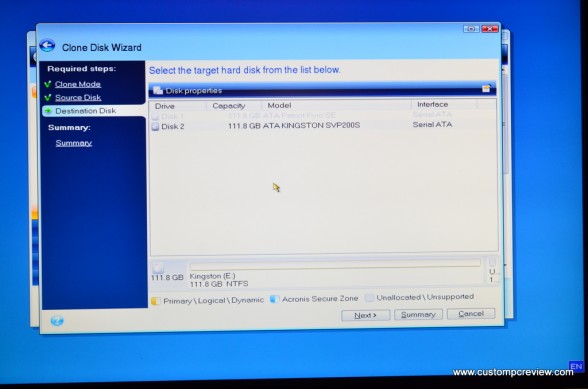 One of the most important features of the kit we received for review was the included disk cloning software and the external drive adapter. Included with the SSDNow V+200 is the Acronis Disk Cloning software which makes cloning your current hard drive or SSD easy.
Conclusion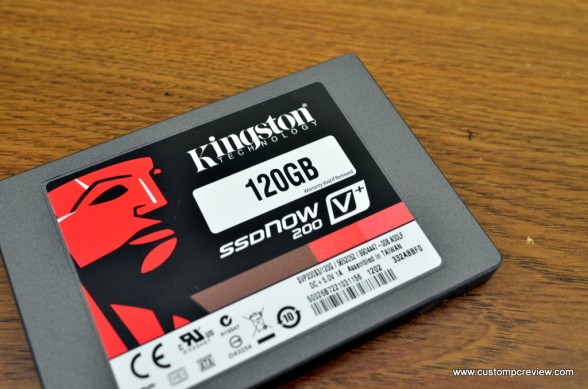 The Kingston V+200 120GB is the perfect bridge between consumer and enterprise level SSDs. Although it's not as fast as some of the enthusiast class SSDs out there, it can definitely go toe to toe with other SSDs in its class. As far as durability/reliability is concerned, this drive should hold up well considering the excellent garbage collection and wear leveling algorithms on the SandForce SF-2281 controller. Of course, you also have that 3 year warranty to fall back on in case the drive develops any issues in the future. That being said, I would've preferred to see a 5 year warranty on this drive as the V+200 is actually classified as a business class SSD.
The included external hard drive enclosure is also a nice touch, and in my opinion a great deal for those considering replacing the hard drives on their laptops. This way all cloning can be done via USB as it isn't too common to see laptops with the option of dual SATA ports. Additionally, the kit may be reused for other SSDs in the future, so you'll only need to buy the upgrade bundle kit once. Speaking of disk cloning, the included Acronis disk cloning software is also an excellent inclusion. It's very easy to use and does the job just fine.
As for flaws, when it comes to SSDs it usually is the pricing and the V+200 isn't too bad on that front either. While there are cheaper options such as the Corsair Force 3 we've reviewed previously, the V+200 (at least in bare drive form) isn't too pricey with the 120GB V+200 ($186.15) coming in at only about $16 more than the Force 3 120GB ($169.99) on Amazon at the time of writing. However, if you are planning to purchase this SSD to upgrade your notebook, I am going to recommend picking up the kit. It is a bit pricier (at about $212 at the time of writing), but it is a excellent value considering it does come with an external enclosure and disk cloning software which makes the transition to the SSD much easier.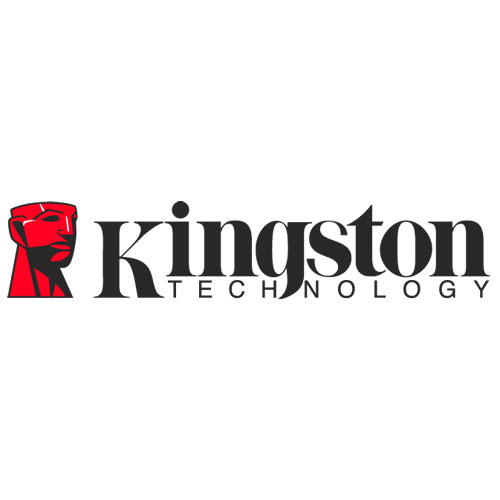 Bottom Line
For those looking to purchase a new SSD for their notebook, the Kingston V+200 120GB SSD with Upgrade Bundle Kit should definitely be on your short list. In our testing, the SSD performed very well and definitely is on par with other SF-2281 based SSDs; however, unlike most SSDs on the market, the kit does differentiate itself by including cloning software as well as an external drive enclosure which is easily worth the extra cost.
For those looking into purchasing an SSD for the desktop, the V+200 is a great option as well; however, it does perform quite similarly to other lower priced SF-2281 based SSDs on the market such as the Corsair Force 3, so I there's no reason for me to recommend it over a cheaper SF-2281 based SSD. That being said, if you do manage to find a great deal on the bare SSDNow V+200, I wouldn't hesitate to make the purchase.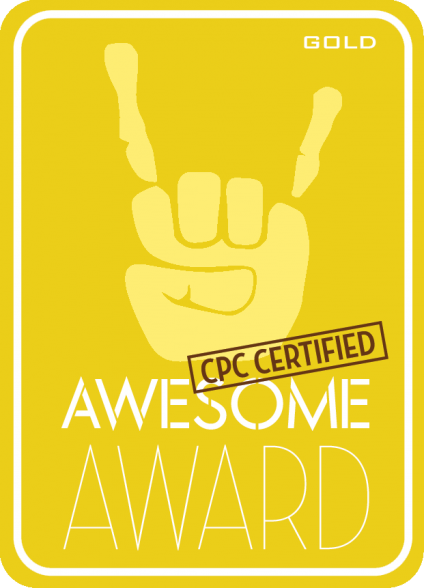 Special thanks to Kingston Technology for making this review possible.
The Kingston SSDNow V+200 120GB with Upgrade Bundle Kit as reviewed today is currently available on Amazon.