[section label=1. Introduction]
Impossibly Thin, Insanely Powerful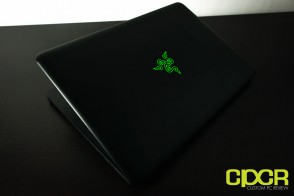 When Razer first launched original Blade notebook all the way back in 2011, I think very few people could imagine how far Razer would get as a system integrator. At the time, Razer was facing quite the uphill battle being not only a first time system integrator, but also having a product that was both underpowered and overpriced. Carrying a mid-range mobile graphics card along with a dual core processor at the time and costing nearly double of what many of the big box manufacturers were charging for a similarly equipped system, many thought that the Blade concept wasn't going to be a very long lived project. However, with its great design and a commendable marketing effort, Razer, who recently introduced their new 14 inch Blade notebook, has proved us all wrong.
As you may guess then, today's review will be on the new Razer Blade, which I've actually been dying to get my hands on for the better part of the past two months. Before we get into the review itself, let's first talk about the changes to the Razer Blade series notebook lineup. The Blade series will consist of two SKUs – the Blade and the Blade Pro. The original 17″ Blade will be renamed as the Razer Blade Pro and the new 14″ Blade will just be called the Razer Blade. Quite simple really. Pro = 17″, non-Pro = 14″.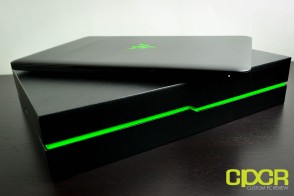 Alright, so with that out of the way, let's talk about the all new Blade. Unlike what we saw in the first generation Blade, this time around Razer has done pretty much anything and everything possible to pack as much power into the 0.66″ thick formfactor. In its core we get Intel's latest Haswell based Core i7-4702HQ processor, Nvidia's GeForce GTX 765M 2GB, 8GB of DDR3L 1600MHz memory, as well as the choice between 128GB, 256GB and 512GB of fast SSD storage. As this is a 14″ notebook, Razer has also dropped the entry price on the unit giving it a starting price of $1,799.99 – a far cry from the near $3,000 Razer was charging for original Blade when it was first introduced a couple years ago.
Ready to see what we think of the new Razer Blade? Flip the page to find out!
Razer Blade Specifications
| | |
| --- | --- |
| Notebook | Razer Blade |
| CPU | Intel Core i7-4702HQ (6M Cache, Up to 3.20 GHz) |
| Motherboard | Intel Lynx Point HM87 Chipset Motherboard |
| Memory | 8GB DDR3L-1600 Hynix Memory |
| Graphics | Intel HD 4600 Integrated Graphics + Nvidia GeForce GTX 765M 2GB |
| Storage | 128GB / 256GB / 512GB SATA III SSD |
| Optical Drive | N/A |
| Display | 14″ HD+ 1600×900 LED Backlit Display |
| Sound | Built-in Stereo Speakers |
| Networking | Killer Wireless 1202 a/b/g/n + Bluetooth v4.0 |
| Keyboard | Built-in Anti-Ghosting Keyboard |
| Mouse | Built-in Touchpad |
| Battery | 4-Cell 70Wh 6400mAh Li-Ion Battery Pack |
| Webcam | Built-in HD Webcam (1.3MP) |
| I/O | HDMI, Headphone/Microphone, Kensington Lock; 3x USB 3.0 |
| Operating System | Microsoft Windows 8 (64-bit Edition) |
| Dimensions | 13.6″ x 9.3″ x 0.66″ |
| Weight | 4.1 lbs |
| Warranty | 1-Year Limited Warranty |
| Check Pricing | Click Here |
[section label=2. A Closer Look (Exterior)]
A Closer Look at the Razer Blade (Exterior)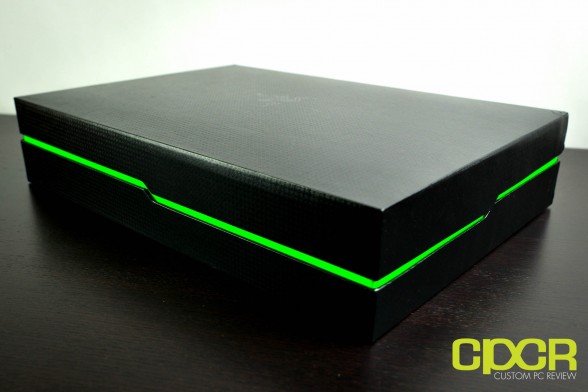 Here's a look at the packaging for the Razer Blade.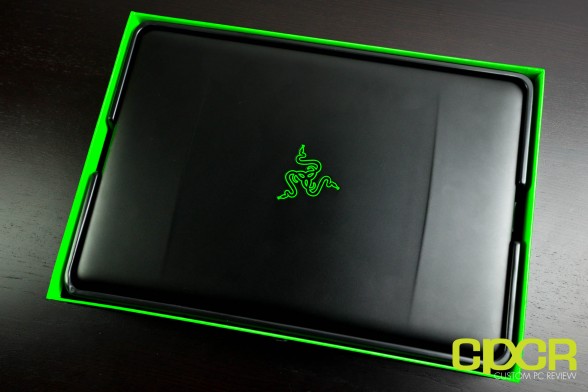 Opening up the box, we get the Blade itself…
… along with some documentation, a screen cleaner, some Razer stickers, and a 150w power brick. The power brick itself is quite light weighing in at only 438g (~0.97lbs).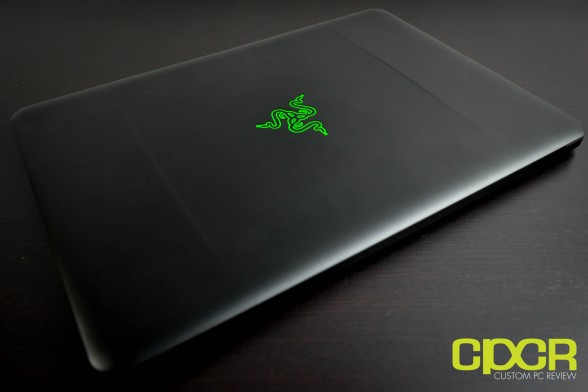 Here's a look at the Blade itself. The entire body of the unit measures in at only 13.6″ wide, 9.3″ deep, and 0.66″ thick, with a curb weight of only 4.1lbs. The entire body of the unit is constructed entirely of a matte black aluminum material. The center of the unit contains a large Razer logo which lights up green when the unit is powered on.
Among notebooks specifically designed for high performance gaming, the Razer Blade is undoubtedly one of if not the thinnest and lightest on the market.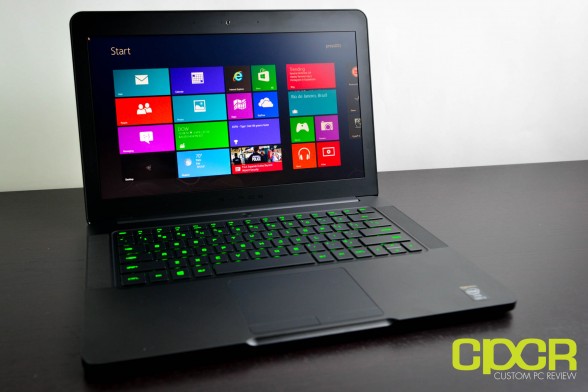 Because of the aluminum design, the entire unit feels extremely sturdy to the feel. The top hinge itself is extremely smooth and can be opened using a single hand. The build quality here is superb.
The screen on the Razer Blade is a 14″ 1600×900 LED backlit display. The keyboard is a green backlit anti-ghosting keyboard. Above the 14″ display is an 1.3 megapixel HD webcam.
I/O connectivity includes 3 x USB3.0 ports, a HDMI 1.4a port, 3.5mm mic/headphone port, Kensington lock port, and a power port.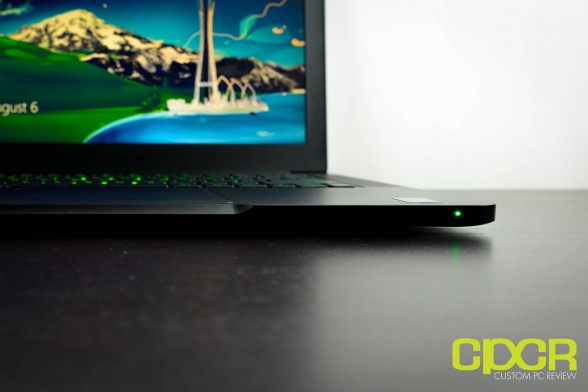 There isn't much going on at the front of the Blade. There's a small ridge built in that allows for easy opening of the notebook along with a status indicator at the right side indicating the status of the notebook.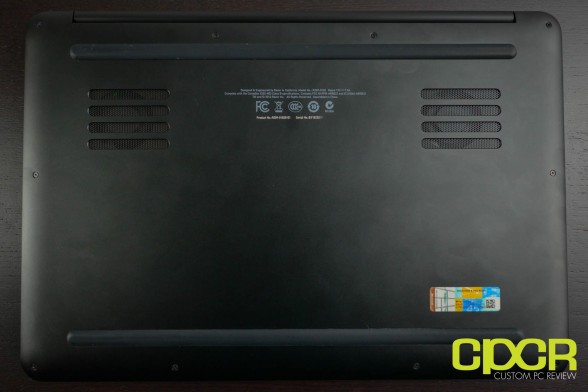 Here's a look at the bottom of the Blade. There are two large strips of rubber to raise the notebook along with two vents here as well for dissipating heat.
Here's a look at the backlit keyboard in the dark.
[section label=3. A Closer Look (Interior)]
A Closer Look at the Razer Blade (Interior)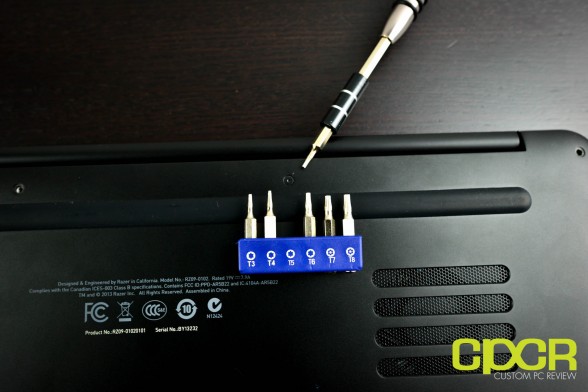 Servicing the Razer Blade is fairly straightforward. The unit is held together by a couple Torx T5 screws located at the bottom of the unit.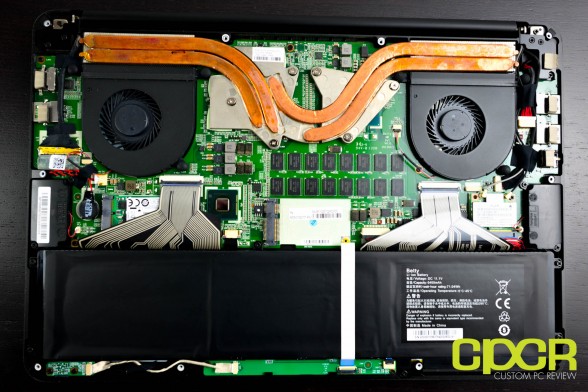 Pulling the bottom panel off the Blade, we can take a look at some of the components on the Blade. For our review today, we'll mainly be taking a closer look at components we can readily see here as I don't think Razer would be too thrilled if I took the entire thing apart.
About 1/3 of the space inside the Blade is used for the battery. Taking a closer look at the battery, we can see that it's a 6400mAh, 71.04Wh Li-ion battery.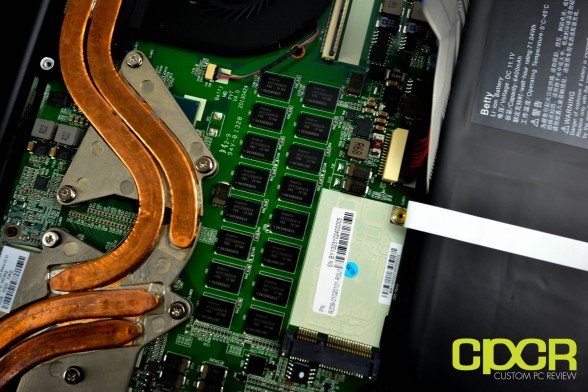 Similar to many ultrathin notebooks on the market, Razer soldered the memory ICs directly onto the motherboard itself. In total, the Blade includes 8GB of DDR3L.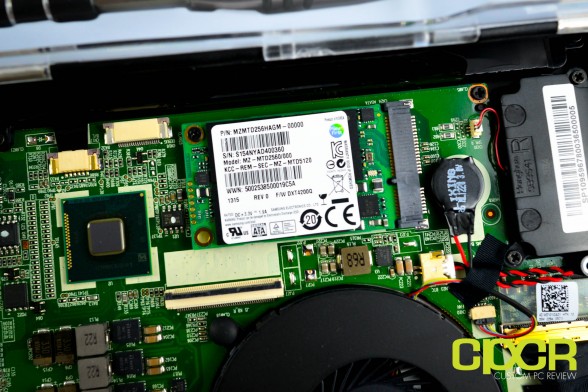 For storage, the Blade comes in capacities of 128GB, 256GB and 512GB. Our specific unit came with the Samsung PM841 256GB mSATA SSD, which is one of the fastest mSATA SSDs on the market drawing components from the Samsung's famous 840 Pro series SSDs. Performance on the PM841 is listed at 540MB/s read and 330MB/s write.
Despite the extremely compact formfactor, Razer also managed to cram in a second mSATA slot which sits right under the memory. This allows for an additional mSATA SSD to be installed for additional storage. RAID options are also available in the BIOS as well for those looking to run the SSDs in a RAID 0 or RAID 1 configuration.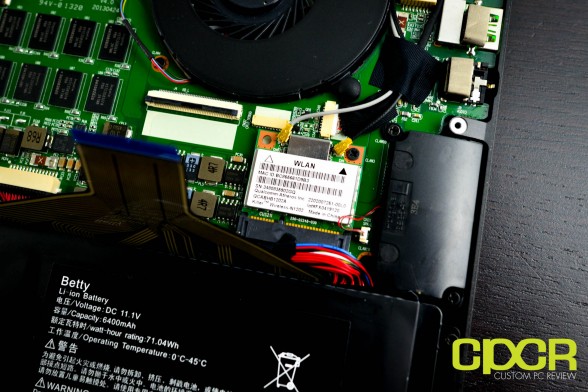 For networking, Razer is using Qualcomm's Atheros Killer Wireless-N 1202 WiFi chip. This gives the Blade access to 802.11 a/b/g/n along with Bluetooth connectivity as well.
[section label=4. Initial Boot]
Razer Blade Initial Boot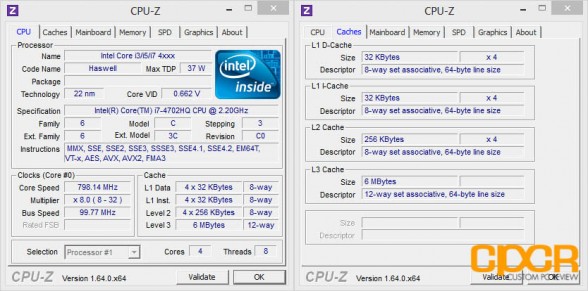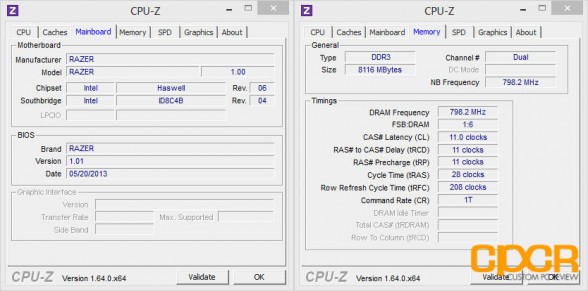 Let's take a look at the CPU, motherboard and memory configuration. The CPU on the Blade is Intel's latest Core i7-4702HQ processor, which is a 37w TDP quad core, hyper threaded Haswell based CPU running at 2.2GHz with the capability of turboing up to 3.2GHz. The motherboard is a custom Razer HM87 based motherboard. Memory onboard is 8GB of 1600MHz CAS 11 Hynix DDR3L.
As for graphics, we get a combination of both the Intel HD 4600 integrated graphics along with Nvidia GeForce GTX 765M 2GB discrete graphics. The system also uses Nvidia Optimus technology, which automatically switches between integrated graphics and discrete graphics depending on load for better battery life.
[section label=5. System Performance]
Razer Blade Performance
System Performance
PC Mark 7
PC Mark 7 is a full system benchmark designed to test real world system performance.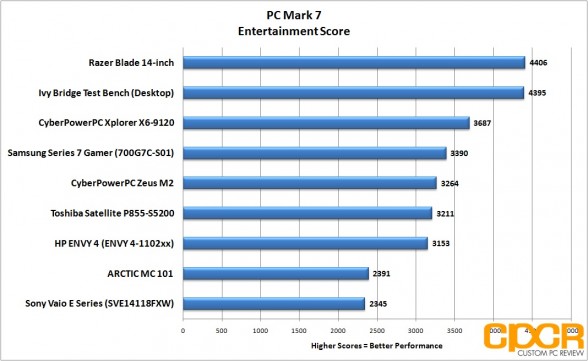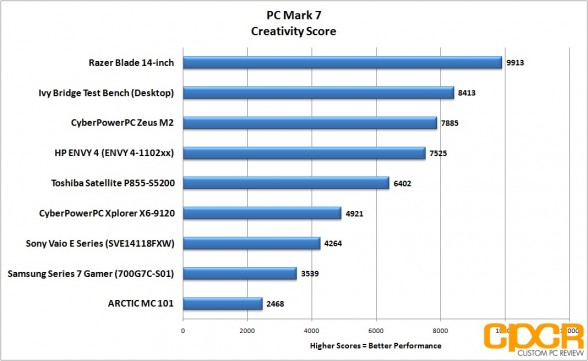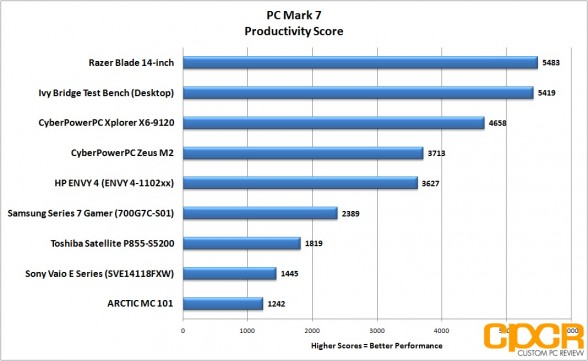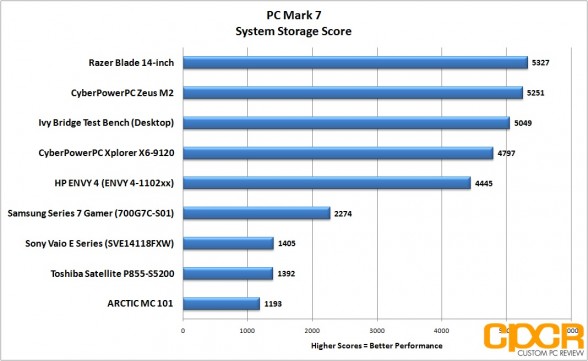 PC Mark 8
PC Mark 8 is the successor to the highly popular PC Mark 7 and is a full system benchmark designed to test real world system performance.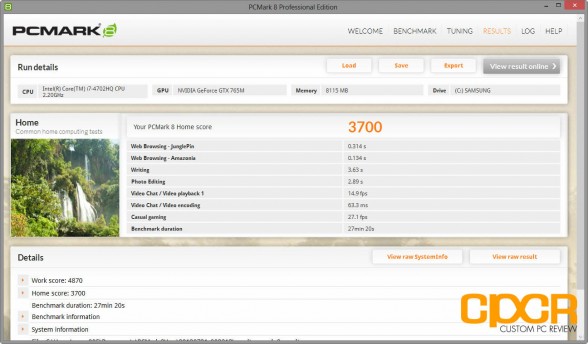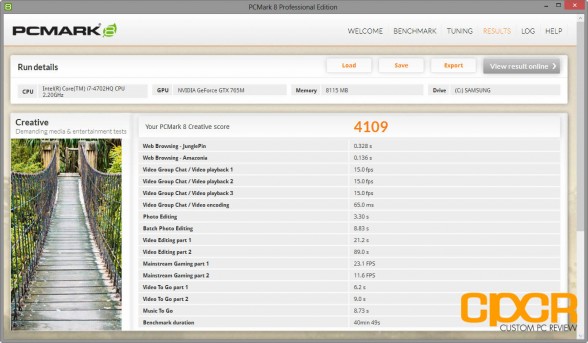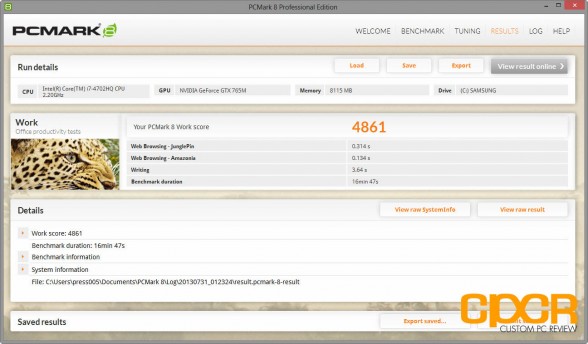 Performance Analysis
For our complete system performance testing, I think I can let the results speak for itself. The combination of the Intel Core i7-4702HQ, the Nvidia GeForce GTX 765M, and the Samsung PM841 SSD make this one of the fastest and most well balanced gaming notebooks on the market.
[section label=6. CPU Performance]
Razer Blade Performance
CPU Performance
SuperPi 32M
SuperPi is a single threaded benchmarking tool which for our purposes simply calculates pi for us and records the time to calculate 32 million digits after the decimal point.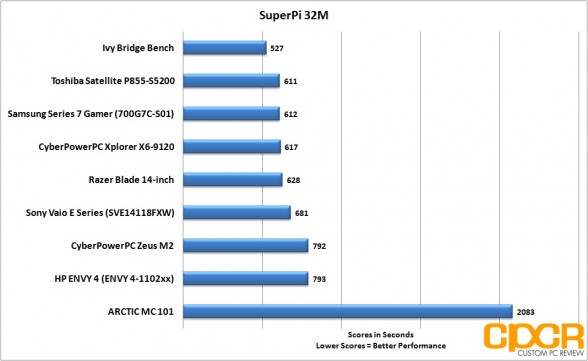 WPrime 32M
WPrime is a multi-threaded benchmarking tool which for our purposes simply calculates pi for us and records the time to calculate 32 million digits after the decimal point.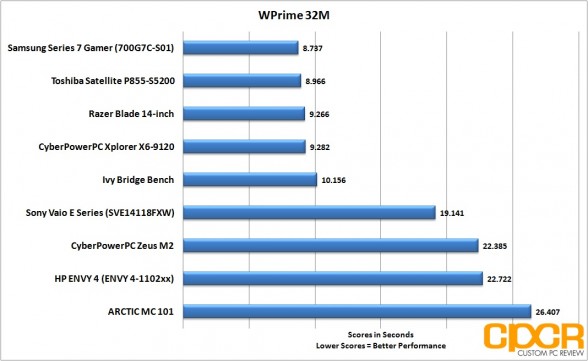 x264 HD Video Benchmark v5.0.1
x264 HD video benchmark tests how fast the system can encode a 1080p video into a high quality x264 video file. The most recent 5.0.1 release includes a more advanced benchmark script to better stress test newer multi-core processors.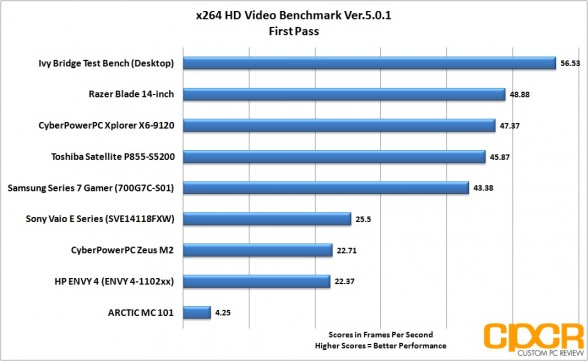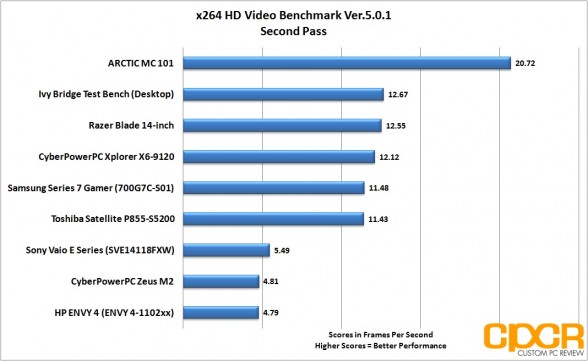 Cinebench v11.5
Cinebench is a real world benchmark that tests system performance using the Cinema 4D animation software. For our benchmarking, we'll be testing multithreaded performance only.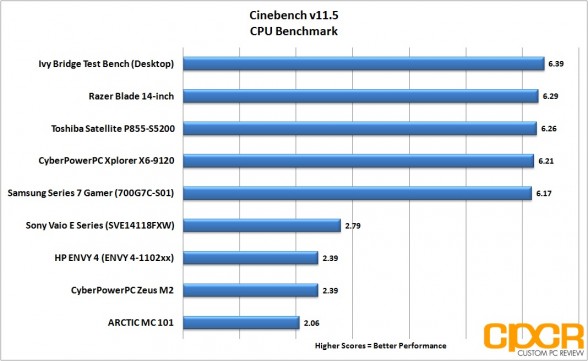 Performance Analysis
This is our first run in with the new Haswell based Core i7-4702HQ and overall I'm fairly impressed with what Intel has done. In comparison to the last generation Ivy Bridge based Core i7-3610QM, the Core i7-4702HQ doesn't offer much in terms of additional performance, but it is able to match the performance of last generation CPUs at an ~18% smaller thermal envelope.
[section label=7. Graphics Performance]
Razer Blade Performance
Graphics Performance
3D Mark 11
3D Mark 11 is an extremely popular benchmark designed by Futuremark for the sole purpose of stress testing a system's graphics performance. Trusted by hardware enthusiasts and gamers world wide, 3D Mark 11 uses the latest features of DX11 to stress test graphics performance with consistent loads which simulate in game performance.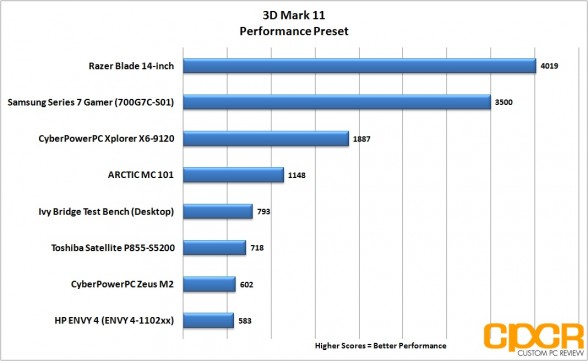 3D Mark
3D Mark is Futuremark's latest benchmark utility used widely by gamers, enthusiasts, and overclockers to benchmark system performance and stability under consistent graphics loads. Since this benchmark is very, very new we don't have a huge database of benchmark scores yet, but we'll be using the new 3D Mark from here on out for future testing.
CloudGate
CloudGate is 3D Mark's mid tier graphics benchmark designed for notebooks and general home systems.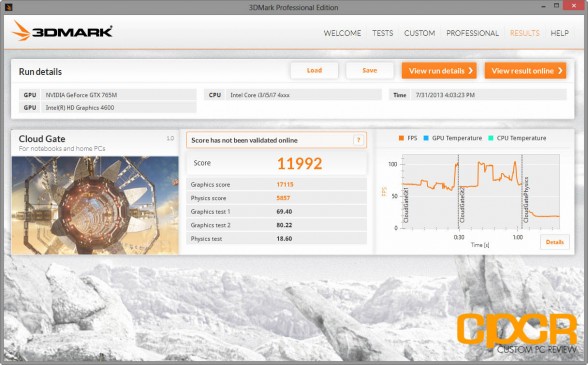 FireStrike
Fire Strike is 3D Mark's most graphically intensive benchmark designed for high performance gaming systems.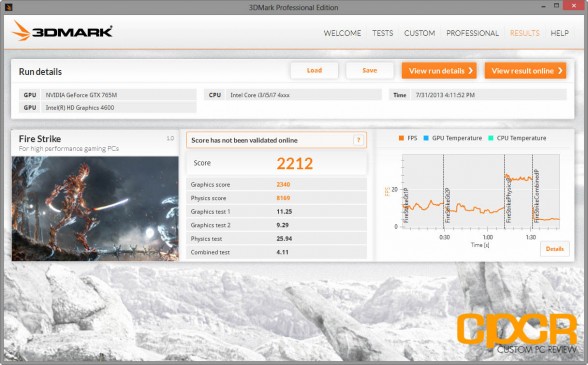 Game Benchmarks
Our game benchmarking today is going to be a bit different in comparison to our typical suite of game benchmarks. As the Blade comes equipped with a 1600×900 resolution panel rather than a 1920×1080 resolution panel, we'll be doing our testing in its native resolution at the highest settings along with testing at 1280×720 (720p) at high settings.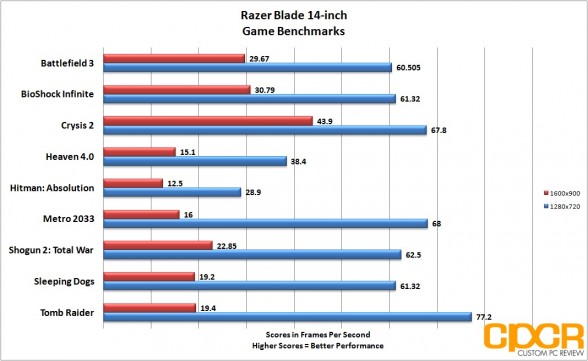 Performance Analysis
As the Blade is equipped with Nvidia's latest Kepler based GeForce GTX 765m discrete graphics, graphics performance on the Blade is stellar. In our testing, it was able to play a number of our benchmarked games at the highest settings at the Blade's native resolution of 1600×900. At high settings at 1280×720, the Blade was easily able to play all the games we've benchmarked today.
[section label=8. Disk / USB 3.0 Performance]
Razer Blade Performance
Disk Performance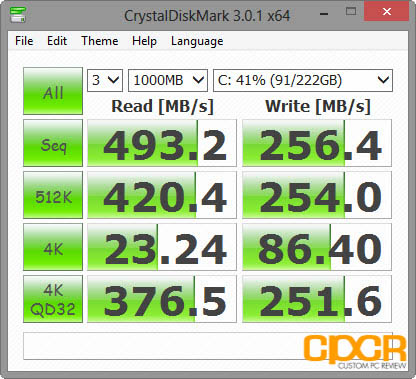 Taking a look at disk performance, we can see the the Samsung PM841 is a strong performer that's capable of pushing extremely fast sequential and random reads. This is important for client and gaming workloads such as game level loading for example.
USB 3.0 Performance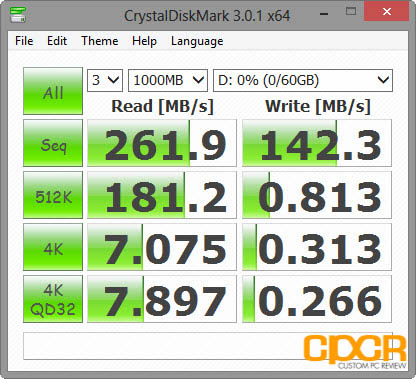 As usual, we've also dropped in our Kingston HyperX USB 3.0 64GB flash drive to test out USB 3.0 performance on the Blade. Since the Blade uses Intel controlled USB 3.0 ports, performance is as you'd expect off the drive.
[section label=9. Power Consumption / Temperature]
Razer Blade Power Consumption
Here we'll be testing the maximum power consumption of each of the test systems shown below. Idle power consumption is taken after the notebook is left idle for a minimum of 5 minutes. For load power consumption numbers, both Prime95 and Furmark are run simultaneously for a minimum of 5 minutes before the final results are taken. If possible, the battery is removed for a more accurate reading of power consumption. Power consumption readings are taken using a Extech 380801 Power Analyzer connected via a Tripp-Lite LCR2400 Line Conditioner.
For our testing below, the notebooks are set to "balanced" power mode with the screens at 100 nits of brightness. The ARCTIC MC101 and the Ivy Bridge Bench are not notebooks and have been included for reference purposes only.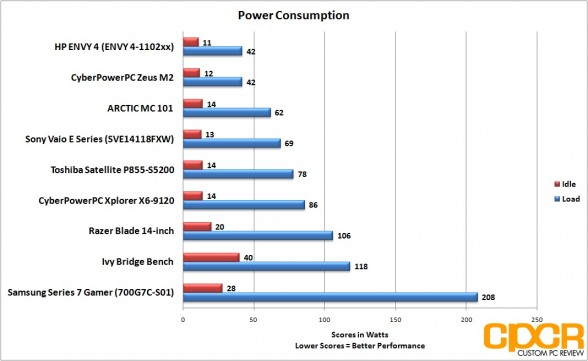 For its performance, the Blade's power consumption figures are quite good. Obviously, the notebooks carrying Ultrabook ULV processors and no discrete graphics come out on top here, but otherwise the Blade does quite well idling at ~20w and maxing out at only 106w.
PC Mark 8 Battery Life Testing
Work Benchmark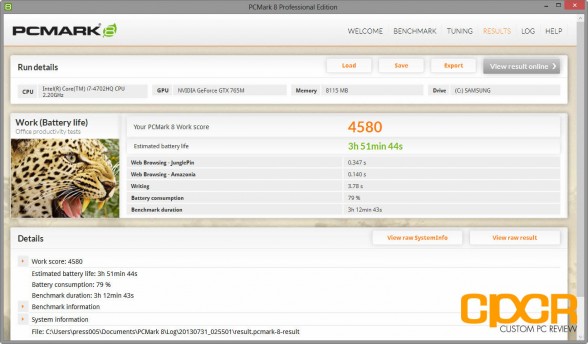 Creative Benchmark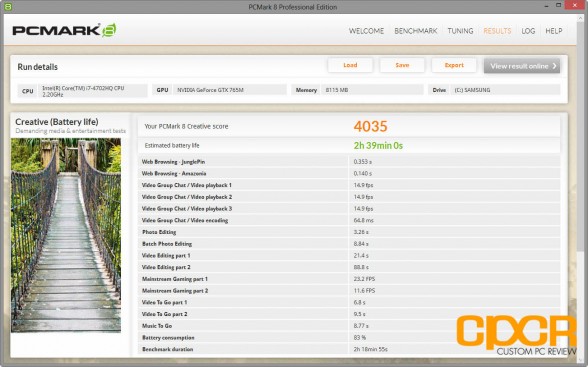 The Blade isn't an Ultrabook, but it's still got a fairly decent battery life as its huge 6400mAh battery is capable of lasting nearly 4 hours on a light load and a good 2 and a half hours on a heavy load. This should give the Blade a decent amount of gametime for those looking to play some games on the go.
Razer Blade Temperatures
Temperature testing is conducted by simultaneously running Prime 95 and Furmark in order to generate the maximum amount of heat possible. Temperatures are taken after a minimum of 20 minutes of testing.
Ambient Temperature – 23.6°C (Taken via Extech EA10 dual probe thermometer)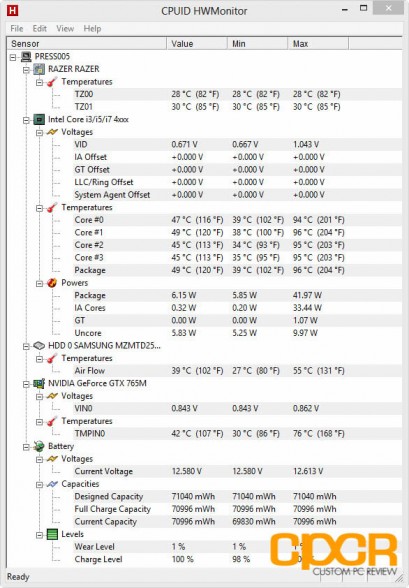 One of the major concerns for me was thermals on the Blade as Razer has packed quite a bit of serious hardware in a very small space. Unfortunately it seems like Razer hasn't defied the laws of physics quite yet as CPU temperatures hovered around the mid-90°C's, which shouldn't be much of a problem as notebook processors are designed to run a bit warm. During testing, I didn't notice any sort of throttling which is definitely good. What does surprise me though is GPU temperatures as they never rose above the mid 70°C's.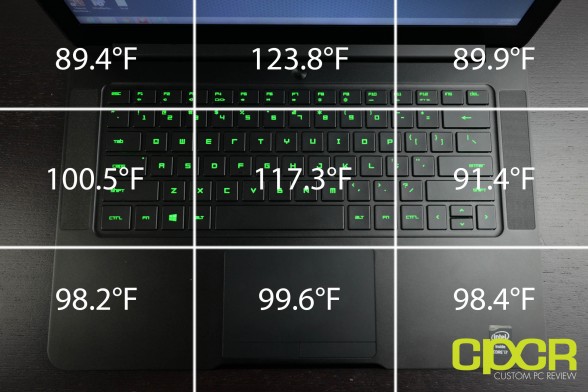 Since we've got a ton of horsepower under the hood, heat is pretty much inevitable, but it's nice that Razer has done a little bit of optimization to the cooling system to ensure that the notebook only gets hot in places that you wouldn't necessarily touch. The left quadrant of the notebook for example only hits about 100.5°F at its hottest point, which is just slightly warm to the touch. This is nice since a lot of games tend to use the WASD keys for movement. On the other hand, the power button area reaches about 123.8°F at its hottest point, which is painful to touch for more than a couple seconds. However, your hands generally won't make its way over there, so it's not a huge problem.
[section label=10. LCD Testing]
Razer Blade LCD Testing
For the LCD panel on the Blade, Razer has opted to use the AU Optronics AUO103E. The AUO103E is a 14″ LED backlit TN panel.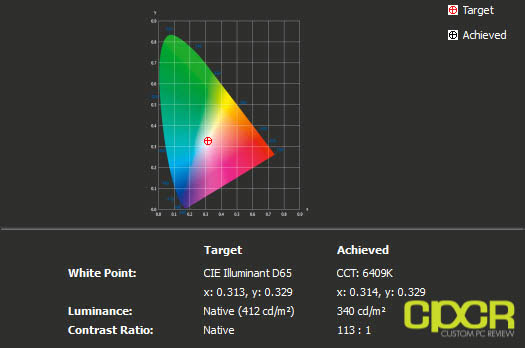 Here I've calibrated the screen based on its native specs and while contrast ratio is quite poor, the screen does go extremely bright pushing out about 340 nits.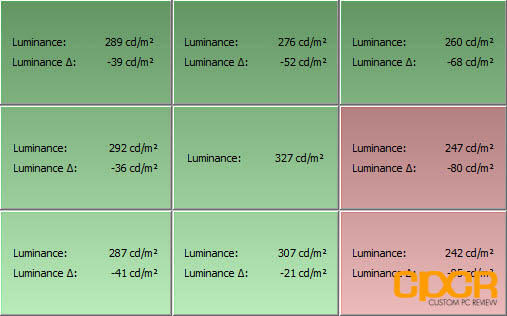 Here's a look at the screen's backlight uniformity. It's not too bad, but it's not stellar either. Whereas the left and middle of the screen is decent, the right side does drop off a bit.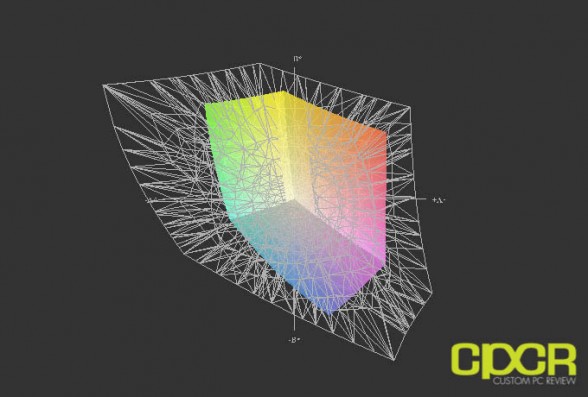 The AUO103E's color gamut is quite poor covering only a measly 45% of the Adobe RGB 1998 color space. Those looking to use the Blade for creative work should probably look into an external monitor based off of IPS display technology.
Viewing Angles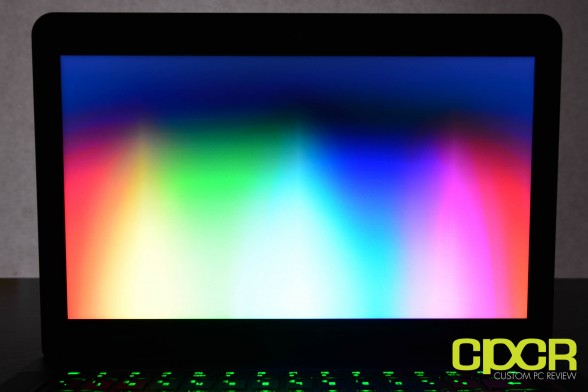 Taking a look at the screen from the front, it's definitely not the most impressive screen we've seen to date. Colors aren't very vibrant and the colors seem washed out.
Horizontal viewing angles aren't very good, even for a TN panel.
Horizontal viewing angles were bad, but vertical viewing angles are even worse. The screen is only usable in its ideal viewing position.
[section label=11. Conclusions]
Razer Blade Conclusions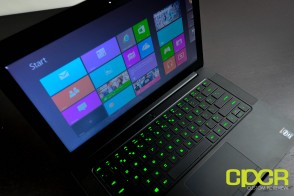 Alright guys, with testing out of the way, let's go ahead and sum it up. Performance wise, the Blade is exactly what you'd expect from a high performance gaming notebook. With Nvidia's GeForce GTX 765m, the Razer Blade is more than capable of playing all of the latest games on the market at high to ultra settings while still keeping itself relatively cool. During my testing, I didn't notice any issues relating to overheating, which was one of my biggest concerns prior to testing the notebook. Additionally, the Blade's Core i7-4702HQ is one of the fastest mobile processors on the market in both single and multi-threaded performance, which will allow it to be competent in both gaming and productivity scenarios. When Razer originally designed the Blade, they literally had one goal in mind – gaming performance, but the components they've selected here has made it a highly competent machine in many different applications outside of gaming.
In terms of design, I think Razer has really nailed it with the Blade. Up to this point, there's almost always been that tradeoff between performance and formfactor. Previously, those looking for a high performance gaming notebook had a constant struggle between the performance of a machine or a 7, 8lbs+, 15″ or 17″ formfactor, but with the Blade I think Razer has really changed the landscape here offering a product that not only is able to deliver high performance, but is also able to deliver high performance without the bulk or the weight. I think from a design perspective, they're really setting the example here, which I think is something the big box manufacturers will be taking design cues from down the line.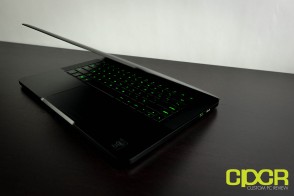 Speaking about design, I think it's impossible not to talk about Apple's MacBook Pro when talking about the design inspiration for the Razer Blade. While a number of people have made comments about the Razer Blade being is a Windows clone of the Macbook Pro, I personally don't think it's a huge deal. While personally I'm not the biggest fan of the OSX operating system, one thing I do like about Apple is their notebooks. Every generation, it seems like the Macbook Pro or the Macbook Air is one step ahead of its Windows based competitors be it the aluminum body, the thin and light designs, or the top of the line craftsmanship. Given the fact that Apple is able to take a whopping 10% (and growing) marketshare of the notebook market quarter after quarter with only a couple SKUs, it's quite obvious that they're doing something right, and personally I think if Razer is going to be taking any design cues, the Macbook Pro is definitely the right product to take them from.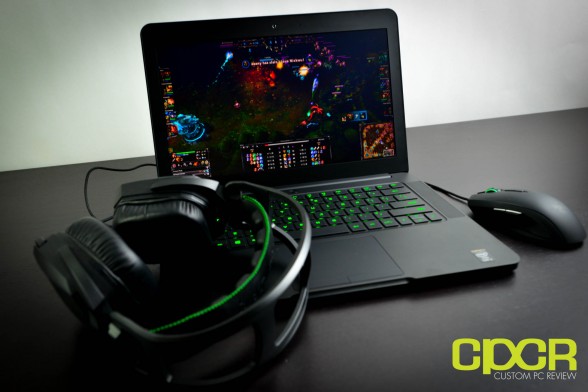 As for screen performance I'd say that that's my biggest complaint with the Blade. The AUO103E Razer has packed into the Blade is simply a poor quality screen that's unable to produce a decent contrast ratio, color gamut, or any depth in the blacks. Colors on the screen look washed out especially at any viewing angle other than the ideal viewing angle and pale in comparison to any decent TN or IPS panel powered notebooks. The only real saving grace for the Blade's screen is that it does go quite bright at up to about 340 nits or so, which allows the notebook to be used in extremely bright environments. Creative types and picture quality aficionados should definitely purchase an external IPS based monitor or go with a different notebook altogether.
Following numerous complaints about the Blade's screen, Razer CEO Min-Liang Tan issued a statement on his Facebook page, which explains the reasoning behind their decision for the screen:
I've been asked many times why we chose a TN panel over an IPS panel for the Razer Blade and my response has been "It's the best 14" panel available for gaming." I thought I'd go into it in greater detail.

The TN panel on the Razer Blade has a transition time of 8ms (16ms worst case) and essentially, that means that pixels can completely turn on or off within the refresh time allotted in a 60Hz display. The IPS panels available to us at the time had a refresh rate of 35ms (50ms worst case) and basically that means there could be visible artifact during pixel transitions from any one color to another.

The difference between 50ms and 16ms means that we can avoid any chance of visible artifact during quickly changing frames, i.e. gaming performance is best on the panel we chose.

However, admittedly, while gaming performance is better on the panel we chose, other issues like vertical viewing angles are poorer for the TN panel as compared to IPS panels.

We made these decisions well aware that it would have an impact on other uses – i.e. lying in bed and watching a movie with a friend etc, but it has always been gaming first here at Razer. Honestly, from my own personal perspective, I don't have any issues with viewing angles cos I'm forever alone on my laptop anyway. :)

This is akin to the decision that we made for the first Razer Blade Pro 2 years ago where we picked a dual-core CPU with a higher clock rate vs a quad-core CPU with a lower clock rate. For the tech uninitiated then, most said "why not Quad core?" but the hardcore gamers understood that a higher clock speed dual core CPU would outperform a lower clock speed quad core for gaming. It was only till the Quad Core CPUs met our gaming spec that we moved to a Quad Core CPU. Similarly, when it came to screen selection for the new Razer Blade, we picked the 14" best screen there was for gamers.

Would we pick an IPS panel in the future? Possibly, but only if the refresh rates are up to par with our expectations for our customers – you – the gamer. Until then, the 14" TN panel is the best panel there is for gaming.

Our design philosophy has always been to design and build the best possible products for gamers. And that will never change!

For Gamers. By Gamers.
Finally, there's also price and the Razer Blade definitely isn't cheap with the 128GB edition of the notebook starting at a staggering $1,799.99 for the 128GB edition ranging up to $2,299.99 for the 512GB edition. However, what you're getting with the Blade is a boutique notebook that really is in a class all on its own. There's no competition if you're looking for the this type of performance in this kind of formfactor. Here's the deal. If I had to pick a single Windows notebook I'd buy today, it'd be the Blade. There's no question about it. I'd also go as far to say that it's *almost* the first Windows notebook done right. Yeah, the system may not be perfect as it's still slightly more expensive than I'd like and I'd definitely like to see at least the option of going with an IPS panel or even a better TN panel for those who need it, but currently the Blade is the best we've got and… I'll take what I can get. Highly recommended!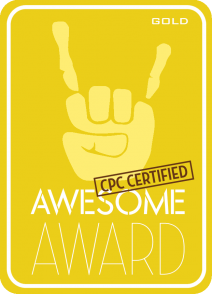 Sample provided by: Razer