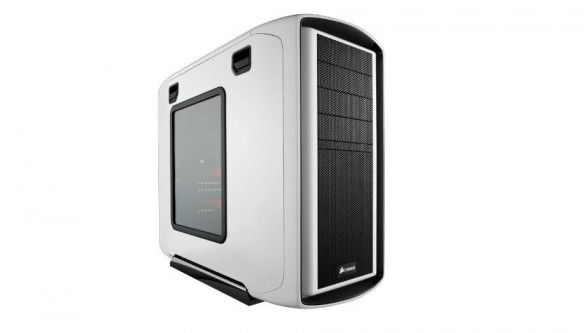 This build is primarily focused on high end, intensive video editing with a secondary usage as an performance gaming PC. This means finding a balance of processing power and graphical power and all at the same time sticking to a budget of around $2500-$3000. We're definitely looking for value here as well, so the closer to $2,500, the better.
Budget: $2,500-$3,000
CPU – Intel Core i7 3930K
For an enthusiast machine designed for both tons of video editing and tons of gaming in mind, we'll need a powerful processor to handle all the work and it's hard to think of anything better than the i7 3930K. Armed with a hyper threaded hexacore processor, the 3930K offers a total of 12 threads, making it one of the fastest consumer oriented processors out on the market today. At a price of $569.99, it's also nearly $500 cheaper than the Intel Core i7 3960X, but only marginally slower – especially when overclocked.
Being a Sandy Bridge-E (E is for Extreme) processor, the i7 3930K runs off the LGA2011 platform providing users with access to quad channel memory, PCIe 3.0, and easy expandability to over 64GB of memory.
Memory – Corsair Low Profile Vengeance 16GB Quad Channel
Coming in at a very reasonable $97.99 for a full 16GB of DDR3 1600MHz memory, the Corsair Vengeance Low Profile is one of my top picks for a video editing system. Since this is an X79 based system, those preferring to go with a 32GB configuration will be able to do so as well especially since the X79 platform will offer support for up to 8 DIMMs of memory – plenty for most users out there. Additionally, low profile modules are stressed here as well to accommodate larger air coolers.
Motherboard – MSI X79A- GD65 (8D)
One inescapable fact about the LGA 2011 or X79 platform is that the motherboards will end up on the pricey side, but the MSI X79A-GD65 (8D) represents one of the few when it comes to affordable yet powerful X79 motherboards. As expected of this high end motherboard, the GD65 (8D) comes with plenty of USB 3.0, plenty of SATA 3 6Gb/s, and plenty of PCIe 3.0 as well. As usual MSI has included some of their signature features as well, including MSI's Military Class III components, the sexy blue and black color scheme, as well as their Click Bios II UEFI interface.
There's also a $20 rebate currently going on so make sure to get in on it while it lasts!
Case – Corsair Graphite 600t White Edition
I realize that this case has been featured on the site many times, but when it comes to computer cases, there really are only a few that can match the elegance of the Corsair Graphite 600T. With its sleek high gloss plastic accents, the 600T gives off that "wow" feeling, making it worthy of any enthusiast system. As usual with Corsair cases, they've done a terrific job at maximizing space in the case as well, so you should have no trouble getting everything to fit nicely. Corsair has always been masters of innovative cable management design as well and on the 600T, you'll see nothing less.
GPU – Galaxy GeForce GTX 670 2GB GDDR5
For those not familiar with the trend in the graphics card market these days, the newly released GTX 670 is a top contender when it comes to price, performance, and energy efficiency. Coming in at only $399.99, this graphics card is able to match the performance of a more expensive AMD HD 7970 in many benchmarks and do it with lower power consumption.
The only problem is finding one in stock… If that's a huge problem, a HD 7950 can be substituted at the same cost; however, won't be as fast or as power efficient as the GTX 670.
Boot Drive – Crucial M4 256GB SSD
For your boot drive, you'll definitely want an SSD. With transfer rates upwards of 400x faster than a traditional hard drive, an SSD is guaranteed to change your PC experience. One of the best drives to get you there? The Crucial m4. Not only is this drive one of the fastest and most reliable drives out there, it also comes at an extremely reasonable price that's currently <$1/GB.
Storage Drive – Seagate Barracuda 2TB
Remember when it was difficult to find a 1TB hard drive for under $150 just a couple months ago? Well, today you can easily get a 2TB Seagate Barracuda 7200RPM hard drive for only $119.99. While it's still a tad bit above pre Thailand flood prices, the prices have gone down significantly enough that a 2TB hard drive may be a consideration for a high end video editing build. After all, storing tons of uncompressed video will require tons of hard drive space. That's a fact.
Optical Drive – OEM DVD Drive or OEM Blu Ray Drive (Any Manufacturer)
PSU – Corsair AX650
One thing you'll never want to do with your new build is cheap out on the power supply and the Corsair AX650 is the epitome of NOT cheaping out. This is one of the highest quality power supplies and thanks to the power efficiency of the GTX 670 graphics card, the AX650 will do the job perfectly and still allow plenty of room for expansion. Armed with 80+ gold certification, a 7 year warranty, and has a fully modular interface, the AX series power supplies are truly in their own class.
For those opting for SLI systems, it's recommended to grab an AX750 to be on the safe side. After all, capacitor degradation and future expansion are things you'll want to think about.
Cooler – Phanteks PH-TC14PE (Blue)
Any performance system needs a performance cooler and in our case we went with the "big daddy cooler" aka the Phanteks PH-TC14PE. This ultra air cooler has enough "oomph" behind it to compete against all in one water coolers such as the Corsair H100, and is capable of operating more silently due to its massive 140mm fans.
OS – Windows 7 Home Premium
For those intending to use more than 16GB of memory, Windows 7 Professional or above is necessary. Otherwise, Windows 7 Home Edition works as well, but will be limited to 16GB of memory. Remember, you do have the option of upgrading from Home to Ultimate, so you don't have to spend the money right now.
The total current price for this system (including Windows 7) on Amazon is $2,652.13 which doesn't include tax or shipping. Fortunately, Amazon doesn't charge either for most residents of the USA, so it doesn't matter either.
For those looking for even better systems, you can definitely upgrade to a GTX 680 if you happen to find any in stock. Unfortunately, you probably won't find any in stock. Hopefully production on these new 28nm Kepler chips will ramp up soon enough. Memory can be upgraded to 32GB by picking up another 16GB kit if necessary for those of you hardcore video editors/graphic designers and/or the processor can be upgraded to an Intel Core i7 3960X as well. You'll definitely need to shell out some dough to make it happen though.
Remember that if you have any questions, need some help, or need to fit the build into your budget feel free to visit the forums at http://forums.custompcreview.com. Myself, or the community here will be more than happy to help you out with your own custom build or answer any computer questions you may have. If this build doesn't fit your needs, feel free to drop by our Computer Builds section to find more computer builds.
Also, be sure to join us on Facebook, Twitter, Google Plus, or YouTube. Be updated on the latest news, reviews, tutorials, custom computer builds, and more!