CyberPowerPC Gamer Xtreme 4200 Review
Custom Built Monster at a DIY Price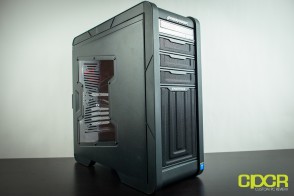 Here at Custom PC Review, we generally don't do too many reviews on pre-built systems. I'm a huge proponent of doing my own custom builds, but it's understandable that not everyone has the time to spend building new systems and having the knowledge of building your own systems sometimes does come at a price – especially when all of your friends discover how much cheaper it is when you build a system for them (and invariably the issue of you becoming free tech support as soon as the system has any issues).
This is why today we'll be reviewing a pre-built system from boutique PC builder, CyberPowerPC. While CyberPowerPC has sent us a pre-configured a custom Gamer Xtreme 4200 for our review today, the appeal about CyberPowerPC is simply the fact that they offer a configurator along with a wide range of component options for your system, most or all of which are commonly available off the shelf parts ranging from the specific motherboard or the specific graphics card all the way to how much overclocking you want on your system. This is significantly different from most other big box system integrators such as Dell, HP or Lenovo who don't necessarily use off the shelf components and instead use proprietary components designed specifically for them instead. While this sometimes saves on cost for these big box manufacturers, unfortunately it also means that sometimes components in these systems are of lower quality compared to name brand components that can be commonly found off store shelves.
CyberPowerPC Gamer Xtreme 4200 Specifications
| | |
| --- | --- |
| Desktop | CyberPowerPC Gamer Xtreme 4200 |
| Case | Enermax Hoplite ST Mid-Tower Gaming Case |
| CPU | Intel Core i7-4770K 3.50 GHz (3.90GHz Turbo) 8M Smart Cache (Factory Overclocked to 4.2GHz) |
| Motherboard | ASUS Z87-A |
| Memory | 16GB (4x4GB) DDR3-1600 Corsair Vengeance Memory |
| Graphics | MSI GTX 770 2GB Twin Frozr Gaming/OC Edition |
| Storage | 1x64GB Corsair Neutron SSD + 1x1TB Toshiba DT01ACA100 7200RPM HDD |
| Optical Drive | LG 12X Internal Blu-Ray/DVD RW Drive |
| Operating System | Microsoft Windows 8 Pro (64-bit Edition) |
| PSU | LEPA G850-MAS 850W 80 Plus |
| CPU Cooler | CoolIT LCS ECO II-120MM FB Liquid Cooling |
| Warranty | 1 Years Labor, 1 Year Parts |
| Price as Configured | $1,699 |
| Configure System | Click Here |
Taking a look at our system's specifications, we can already tell that the Gamer Xtreme 4200 is going to be a top of the line gaming PC. Starting off with the CPU, the Gamer Xtreme 4200 will be utilizing Intel's latest Core i7-4770K Haswell based CPU and they've paired that with MSI's custom overclocked edition of Nvidia's latest GeForce GTX 770 GPU. In addition to this match made in gaming PC heaven, CyberPower PC also included a whopping 16GB of memory, a 64GB SSD/1TB HDD combo, an 850W LEPA 80 Plus Gold power supply, Blu-Ray support, and more – all for $1,699.
Ready to find out how well it performed? Let's go!
A Closer Look at the CyberPowerPC Gamer Xtreme 4200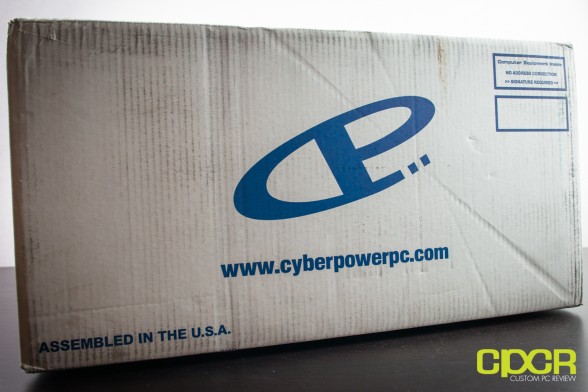 Our CyberPowerPC Gamer Xtreme 4200 arrived as usual in a large, white CyberPowerPC.com box. CyberPowerPC double boxes their systems first in the box the case came with then in a separate CyberPowerPC box as you see above. This offers excellent protection from all the perils of shipping.
Included, CyberPowerPC provides all the documentation from the components inside along with some of the accessories that come with each individual component as well.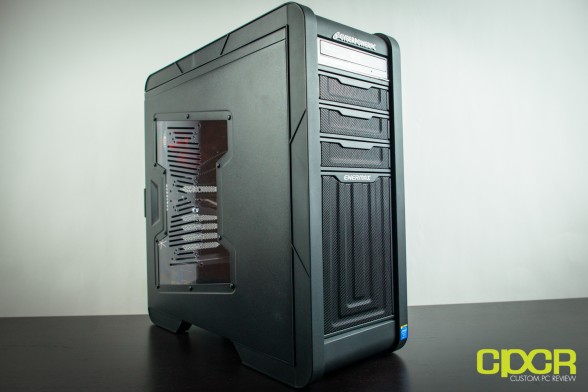 Of course, we also get the CyberPowerPC Gamer Xtreme 4200 system as well. The case CyberPowerPC selected is the Enermax Hoplite ST Mid-Tower Black Gaming PC Case, which is a budget oriented plastic/steel case with a small sidepanel window. Personally, this isn't necessarily my top choice for a case, especially with the fairly high budget on this system. The main problem I have with this case is that it uses thin and flimsy feeling 0.6mm steel, and only incorporates the use of a single 120mm fan in front serving as the intake with another 120mm out the rear as an exhaust, which doesn't provide a whole lot of cooling. Those ordering a Gamer Xtreme 4200 do have the option of switching to comparably priced cases and the Corsair Carbide 400R is a better case for $1 less than the Enermax Hoplite ST.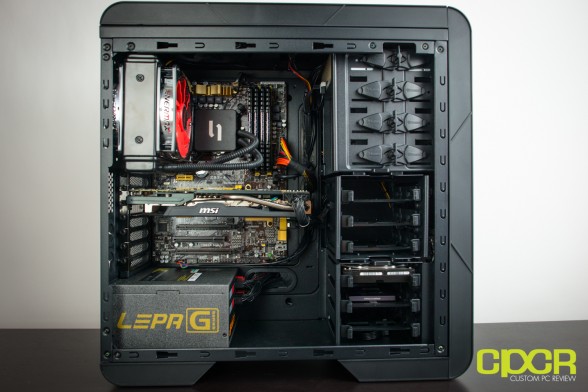 Pulling off the sidepanel here, we can see that CyberPowerPC has done quite a decent job of putting everything together. All the cable management holes are properly used to hide all the power and SATA cables. The insides look quite clean, which is ideal to provide decent airflow for the system. Since we've only got a single 120mm up front for the intake, we'll need all the airflow we can get.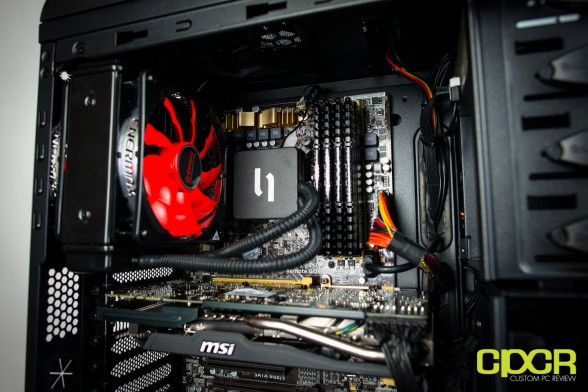 Taking a closer look at the cooler, CyberPowerPC took the integrated 120mm fan that normally comes with the Enermax Hoplite ST and dropped it on the top of the system while mounting the CoolIT LCS ECO II 120mm AIO water cooler at the rear 120mm mount. They've also provided two Enermax Magma 120mm fans to cool the CoolIT LCS ECO II radiator. All fans back here are set as exhaust fans.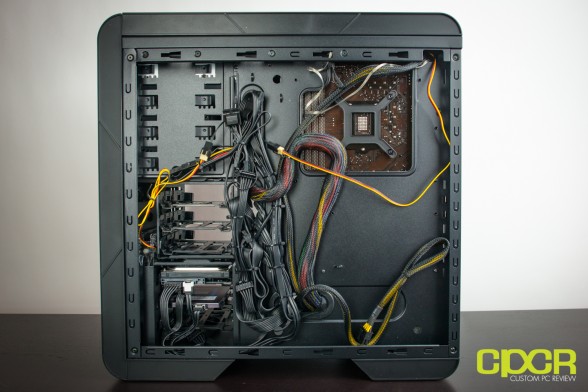 Pulling off the sidepanel on the other side of the case, we can see that CyberPowerPC hasn't done all that much cable management here although there are a couple zip ties here and there. You probably wont be opening this side of the case unless you're planning on installing some new components, so it's not a huge deal.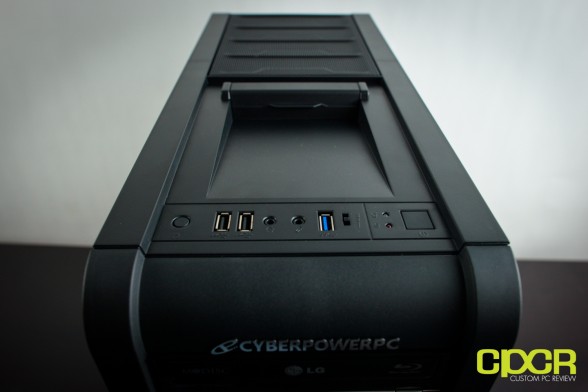 Here we can take a look at the top of the Gamer Xtreme 4200. It's nice that all the buttons and front panel connectors are on top, which allow for easy access when the case is on the floor.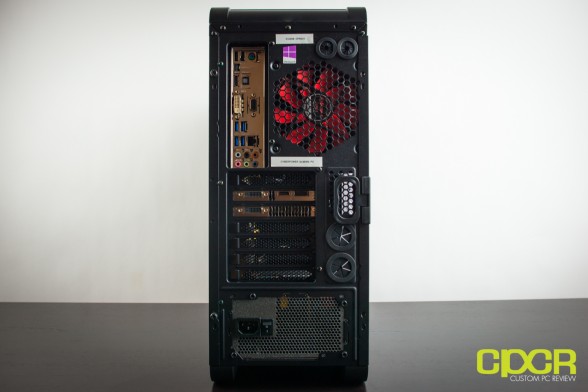 Here's a look at the rear I/O for the system. Let's move on.
Testing Setup
Ivy Bridge Test Bench
For our testing today, we'll be using a decently equipped Ivy Bridge test bench for comparison with the Gamer Xtreme 4200. Our Ivy Bridge test bench doesn't necessarily represent the fastest PC on the market, but it's a very strong mid-range gaming PC capable of playing a majority of the latest games on the market at medium to high settings. The specifications for our Ivy Bridge test bench are as follows.
Special thanks to Gigabyte, Kingston, HIS and HSPC for sponsoring our test bench!
CyberPowerPC Gamer Xtreme 4200 Initial Boot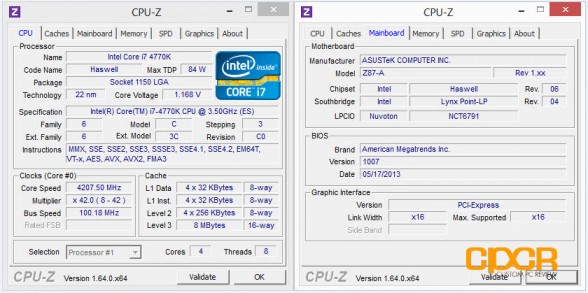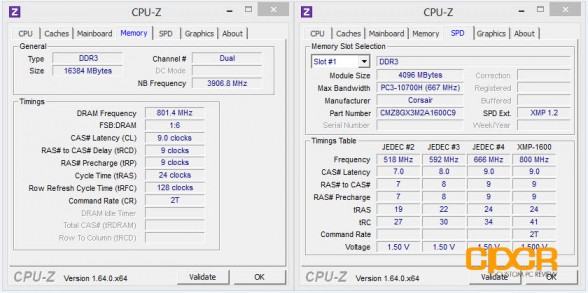 Alright, so booting up the Gamer Xtreme 4200, we can take a look at the CPU, motherboard, and memory configuration. CyberPowerPC is using the latest Intel Core i7-4770K Haswell based CPU and has taken the liberty of overclocking it to a modest 4.2GHz from the factory. Unfortunately, CyberPowerPC turned off all power saving functions and have disabled the use of turbo overclocking, so the CPU sits at 4.2GHz and 1.168v even when idle. While this method of overclocking is good for benchmarking and such, I find that it's not necessarily as good for typical PC use as it eats up more electricity and generates more heat when the PC is idle. Personally, I'd rather have the CPU dynamically downclock itself when not in use and ramp up to 4.2GHz when needed.
As for the motherboard, CyberPowerPC went with the ASUS Z87-A, which is one of ASUS's latest motherboards based off Intel's Z87 chipset. The memory included here is 4x4GB of Corsair Vengeance DDR3 1600MHz CAS 9 memory.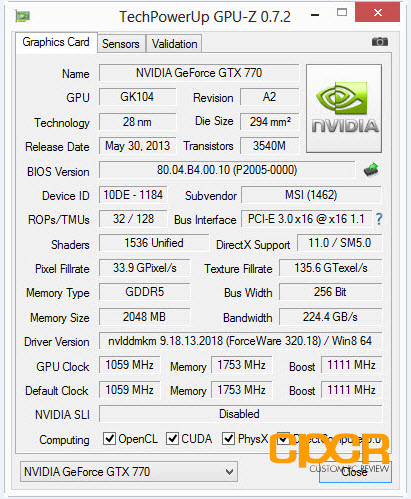 For our system today, CyberPowerPC also included the MSI GTX 770 Gamer/OC Edition 2GB graphics card. This graphics card is based off Nvidia's GeForce GTX 770 GPU and uses a custom PCB/cooler design from MSI. It's also factory overclocked to 1059MHz core and 1753MHz memory from 1046MHz core and 1085MHz memory via the reference design.
CyberPowerPC Gamer Xtreme 4200 CPU Performance
SuperPi 32M
SuperPi is a single threaded benchmarking tool which for our purposes simply calculates pi for us and records the time to calculate 32 million digits after the decimal point.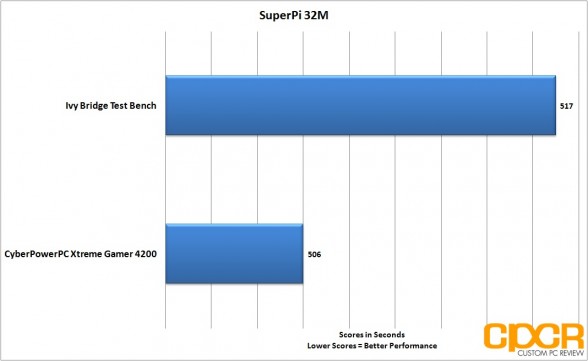 WPrime 32M
WPrime is a multi-threaded benchmarking tool which for our purposes simply calculates pi for us and records the time to calculate 32 million digits after the decimal point.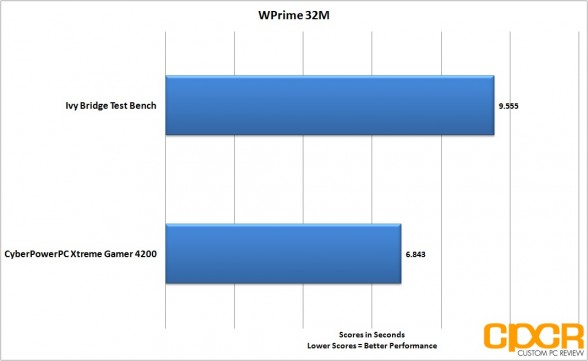 x264 HD Video Benchmark v5.0.1
x264 HD video benchmark tests how fast the system can encode a 1080p video into a high quality x264 video file. The most recent 5.0.1 release includes a more advanced benchmark script to better stress test newer multi-core processors.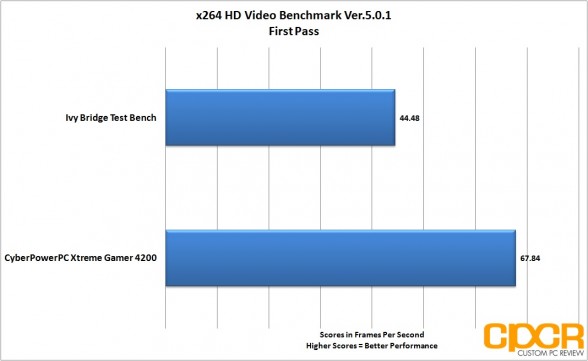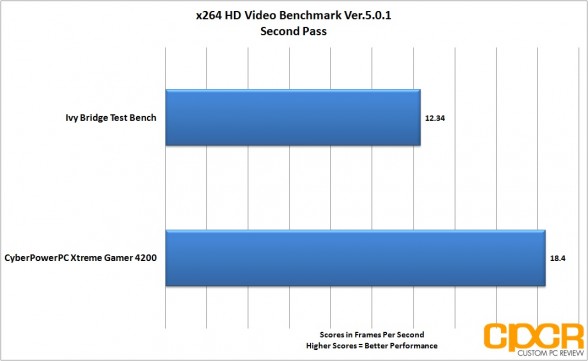 Cinebench v11.5
Cinebench is a real world benchmark that tests system performance using the Cinema 4D animation software. For our benchmarking, we'll be testing multithreaded performance only.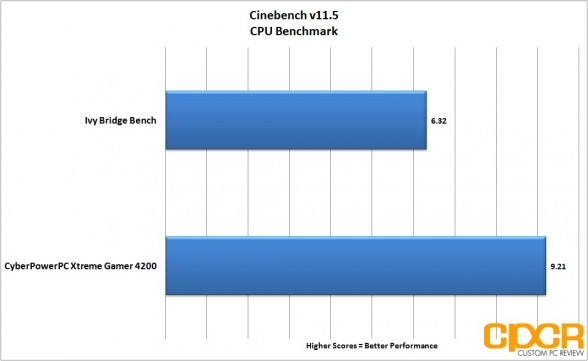 Performance Analysis
CPU performance on the CyberPowerPC Gamer Xtreme 4200 is as expected – very good. The Intel Core i7-4770K is a top performing CPU in both single and multi-threaded performance and is the Haswell based successor to the Ivy Bridge based Core i7-3770K. While performance here isn't revolutionary by any means, in comparison to our Ivy Bridge test bench, which is equipped with the Core i5-3570K, the Core i7-4770K is definitely noticeably faster, especially in multi-threaded applications.
For an additional performance boost, CyberPowerPC has also factory overclocked the CPU to 4.2GHz, which is ~20% overclock from stock clocks.
CyberPowerPC Gamer Xtreme 4200 Performance
Graphics Performance
3D Mark
3D Mark is Futuremark's latest benchmark utility used widely by gamers, enthusiasts, and overclockers to benchmark system performance and stability under consistent graphics loads.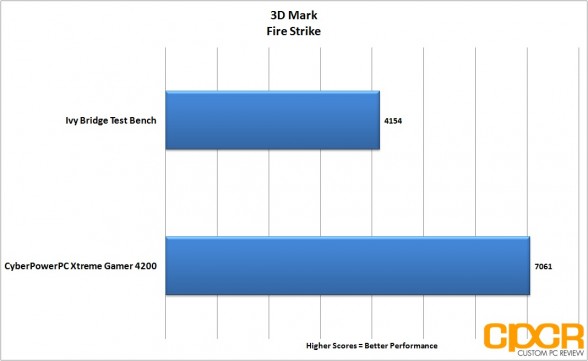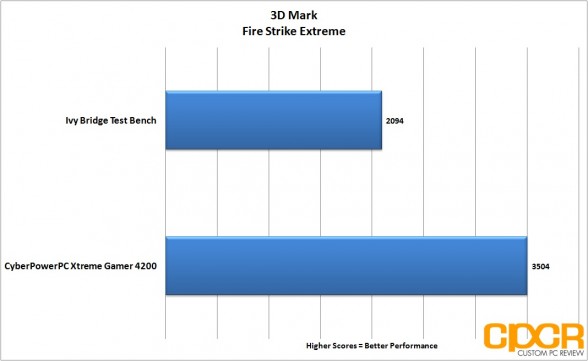 Game Benchmarks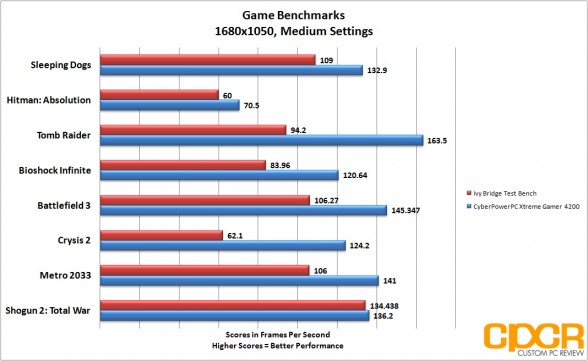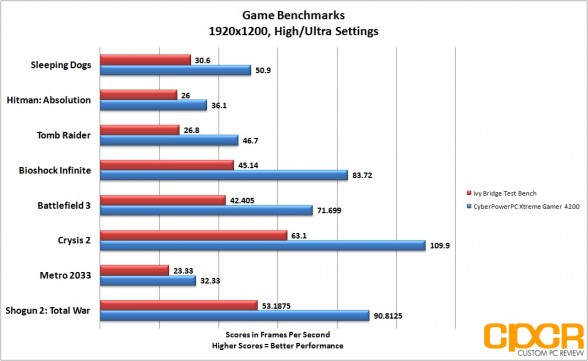 Performance Analysis
Equipped with the MSI GTX 770 Gaming/OC Edition graphics card, the CyberPowerPC Gamer Xtreme 4200 also does extremely well in most of our graphics benchmarks, pushing out very playable framerates (40+ Average FPS) at maximum settings at 1920×1200. The typical performance advantage of the Gamer Xtreme 4200 in comparison to our Ivy Bridge test bench is around 60%-90% faster with the performance advantage much more noticeable at 1920×1200 (High/Ultra Settings) than 1680×1050 (Medium Settings).
CyberPowerPC Gamer Xtreme 4200 Performance
System Performance
PC Mark 8
From the creators as 3D Mark, PC Mark 8 is a full system benchmark designed to test real world system performance. PC Mark 8 is the latest in the PC Mark series, now replacing PC Mark 7.
Home Test
The PCMark 8 Home benchmark includes workloads that reflect common tasks for a typical home user. These workloads have low computational requirements making PCMark 8 Home suitable for testing the performance of low-cost tablets, notebooks and desktops. Home includes workloads for web browsing, writing, gaming, photo editing, and video chat. The results are combined to give a PCMark 8 Home score for your system.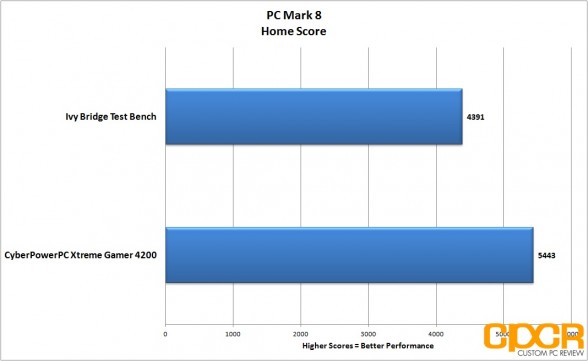 Creative Test
The PCMark 8 Creative benchmark includes workloads typical of advanced home computer users. With more demanding requirements than Home benchmark, this benchmark is suitable for mid-range computer systems. PCMark 8 Creative includes web browsing, photo editing, video editing, group video chat, media transcoding, and gaming workloads. The results are combined to give your PCMark 8 Creative score.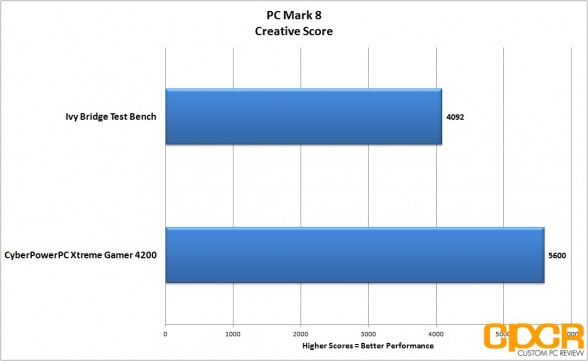 Work Test
The PCMark 8 Work benchmark test includes a set of workloads that reflect common tasks for an office environment, such as writing documents and browsing websites. These workloads have low computational requirements and are suitable for measuring the performance of typical office PC systems that lack media capabilities. The results from each workload are combined to give an overall PCMark 8 Work score for your system.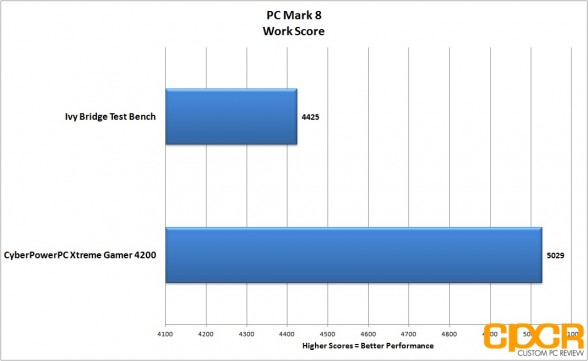 Performance Analysis
It's no surprise that the Gamer Xtreme 4200 dominates our Ivy Bridge test bench in total system score as it comes equipped with both a more powerful CPU as well as a more powerful GPU.
CyberPowerPC Gamer Xtreme 4200 Performance
Disk Performance
Corsair Neutron 64GB SSD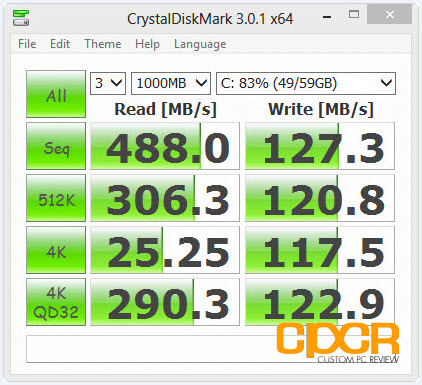 1TB Toshiba DT01ACA100 7200RPM HDD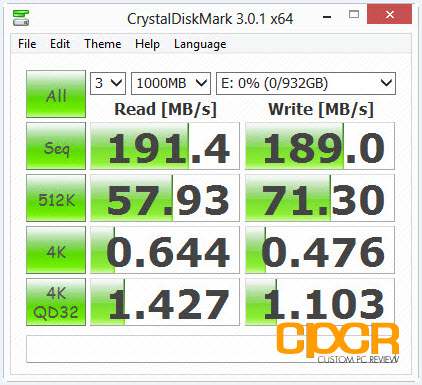 Performance Analysis
For storage, CyberPowerPC went with a 64GB SSD boot drive + 1TB 7200RPM HDD storage drive combo for the Gamer Xtreme 4200. For the boot drive, Corsair is using the 64GB Corsair Neutron SSD, which definitely isn't fastest SSD we've seen on the market, but it's still many times faster than a traditional HDD. This will make the user experience in Windows along with any programs and applications installed on the SSD quick and snappy. For storage, CyberPowerPC went with a Toshiba 1TB 7200RPM HDD, which is a decently quick HDD and should serve storage needs quite well.
Personally, I think with SSD prices what they are these days, I'd definitely recommend going with a 128GB or higher capacity SSD. This allows more games/applications to be installed on the drive allowing them to take advantage of the SSD's performance.
USB 3.0 Performance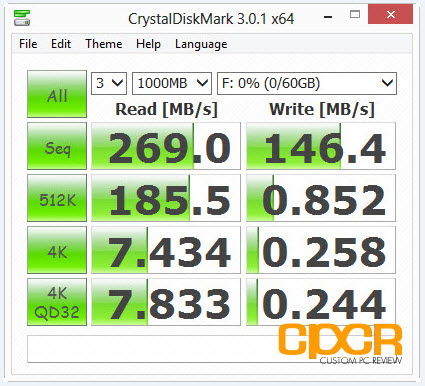 For USB port testing, I used the Kingston HyperX 64GB USB 3.0 Flash Drive. Performance here is as expected from the Intel controlled USB 3.0 ports. Since we're now on the Z87 chipset, all ports on the ASUS Z87-A are Intel controlled USB 3.0 ports.
CyberPowerPC Gamer Xtreme 4200 Power Consumption
Here we'll be testing the maximum power consumption of each of the test systems shown below. Idle power consumption is taken after the system is left idle for a minimum of 5 minutes. For load power consumption numbers, both Prime95 and Furmark are run simultaneously for a minimum of 5 minutes before the final results are taken.
All power consumption readings are taken using a Extech 380801 Power Analyzer connected via a Tripp-Lite LCR2400 Line Conditioner.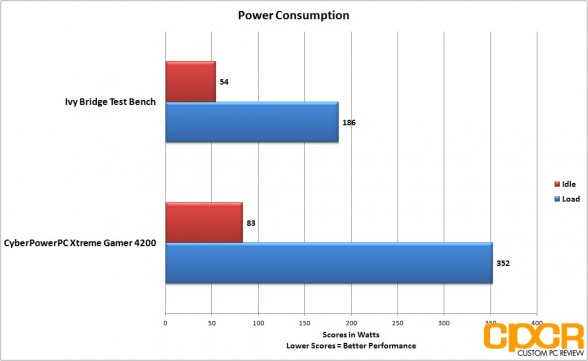 Although Haswell is a more power efficient CPU than its Ivy Bridge predecessor, CyberPowerPC shut off all types of power saving features when overclocking the CPU, which is why the idle power consumption is significantly higher than the idle power consumption found on the Ivy Bridge test bench.
Taking a look at load figures, the much more powerful GeForce GTX 770 consumes significantly more power than the Radeon HD7850 on the Ivy Bridge test bench bringing to the maximum power draw on the Gamer Xtreme 4200 to 352 watts. That's not too bad considering CyberPowerPC dropped a beefy 850w power supply into the system, so there's plenty of room for upgrades in the future.
CyberPowerPC Gamer Xtreme 4200 Temperature and Noise
Temperature testing is conducted by simultaneously running Prime 95 and Furmark in order to generate the maximum amount of heat possible. Temperatures are taken after a minimum of 30 minutes of testing.
Ambient Temperature – 26.1°C (Taken via Extech EA10 dual probe thermometer)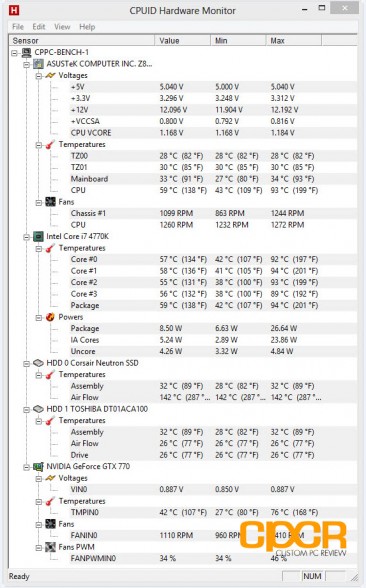 Taking a look at system temperatures, the first thing we notice is that the CPU is running quite hot in the low 90°C's, which isn't ideal; however, during testing I didn't notice any throttling, which is still good. Remember, our testing here uses a combination of both Prime 95 and Furmark, which completely loads up both the CPU and GPU to 99/100% – a situation not typically found in general use or during typical gaming.
Personally, I recommend keeping the CPU temperatures in the low 80°C's if possible as too much heat may affect the longevity of your CPU, so those opting for the 20% overclock package with CyberPowerPC should definitely pick up a more powerful CPU cooler than the CoolIT LCS ECO II 120mm. Either that, or keep the CPU at the stock clocks to avoid any overheating issues. That said, I think such high overclocked CPU temperatures under load is something that CyberPowerPC be catching prior to shipping the system although it's definitely understandable that under typical use scenarios, the CPU will never get as hot as it'll get after 30 minutes of Prime 95.
As for noise, the Gamer Xtreme 4200 doesn't use any fans that ramp over 1,500RPM, which means it's extremely quiet although I can't say that's the best choice. For the CoolIT LCS ECO II 120mm, I feel like couple 2,200RPM fans would've probably done a much better job keeping the CPU under 90°C than the Enermax Magma fans that maxed out at 1,500RPMs.
CyberPowerPC Gamer Xtreme 4200 Conclusions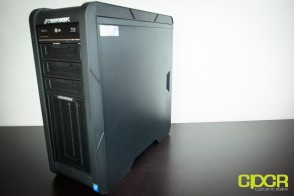 I'd have to say that there were some hits and misses with the CyberPowerPC Gamer Xtreme 4200, but overall I feel like it is a hit. Our particular system configuration is right at the spot where you get tons of bang for the buck yet you're still able to run every game out there at high/ultra settings. All the misses I have with the system are pretty much all related to the configuration (cheapo case, small SSD, weak cooler) which is something that can be changed while ordering. As far as the system build itself, I didn't find any issues although I did feel like overclocking could've been done with a bit more finesse. That said you can have CyberPowerPC not do any sort of overclocking and do it yourself (or have a friend do it) at a later time.
Alright so with that out of the way, let's talk about our specific Xtreme Gamer 4200 and why it might be an appealing purchase. Personally as a computer enthusiast, I find that the main selling points with this system is the performance, the pricepoint and just plain old convenience.
As you've seen in our testing, our Xtreme Gamer 4200 is an extremely high performing gaming system, largely due to CyberPowerPC's choice in going with the MSI GTX 770 Gaming/OC Edition GPU. In our testing, the GPU was easily capable of pushing high/ultra settings at 1920×1200 on pretty much all the latest games we've tested, which should be plenty of performance for even the most hardcore gamers out there. That said, those interested in a little more (or a lot more) graphics performance can go into the configurator and upgrade to a higher powered graphics card or a multi-GPU graphics configuration. It's all about choice with CyberPowerPC and fortunately, they allow plenty of it.
Additionally for our specific sample, CyberPowerPC also dropped in an Intel Core i7-4770K, which is a quad core, hyper-threaded (8 thread) Haswell based processor along with 16GB of DDR3 memory. Given the fact that many creative software applications such as Adobe Photoshop or Sony Vegas are coded to take advantage of multi-threading, the Gamer Xtreme 4200 can also be purposed as an excellent home workstation system as well, so those looking to do some photo or video editing along with some heavy gaming will definitely be pleased with the performance.

Pricing I find is also extremely appealing with CyberPowerPC, not only with the Gamer Xtreme 4200, but with most of their systems across the board. Very few boutique gaming PC manufacturers can match the type of configurations offered by CyberPowerPC at the prices that are being offered. Checking out pricing from both Digital Storm and OriginPC, a similar configuration to the Gamer Xtreme 4200 will cost well over $2,000 at both competitors. As a quick experiment, I dropped by Amazon to price out the Gamer Xtreme 4200 in components only, and the price for such system came out to be ~$1,678.43 – only a mere $20 cheaper when compared to the $1,699 CyberPowerPC quoted for the Gamer Xtreme 4200.
That said, I do encourage building your own system whenever possible, but those intimidated by building a new PC or those who simply build way too many will find that the convenience of ordering all the parts you want and having it delivered to your doorstep in a complete package for only a couple bucks more than what you'd pay to build it yourself may be well worth the the price.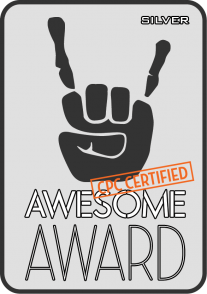 Sample provided by: CyberPowerPC
Available at: CyberPowerPC