Plantronics GameCom 780 Gaming Headset Review
Dolby Enhanced 7.1 Gaming Headset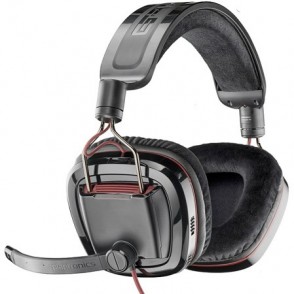 Ever been knifed in the back because you never heard your enemy sneak up behind you? If you answer yes, then I will shamefully admit that I feel your pain. This problem has been troubling gamers for ages. Sure, there are many quality surround sound headsets out there as well as the option of installing a home theater speaker system, but what if you don't have the deep pockets or don't want to wake your house up during your frag sessions? Well, Plantronics may have the answer for you.
For gamers the Plantronics name may sound a bit foreign, but rest assured they've been churning out quality audio equipment for over 50 years with a prime example of their work being the older GameCom 777, which was an affordable and high quality headset embraced by many around the world.
Today we'll be reviewing the Plantronics Gamecom 780 Gaming Headset. As the newest member of the GameCom line, the GameCom 780 is looking to carry on the Plantronics tradition of bringing quality sound to budget minded gamers. The new headset features 40mm drivers, closed ear eacups, a noise cancelling microphone, on ear volume controls and most uniquely impressive, "Virtual 7.1 Surround Sound using Dolby's Pro-Logic 11x and Dolby 3D Technology". What's interesting here is that Plantronics choice to include proprietary Dolby technologies for their virtual surround sound solution. For those familiar with the gaming headset industry, the name that typically pops up is Creative with their THX backed TruStudio Pro surround sound technology, so having a new player – especially one with a name like Dolby is interesting to say the least.
GameCom 780 Specifications
Dolby technology delivers 7.1 surround sound
40-millimeter speakers provide immersive stereo sound with deep bass
Noise-canceling microphone lets you communicate clearly
Easy-to-reach on-ear volume and mic controls
Swiveling ear pods lie flat for easy storage
One-year limited warranty; Windows compatible
Taking a look at the specifications here, the only thing that really jumps out at me is the 40mm drivers. Typically, 40mm drivers have a weaker bass response than 50mm drivers. Now that being said, audio quality does depend on both the quality of the driver as well as the size. High quality 40mm drivers are perfectly capable of producing excellent sound quality sound and booming bass equal or better to lower quality 50mm drivers.
So all that being said, what sort of song will the Gamecom 780 sing? Hop over to the next page to find out!