Introduction
Well, I admit it. I've had this SSD for a little while now and I've been a bit slow on this review, but better late than never right?
Today's SSD is the Corsair Force 3 180GB edition. This SSD is one of the newer variations of the 3rd generation Corsair Force SSDs and utilizes the SandForce SF-2281 controller with the SATA 3 6Gb/s interface.

Video Unboxing
Like most SSDs, the packaging is quite simple. You get the SSD, a mounting bracket and some mounting screws. Unfortunately, migration software does not come included with this product.
Specifications
| | |
| --- | --- |
| Warranty | Three years |
| SSD Unformatted Capacity | 180 GB |
| Max Sequential Read/Write (using ATTO Disk Benchmark) | 550 MB/s sequential read — 520 MB/s sequential write |
| Max Random 4k Write (using IOMeter 08) | 85k IOPS (4k aligned) |
| Interface | SATA 6Gb/s |
| Technology | Asynchronous NAND |
| Form Factor | 2.5 inch |
| DRAM Cache Memory | No |
| Weight | 80g |
| Voltage | 5V ±5% |
| Power Consumption (active) | 2.0W Max |
| Power Consumption (idle/standby/sleep) | 0.5W Max |
| S.M.A.R.T. Support | Yes |
| Shock | 1500 G |
| MTBF | 2,000,000 hours |
Here we have the specifications. There are a couple interesting things to note.
The Corsair Force 3 180GB utilizes asynchronous NAND. Currently, there are two common NAND flash interfaces on the market. One is asynchronous NAND like the Corsair Force 3 we have here and the other is synchronous NAND. The benefit of using synchronous NAND being that synchronous NAND tends to perform better when the data being stored is incompressible; however, it does come at a higher cost.
The Corsair Force 3 180GB uses a SATA 3 6Gb/s interface which allow this drive to achieve the incredible 550 MB/s sequential read and 510 MB/s sequential writes.
Performance
Test Setup
Intel Core i5 2500K (Overclocked to 4.7GHz)
Asrock Z68 Fatal1ty Professional Gen 3
Gskill Sniper 1866MHz DDR3 1.5v
Patriot Pyro SE 120gb
Corsair HX650
HSPC High Speed Tech Station
ATTO Disk Benchmark
ATTO DIsk Benchmark is one of the industry's most used benchmarks and consequently is one of the  benchmarks Corsair uses to advertise their product. This benchmarks allows read and write testing using predefined block sizes and gives us a good idea of read/write speeds with different sized files.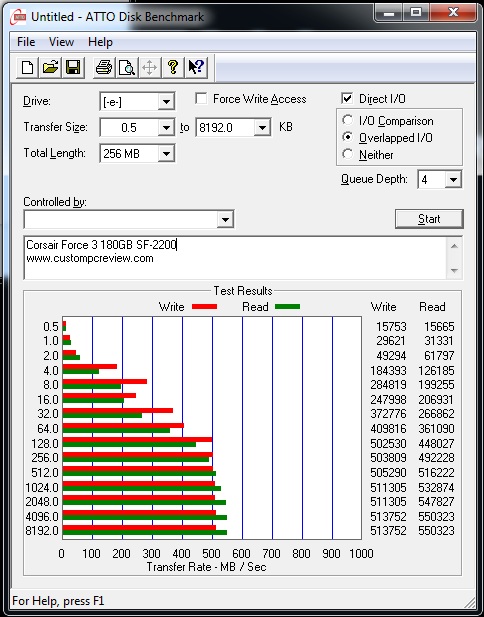 First up on our performance testing is the ATTO Disk Benchmark and the Corsair Force 3 180GB gave us impressive 550MB/s reads and 514MB/s writes. These numbers are all within the margin of error to the advertised 550MB/s reads and 520MB/s writes advertised by Corsair.
Crystal Disk Mark 3.0.1 x64
Crystal Disk Mark is another popular benchmark which allows us to measure both sequential read/write speeds as well as random read/write speeds. With this benchmark, tests may be ran using both random fill (more incompressible data which simulates music, video, pictures, etc.) and 0 fill (compressible data).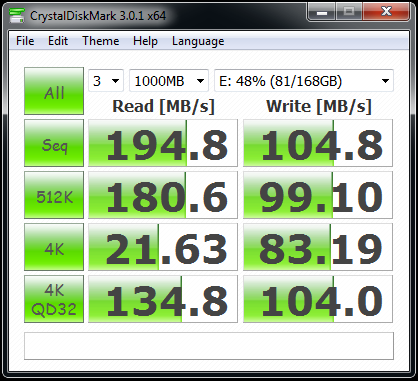 The first benchmark we ran with Crystal Disk Mark is the random fill benchmark and as expected, it didn't put out very high numbers typically seen with more expensive SSDs. This is because random fill, unlike 0 fill, tests the SSD using a lot of uncompressible data which is typically slower on asynchronous NAND memory.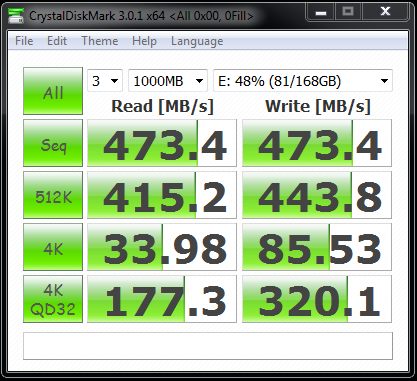 The second run of Crystal Disk Mark is done using the 0 fill method and as you can see from the numbers above, the difference is very different when compared to random fill. This also means that when reading or writing highly uncompressible data such as movies or music, you will be seeing much lower transfer rates on this SSD compared to SSDs using synchronous NAND such as the Corsair Force GT.
HD Tune 2.55
HD Tune is a pretty standard benchmark originally for hard drive testing as the name implies, but also works for SSD testing as well.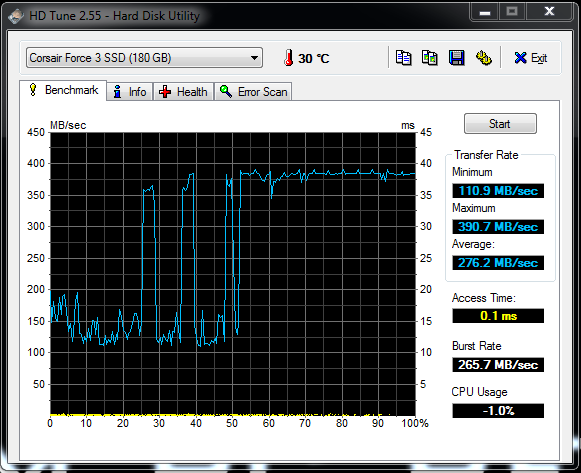 In HD Tune, we averaged around the 380 MB/s range. I do realize that the graph does look a bit funky up until just past the 50% range. This is because I've been using this drive for a while and it has been filled with a lot of data (~50% capacity) resulting in lower read speeds in the beginning as real data is being read. Extremely low access times are also another benefit of using SSDs.
PC Mark 7
The PC Mark 7 storage test tests the SSD under many different real world tests such as gaming, video editing, etc. This is most representative of the SSD's performance under real world situations.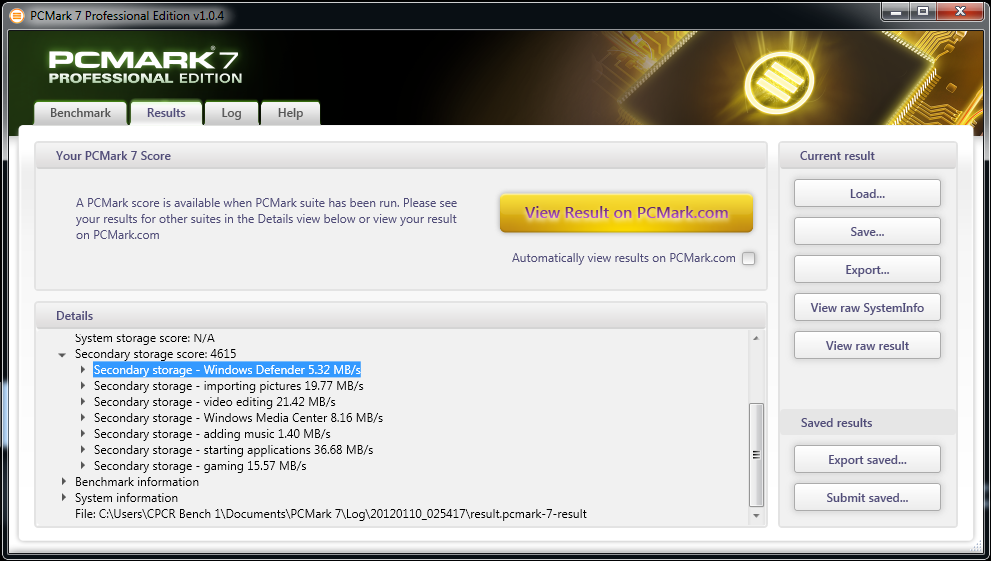 Unfortunately, we currently don't have any other SSDs to compare the data to; however, as we review more SSDs, we will post PC Mark 7 score comparisons. The Corsair Force 3 scores 4615 and a quick internet search of PC Mark 7 storage suite scores show that it is in line with other drives using similar SandForce based controller and asynchronous NAND flash.
Conclusion
Well, it looks like Corsair Memory's roots as a memory company shows in their newest line of SSDs. While the first revision of the Force 3 SSDs had a some firmware issues, these issues have now been resolved and this new 180GB Force 3 is better than ever.
On the performance front, the Corsair Force 3 performed as expected of a typical SandForce based SSD providing solid numbers across the board. While the asynchronous NAND is slower than synchronous NAND when it comes to reading and writing uncompressible data, the price is certainly lower as well. The current price of the Corsair Force 3 180GB is $249.99 on Amazon while the Corsair Force GT 180GB is $269.99.
Bottom Line
For those enthusiasts looking for the absolute fastest performance out there, we will recommend going with the Corsair Force GT. It can be obtained for ~$20 more and will provide the absolute best performance when it comes to reading and writing uncompressible data. For those mainstream users just looking for something already blazing fast and want to invest the difference in cost somewhere else, the Corsair Force 3 is an excellent choice.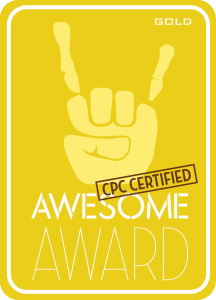 The Corsair Force 3 180GB is currently available on Amazon.