[section label="Introduction"]
Simple, Accurate, Inexpensive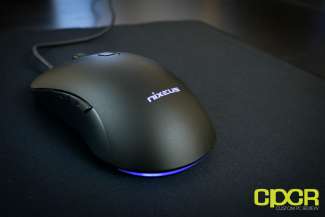 Recently, we were given the opportunity to test some of Nixeus's peripherals starting with the Nixeus Moda Pro mechanical keyboard which was an excellent keyboard that's easy to use, durable, and came in at a reasonable price. Today we'll be reviewing one of their gaming mice, the Nixeus REVEL, which is Nixeus's sole gaming mouse offering thus far.
The Nixeus REVEL is a relatively basic gaming mouse designed for eSports gamers in mind. There's no fancy programmable RGB funtionality or macro functionality to speak of, but what it does have is top notch hardware where it counts. The sensor onboard is the PMW 3360 Optical Sensor which is highly regarded as a "flawless" sensor, or a sensor that doesn't suffer from issues like prediction or acceleration. Nixeus has also equipped the primary buttons with Omron switches, which are regarded as the gold standard for gaming mice. Of course, it wouldn't be a Nixeus product if it weren't a great value as well and the Nixeus REVEL fits right in there with a pricetag under $45.
Is the Nixeus REVEL worth buying? Let's find out!
Nixeus REVEL Specifications
| | |
| --- | --- |
| Manufacturer | Nixeus |
| Model | REVEL |
| Sensor | Pixart PMW 3360 Optical |
| DPI Range | 400 – 12,000 |
| Switches | Omron (Primary Left/Right) |
| Backlighting | Yes |
| Polling Rate | 1000 Hz (1 ms) |
| Interface | USB 2.0 |
| USB Cable | 6 Feet (1.5 Meters) |
| Weight | 85G (Without Cable) |
| Warranty | 1 Year |
| Check Pricing | Click Here |
[section label="A Closer Look"]
A Closer Look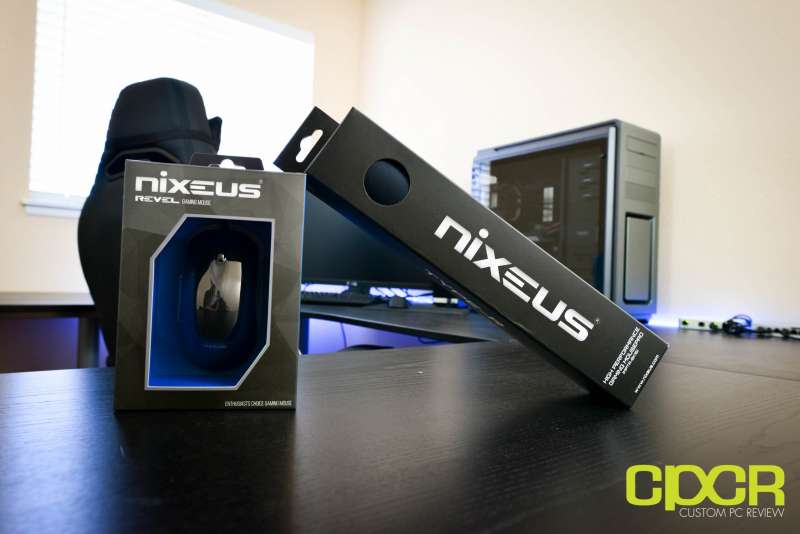 Here's a look at the packaging for the Nixeus REVEL.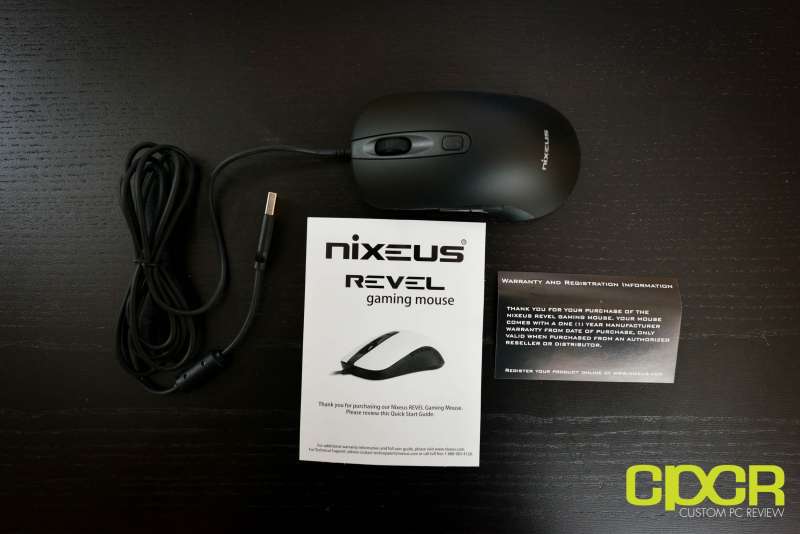 Inside the box is some documentation along with the Nixeus REVEL.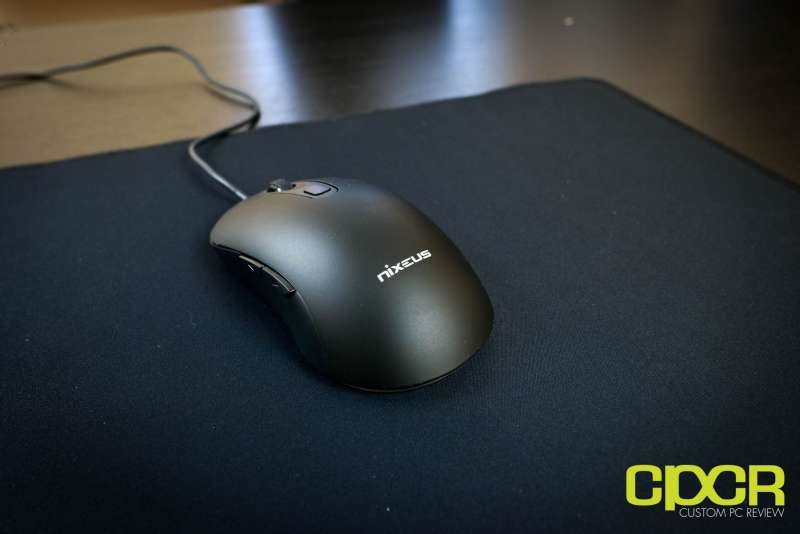 Here's a look at the Nixeus REVEL. Physically, the Nixeus REVEL is an ambidextrous shaped mouse however, it has two side buttons on the left side which make it better suited for right-hand users. For those familiar with the shape of the SteelSeries Sensei, the Nixeus REVEL's shape is pretty much identical.
While the Nixeus REVEL doesn't allow for custom DPI adjustment, it does have eight DPI presets which encompass all of the most common DPI settings. To quickly tell what DPI the mouse is set at, the LED color on the Nixeus REVEL will change based on the DPI setting.
Here's a list of the sensitivity stages along with its correlating LED color:
400 CPI: Red
800 CPI: Green
1200 CPI: Blue
1600 CPI: Yellow
2000 CPI: Purple
3200 CPI: Light Blue
5000 CPI: Orange
12000 CPI: White
[section label="Performance"]
Performance
To test the Nixeus Revel, I played several FPS games including CS:GO and Battlefield 1. Overall experience with the mouse is superb. The sensor is very accurate and I detected very little to no smoothing or acceleration. I also detected very little to no jitter or prediction as well which was expected given my previous experience with PMW3360 sensor based mice.
Mousetester 1.5.3
Here's a look at count/time results from Mousetester 1.5.3 when quickly swiping to the right at different sensitivity stages at 1000Hz polling rate. Overall the sensor performed well here with no major issues.
Jitter & Prediction
Here are a few shapes I drew at different sensitivity stages to get an idea of jitter and prediction. No major problems to report here as well.
[section label="Conclusion"]
Conclusion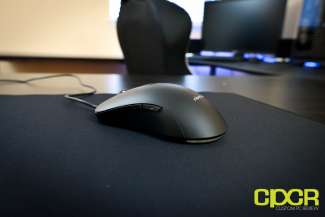 Coming into this review, I had decent expectations for the Nixeus REVEL and overall I wasn't disappointed.
As someone familiar with the SteelSeries Sensei design, the Nixeus REVEL's shape is familiar and comfortable. Its medium length and rise caters to all grip styles, and its light weight makes it easy to make quick swipes across the mousepad. On the sensor side, the Pixart PMW 3360 sensor is excellent as expected. In testing, the sensor showed no acceleration, smoothing, prediction, or jitter.
As far as issues, my biggest complaint is that its feet don't feel as smooth as those found in other mice. This is strange as there really shouldn't be a difference, but there is. Luckily, the feet look like they're about the same size as those for the SteelSeries Sensei so a replacement set is readily available online, but I wasn't able to confirm how well this would work during the course of the review. Another issue mostly with the design is that the sensitivity button simply cycles through the sensitivity stages. Unfortunately, this means that if you accidentally press the button in a game, you'll have to cycle through all the sensitivity stages to return to your preferred setting, but luckily the button is out of the way enough so that it's not a huge issue.
Currently, the Nixeus Revel is available online for ~$42 which is a very attractive price point. Competitors here include the Logitech G Pro Gaming FPS Mouse, Razer DeathAdder Chroma, Dream Machines DM1 Pro S, but all of them are more expensive than the Nixeus Revel. eSports gamers on a budget who need a basic yet still solid mouse should definitely check this one out.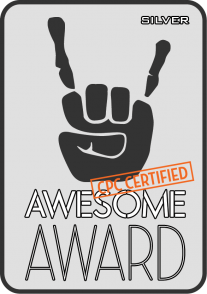 Sample provided by: Nixeus
Available at: Amazon