[section label="Introduction"]
Testing Razer's New Membrane/Mechanical Hybrid Switch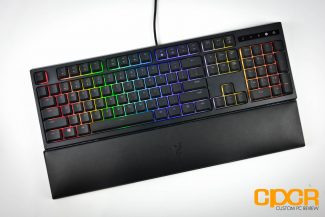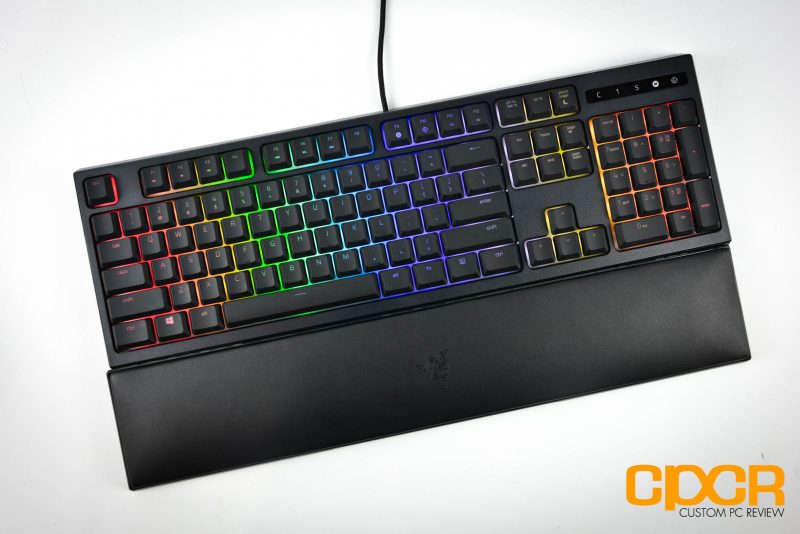 Over the past few years, Razer has made quite a few innovations in the mechanical keyboard space. After developing their own mechanical switches several years ago, Razer went on to develop several unique new switches earlier this year including their Ultra-Low Profile Mechanical Switch and most recently their Mecha-Membrane Switch.
Several weeks ago, we got an opportunity to review Razer's Ultra-Low Profile Mechanical switches in their Mechanical Keyboard Case and found it a pleasant alternative compared to typical low profile membrane switches. Today, we have the opportunity to review the Razer Ornata Chroma Gaming Keyboard which is the first Razer gaming keyboard to feature Razer's new Mecha-Membrane Switches.
Specifications
| | |
| --- | --- |
| Manufacturer | Razer |
| Model | Ornata Chroma |
| Layout | US Layout |
| NKRO | 10KRO |
| Switch | Razer Mecha-Mechanical |
| Connectivity | USB 2.0 |
| Additional Features | Chroma (RGB Backlighting), Detachable Wrist Rest |
[section label="A Closer Look"]
A Closer Look at the Razer Ornata Chroma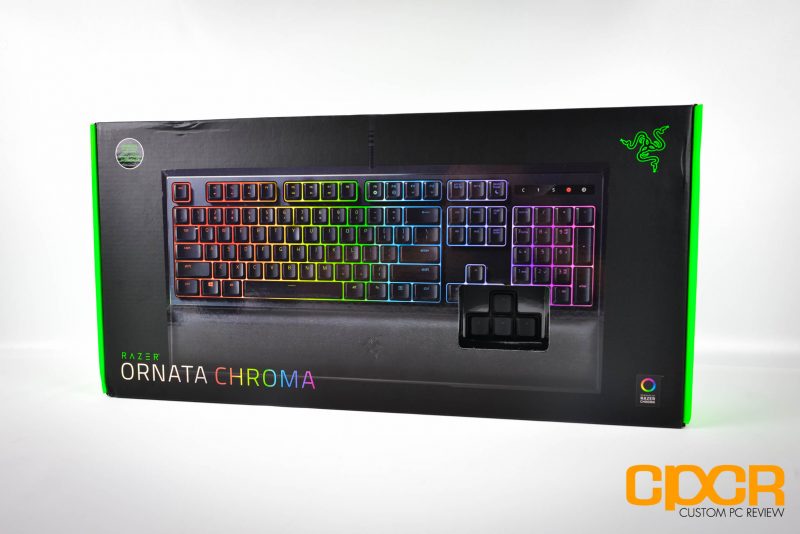 Here's a look at the packaging for the Razer Ornata Chroma.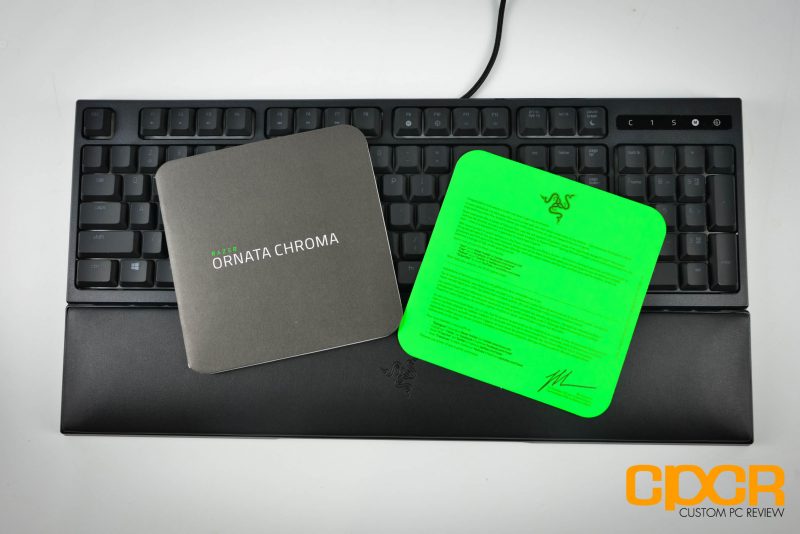 Included in the packaging is some documentation along with the Razer Ornata Chroma.
Here's a look at the Razer Ornata Chroma. It's a fairly basic design which is nice since it does the job without having to flash logos and strange looking design elements.
As usual for a mechanical keyboard, the Chroma Ornata is very thick which is due to the additional components needed for the mechanical portion of the keyboard. Construction on the Razer Chroma Ornata is fairly good as well with Razer utilizing quality plastics and a nice matte finish.
Removing the keys, we can take a quick look at the switches. The design here is fairly interesting as Razer essentially took your typical membrane switch and fitted a mechanical action above it. As such, the keys have a click, requires a heavy actuation force, and a has distinct actuation point just like a mechanical switch however, it still uses a rubber dome membrane switch below. Stabilizers used here are similar to costar style stabilizers where a bar is used to ensure consistent actuation force throughout the entire length of the key.
The keycaps are Razer's special mid-height keycaps which are about half the height of your typical mechanical keyboard keycap. Razer claims that these keycaps help increase speed as the lower height reduces actuation distance. While the keycaps feel very nice and high quality, one complaint I have about the keycaps is that Razer decided to coat these keycaps with soft touch type material. While it does look quite nice right out of the box, it attracts fingerprints rather quickly which requires regular cleaning to stay looking fresh.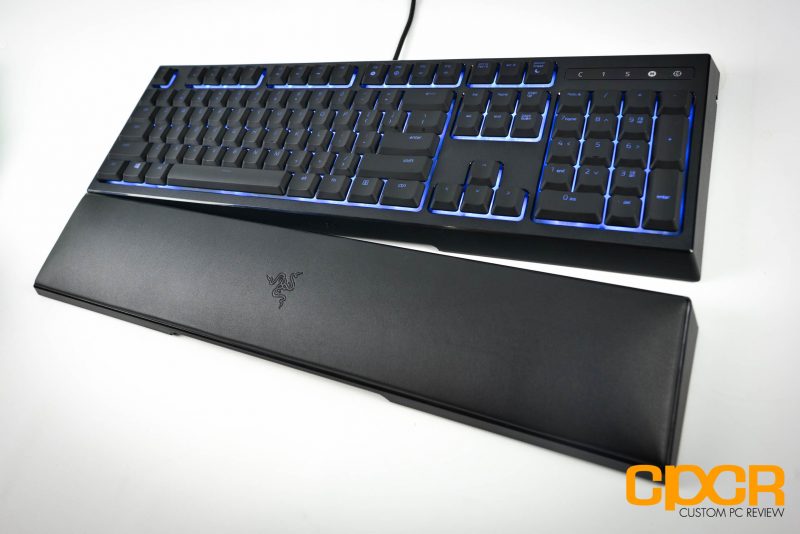 For the Ornata Chroma, Razer also decided to add a cushy magnetic wristrest. This is a nice addition which helps reduce fatigue after long gaming or typing sessions. As the Ornata Chroma is a pretty tall keyboard from front to back, it's not very comfortable to type on without a wristrest.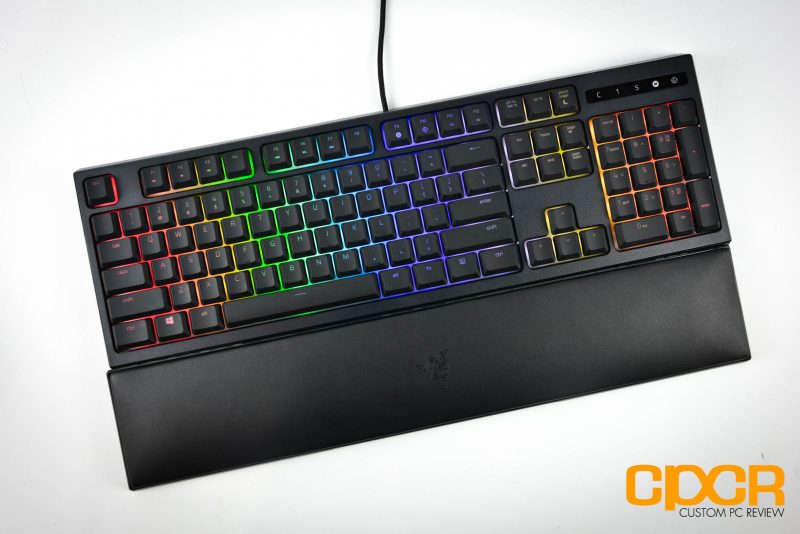 Here's a look at the Razer Ornata Chroma plugged in. As it has Razer Chroma technology built in, it's gorgeous when lit up and a great choice for those looking for additional desk eye candy. Although the backlighting primarily serves as eye candy, Razer's Chroma system does have its uses such as functioning as a notifications system in game. For example in Overwatch, Chroma can notify you when an ultimate attack is ready to go by setting the keyboard to light up obnoxiously. For those interested, here's a full list of games that support Razer Chroma integration. Razer also offers a SDK for software developers to integrate Chroma functionality into their games.
[section label="Software"]
Razer Synapse Software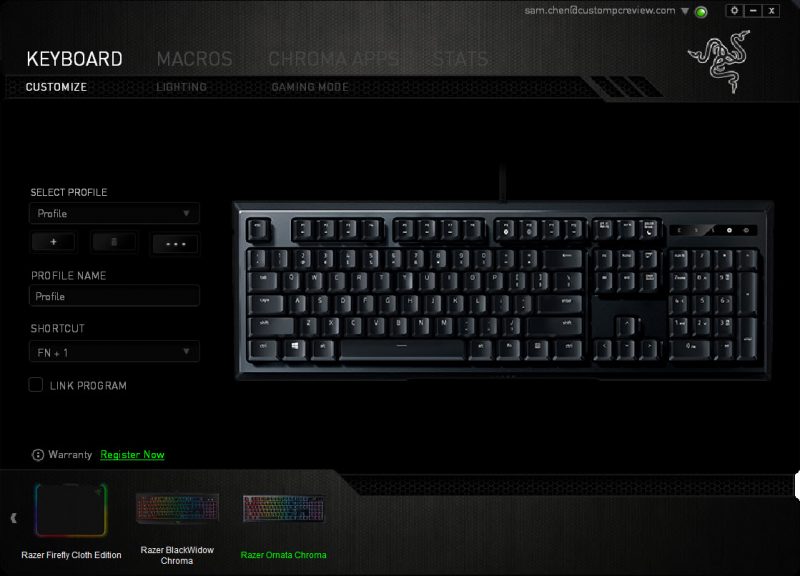 Software on the Razer Ornata Chroma is Razer's Synapse software, which is pretty much the software suite for all Razer peripherals over the past few years. As we've covered Synapse quite a bit in the past, I'm not going to get into it too much here. That said, one thing about Razer peripherals is that in order to get the full functionality, you must install the software.
[section label="Performance"]
Razer Ornata Chroma Performance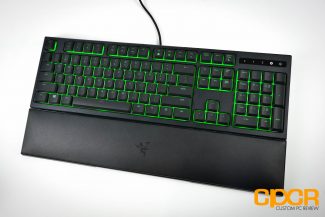 For testing, we subjected the Razer Ornata Chroma to a combination of both games and productivity testing. In both gaming and typing, the Razer Ornata Chroma does feel significantly better than an average membrane keyboard, but does fall short of a full mechanical keyboard.
In gaming, the Razer Ornata Chroma performed very well. It performed especially well in comparison to a membrane keyboard as the additional resistance from the actuation is very helpful in preventing accidental keypresses. The additional tactile and auditory feedback was also very helpful in determining that a button was actually pressed which is important when you're quickly hitting lots of keys very quickly in game. Razer claims that the soft touch of the membrane switch's rubber dome reduces fatigue compared to true mechanical switches during extended gaming sessions however, we didn't notice reduced fatigue. Compared to the Razer Green (55g acuation force) or Cherry MX Blue (60g actuation force), the Razer Mecha-Mechanical switch actually feels a bit heavier to actuate.
While the switch performed very well in games, typing is where we felt the Razer Ornata Chroma fell a bit short especially for touch typists. As the mechanical action sits above the membrane switch, there's a potential chance that the mechanical action can be activated yet the switch does not depress enough to register.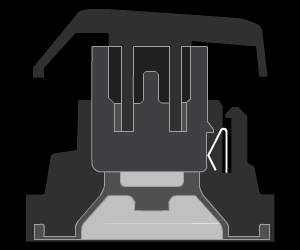 This is different when compared to a true mechanical switch which will always register a keypress as soon as the mechanical action is actuated. Unfortunately, touch typists who simply "touch" rather than fiercely bottom out keys, this may cause some keys to not register even though the tactile bump is felt and the auditory click is heard.
Typing Speed Testing
For testing typing speed, we utilized TyprX and ran the test several times against our benchmark mechanical keyboard, the Razer Blackwidow Chroma (Razer Green).
| Test | Razer Deathstalker Chroma (Membrane) | Razer Ornata Chroma (Mecha-Membrane) | Razer Blackwidow Chroma (Razer Green) |
| --- | --- | --- | --- |
| 1 | 77 WPM | 78 WPM | 98 WPM |
| 2 | 68 WPM | 86 WPM | 88 WPM |
| 3 | 80 WPM | 85 WPM | 92 WPM |
| Average | 75 WPM | 83 WPM | 93 WPM |
Testing the Razer Ornata Chroma against the Razer Deathstalker Chroma, we were able to achieve approximately 8 WPM faster typing performance using the Blackwidow Ornata Chroma. In comparison against the Razer Blackwidow Chroma with the Razer Green switches, we were able to achieve approximately 10WPM faster typing performance using the Blackwidow Chroma.
NKRO/Anti-Ghosting Testing
To test the NKRO/anti-ghosting functionality of the Razer Ornata Chroma, I'll be using a web app developed by Microsoft's Applied Science Group. More information about the web app and the relationship between ghosting and NKRO can be found here.

In our testing, the Razer Ornata Chroma was able to achieve 14KRO. This means that no more than 14 depresssed keys can be detected simultaneously. This however does require installation of the Razer Synapse software as it's otherwise limited to just 6KRO. No ghosting was detected during any of our testing.
[section label="Conclusions"]
Razer Ornata Chroma Conclusions
With testing out of the way, let's talk about the Razer Ornata Chroma. Overall the Ornata Chroma is a great keyboard. Mecha-mechanical switches does take some getting used to if you're moving over from membrane or mechanical, but once you figure it out, the experience will be very similar to a mechanical keyboard especially for those who predominantly type by bottoming out keys. That said, the mecha-mechanical switches aren't necessarily a perfect substitute for a true mechanical switch, but it does a pretty good job and is significantly better than rubber dome membrane switches. Obviously, if you have an opportunity, I'd highly recommend testing all the switches out for yourself as switch feel is very subjective.
As for the build quality and construction, the Razer Ornata Chroma is very well made. Thanks to the mechanical action needed for each key, the Ornata Chroma features an interior frame to house the mechanical actions, which makes it heavier and more rigid than membrane keyboards. Other design elements such as a braided cable and integrated cable channels help improve durability as well. As far as complaints, I'd have to say the biggest issue is simply with the material choice on the keycaps. While soft touch is very nice initially, it doesn't stay that way as even an inkling of oil or moisture can easily be seen.
The Razer Ornata Chroma currently retails for $99.99, which is fairly priced when you consider that it's the only RGB LED backlit mecha-membrane gaming keyboard on the market. Compared to RGB mechanical keyboards which typically start at $130+, it's a relatively good deal for gamers willing to make some compromises for a mechanical feeling RGB keyboard at a lower pricepoint.
So the question is, should you buy it and the answer is it depends. Those looking for a truly blissful typing and gaming experience should still stick with a true mechanical gaming keyboard with true mechanical gaming switches such as the Blackwidow Chroma. However, if you've got a budget of $100 and want a RGB mechanical keyboard, nothing else in the pricerange compares to the Ornata Chroma.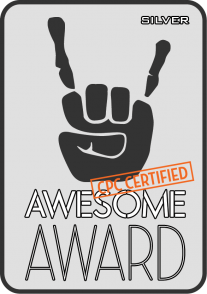 Sample provided by: Razer
Available at: Amazon