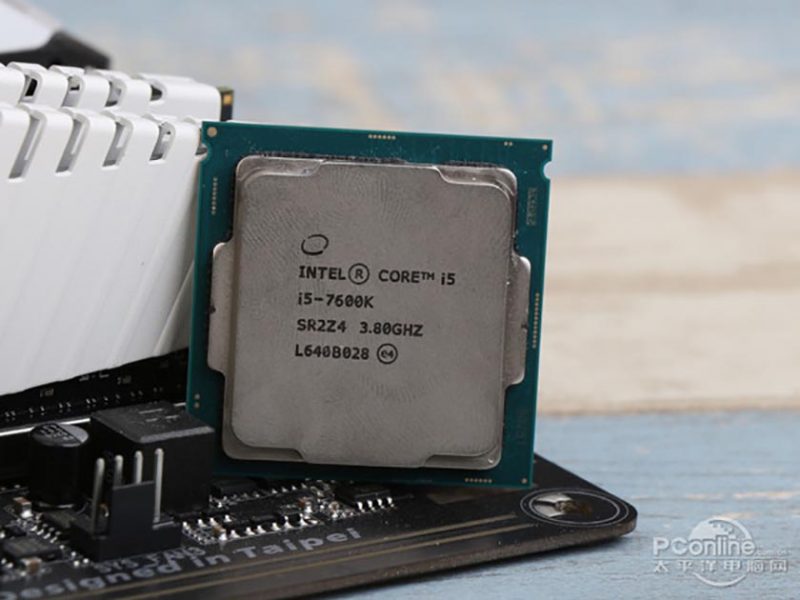 Several weeks ago, we reported that benchmarks for the Intel Core i5-7600K had been leaked as early units of the processor was inadvertently sold in China. Although the sales were quickly stopped, a number of Chinese media outlets were able to get their hands on the processor, one of which is PConline who recently published a review on the processor.
According to the review, CPU performance is higher in comparison to its predecessor, but it's mostly due to increases in clock speed. GPU performance and power consumption is fairly the same as the previous generation and not much has changed.
CPU Performance
Here we can see very small differences in single threaded performance and small differences in multi-threaded performance. Performance increase is approximately ~8% which represents the difference in clockspeed between the Intel Core i5-7600K and the Intel Core i5-6600K. According to these benchmarks, there appear to be little to no IPC improvement here.
GPU Performance

Although Intel HD Graphics gets a huge jump in terms of its naming convention, this isn't really reflected in performance.
Power Consumption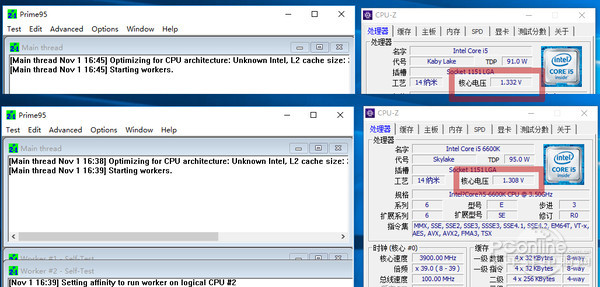 Power efficiency doesn't seem to have improved much either. Here we can see that the Intel Core i5-7600K draws 1.332V at load whereas the Intel Core i5-6600K draws 1.308V at load. In this case, the Intel Core i5-7600K is actually drawing slightly higher power than its predecessor which is due to its higher clock speed.
Our Take
Looking at these initial benchmarks along with previously leaked benchmarks, it definitely seems like Kaby Lake (7th Generation Core Processor) isn't going to be much of an improvement over its predecessor. This isn't surprising as it's still based on the same architecture and same manufacturing process as Skylake (6th Generation Core Processor) although the performance figures here are a bit less than I previously expected. Intel claimed that their process enhancements with 14nm FinFET+ would provide a 12% performance increase yet these early benchmarks simply don't reflect this level of performance improvement. Based on these numbers, those who need a new system now will probably do just fine purchasing a Skylake processor as Kaby Lake doesn't appear to bring huge benefits.
Additionally, the lack of big performance improvements from Intel's upcoming chips should give AMD some hope as they're expected to launch their upcoming 14nm FinFET Zen architecture based processors in 1Q2017. While we're not hopeful that the chips will beat Intel's high end parts in terms of pure performance, depending on its pricepoint, it could be very competitive against Intel's entry level and mid-range chips making it possible to claw back some much needed marketshare.
Source: PConline