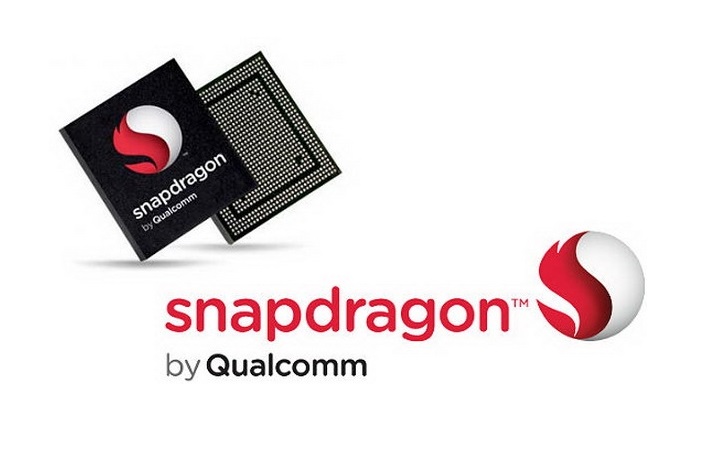 When Qualcomm announced the upcoming Snapdragon 835 SoC back in November, few details about the upcoming mobile processor were shared at the time. Aside from its expected launch date in the 1H2017 and the joint announcement with Samsung that it'll be built on Samsung's new 10nm FinFET process, we knew very little else about the chip.
However, some recently leaked slides by tech rumors site Videocardz sheds some light on the Snapdragon 835 ahead of its major announcement at CES 2017.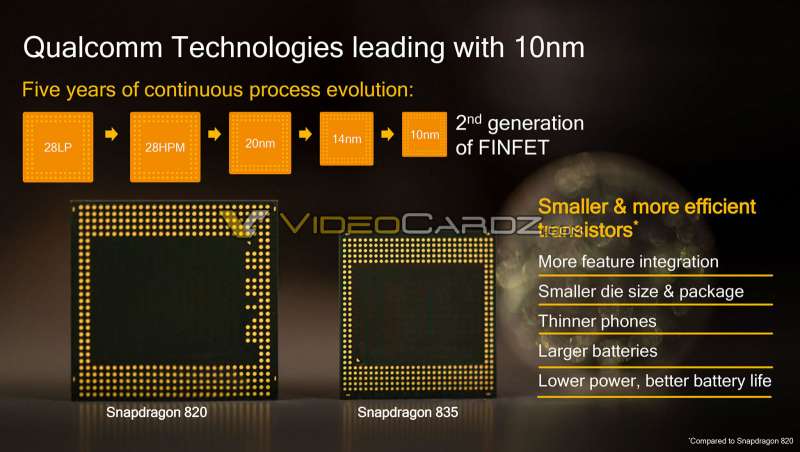 According to the slides, the Snapdragon 835 will be built on the 10nm manufacturing node which will allow the Snapdragon 835 to be significantly smaller and more efficient. This will allow thinner smartphones, larger batteries, and more features compared to previous generation Snapdragon 820 processors.
The Snapdragon 820 will be powered by a Qualcomm Kryo 280 8-core CPU, Adreno 540 GPU, and a Snapdragon x16 LTE modem. The Kryo 280 will feature a combination of four high performance cores along with four power efficiency cores. The high performance cores are clocked up to 2.45GHz and feature a 2MB L2 cache while the power efficiency cores are clocked at 1.9GHz and feature a 1MB L2 cache. The combination will provide up to 20% faster performance while simultaneously being significantly more power efficient. The Snapdragon 835 will be 50% more power efficient compared to the Snapdragon 801 which features quad-core Krait 400 cores manufactured on a 28nm HPm process.
In the graphics department, the Snapdragon 835 will be powered by the Adreno 540 which will be 25% faster compared to the Snapdragon 820. The Adreno 540 separates graphics into three engines – GPU, DPU, and VPU. The GPU will support DX12, ES & Vulkan applications. The DPU will support 10-bit 4K @ 60FPS, Q-Sync, and wide color gamut. The VPU will support 4K HEVC 10-bit playback and foveated video.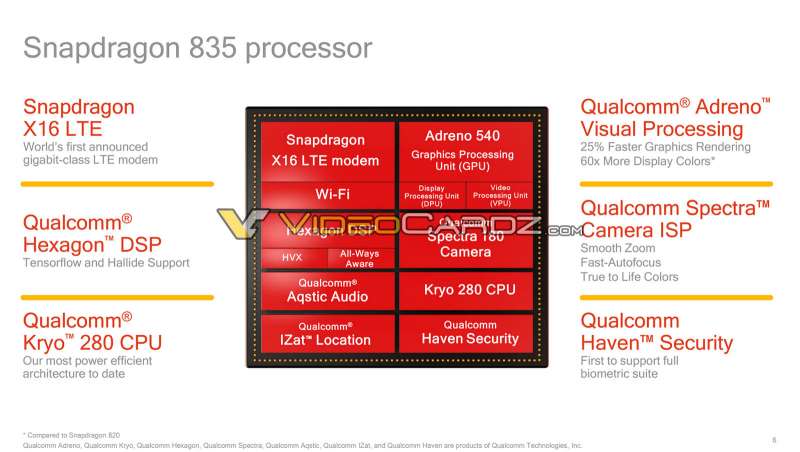 Communications will be powered by the Snapdragon x16 LTE modem which is the world's first gigabit class LTE modem. It's believed that T-Mobile's latest gigabit over LTE demonstration of a yet-to-be released flagship smartphone is based on this modem. Additional features include the Qualcomm Hexagon DSP, Qualcomm Spectra Camera ISP, and Qualcomm Haven security. The Snapdragon 835 is also expected to feature Qualcomm Quick Charge 4.0 which will charge batteries up to 20% faster than Quick Charge 3.0 and a 50% charge in just 15-minutes.
More information will be revealed over the week as CES rolls around, so stay tuned!
Source: Videocardz