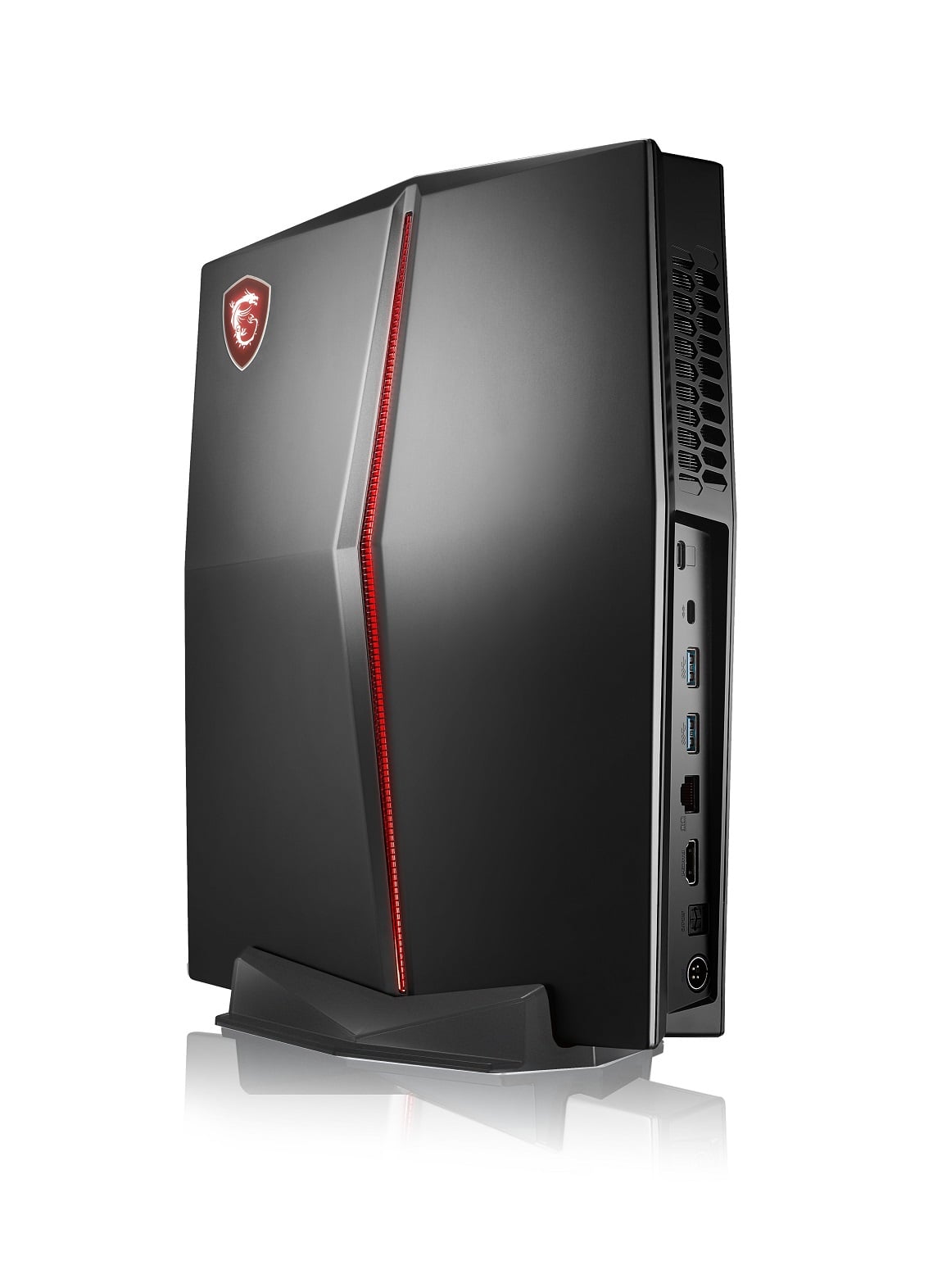 MSI recently announced the Vortex G25, a small yet powerful gaming PC.
The MSI Vortex G25 is absolutely tiny. It's slim build is almost reminiscent of a blade server. When stood up vertically, it takes up less space than a gaming console. It's so compact, in fact, that it can be mounted on a VESA monitor mount. At just 5.51lbs, it won't rip your monitor apart, either.
The Vortex G25 is outfitted with Intel's 10th generation "Coffee Lake" CPUs. Users can choose from the Core i7-8700 or the Core i5-8400. Graphics options include either an Nvidia GeForce GTX 1070 or a GeForce GTX 1060. All configurations come with one stick of 16GB DDR4, but users can expand that to up to 64GB on their own. Storage option is locked at one 256GB M.2 SATA SSD plus one 1TB HDD.
Manufacturer
 MSI
Model
Vortex G25-022US
Vortex G25-022US
CPU
Intel Core i7-8700
Intel Core i5-8400
GPU
Nvidia GTX 1070, 8GB
Nvidia GTX 1060, 6GB
Memory
16GB DDR4 2,400MHz
Audio
ESS SAbre HiFi Audio DAC/Nahimic 2+ audio enchancer
Networking
Killer Doubleshot Pro, Bluetooth 4.1
Intel 802.11 AC Wifi, Bluetooth 4.2
Connectivity
1x USB Type C (USB 3.1 Gen 2 / DP / Thunderbolt 3), 1x USB Type-C Gen 2, 4x USB 3.0, 2x HDMI, 1x SPDIF, 1x Headphone, 1x Mic
1x USB Type C 3.1 Gen 2, 1x USB Type-C 3.1 Gen 1, 4x USB 3.0, 2x HDMI, 1x SPDIF, 1x Headphone, 1x Mic
Dimensions
10.98″ x 1.69″x 13.03, 5.51 lbs
Price
$1,999
$1,499
The MSI Vortex G25 is available now at Newegg and other major retailers.