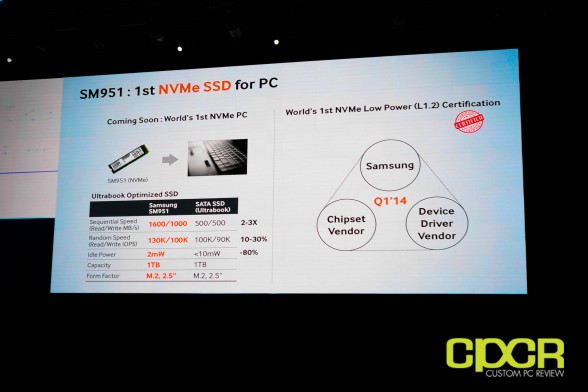 Although Samsung has been fairly tight lipped about their XP941 M.2 SSD ever since it went into mass production back in June of last year, Samsung recently also silently revealed the Samsung SM951, an upcoming SSD that appears to be the successor to the XP941.
While exact NAND and controller configuration are unknown at this time, the Samsung SM951 is expected to be NVMe compatible, and will be capable of up to 1,600/1,000 MB/s sequential reads/writes and 130K/100K IOPS 4K random reads/writes – slightly faster than the XP941 rated for 1,400 MB/s sequential reads. The drive is also NVMe low power (L1.2) certified and is rated to draw <10mW power at idle (probably DevSleep mode).
The Samsung SM951 will come in either the M.2 or 2.5″ form factor and will be available in capacities up to 1TB. Unfortunately, the release date is still not available at this time, but according to the slides it should be "coming soon". Unfortunately, like the XP941, the SM951 will most likely be available to OEM/system integrators only when it launches, but as M.2 support continues to becomes more prevalent, I wouldn't be surprised to see a retail variant of the drive down the line.