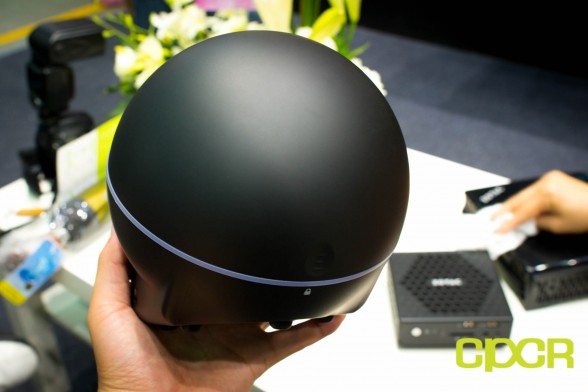 As one of the more prominent players in the mini-PC space, Zotac showed off a number of new systems here at Computex, but one of the more interesting systems on display was the Zotac Zbox Sphere OI520, which as its name implies is pretty much a Zbox in a chassis that resembles a sphere. For those who remember the Google Nexus Q, the Zbox Sphere OI520 is literally a splitting image of Google's now defunct device; however, unlike the ARM A9 powered Nexus Q, Zotac's Zbox Sphere OI520 packs a serious punch with the Haswell based Intel Core i5-4200U processor and Intel HD 4400 Graphics. The Zbox Sphere OI520 also includes 802.11 AC Wi-Fi, Bluetooth 4.0, 4x USB 3.0 ports, 3x USB 2.0 ports, space for up to two DDR3 SO-DIMMs for up to 16GB DDR3, and both a mSATA slot and a 2.5″ drive bay for storage.
Zotac plans to sell the Zbox Sphere OI520 in both a barebones model without memory and storage, and a "Plus" model which includes 4GB of DDR3L and a 500GB 2.5″ HDD.
Another line of sweet mini-PCs Zotac was showing off was the Zbox C-series mini-PCs (CA320, CI320, CI520, CI540) which are fanless mini-PCs designed for users looking for systems with completely silent operation. Powered by either the AMD A6-1450 (CA320), Intel Celeron N2930 (CI320), Intel Core i3-4020Y (CI520), or Intel Core i5-4210Y (CI540), the Zbox C series mini-PCs aren't the most powerful PC on the block, but given its small size, low power requirements, integrated Wi-Fi, and multitude of connectivity options, the system is perfect for HTPC or digital signage applications.
Like most Zboxes, the Zbox C series will come in both a barebones model as well as a "Plus" model with includes 4GB of DDR3L and a 64GB SSD.