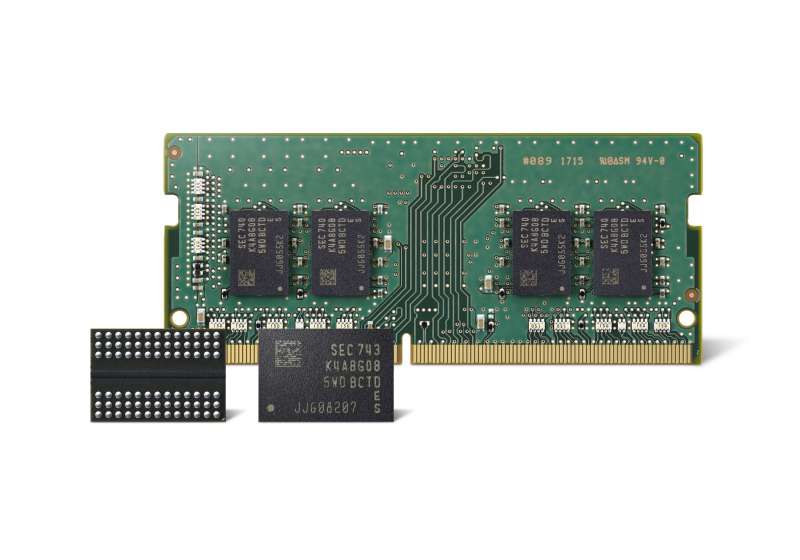 Samsung has begun mass producing their 2nd Generation 10nm-class 8Gb DDR4 DRAM. According to the announcement, the new Samsung 2nd Generation 10nm-class 8Gb DDR4 features speeds up to 3,600 Mbps per pin, which provides around 10% improved performance and 15% improved power efficiency compared to 1st Generation 10nm-class 8Gb DDR4.
In order to achieve the improved performance and power efficiency, Samsung developed a new high-sensitivity cell data sensing system which allows a more accurate determination of data stored within a data cell along with a unique "air spacer" design which helps dramatically decrease parasitic capacitance.
"By developing innovative technologies in DRAM circuit design and process, we have broken through what has been a major barrier for DRAM scalability," said Gyoyoung Jin, president of Memory Business at Samsung Electronics. "Through a rapid ramp-up of the 2nd-generation 10nm-class DRAM, we will expand our overall 10nm-class DRAM production more aggressively, in order to accommodate strong market demand and continue to strengthen our business competitiveness."
Samsung has already completed validation of its 2nd Generation 10nm class DDR4 with CPU manufacturers and is currently working with its partners to bring the new memory to market. Further, thanks to the development of the new technologies, Samsung is accelerating plans for faster next generation versions of its DDR5, HBM3, LPDDR5 and GDDR6 memory technologies although no timelines were provided at this time.
Source: Samsung