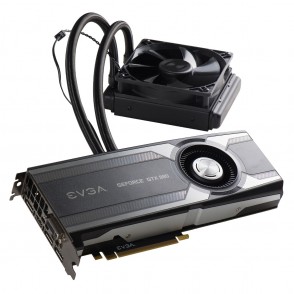 All-in-one CPU cooling has become huge over the past few years and naturally a number of vendors have begun offering all-in-one liquid coolers for GPUs as well. These all-in-one GPU liquid coolers combine an all-in-one liquid cooling unit for the GPU die along with with traditional air based coolers for the VRAM, PWMs, and other components. While it's still a relatively niche market, big name vendors such as NZXT's Kraken G10
and Corsair's HG10
have been on the market for quite some time, and even AMD jumped into the mix using a similar solution for their flagship Radeon R9 295×2.
Not to be outdone, EVGA is now jumping into the bandwagon with their new EVGA GeForce GTX 980 HYBRID. Like most solutions we've seen on the market today, the EVGA GeForce GTX 980 HYBRID uses an AIO liquid cooler with a 120mm radiator to take heat away from the GPU while an air cooling system helps cool the rest of the components.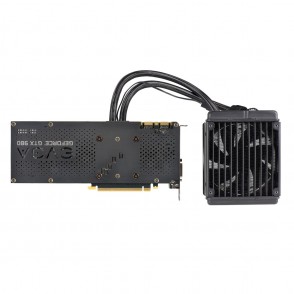 With the HYBRID GPU cooler, EVGA claims ~25°C performance improvement compared to the reference cooler. In order to take advantage of the superior thermal performance, the EVGA GeForce GTX 980 HYBRID is factory overclocked to 1291 MHz base clock and 1393 MHz boost clocks. Coupled with variable speed fans that can be adjusted to ramp up when under load, the GTX 980 HYBRID promises high cooling performance and low noise.
The EVGA GeForce GTX 980 HYBRID will be available both as a bundle option (graphics card plus HYBRID cooler) or as a standalone aftermarket heatsink that users can purchase to upgrade their existing GTX 980. The card is expected to retail for $649.99 and the standalone cooler is expected to retail for $99.99. Both products should be available shortly.
Source: EVGA