[section label=1. Introduction]
Goddess of… Agriculture?
It was only very recently that we reviewed Cooler Master's CM Storm Sonuz gaming headset and for the most part, we found the headset to be quite good. With its respectable performance and a budget friendly price tag, the Sonuz brought excellent gaming audio to gamers who didn't want to spend a truckload of money for a gaming headset. That said, despite the fact that the Sonuz is already coming in at a relatively inexpensive pricetag, $70 is still out of reach for a lot of gamers out there and with Cooler Master fervently pushing their CM Storm brand, a more budget oriented headset is definitely needed for the holiday lineup.
This is why today we'll be reviewing the new CM Storm Ceres-400 gaming headset, which will be Cooler Master's solution for the budget gamer. For those wondering why the headset is named after the mythical Roman goddess of agriculture, we have no idea either, but a glance at the Ceres' spec sheet reveals that the new headset isn't going to be carrying anything too godly. We've got the fairly standard 40mm drivers, a noise cancellation microphone, and a closed ear design, which isn't anything we haven't seen before, but with this new headset coming in at a $50 pricetag, (~$20 lower than the Sonuz) there isn't too much to complain about either.
Let's take a closer look.
| | | |
| --- | --- | --- |
| Manufacturer | Cooler Master | Cooler Master |
| Model | Ceres-400 | Sonuz |
| Interface | 3.5mm | 3.5mm |
| Warranty | 2 Years | 2 Years |
| Driver Diameter | 40mm | 53mm |
| Frequency Response | 32 Ω | 45 Ω |
| Microphone | Noise Cancelling, Omnidirectional | Noise Cancelling, Omnidirectional |
| Check Pricing | Click Here | Click Here |
[section label=2. A Closer Look]
A Closer Look at the CM Storm Ceres 400
The packaging for the Ceres-400 is quite reminiscent of most CM Storm products on the market. We've got a clear view of the headset up front and some product features on the back in a number of different languages.

You didn't expect any accessories did you? Neither did we. The Ceres 400 is a 3.5mm plug and play analogue headset, so the only thing that's going to come in the packaging is the headset along with some documentation.

The industrial design of the earcups look quite good despite the material of choice here being plastic. The outer circle is treated with a soft touch matte finish and actually provides a lot of grip and more importantly, makes the headset feel a lot more expensive than it really is. The very center of each earcup has a circular glossy piece of plastic. On the left side, there's a microphone and the right side is simply a CM Storm logo. Not a huge fan of glossy plastic as it's a huge fingerprint magnet, but oh well. At least it looks good right out of the box.
Here we can see the usual swiveling noise cancelling microphone. It'll swivel about 120°starting from its initial resting position.

The headband here is plastic, but it is quite thick so it should hold up pretty well considering its price point. Unfortunately, the height adjustment notches feels kind of flimsy, but it does its job.

There's an in-line dongle attached to the wire. It has 2 simple controls – volume adjustment and mic on/off.

With the earcups, Cooler Master has gone the comfort route and has included large, 90mm closed-ear cloth ear pads with the Ceres-400. The earpads are covered with a porous cloth to provide ventilation, so they'll be quite comfortable in comparison to leatherette earcups when gaming for extended periods of time, but out of the box they will feel a little stiff. However, after the initial break-in period, they will become quite comfortable.

As with all analog headsets, the Ceres 400 also comes with two 3.5mm jacks – one for audio and the other for the microphone.  The cord isn't braided, but it's a fairly thick plastic wrapped cord, so it should handle a good amount of abuse just fine.
[section label=3. Performance]
CM Storm Ceres-400 Performance

Gaming
In order to test gaming, I fired up some Battlefield 3 and to my surprise, the small-ish 40mm drivers on the Ceres 400 was able to produce quite a deep bass experience that I wasn't fully expecting. As explosions filled my screen, the headset went quite deep and it was immediately noticeable that the headset itself is tuned for a deeper bass response. Higher notes such as gunshots were fairly crisp and clear enough (although a bit hollow) which was able to help me distinguish the weapons used by my enemies while mid tones such as ambient sounds and footsteps can also be heard with acceptable clarity. I did find that directionality was a bit lacking with the Ceres-400 as I had a bit of a hard time telling where and how far away gunshots were being fired.
Movies
Watching movies with the Ceres 400 is like surfing – it's fun when you catch a good wave. In scenes with intense explosions the Ceres-400 excelled with its excellent bass, which this made various scenes in the action packed Mission Impossible 3 a pleasure to watch. Valkyre also fared quite well as dialogue between characters were discernible and free of any strange distortions.
However, during scenes when highs, mids, and lows are combined, the Ceres-400 doesn't do so well. In Valkyre for example, when characters are blabbing away with cellos playing depressing low notes in the background, the drown-out of the dialogue by the significantly superior bass response became very evident, which significantly took away from the experience.
Music
I wasn't expecting much out of the Ceres-400 when firing up my music testing tracks – after all, this isn't typically a $50 gaming headset's forte, and I was right… partially. That said, I want to set that aside and start off by saying that music wasn't too bad on this headset given the fact that it's not a product aimed at perfectly reproducing your entire FLAC collection.
Throughout my testing, I found that the Ceres 400 did a decent job of handling the C sharp in classical pieces and did equally well in dubsteps, where its deep and clear bass really shined through the steep drops.  Mids weren't too bad either, but  as soon as the percussions started thumping full blast, the mids were immediately drowned out by the significantly more powerful bass. In terms of overall clarity, I found that while the highs and mids to be a bit muddy, but as I said earlier, this headset isn't aimed at producing the most accurate sound possible.
Comfort
Overall the Ceres 400 was fairly comfortable to have on for extended periods of time. Its super light weight made it feel like a piece of feather on my head and the large cloth earpads provided an excellent layer of cushion and cupped my ears really well. Thanks to the meshed texture of the cloth earpads, my ears did not  feel hot even after hours of continuous gaming and movies.
That said, one thing I'd have really liked is a thicker padding on the headrest. During extended use, I felt that it was just a tad too thin and caused slight discomfort at the top of my head.
Microphone
Whereas the headphones portion of the headset wasn't too bad, I didn't have the same experience with the microphone as it just wasn't that good. It functioned perfectly fine to relay the sounds coming out of my mouth, but it did so with a ton of static and background noise. It's definitely sub-par for a gaming headset, and the microphone quality was even worse than the $22 ARCTIC P301 headset I reviewed several months ago. After making several adjustments in noise cancellation and the like, I was able to make the microphone sound a lot more tolerable, but there's only so much software is capable of before voices become distorted.
[section label=4. Conclusion]
CM Storm Ceres-400 Conclusions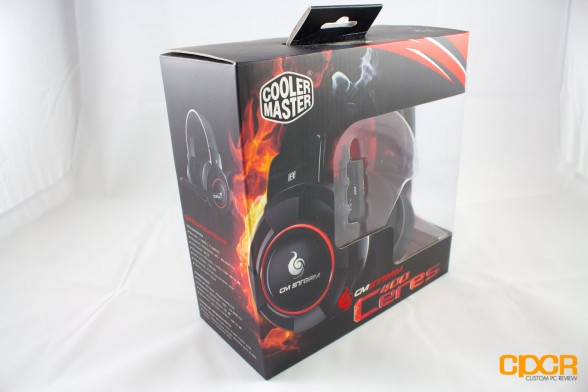 Alright, so let's summarize. Sound quality is a mixed bag depending on what you want to do with it. In gaming, the Ceres 400 sounded pretty good. I found that everything from gunshots to footsteps was accurately outputted and distortion free. Its excellent bass capabilities made explosions sound satisfying, but definitely be aware that directional sound is a bit lacking. Despite its minor flaws however, the Ceres-400 is still a very good set of gaming cans. What I'm not too fond of is its uses outside of gaming. The headphones are simply tuned a bit too much on the bass and the mids and highs were a bit too muddy for my tastes as well. For a $50 headset, it performed fine, and should be OK for those who aren't too concerned about absolute audio fidelity.
Speaking of audio fidelity, you won't find it in the microphone either. I found the microphone quality of the Ceres 400 is less than ideal, and is sub-par in comparison to other gaming headsets out there. During the Skype conversations, there was a ton of static and background noise that was picked up, so if you are planning on doing any sort of podcast or music recording  please do your self a favor and purchase an external microphone or go with a headset from Plantronics.
Like other CM Storm headsets, the Ceres-400 is exceptionally comfortable. Its light weight makes its existence disappear from your consciousness the moment your put them on and during testing, the huge 90mm earcups were able to cup my ears very well.  This is quite important as most budget headsets out there are designed to be used over the ear or are advertised as around the ear, but the earcups are actually are too small for the purpose. With the Ceres-400, you really are getting a headset with earcups large enough to fit your entire ear, which does wonders for comfort. In addition to the large earcups, you'll also be getting cloth earpads, which will allow air to flow into the earcups, making it quite comfortable even during extended use or heated gameplay. Initially, the ear pads will be a little bit on the stiff side, so be aware of this; however, they were still very comfortable. That said, one thing that prevented this headset from truly feeling like a pillow was the headrest padding – I felt that it was a bit too thin to fully support the weight of the headset and it did cause me a bit of discomfort. Thankfully, the Ceres-400 doesn't weigh an anvil to begin with so the discomfort was minimal.
Design and aesthetics wise, I felt like Cooler Master did a pretty good job. Its excellent earcup design and the minimal gloss red and black color scheme looks quite good, while the soft touch material makes it feel like a headset that costs much more than its asking price. I like it. Build quality isn't bad either. For a budget level gaming headset the Ceres-400 is actually quite well crafted. Everything from the headrest to the earcups felt solid and there was no creaking or parts breaking off during testing. The only part that was a bit flimsy is the area that joins the headrest and the earcups, where the area carved out for the height adjustment notches made the  feel a little weak.
For a measly price tag of just $49.99, the Ceres-400 is truly a gaming headset aimed at gamers with budgets below sea level. For those looking for a solid gaming headset, the Ceres-400 is definitely bang for the buck, but if you are planning on doing a lot of listening to music or watching movies, it may be a good idea to put up a couple extra dollars to go with something else.
Bottom Line
The Ceres-400 is a decent budget choice for gamers looking for a comfortable, good looking gaming headset. You'll be getting your money's worth, but not much more beyond that.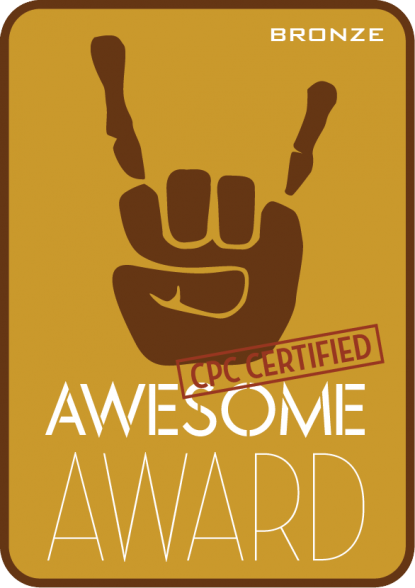 Special thanks to Cooler Master for making this review possible!
The CM Storm Ceres-400 is currently available on Amazon.