[section label="1. Introduction"]
Big Performance in a Mini Cube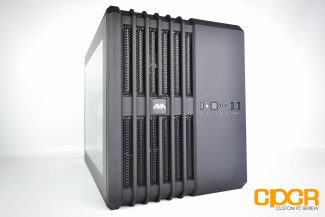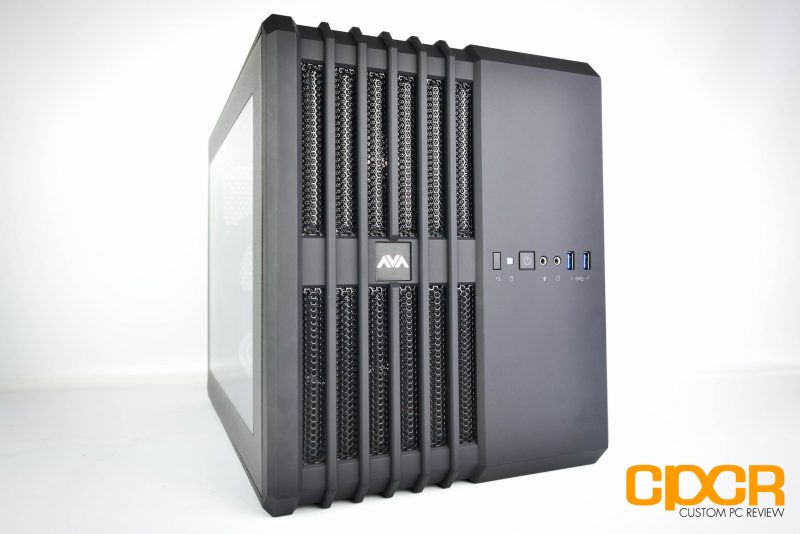 AVADirect is a boutique system builder with its origins in the suburbs of Cleveland Ohio. It's probably not one of the first names that pop into your head as a system builder, but they've been making everything from gaming to business systems for over a decade.
Recently, AVADirect launched their Avant Mini Cube Gaming PC which is exciting because it's based on Corsair's excellent Carbide 240 Air PC case. Despite the relatively small size of the mATX formfactor case, AVADirect managed to fully kit it out with an overclocked Intel Core i7-6700K and GeForce GTX 1080 Founders Edition. Given how much we love big performance in small formfactors, we just had to check it out.
AVADirect Avant Mini Cube Gaming PC Specs
| | |
| --- | --- |
| Desktop | AVADirect Avant Mini Cube Gaming PC |
| Case | Corsair Carbide Series 240 Air |
| CPU | Intel Core i7-6770K |
| Motherboard | ASUS Maxmius VIII Gene |
| Memory | Kingston HyperX 16GB (2×8) |
| Graphics | Nvidia GeForce GTX 1080 Founder's Edition |
| Storage | Samsung 850 EVO 250GB SSD + 1TB Seagate 7,200RPM HDD |
| Optical Drive | N/A |
| Operating System | Windows 10 |
| PSU | EVGA 650W Gold (Custom Sleeved White) |
| CPU Cooler | Corsair 140MM Liquid Cooler |
| Warranty | 3 Years Parts & Labor, Lifetime Technical Support |
| Price As Configured | $1,848.00 |
| Warranty | 3 years |
| Check Pricing | AVADirect |
[section label="2. A Closer Look"]
A Closer Look at the AVADirect Avant Mini Cube Gaming PC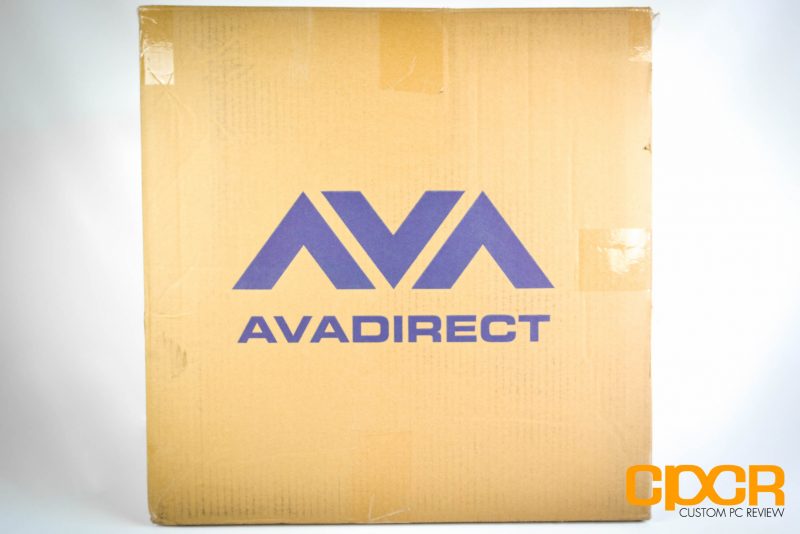 Here's a look at the packaging. AVADirect shipped their system in a large box which contained a smaller box with the system inside.
Included is the AVADirect Avant Mini Cube along with a promotional flyer, power cable, and remote control for the onboard lighting.
Before powering on the system, it's important to remove the moldable foam insert which is designed to prevent damage in transit. There's a warning taped to the rear of the case to let you know to contact AVADirect if anything was damaged during shipping.
Here's a closer look at the AVADirect Avant Mini Cube. AVADirect has done a helluva job with this build with color matching components and a top notch cable management job typically not available in most pre-built systems.
Looking into the case, we can see some of the sweet hardware inside including the Corsair 120mm CPU Cooler, Nvidia GeForce GTX 1080 Founders Edition and Kingston HyperX Fury memory all sitting on top of an ASUS Maximus VIII Gene mATX motherboard.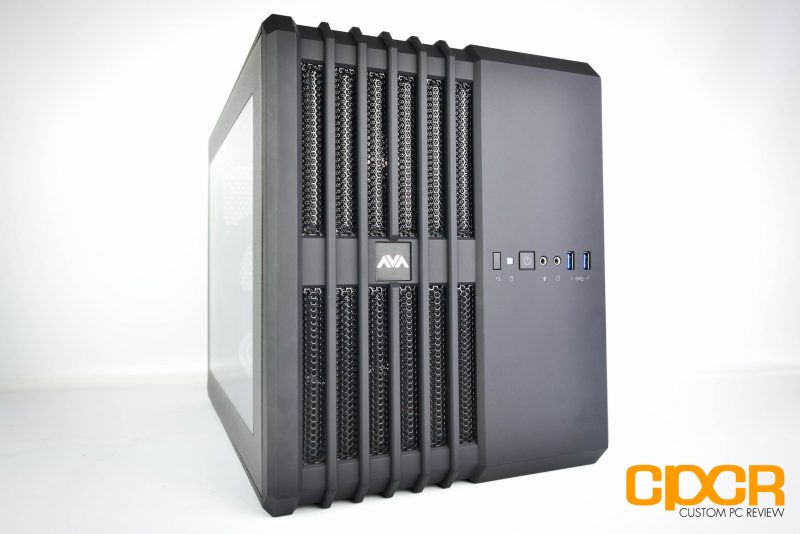 On the front side of the chassis we see the I/O in the dead center of the case, making placing this system better set for your desk rather than hidden under it. We see two USB 3.0 ports, power button/reset/HDD indicator lights, as well as 3.5mm headphone and microphone ports.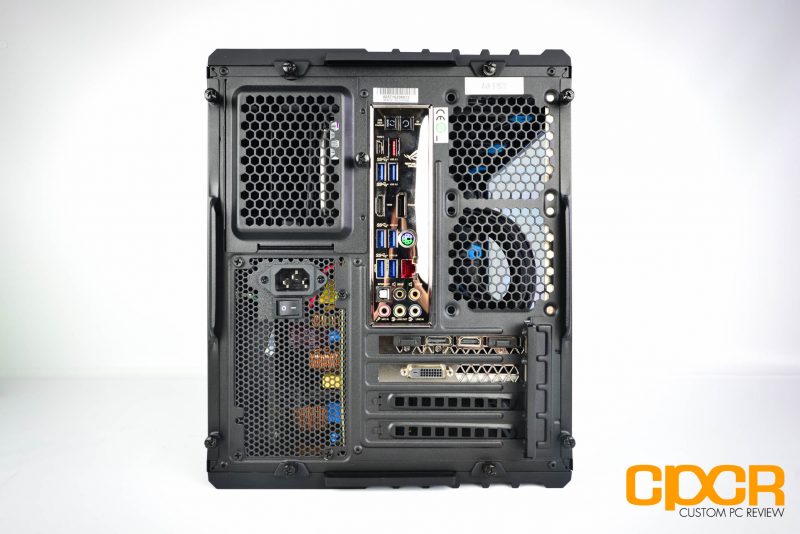 At the rear of the AVADirect Avant Mini Cube Gaming PC we get a fully loaded array of I/O ports with a single USB 3.1 Type-C and 6x USB 3.0 Type A ports, a P/S2 port, HDMI, Displayport, Ethernet, Clear CMOS, Bios USB Flash button, and audio ports.
Popping off the side panels we can take a gander  at the interior of the AVADirect Avant Cube Gaming PC. We have some absolutely beautiful white custom cabling. They also leave plenty of room for expansion for more drives on the rear.
In the dark, the system is simply beautiful. In addition to the lightstrip used around the inside of the case, the AVADirect Avant Mini Cube is also lit using LED backlit fans. Using the included remote, the system's LED strip can be toggled between a variety of different color options.
[section label="3. Testing Setup/Initial Boot"]
Testing Setup
Haswell Reference System
For reference, we'll be using a top of the line last generation Haswell based reference system for comparison. The specifications for our Haswell reference system is as follows.
Special thanks to EVGA, Kingston, MSI and HSPC for sponsoring our reference system!
AVADirect Avant Mini Cube Initial Boot
 
[section label="4. CPU Performance"]
AVADirect Avant Mini Cube Performance
CPU Performance
SuperPi 32M
SuperPi is a single threaded benchmarking tool which for our purposes simply calculates pi for us and records the time to calculate 32 million digits after the decimal point.
WPrime 32M
WPrime is a multi-threaded benchmarking tool which for our purposes simply calculates pi for us and records the time to calculate 32 million digits after the decimal point.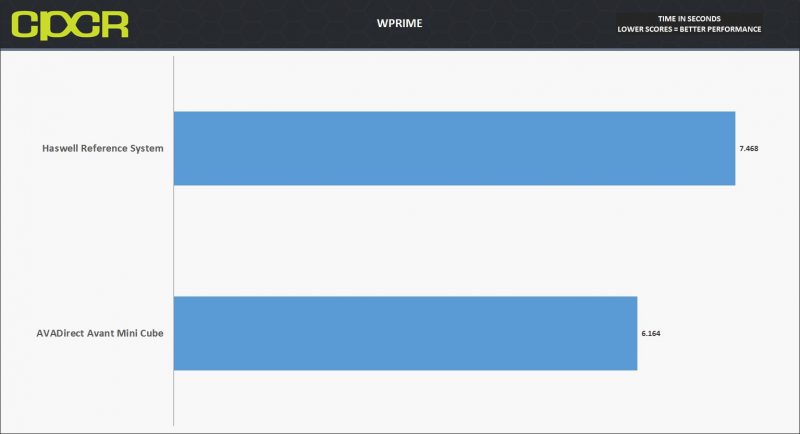 x265 HD Video Benchmark
x265 HD video benchmark tests how fast the system can encode a 1080p video into a high quality x265 video file.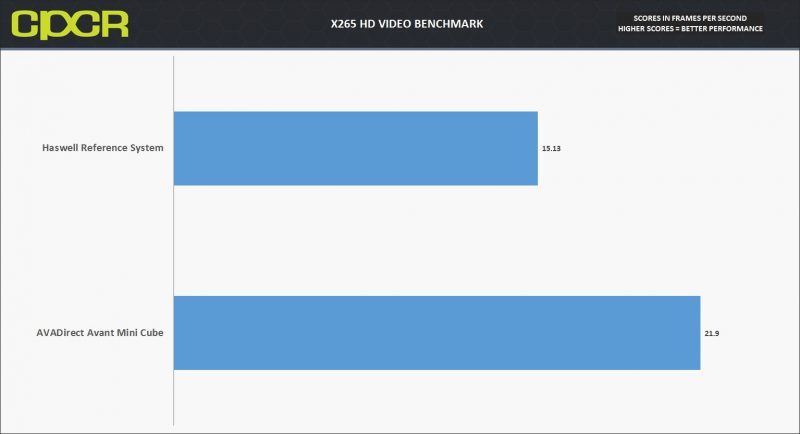 Cinebench R15
Cinebench is a real world benchmark that tests system performance using the Cinema 4D animation software.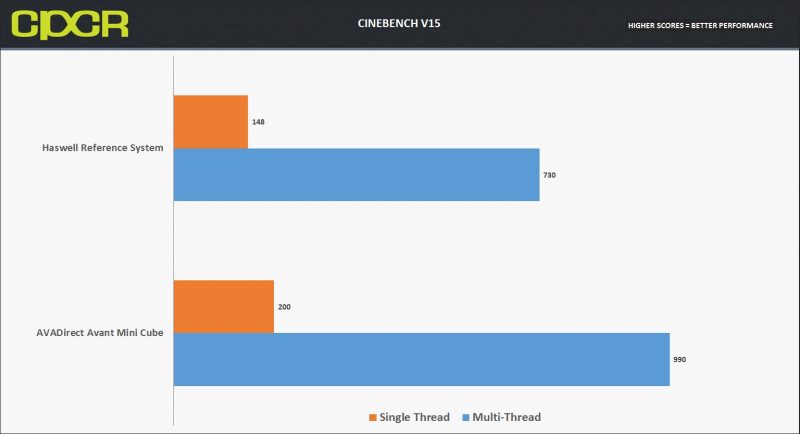 Performance Analysis
The Intel Core i7-6700K is currently the fastest mainstream Intel processor and in addition to the mild overclocking from AVADirect (4.8GHz single core, 4.5GHz all cores), the system blazed past its Haswell predecessor with ease in both multi-threaded and single threaded applications.
[section label="5. Graphics Performance"]
Graphics Performance
3D Mark
3D Mark is Futuremark's latest benchmark utility used widely by gamers, enthusiasts, and overclockers to benchmark system performance and stability under consistent graphics loads.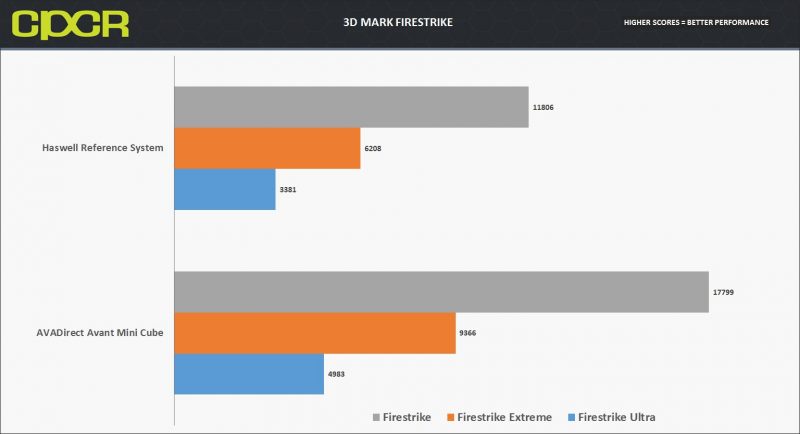 Game Benchmarks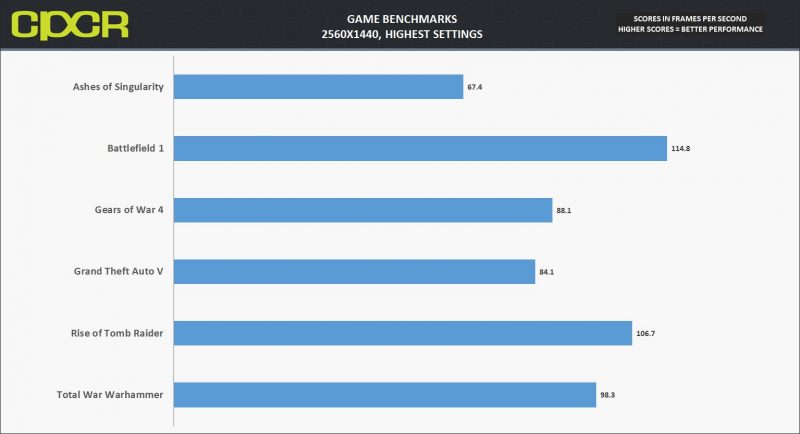 Performance Analysis
Along with the top of the line CPU, AVADirect paired the Avant Mini Cube with the Nvidia GeForce GTX 1080 Founder's Edition, which is one of Nvidia's fastest graphics cards on the market. In our synthetic 3D Mark benchmark, the AVADirect Avant Mini Cube saw around 30% better performance compared to our Haswell reference system. In our gaming benchmarks, the Avant Mini Cube easily ran all the latest games at maximum settings at 1440p.
[section label="6. System Performance"]
System Performance
PC Mark 8
From the creators as 3D Mark, PC Mark 8 is a full system benchmark designed to test real world system performance. PC Mark 8 is the latest in the PC Mark series, now replacing PC Mark 7.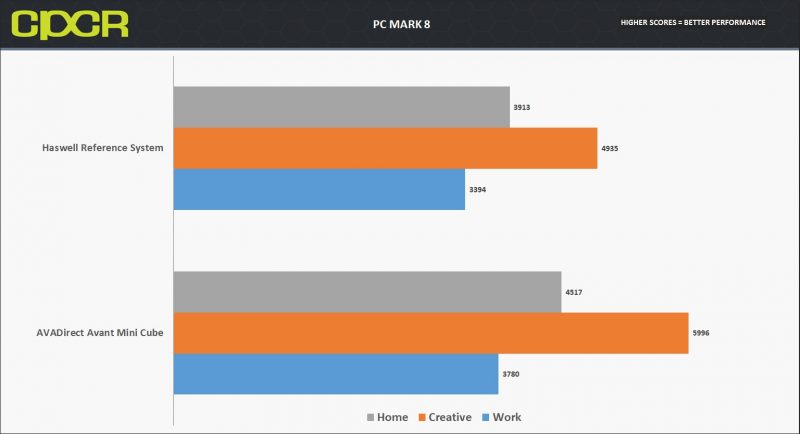 Performance Analysis
With a more powerful CPU and GPU subsystem, the Avant Mini Cube performed signficantly faster than our Haswell Reference System.
[section label="7. Storage Performance"]
Storage Performance
Samsung 850 EVO 250GB SSD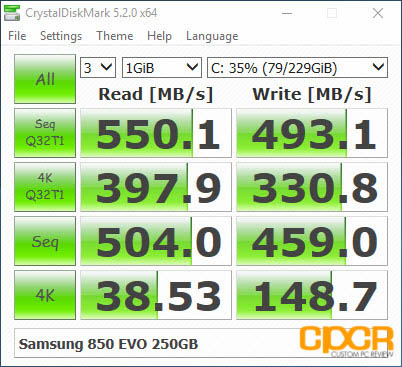 1TB Seagate ST1000DM003-1ER162 7200RPM HDD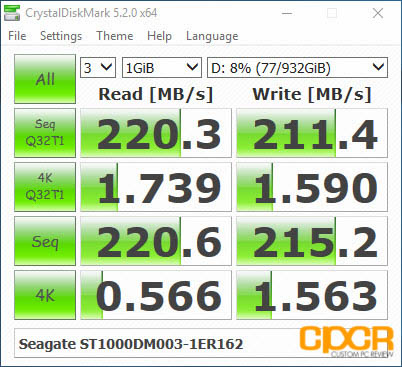 Performance Analysis
For the Avant Mini Cube, AVADirect utilized a combination of the Samsung 850 EVO and a Seagate 1TB HDD. This is an excellent combo which provides great performance for boot and application loading while still providing plenty of storage space as well.
USB 3.0 Performance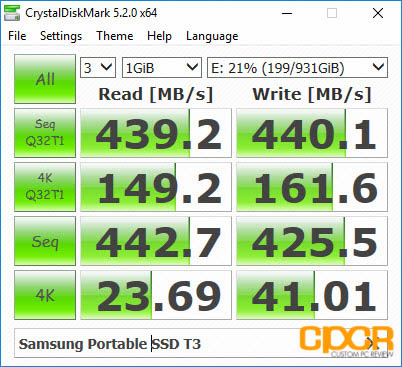 For USB testing, we utilized the Samsung Portable SSD T3 and overall the system was able to take advantage of the full potential of the drive. No surprises there.
[section label="8. Power Consumption"]
AVADirect Avant Mini Cube Power Consumption
Here we'll be testing the maximum power consumption of each of the test systems shown below. Idle power consumption is taken after the system is left idle for a minimum of 5 minutes. For load power consumption numbers, AIDA 64 stress test is run for a minimum of 5 minutes before the final results are taken.
All power consumption readings are taken using a Extech 380801 Power Analyzer connected via a Tripp-Lite LCR2400 Line Conditioner.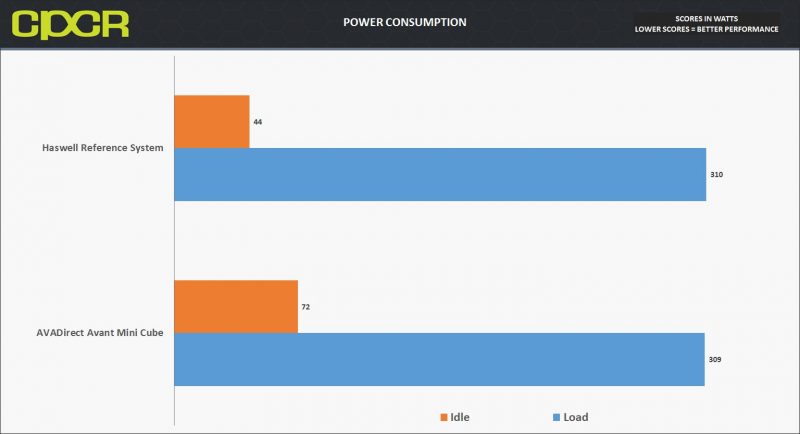 Performance Analysis
The AVADirect Avant Mini Cube drew 72w at idle and 309w at load. The load power draw is similar to what we saw on our Haswell reference system, but the idle power draw is a bit high due to the inefficient method of overclocking out of the factory. Even at idle, the voltage is set at 1.376v, which helps with overclock stability, but does require a bit more power to sustain. This however can be optimized to reduce idle power draw.
[section label="9. Temperature"]
AVADirect Avant Mini Cube Temperature
AIDA64
For thermal testing, we utilized AIDA 64's system stability test which generates a constant artificial load on the CPU, GPU and local disks to test for any possible overheating. In the event of overheating, the utility also allows us to find out when the system begins to throttle.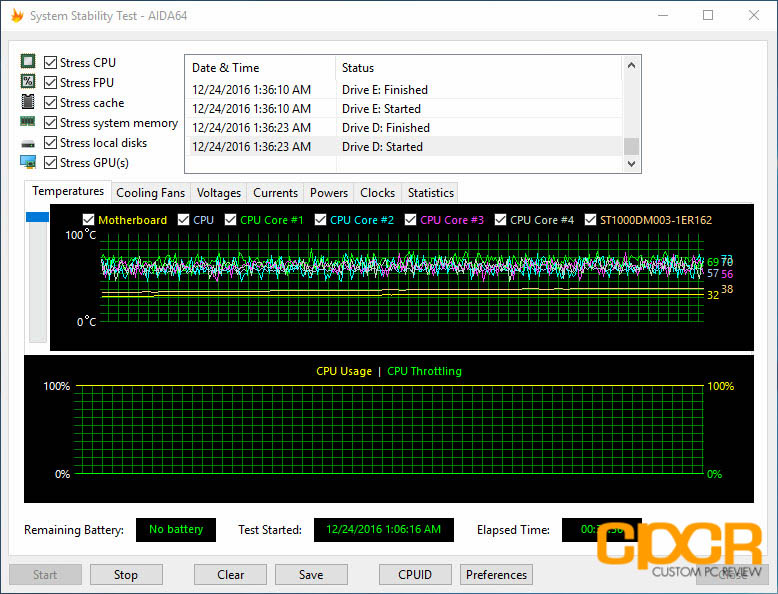 Performance Analysis
Normally the smaller compact systems tend to have issues in the thermal department as it's expected that high performance components stuck in a small space will generate a ton of heat. In our stress testing, it appears that AVADirect has done a great job on system cooling as none of the components got remotely close to overheating despite the mild overclock from the factory.
[section label="10. Acoustic Performance"]
Acoustic Performance
Case acoustics is measured using an Extech sound level meter at 2 feet away. For reference ambient noise is measured as well.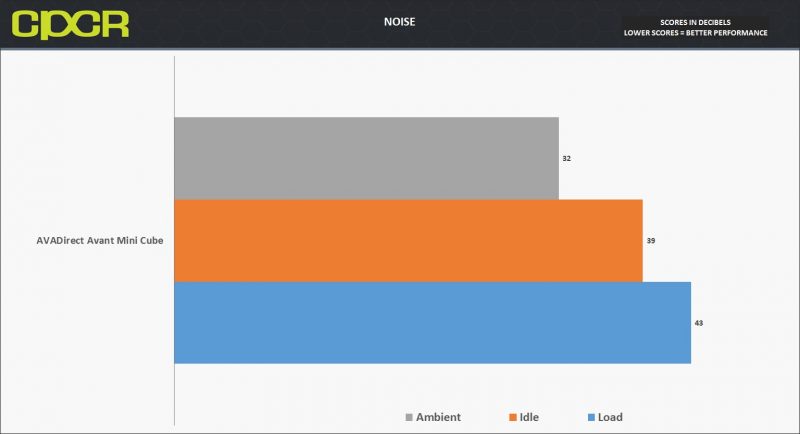 Performance Analysis
To keep things cool, the AVADirect Avant Mini Cube packs quite a few fans and since most of those are not set to be controlled by the motherboard or a fan controller, they tend to run a bit loud at idle, only a few decibels lower than during full load. For this system, a fan controller or having the motherboard dynamically control the fans would be a more ideal solution.
[section label="11. Conclusion"]
AVADirect Avant Mini Cube Conclusions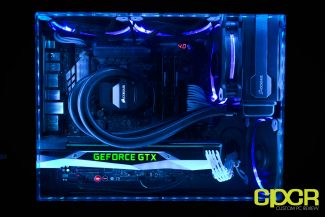 With testing out of the way, I can say that the AVADirect Avant Mini Cube is a very good, well configured system that leaves very little to be desired. Everything from the choice in case to the processor, graphics, and storage was well thought out and the results speak for themselves. In our testing, the system easily ran any game we threw at it at the maximum settings at 1440p and begged to go 4K and VR. Unfortunately we didn't have 4K or VR equipment to test at this time, but with the huge performance margin seen at 1440p, it shouldn't have any issues at the higher resolutions.
Build quality is stunning which isn't something you can say about systems that come from most system builders. Our configuration included the white sleeved cabling option which was routed almost surgically throughout the case. In fact, the type of attention to detail put into this build is just about what I'd personally do in one of my own custom builds. If this sample is representative of typical AVADirect system builds, these guys definitely are on a different level compared to your average high school computer kid wanting to put your system together for $50.
As far as complaints go, the only thing I can really think of is the overclocking and fan noise. Likely as a result of wanting to ship the most stable mass manufactured system, the Avant Mini Cube's overclocking is far and beyond on the safe side resulting in it drawing bit more power than I'd like at idle. Furthermore, the fans don't have any control and dynamically adjusted to reduce noise at idle which is a bit annoying especially if it's sitting at eye level – the spot where a beautiful system like this one should be. Of course, these are fairly small issues that can be fixed later on.
Pricing for our review unit is $1,848.00 which includes a 3 year parts and labor warranty and lifetime technical support. While this isn't inexpensive by any means, it's reasonable for the configuration as the motherboard/CPU combo costs around $500 and the graphics card cost $700 just in parts alone. With the excellent build quality and the reassurance of a 3 year warranty, I really have no reason not to recommend this system.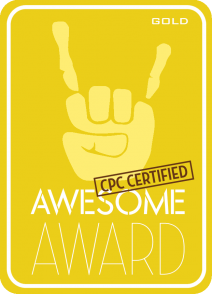 Sample provided by: AVADirect
Available at: AVADirect