[section label="Introduction"]
No Frills, High End Bluetooth Audio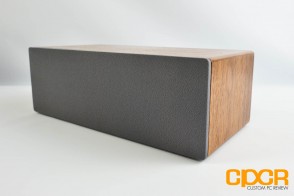 Well, it's that time of year again. The time of year to eat a lot, drink a lot, and be thankful that we get to do another review for Audioengine! Yup. It's funny how it worked out in the past few years that I've done one review every year for Audioengine. In 2012, it was the Audioengine A5+ coupled with the Audioengine  D1, last year it was the Audioengine A2+, and with 2014 coming to a close, this year we'll be checking out the newly released Audioengine B2!
The Audioengine B2 is Audioengine's latest speaker that combines many of the features of the Audioengine A2+ with the Bluetooth functionality of the Audioengine B1. While the Audioengine B2 uses much of same components that make the Audioengine A2+ great, the Audioengine B2 gets the soundbar form factor, which is an all new design for Audioengine.
Does the Audioengine B2 live up to the Audioengine name? Let's take a closer look!
Audioengine B2 Specifications
Manufacturer
Audioengine
Model
B2
Type
Bluetooth Powered Speaker
Power Output
60W peak total (15W RMS, 30W peak per channel), AES
Inputs
3.5mm stereo mini-jack
Outputs
N/A
Wireless Technology
Bluetooth 4.0 (CSR8670)
Audio Codec
aptX, A2DP, AVRCP
Amplifier Type
Dual Class AB monolithic
Frequency response
65Hz-22kHz ±2.0dB
DAC
TI/BB PCM5102A
SNR
>95db (typical A-weighted))
THD+N
<0.05% at all power settings
Crosstalk
-50dB
Input Bit Depth
24-bit (upsampled)
Input Data Rate
Determined by Bluetooth Codec
Dimensions
6"(H) x 4"(W) x 5.25"(D)
Finish options

Black Ash
Walnut
Zebrawood

Materials and Construction

18mm thick MDF cabinets
3/4″ silk dome tweeters with neodymium magnets
2.75″ Kevlar woofers with advanced voice coils

Included Accessories

Power cable
Antenna
Mini-jack audio cable, 1.5 meters (~5 feet)
Microfiber speaker bag
Quickstart guide

Check Pricing
Click Here
[section label="A Closer Look"]
A Closer Look at the Audioengine B2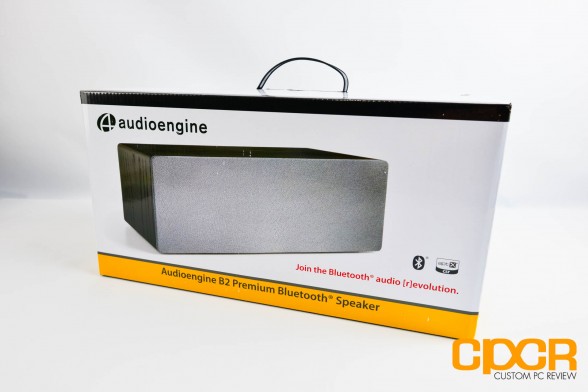 Here's a look at the packaging for the Audioengine B2.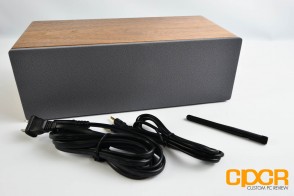 Included in the packaging we get some documentation, a 125v power cord, a 3.5mm to 3.5mm cable, a wireless antenna, and the Audioengine B2 itself. As usual, the speaker and the cables comes wrapped in a nice cloth bag.
Here's a look at the Audioengine B2. The speaker is medium sized, measuring in at 16″ wide, 10.5″ tall and 7.5″ deep weighing in at a little under 10lbs. It's fairly heavy for just a speaker especially since the Audioengine B2 doesn't even have an internal battery for portable use, but that's because there's a full class A/B monolithic amp in there so it's about right. As usual, the construction of the unit is very high quality with the cabinets constructed of 18mm thick MDF covered in wood veneer.
As far as connectivity, Audioengine has kept things exceedingly simple. There's only a volume knob, 3.5mm audio in, Bluetooth status LED, antenna port, AC power in, and an AC switch. There's definitely a lack of bells and whistles with this product, but Audioengine has always been about sound quality rather than gimmicky features.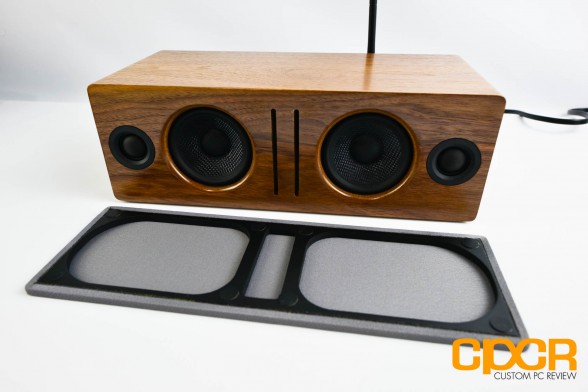 Up front, the Audioengine B2 uses a magnetic grille. Removing the grill, we can see that there's two 2.75″ Kevlar woven glass aramid composite woofers with rubber surrounds along with two 3/4″ ferro fluid cooled silk dome tweeters with neodymium magnets. At the very center there are two ports in the center for an increased bass response.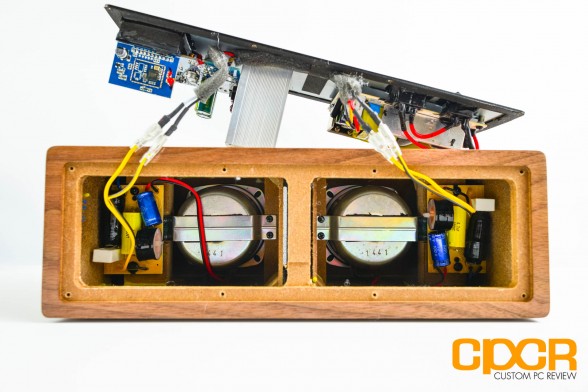 Removing the rear panel, we can take a quick look inside the Audioengine B2. The interior pretty much looks like two separate Audioengine A2's stacked horizontally each with their own separate enclosures shoved into a much larger enclosure. The MDF used here is very, very thick with nice thick internal bracing as well to improve durability and more importantly to prevent unwanted vibrations. Most of the electronics is mounted to the backplate, which includes a large heatsink to keep things cool. This also has an additional benefit in that it keeps the amplifier separated from the core audio circuitry.
Here's a look at some of the interior components on the unit. Inside, we can see they've got a CSR8670 Bluetooth chipset, TI PCM5102A DAC, and several TI N5532 op amps. Unfortunately, just like the Audioengine 2+, Audioengine is using all Chinese capacitors onboard. The capacitors on the crossovers are unmarked, so I'm not quite sure what they're using there.
[section label="Performance & Conclusions"]
Audioengine B2 Performance & Conclusions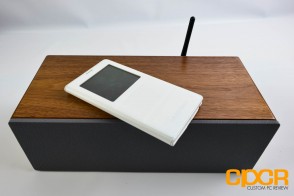 Straight out of the box, the setup for the Audioengine B2 is quite straightforward. Simply plug the unit in, flip the power switch, turn on Bluetooth on your smartphone, tablet, computer, etc., and find the Audioengine B2 to pair. There's no special pair button and there's no password to connect (at least with the devices I tested the B2 with), so setup is about as easy as it gets. If you've got an older device without Bluetooth or you've got an amazing DAC that you can't live without, you have the option to use 3.5mm inputs as well.
Since I regularly use the Audioengine A2+ in my desktop setup already and the Audioengine B2 is essentially two Audioengine A2+ on their sides shoved into a single enclosure, I expected similar sound quality between the two and that's pretty much what I got. Highs were played with crystal clear clarity and the mids provided a warm, rich sound which is especially good for vocals and instrumentals. The mids did feel a bit recessed, but these speakers aren't designed for critical listening purposes so it's not a huge deal. Similarly, the bass is slightly boosted as well, but in typical Audioengine fashion it's not so bad that you feel like it's overpowering everything else. As expected, stereo separation and imaging isn't as good as having two separate Audioengine A2+ units, but that's just due to the soundbar form factor more than anything.
Cranking the volume up, these speakers proved to be easily powerful enough to fill a large room or office without issue. In my testing in a 500sq ft room, the Audioengine B2 was able to fill the room with plenty of sound at only 25% volume output. That said even though the volume can be cranked up quite a bit before things start getting distorted, the bass does bottom out well before that so I do recommend keeping volumes at the lower 3/4 for best sound quality. While the bass is slightly boosted out of the box, the small size of the woofer and the relatively small size of the speaker limits its ability to rumble rooms and hit lower, deeper notes. Unfortunately unlike the Audioengine A2, Audioengine did not include an additional line out for hooking up a subwoofer.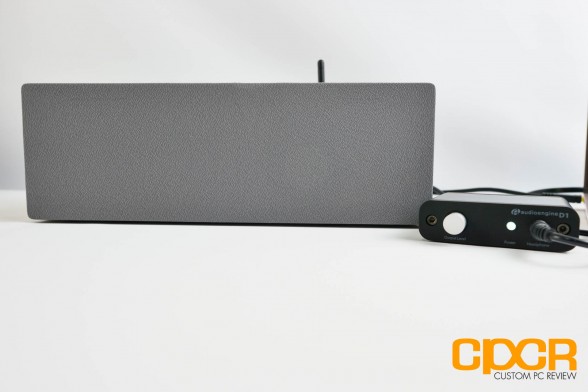 For my testing, I spent most of my time with a Samsung Galaxy Note 4 connected to the Audioengine B2 using Bluetooth and despite the fact that I was on Bluetooth, the sound quality was surprisingly good. I was actually hard-pressed to tell the difference between the phone connected via Bluetooth or connected via wire. This may be due to the fact that both the Samsung Galaxy Note 4 and the Audioengine B2 supports the aptX Bluetooth compression codec, which is a higher quality, lower latency  codec compared to the more common SBC codec. I also spent quite a bit of time placing the Audioengine B2 in different places in the room such as bookshelves, tables, countertops, etc. and the speaker performed very well in both sound and connection quality. Rather than using the typical internal antenna design found in most Bluetooth devices that's only capable of up to (~30ft/10m), Audioengine's external antenna promises ~3x the range (~100ft/30m). In a 1,800 sqft house, I had no trouble taking my phone through the entire house while still streaming music to the Audioengine B2.
As far as cons go, there's not that much. If possible, I would prefer to see a battery included to be able to take the Audioengine B2 on the go and maybe a dedicated pair button to keep unscrupulous neighbors from connecting to the speaker. It'd also be nice to see some microphones onboard the unit as well for phone use or something, but it's not really a huge deal. After all, sound quality is paramount in any speaker and Audioengine did a fine job in that department.
The Audioengine B2 carries a MSRP of $299.00 which makes it considerably more expensive than most Bluetooth speakers out on the market however, as with the case of high end audio equipment, it's not unreasonable. Quality audio equipment can last decades with proper care and use, so over the long run it can be well worth the extra cost up front. Highly recommended!
Update 08/02/2017
Audioengine has informed us that the retail price of the Audioengine B2 has been reduced to $225. The updated pricing is reflected on Audioengine's website here.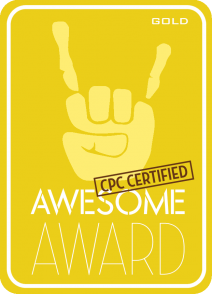 Sample provided by: Audioengine
Available at: Amazon