Warning
: Undefined array key "width" in
/var/www/vhosts/custompcreview.com/public_html/wp-includes/media.php
on line
1381
Warning
: Undefined array key "width" in
/var/www/vhosts/custompcreview.com/public_html/wp-includes/media.php
on line
1386
Warning
: Undefined array key "height" in
/var/www/vhosts/custompcreview.com/public_html/wp-includes/media.php
on line
1386
Warning
: Undefined array key "width" in
/var/www/vhosts/custompcreview.com/public_html/wp-includes/media.php
on line
1381
Warning
: Undefined array key "width" in
/var/www/vhosts/custompcreview.com/public_html/wp-includes/media.php
on line
1386
Warning
: Undefined array key "height" in
/var/www/vhosts/custompcreview.com/public_html/wp-includes/media.php
on line
1386
Warning
: Undefined array key "width" in
/var/www/vhosts/custompcreview.com/public_html/wp-includes/media.php
on line
1381
Warning
: Undefined array key "width" in
/var/www/vhosts/custompcreview.com/public_html/wp-includes/media.php
on line
1386
Warning
: Undefined array key "height" in
/var/www/vhosts/custompcreview.com/public_html/wp-includes/media.php
on line
1386
[section label=1. Introduction]
Second Generation Scout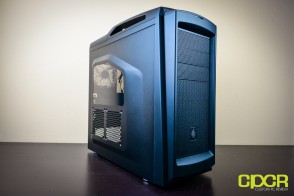 When Cooler Master first introduced the CM Storm Scout, it quickly became one of my most highly recommended cases. Despite the case being oriented as a budget gamer case, it had been packed with tons of features which made it one of the best price to performance cases out there. While the CM Storm Scout is still a fairly competitive case, the design is almost 3 years old and it's definitely time for an update.
This then brings us to our review for today, the recently introduced CM Storm Scout 2 gaming case. Like the original CM Storm Scout, the CM Storm Scout 2 is still a mid tower case, still features a windowed sidepanel (albeit a bit smaller), and still features the unique handle design that made the original CM Storm Scout so popular. That said, the CM Storm Scout 2 has also received some upgrades as well including USB 3.0 support, full support for any graphics card on the market as well as a full on redesign as well.
Does the CM Storm Scout 2 live up to the high standards set by the original CM Storm Scout? Let's find out!
CM Storm Scout 2 Specifications
Model
SGC-2100-KWN1 (black)SGC-2100-GWN1 (gunmetal gray)
Color
Black (SGC-2100-KWN1)Gunmetal Gray (SGC-2100-GWN1)
Material
Appearance: Polymer, Coated Steel Mesh and Body
Dimension
230 x 513.5 x 517.5mm / 9.1 x 20.2 x 20.5 inch
Weight
Net: 8.3 kg / 18.3 lb
M/B Type
Micro-ATX, ATX
5.25″ Drive Bay
3 (exposed)
3.5″ Drive Bay
7 (hidden)
2.5″ Drive Bay
2 (converted from one 3.5″ drive bay)
I/O Panel
USB 3.0 x 2 (int.), USB 2.0 x 2, Mic x 1,Audio x 1 (supports AC97/HD Audio)
Expansion Slots
7
Cooling System
Top: 120mm fan x 2 (optional)Front: 120mm fan x 2 or 140mm fan x 1 (optional)

Rear: 120mm red LED fan x 1 (with LED on/off function)

Bottom: 120mm fan x 1 (optional)

Side: 120mm fan x 2 (optional)

HDD cage: 120mm fan x 1 (optional)

Power Supply
PS2 (optional)
Maximum Compatibility
VGA card length:287mm / 11.3 inch (with HDD cage)

399mm / 15.7 inch (without HDD cage)

CPU cooler height:

147mm / 5.8 inch (with side fan)

162mm / 6.4 inch (without side fan)

Warranty
2 years
[section label=2. A Closer Look (Exterior)]
A Closer Look at the CM Storm Scout 2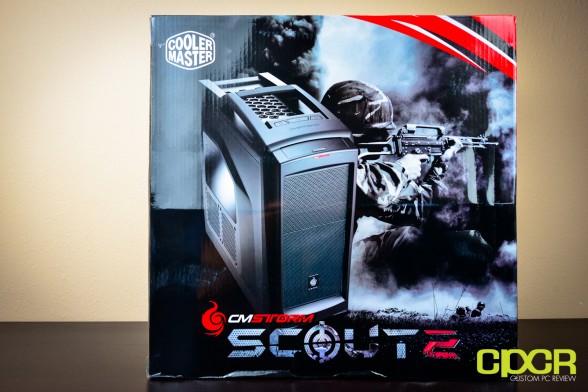 Cooler Master used a pretty cool picture for the box of the CM Storm Scout 2, depicting a lone soldier going "Rambo" on the battlefield.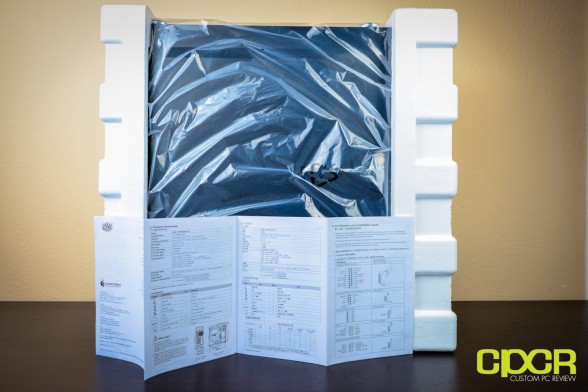 Included is a users guide along with the case enclosed in a bag and some solid padding.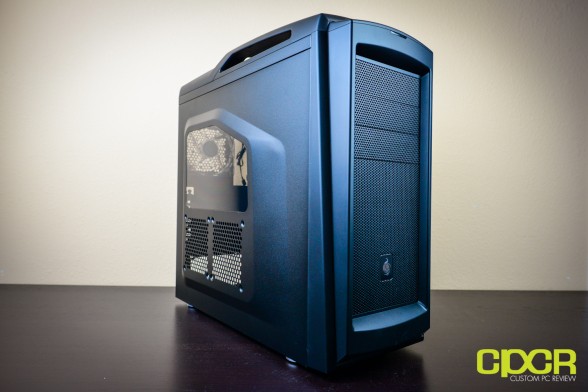 Oh, yes. Cooler Master give yourself a pat on the back because this case looks amazing.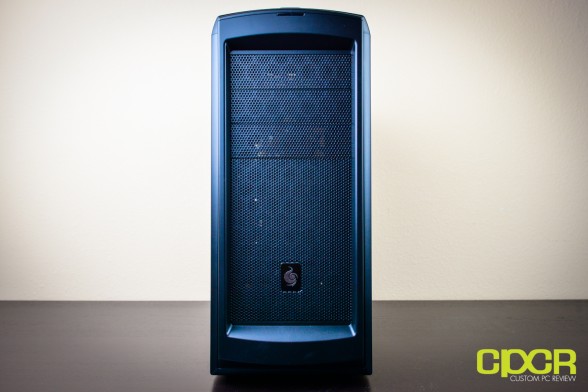 As you can see in this picture, the CM Storm 2 is a pretty small case. The front of the case is just a ton of mesh. Up top we get 3x 5.25″ drive bays. Below that, we get a CM Storm logo. Very clean and elegant design.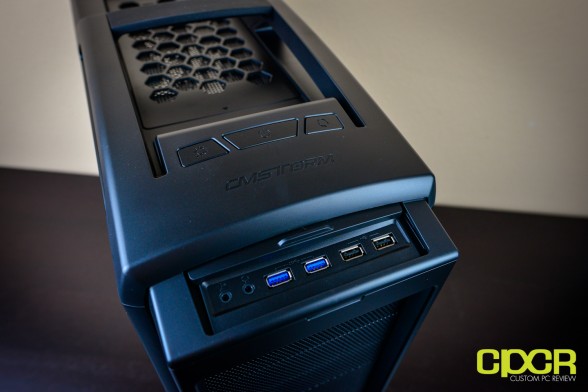 At the very top of the case we get three large buttons for LED on/off, power on/off, and reset. In front of that, there's a hidden area for 3.5mm headphone/mic, 2x USB 3.0, and 2x USB 2.0.
The onboard LED on/off controller is capable of supporting one more LED fan in addition to the stock 120mm in the rear.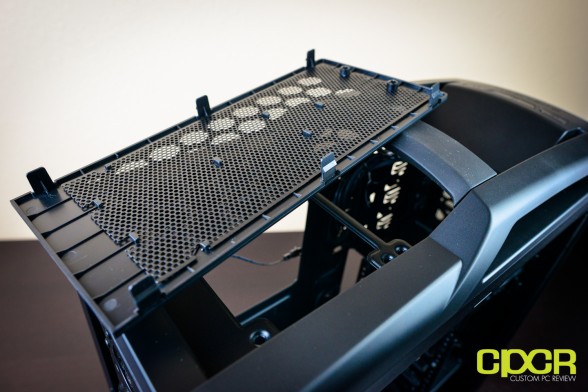 Behind that, there's a large removable dust filter and a carrying handle. The handle is finished in a durable rubber finish and the entire assembly feels extremely durable.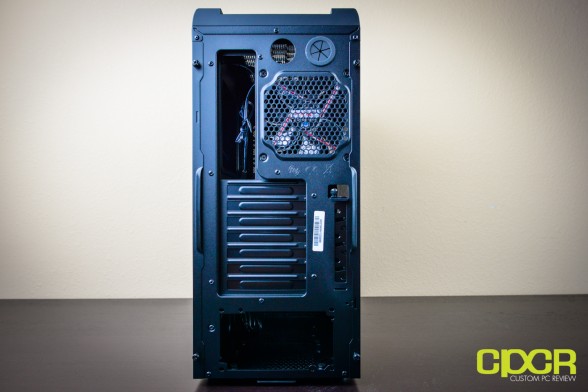 Here's a look at the rear of the case. We get the usual I/O cutout, two watercooling cutouts, a mount for a 120mm fan, 7+1 expansion slots with the +1 being a security slot, and a standard ATX power supply mount.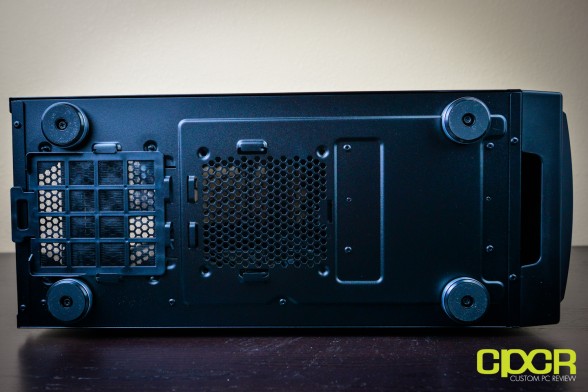 At the bottom of the case we get 4x large rubber feet to lift the case off the floor, table, etc. Underneath the power supply mount is a dust filter to keep the power supply clean and dust free.
[section label=3. A Closer Look (Interior)]
A Closer Look at the CM Storm Scout 2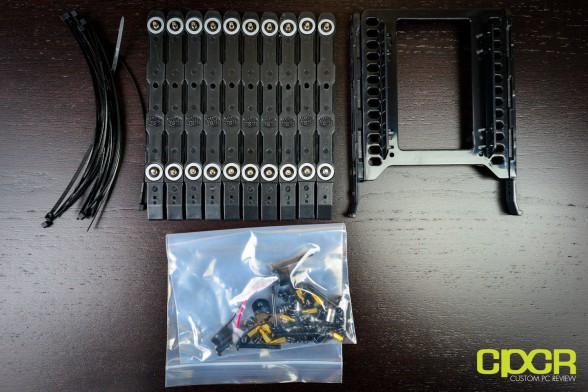 Before we go any further, let's take a look at the accessories. We get some cable ties, 6x 3.5″ tool-less drive mounts (with one drive mount pre-mounted with a 2.5″ adapter), and some mounting hardware.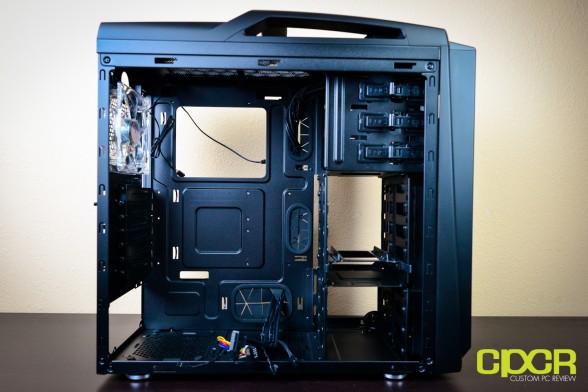 Here's a look at the interior of the case. The entire interior is coated with high grade black paint and there are a couple of large grommets for routing cables.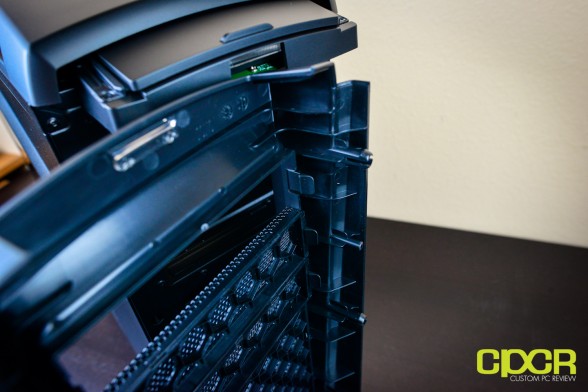 In order to install any optical drives, the front of the case must be popped off so the 5.25″ drive bay covers may be removed. The drive bay covers may be removed by pushing in tabs that are on the inside of the front panel.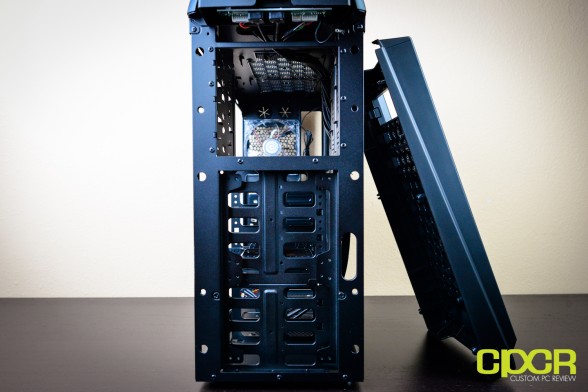 Here's a look at the front with the cover removed. Below the 5.25″ drive mounts, there's mounts for two 120mm fans or one 140mm fan, but fans are not included here. Those purchasing this case should definitely go ahead and pick up two 120mm fans or 140mm fans for the front intake for better airflow.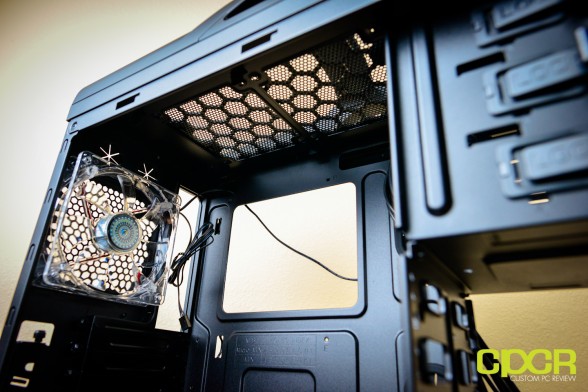 Here's a look at the rear/top of the inside of the case. The rear includes a red LED 120mm fan and the top of the case includes mounts for two more 120mm fans – perfect sized for a 240mm radiator as well. The motherboard tray also includes a giant cutout for CPU cooler installation.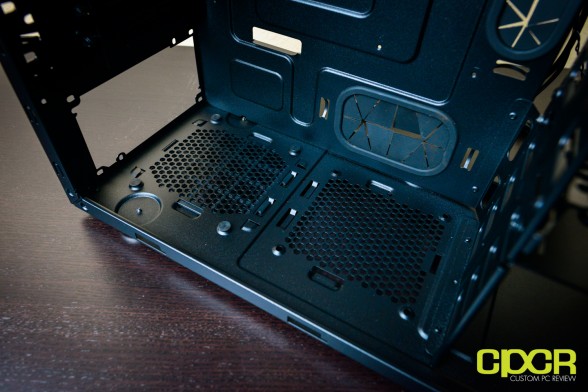 The bottom of the case includes a mount for the PSU along with a mount for another 120mm fan.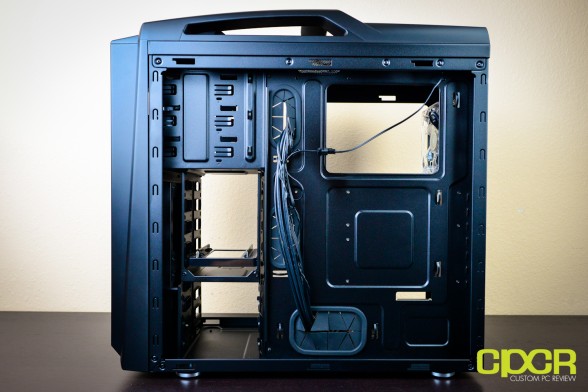 Here's a look at the other side of the case. We've got plenty of space back here for cable management. Let's take a closer look…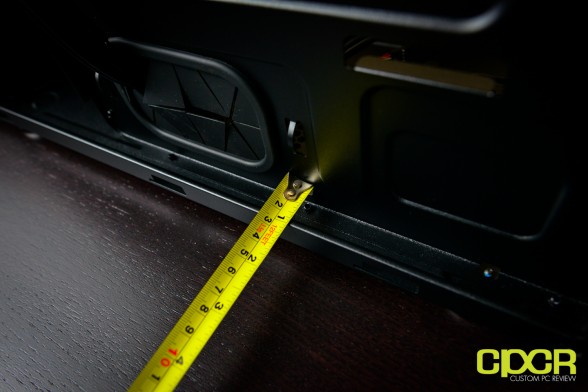 Yup. Almost a full inch back here in addition to the flared out sidepanels. The panel should close even with the thickest cables stored here.
[section label=4. Installation]
Test System
CPU: Intel Core i7 3960X & Phanteks PH-TC14PE Cooler
Motherboard: Asrock X79 Fatal1ty Professional
Graphics: MSI Radeon HD6970 + ARCTIC Accelero Xtreme 7970
Memory: 16GB Kingston HyperX Genesis DDR3 2133MHz
Boot Drive: Kingston V+200 120GB
Storage Drive: Western Digital 1TB Caviar Blue
Power Supply: Corsair HX650
DVD Drive – ASUS OEM DVD Drive
Installation into the CM Storm Scout 2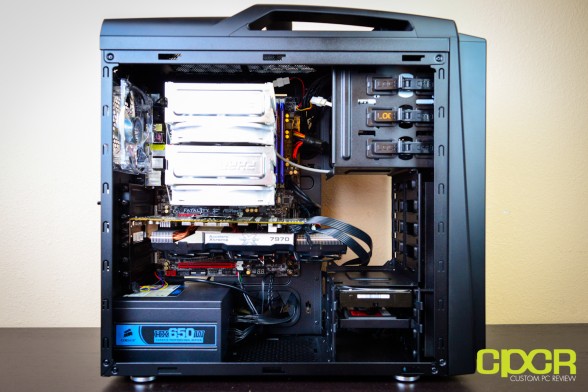 Here's a look at the CM Storm Scout 2 with our test bench installed. Installation in this case like many other Cooler Master cases was relatively pain free.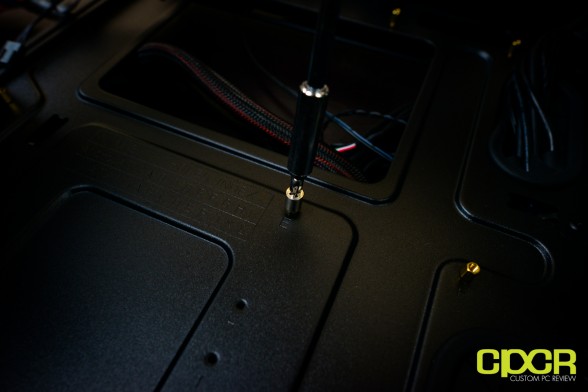 They've included a screw driver adapter to help users tighten the motherboard stand offs. Awesome.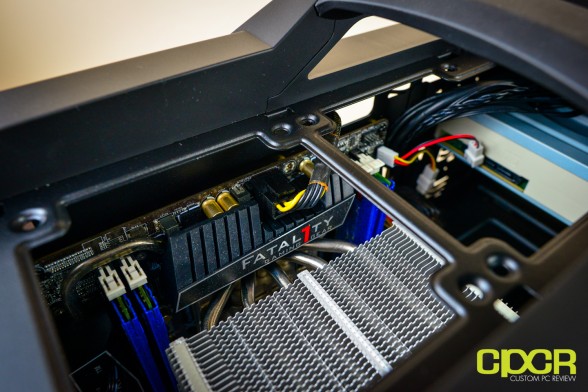 Up top, the filter is removable, which is nice for getting those pesky 8 pin cables installed. Also notice that there isn't all that much clearance up here so those looking to couple a thick 240mm radiator and a couple 120mm fans in push/pull configuration may have trouble getting it all to fit.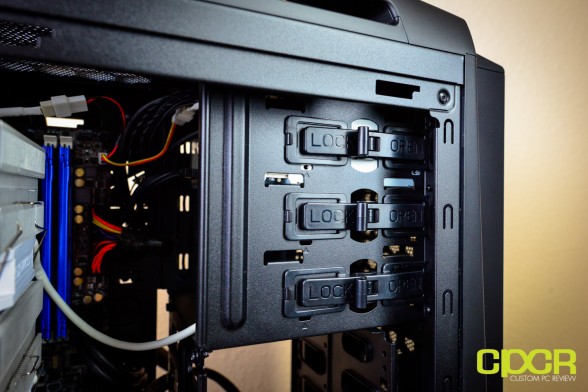 The optical drive area includes tool-less mounting mechanisms. Flip the switch to lock and flip it again to unlock. Easy.
Here's a look at the 3.5″ drive cage. Installation here is quite easy and as you can see, drives can be installed facing either towards the rear of the motherboard tray or to the front. Installing half the drives one direction and the other half facing another direction can help with cable management when a lot of drives are installed.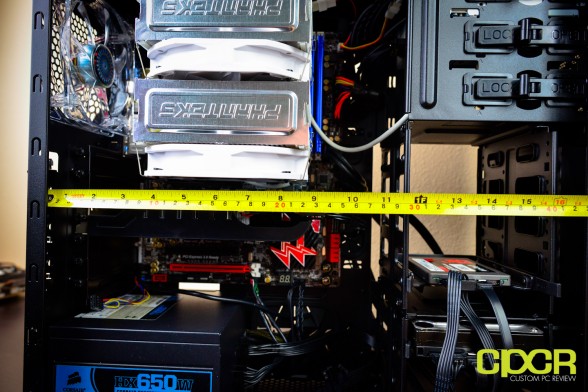 With the removable hard drive cage divider installed, graphics cards of up to about 11.5″ may be installed in the case.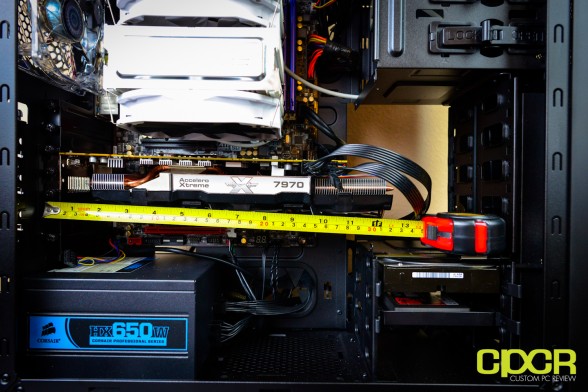 With the center hard drive cage divider removed, that limit is extended to about 15.7″. This should accommodate for even the largest graphics cards available on the market today.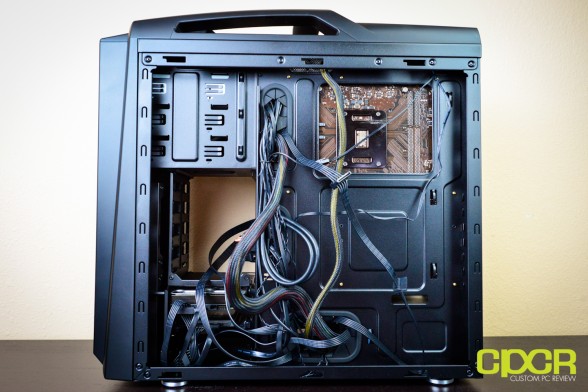 Here's a look at the rear of the case. My cable management skills are terrible, but despite this the case still closes just fine simply due to the sheer amount of space back here.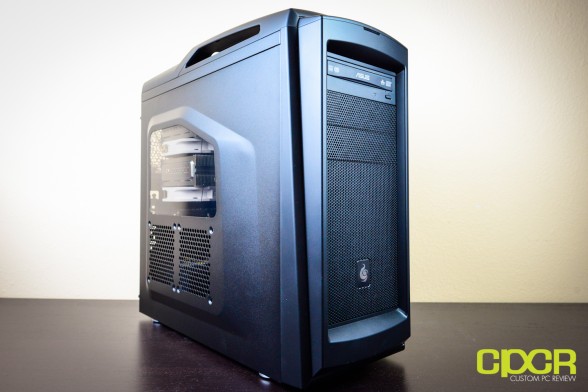 Here's a look at the case with everything installed. Yup, the ultra massive Phanteks PH-TC14PE cooler fits in the case just fine as the case's sidepanel is flared out just enough. The window gives a very nice view of the inside and dual 120mm fan mounts are available for additional graphics card cooling.
[section label=5. Testing and Performance]
Testing the CM Storm Scout 2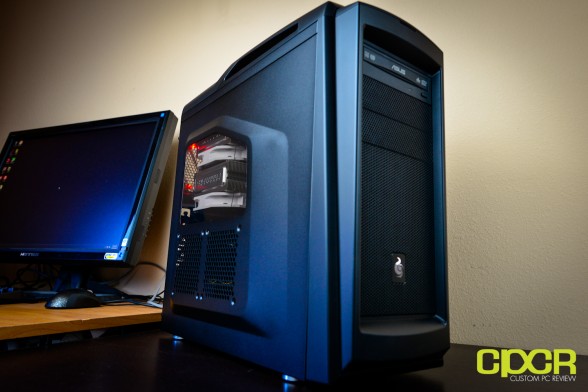 Firing up the CM Storm Scout 2. Lookin' good.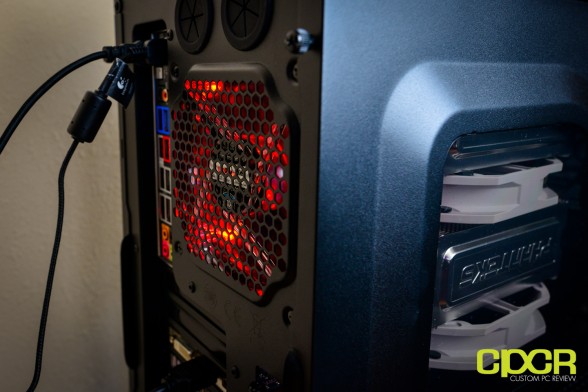 Here's a closer look at the rear 120mm red LED lit fan. Looks very nice although I wish Cooler Master would include a couple front red LED lit 120mm fans as well.
CM Storm Scout 2 Performance
For performance testing today, I'll be overclocking the Intel Core i7 3960X to 4.2GHz at 1.35v and running a full 30 minutes of Prime 95 in conjunction with Furmark to generate the maximum amount of heat possible. Ambient temperatures measured an average of 25.0°C.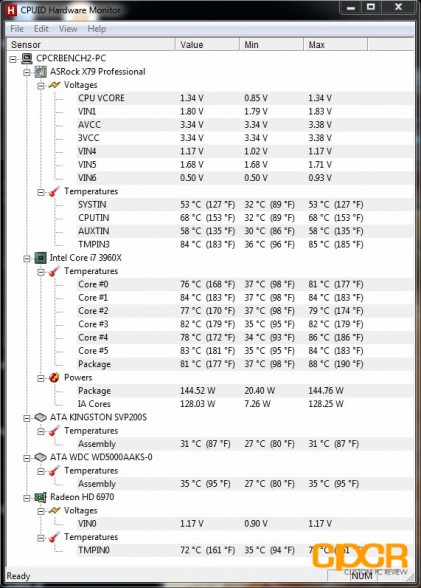 CPU temperatures are definitely higher than I'd expect with the six cores averaging around 82.7°C. For a very mild 4.2GHz overclock with an ultra massive cooler like the Phanteks PH-TC14PE, I expected to see sub 70°C or at least sub 75°C temperatures instead. This is probably due to the lack of airflow inside the case as there are zero intake fans in the stock configuration.
GPU temperatures look right around where I'd expect at around 72°C.
3.5″ drive temperatures were definitely on the high side as there isn't any fans to drive cool air onto the drives, but temperatures aren't so high that I'd be worried.
[section label=6. Conclusion]
CM Storm Scout 2 Conclusions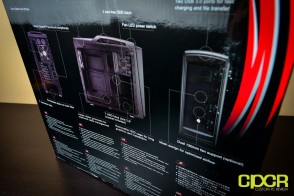 So for the last couple Cooler Master cases I reviewed, I was pretty much 100% impressed with everything from the design, to the features,  to the price, to the aesthetics, but the Scout 2 left me with some mixed feelings.
That said, let's start with the design and work our way through. I'm a huge, huge fan of Cooler Master designs, and the CM Storm Scout continues to impress me in this regard. One of the huge selling points of the original Scout was the carrying handle and the Scout 2 continues on with that tradition with an even beefier handle. In addition to this, Cooler Master has significantly improved on the cable management design as well. Nearly an inch of clearance at the back of the case? Love it. Aesthetics wise, there isn't much to complain about either. Cooler Master has designed a beautiful case here with its striking matte black paintjob and the more modern rounded edge look that's made the Corsair 600T so popular. I'm not a huge fan of how the sidepanel window shrunk since the first generation Scout, but additional 120mm fan mounts for the graphics cards are always a welcome addition.
Build quality here is phenomenal for a mid range gaming case like this. You'll seldom find cases at this price point constructed with such high quality, high durability materials, but with the Scout 2 you will. Like I said earlier, the handle has really been beefed up and I wouldn't be surprised if the case rips apart before the handle falls off. This is very important as this is a case designed for the gamer who constantly lugs their rig around to LAN parties, so durability needs to be top notch. The paintjob is done quite well, and the fit/finish is superb. The sidepanels slide right in, the tool-less mechanisms work perfectly, the drive trays lock in place perfectly, and the entire case feels like a seriously high quality piece of kit.
Moving onto performance, I did feel that something was lacking here, but I don't think it's due to the case's design. Rather, I think it's Cooler Master's choice in including only a single 120mm fan in the entire case. Whereas the older CM Storm Scout had no less than 3 fans included stock, two 140mm and one 120mm, the Scout 2 only comes with a single 120mm fan. Doesn't make sense to you? Yeah, doesn't make any sense to me either. Those looking to buy this case, I'd highly recommend picking up a couple more 120mm fans for the front. Even with my massive Phanteks PH-TC14PE CPU cooler, one of the largest and highest performing coolers on the market today, I was still only able to keep the Intel Core i7 3960X at a warm 82.7°C while overclocked to a very mild 4.2GHz. Not acceptable. That said, I'm quite impressed the crazy huge Phanteks PH-TC14PE even fit in this mid tower chassis. Huge plus.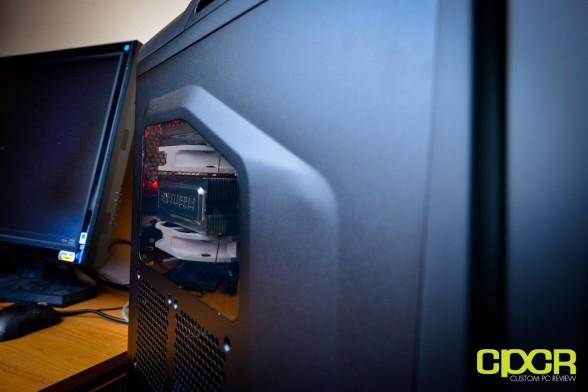 In addition to this, there are a couple things you'll want to watch out for as well. Cooler Master only includes a single 2.5″ drive bay adapter so those looking to run multiple SSDs on the system will need to go out and purchase adapters. I'd much rather see drive trays with 2.5″ drive mounts drilled in as this seems like a much simpler solution. Also, do take note that there's very little clearance between the top of the case and the top of where the motherboard would sit. This may make things difficult for those looking to install a water cooling system with a push/pull configuration on the radiator as it may not fit. Finally, the dust filtration for the front intake isn't very impressive at all. There's only a non-removable mesh piece in the front, which will do very little to prevent dust from entering the case. Come on Cooler Master, you could do better.
Alright, let's talk about the price a little. The CM Storm Scout 2 is currently available at Newegg for $99.99, which puts it in a premium tier when it comes to mid tower cases. This is a premium of $20 over the original CM Storm Scout's MSRP and is $40 over the current Amazon price for the CM Storm Scout. Build quality, durability, and cable management along with the inclusion of USB 3.0 front headers all suggest that the CM Storm Scout 2 deserves to command such a pricetag, but actual price of this case will be higher than $100 as gamers will have to purchase at least one additional fan (if not two) to make the case effective out of the box. With another $10-$20 that needs to go fans, it might be a good idea to go with something else like a Corsair 400r, HAF 922, save a couple bucks and go with a CM Storm Scout (original), or even step up to a CM Storm Stryker if you have the budget.
Bottom Line
The CM Storm Scout 2 is an excellent case for the gamer on the go sporting aggressive styling and design, top notch durability, and excellent build quality to boot. Those looking into purchasing the Scout 2, be aware that the stock cooling configuration included with the case is a bit lacking, so be sure to pick up an extra 140mm or a couple 120mm fans along the way.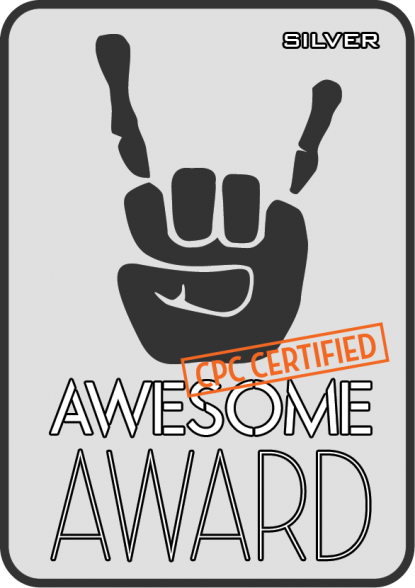 Special thanks to Cooler Master for making this review possible.
The Cooler Master CM Storm Scout 2 is currently available at Newegg.