Warning
: Undefined array key "width" in
/var/www/vhosts/custompcreview.com/public_html/wp-includes/media.php
on line
1381
Warning
: Undefined array key "width" in
/var/www/vhosts/custompcreview.com/public_html/wp-includes/media.php
on line
1386
Warning
: Undefined array key "height" in
/var/www/vhosts/custompcreview.com/public_html/wp-includes/media.php
on line
1386
Warning
: Undefined array key "width" in
/var/www/vhosts/custompcreview.com/public_html/wp-includes/media.php
on line
1381
Warning
: Undefined array key "width" in
/var/www/vhosts/custompcreview.com/public_html/wp-includes/media.php
on line
1386
Warning
: Undefined array key "height" in
/var/www/vhosts/custompcreview.com/public_html/wp-includes/media.php
on line
1386
Warning
: Undefined array key "width" in
/var/www/vhosts/custompcreview.com/public_html/wp-includes/media.php
on line
1381
Warning
: Undefined array key "width" in
/var/www/vhosts/custompcreview.com/public_html/wp-includes/media.php
on line
1386
Warning
: Undefined array key "height" in
/var/www/vhosts/custompcreview.com/public_html/wp-includes/media.php
on line
1386
Warning
: Undefined array key "width" in
/var/www/vhosts/custompcreview.com/public_html/wp-includes/media.php
on line
1381
Warning
: Undefined array key "width" in
/var/www/vhosts/custompcreview.com/public_html/wp-includes/media.php
on line
1386
Warning
: Undefined array key "height" in
/var/www/vhosts/custompcreview.com/public_html/wp-includes/media.php
on line
1386
Warning
: Undefined array key "width" in
/var/www/vhosts/custompcreview.com/public_html/wp-includes/media.php
on line
1381
Warning
: Undefined array key "width" in
/var/www/vhosts/custompcreview.com/public_html/wp-includes/media.php
on line
1386
Warning
: Undefined array key "height" in
/var/www/vhosts/custompcreview.com/public_html/wp-includes/media.php
on line
1386
[section label=1. Introduction]
Gaming Keyboard Fit for Battle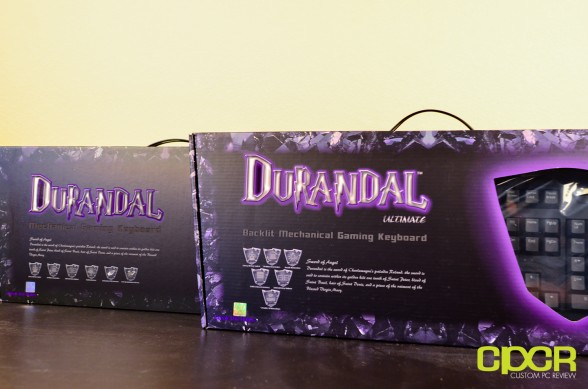 Not too long ago, we reviewed the Nighthawk X8 and the Nighthawk X9, which were a couple very impressive mechanical keyboards from a relatively unknown company at the time, Max Keyboard. Since our inaugural review, we've been following the company very closely, and when they recently told us that they wanted to introduce a couple new mechanical keyboards, the Durandal G1N and the Durandal G1NL, we were definitely ready to check them out.
As many of you know, Max Keyboard's original offerings, the Nighthawk series, were pretty high end mechanical keyboards. Priced at near $150, the keyboards offered tons of high end features such as audio/mic jacks, full speed USB 2.0 ports, Cherry MX Brown or Red mechanical switches, full LED backlighting, and more. While this is great for those looking to drop money on the best mechanical keyboard money can buy, those who don't need some of the extra features offered didn't really have a choice since there wasn't really a more "entry level" keyboard.
So, today we'll be taking a look at both the Durandal G1N and the Durandal Ultimate G1NL. The Durandal G1N is the more "entry level" mechanical keyboard of the two new offerings. It showcases Cherry MX Brown keyswitches, 6KRO over USB, full NKRO over PS/2, a heavy braided cable and the gold plated connectors. Other than that, there's not much else. It's a very simple, very basic keyboard that doesn't include all the bells and whistles of the G1NL aka Durandal Ultimate, but doesn't carry that high pricetag either.
The Durandal Ultimate G1NL on the other hand is similar to its cousin, the Nighthawk. It comes comes packed full of all the premium features you'd ever find on a premium keyboard such as full N-key roll over USB, full individually backlit red LEDs under each key, Cherry MX Brown switches, 2 USB 2.0 ports, mic/audio jacks, braided cables, gold plated connectors,  a detachable wrist rest, and more.
So before we start the review, many of you are probably asking, what the heck is Durandal? Well, aside from it being the keyboard I'm about to review, Durandal actually also refers to the legendary sword which belonged to Charlemagne's paladin, Roland. Legend reveals that this sword was indestructible and was Roland's tool of choice in holding back a one hundred thousand strong Muslim army. Cute name… Let's find out if the keyboard lives up to it!
Features and Specifications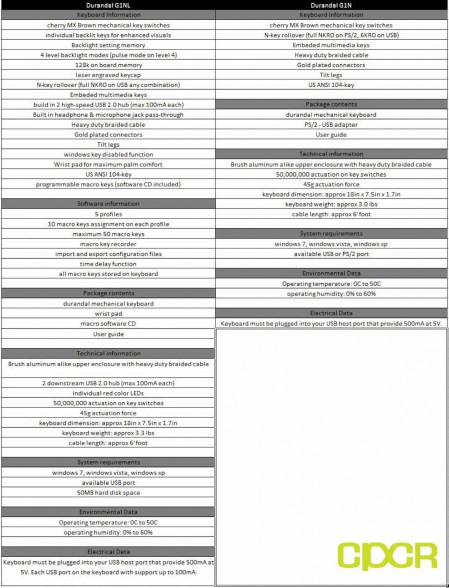 [section label=2. A Closer Look]
A Closer Look at the Durandal G1N & G1NL
Now, before we actually begin this section of the review, I'd like to start it off by saying that you might notice the branding on the keyboard itself isn't exactly "Max Keyboard". In fact, you won't see a single mention of "Max Keyboard" on the entire keyboard itself. This is because Max Keyboard is actually an authorized partner of Tesoro, which means they get full permission to customize and distribute Tesoro's line of keyboards. That said, it seems like Max Keyboard has made a whole lot of internal customizations to the keyboard, so from this point on, I'll be referring to the keyboard as the Max Keyboard Durandal G1N or Max Keyboard Durandal Ultimate G1NL instead of Tesoro, etc.
Max Keyboard Durandal G1N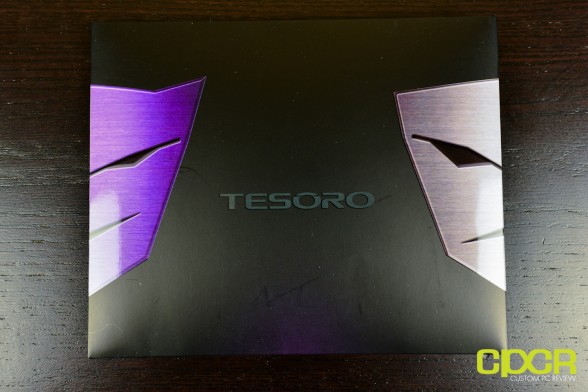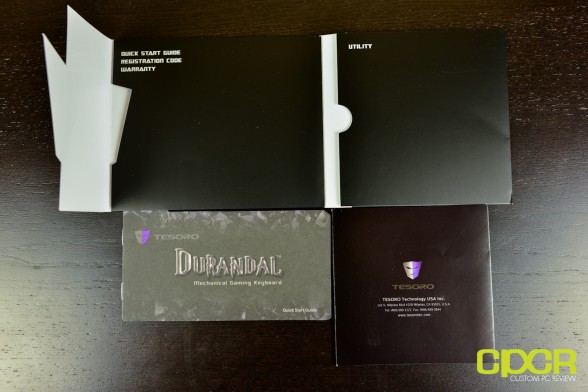 Starting with the accessories, there wasn't really much. We get a single pack of documentation enclosed in a nice looking case. Remember, the Max Keyboard Durandal G1N is quite the simple keyboard.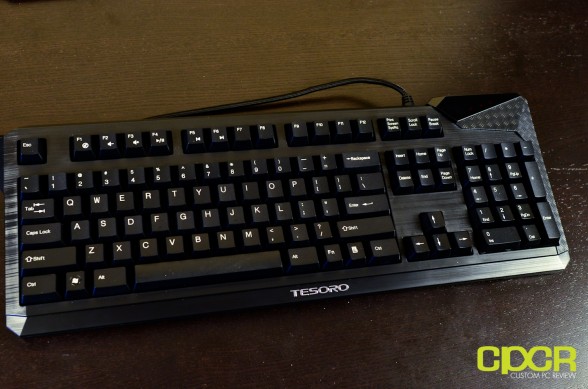 Taking a first look at the keyboard itself, we can see that it uses the traditional US layout, which means we'll be getting those long shift keys, long enter keys, and a single backspace key in its usual location right above the long enter key.
Styling on this keyboard is definitely a bit aggressive than the Nighthawk series with the gaming sort of look. The entire body is made of plastic, but appearance-wise looks a bit like brushed aluminum. While this may seem like a bad thing (after all, it's fake brushed aluminum), it really isn't. Real brushed aluminum will get destroyed from the oils on your hands, and for something like a keyboard that's bound to constantly get man-handled (or woman-handled?) it's probably best that the casing is plastic. The finish is completely matte though, which means it not attract fingerprints.
Additionally, the body of the keyboard definitely doesn't feel as sturdy as something named after an indestructible sword should be. It's actually more comparable to the Nighthawk series of keyboards, which weren't the most solid keyboards out there (especially when compared to our recently reviewed CM Storm Trigger, but as long as you don't have the problem of constantly trying to destroy computer components, I think the keyboard should last for a long time.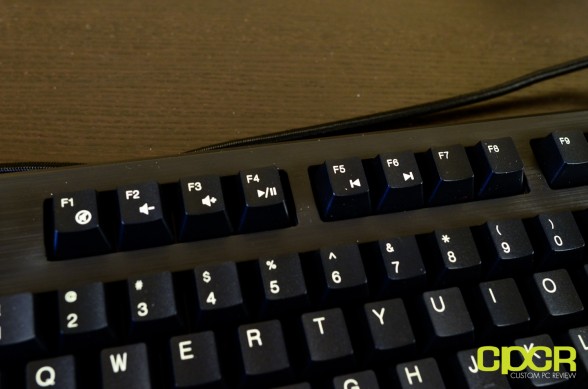 The only special feature on this keyboard is that it does have some media keys that can be activated through FN + F1 to F6. Since this keyboard is not backlit, the printing on the keycaps is much brighter as it doesn't have to be translucent for the light from the LED to penetrate.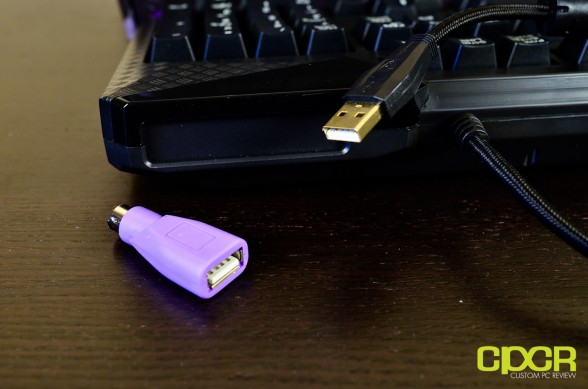 With the Durandal G1N, we get a PS/2 adapter since the keyboard will only do 6KRO over USB. (Limitation of USB itself although keyboard companies have gotten around that with some magical circuitry) Those who want full NKRO will need to connect the Durandal G1N to a PS/2 port using the PS/2 adapter.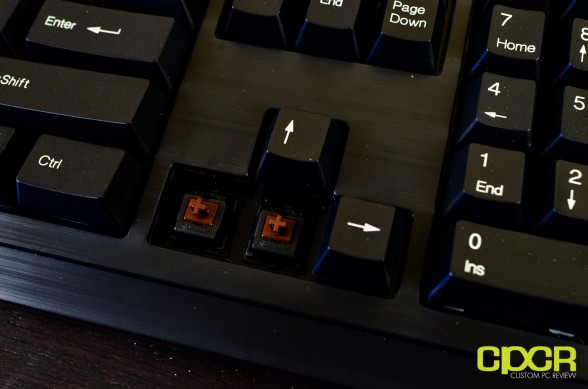 Removing a couple of keycaps off the Durandal G1N, we see that the Durandal G1N is powered by Cherry MX Brown mechanical key switches underneath. For those unfamiliar with the Cherry MX Brown switches, Cherry MX Brown switches are silent (non-clicky) switches with an actuation force of 45g that provides the user with tactile feedback.
[section label=3. A Closer Look (Cont…)]
A Closer Look at the Durandal G1N & G1NL (Cont…)
Max Keyboard Durandal Ultimate G1NL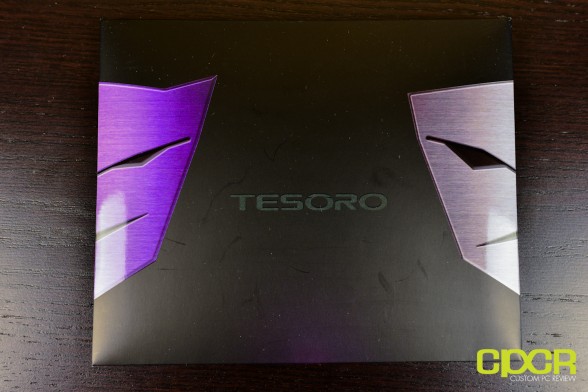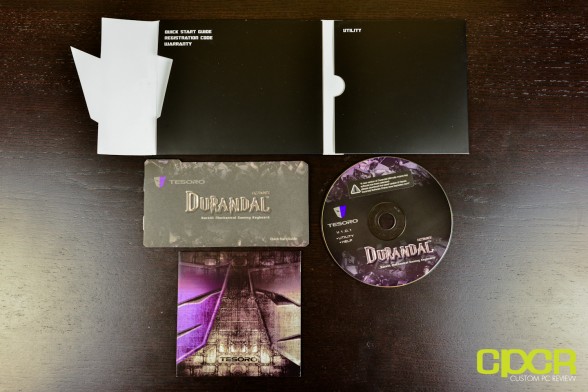 Similar to the Durandal G1N, the Durandal Ultimate G1NL includes the exact same documentation holder for the documentation. However, also included only with the Durandal Ultimate G1NL is a software CD along with a detachable wrist rest. (Wrist rest below) No PS/2 adapter is provided with the G1NL as it has NKRO over USB.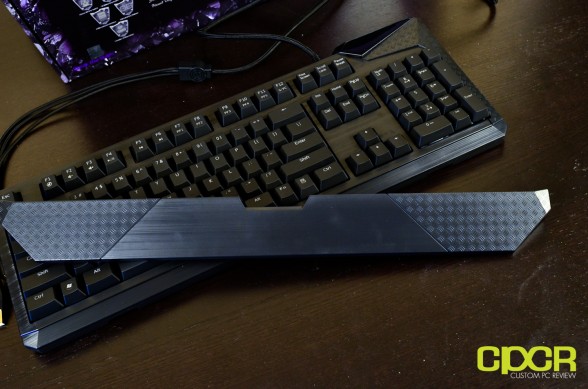 Taking a look at the keyboard itself, the outer shell is identical to the Durandal G1N. However, the G1NL also includes a plastic wrist rest along with keycaps that have translucent lettering.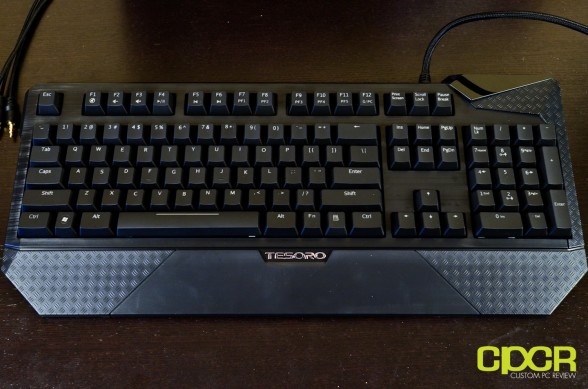 Here we've got a full view of the G1NL keyboard with the wrist rest attached. It's pretty immediately apparent that there is a bit more going on here than with the G1N. Along the sides all the way down to the wrist rest, we get a nice looking diamond plate texture which looks a bit like a sword. It's definitely a lot more pronounced with the wrist rest attached.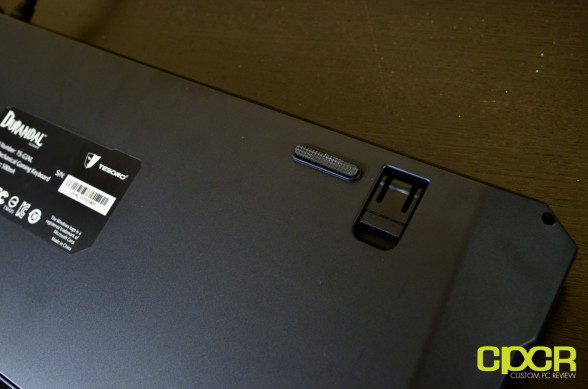 The bottom of the keyboard is quite similar between the Durandal G1N and the Durandal Ultimate G1NL. The bottom of the keyboard includes four medium sized rubber feet and two plastic stands. This is an improvement from the Max Keyboard Nighthawks which only came with two small rubber feet, but it was still not enough to prevent some slipping and sliding during intense gaming sessions. Having four rubber feet is competitive with what other keyboard manufacturers are making, but it is hard not to compare it to the recently reviewed CM Storm Trigger Mechanical Gaming Keyboard which had 6 large rubber feet that completely prevented slipping and sliding.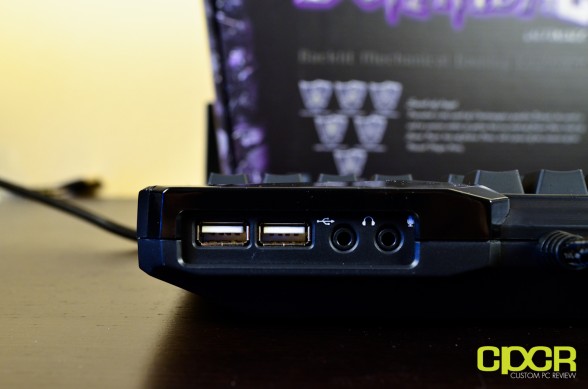 Around the back of the G1NL, we've got two dedicated USB 2.0 ports and the 3.5mm headphone/microphone jacks. The USB 2.0 ports are limited to 100mA of current, which was enough to power both the SteelSeries Diablo Headset and Mouse peripherals without issue. That said, devices that require more power such as bus powered external hard drives will not work. One thing I did notice though is that the placement of the the USB ports are a bit tight so it may be difficult to plug in multiple wide USB devices such as USB flash drives.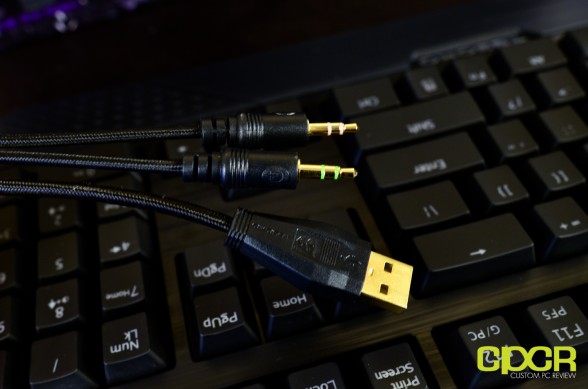 Both the Durandal G1N and the Durandal Ultimate G1NL also comes with a nice braided 6′ cable making it more durable and resistant to wear and tear. While the Durandal G1N only includes a single gold plated USB 2.0 connector (and an optional PS/2 adapter), the Durandal Ultimate G1NL also comes with gold plated 3.5mm microphone/headphone jacks.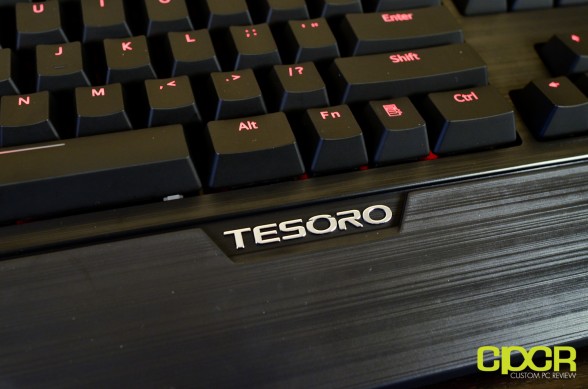 On the left side of the keyboard we still have a windows key, which, if you get the G1NL, can be turned off in "game mode" (FN + F12). The right windows key on the other hand has been replaced with a function key.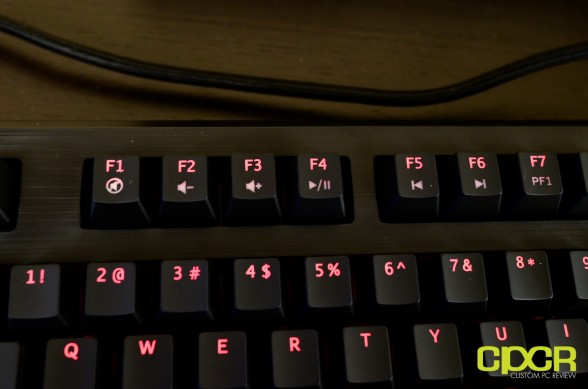 Similar to the G1N, the G1NL's Fn + F1 to F6 are media keys as well. It would be nice to have dedicated media keys but I will take what I can get.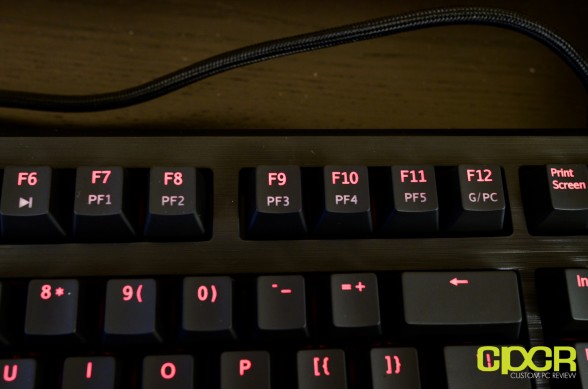 Similar to the Nighthawk series keyboards, we also have the five macro profile keys from FN + F7 to F11 along with the "game mode" key on F12 allowing gamers to disable the left Windows key to minimize accidental "minimizes" during gaming.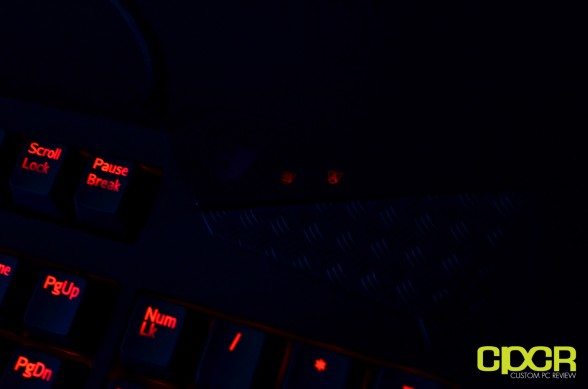 Like the Nighthawk keyboards, to make room for the game mode, the scroll lock LED has been removed. The physical key is still on the keyboard itself, you just wont know whether the key has been pressed or not. But then again I never really use the scroll lock key so it did not really bother me. Lighting overall is bright and even with the red LEDs behind each key fitting in perfectly with the red lit status indicator LEDs.
Removing the keycaps for the Durndal Ultimate G1NL, we get the Cherry MX Brown switches plus the individually lit LEDs under each key cap.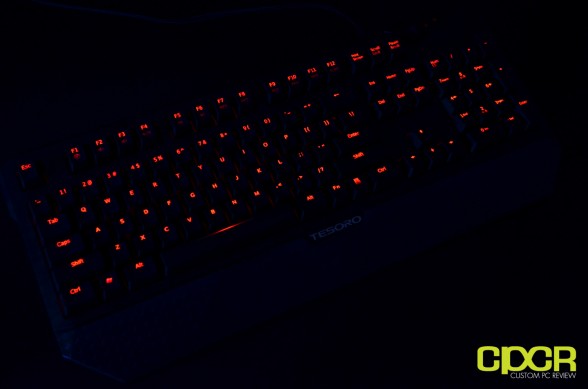 Here's an overview of the Durandal G1NL in the dark. Overall, it looks quite similar to the Nighthawk X9 in the dark, except the Durandal will offer Cherry MX Brown switches instead of Reds.
Those who want different colored LEDs or different switch types may contact Max Keyboard for fully custom designs. Of course, you will be charged a nominal fee for the parts and service…
[section label=4. Performance]
Testing the Durandal G1N & G1NL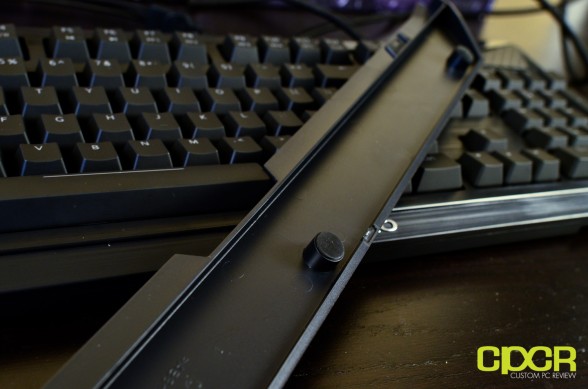 With performance testing, I'm going to speak for both the Durandal G1N and the Durandal Ultimate G1NL as if they were the same product. In my testing, I didn't find any differences between the two keyboards given that the Durandal G1N is plugged into the PS/2 port to enable NKRO. In terms of the keycap feel however, the G1N's keycaps feel significantly more textured than the G1NL's keycaps, which has more of a smooth and soft matte feel.
Test 1: Left 4 Dead 2.
I began my performance test with a FPS (First Person Shooter). I wanted to test out how well the keyboard could handle the side stepping, crouching and other key presses required to survive a zombie apocalypse. Throughout my testing, the keyboards performed very well without any ghosting to mention. This is definitely due to the keyboard's NKRO feature as I was able to press a ton of movement keys while simultaneously switching weapons without issue. The Cherry MX Browns were quite responsive as well and I had quite the enjoyable gaming experience.
An annoying thing that used to happen to me while using my old OEM keyboard was that I would accidentally press the windows key which would suddenly minimize my window. After returning to the game either my audio or my video would glitch out frustrating me since both are essential to surviving in the game. After switching to the Durandal Ultimate keyboard and turning game mode on, this annoying inconvenience completely disappeared and I could pound away at my CTRL key to crouch without having to worry about hitting the windows key. Unfortunately, the Durandal G1N does not offer this feature.
Test 2: Star Craft 2
For StarCraft 2, the Durandal performed quite flawlessly. The keys were responsive, tactile, and each of my keyboard commands registered without a hitch. Personally, the 45g actuation force was just right for me – my fingers did not tire from rapid presses even after a long game. The keycaps were a very nice size as well so I had almost no problems transitioning my fingers from key to key using pure muscle memory. At the end of a long game, my fingers were definitely less strained and the keyboard felt very comfortable to use. It's no wonder so many Starcraft 2 professionals use Cherry MX Brown keyboards.
Test 3: Marvel Vs. Capcom / King of Figthers XIII
With a standard, run of the mill, non-mechanical keyboard keys typically stop registering after 4-6 simultaneous key presses. However, since the Durandal's circuitry can support NKRO (N-Key Roll-Over), there's literally no limit to how many keys can be presesd down simultaneously and still be able to register. This is especially important in games that allows for multiple players to play on the same keyboard such as Mavel Vs. Capcom and King of figherters XIII.
Since both the Durandal and the Durandal Ultimate supports full NKRO, I was able to happily mash keys with a friend next to me using the other half of the keyboard. All of our presses were detected and translated to character actions on screen with absolutely no ghosting. It's only drawback, however, seems to be the rubber feet. With two people intensely pounding on the keyboard the rubber feets failed to keep the keyboard still. But in terms of NKRO performance, this is one of the best keyboards out there for those who play fighting games, but haven't yet invested into a gamepad or joystick setup.
Test 4: Typing Test
Having had the chance to extensively review and test the CM Storm Trigger previously, my typing speed had already received a healthy boost of around 10% . Similar to last time, I decided to test out my typing speed again with the Durandal to see what kind of typing speed I could achieve with this keyboard. I went to the following touch typing test site and proceeded to perform a typing test with the Durandal. The chart below show a comparison between my typing speed using my laptop's keyboard (Dell Studio XPS 13, possibly the worst case scenario) compared to the Durandal.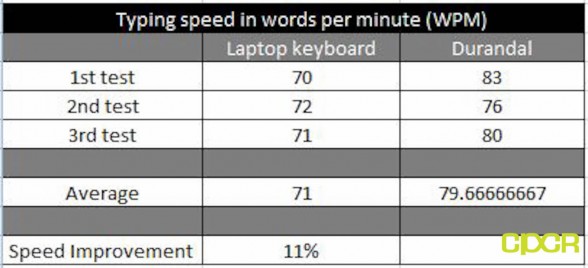 As you can see above from my amazing, scientifically accurate test, my typing speed has improved by ~11%. This is a 1% improvement over the CM Storm Trigger, which probably falls under the margin of error. Overall, I found typing on the Durandal to be a blissful experience. The Durandal's keys feel great and are comparable with those found on several other premium keyboards on the market such as theDas Keyboard Model S Professional Silent, the Nighthawk X8 and the CM Storm Trigger. After all, they're all Cherry MX Brown at the end of the day.
Test 5: Key rollover
To test NKRO, I slammed as many keys as i could below. Below are my results.
Durandal G1N – 43sw0oik-p,bfglrtv98hjmnuy672
Durandal G1NL – 0hfvdc,n9gzsxik8-l5mw2at346rueboe
As expected, both Durandal(s) passed this test without fail.
Durandal G1N & G1NL Software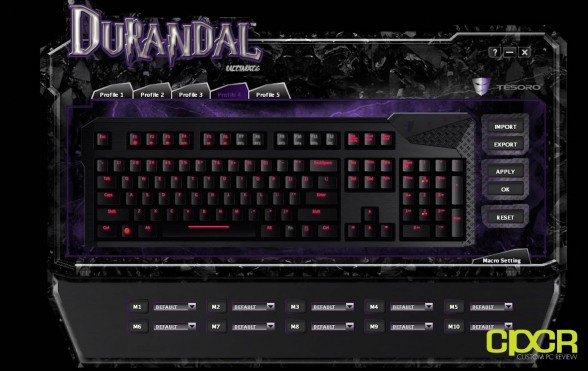 Once the software is installed, it's relatively easy to re-map the macro keys on the G1NL. First you click on one of the macro keys, then you select what key you want to remap on the keyboard and then you select what action you want to replace that key with from the drop down menu. Below I have re-mapped the number 1 key to save.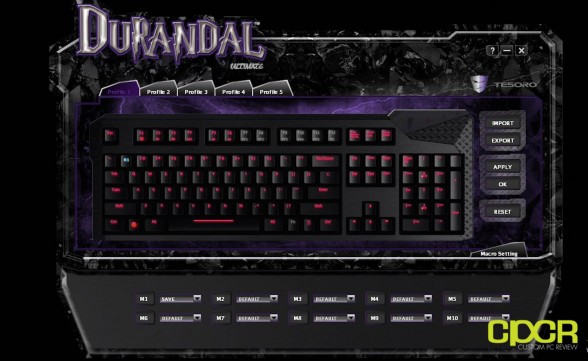 The macros are a nice addition for people that will make use of them. I personally tend to forget what keys I have re-mapped causing me to waste time instead of save it. However I have seen people who can do amazing things with macro keys that is granted that they remember what key is supposed to do what.
[section label=5. Conclusion]
Durandal G1N & G1NL Conclusions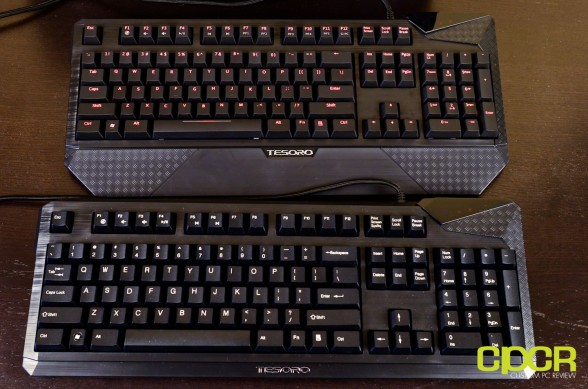 Lets begin with the gaming experience since these are gaming keyboards after all. Both the G1N and the G1NL passed with flying colors on all games tested. Keys were responsive for FPS and RTS games where there was no delays seen. With the G1NL, having the ability to disable the windows key is also solved an occasional issue gamers have of minimizing the screen during gameplay. Both keyboards also performed very impressively on fighting games thanks to NKRO. Because of this fighting game aficionados are definitely recommended to purchase a keyboard with NKRO such as the Max Keyboard Durandal we have here. Not many keyboards out there could successfully register the massive amounts of button mashing coming from two overly excited Marvel vs Capcom fighters.
In terms of typing performance, everyone I've talked into trying a mechanical keyboard (including myself) has seen improvements in typing speed after making the switch to mechanical from their boring old OEM keyboards. Personally, my typing tests on the Durandal showed a 11% improvement over my Dell XPS laptop's keyboard, so I'd say that's pretty significant. I'm a huge fan of the tactile feedback from the Cherry MX Brown switches, which I think are the best for all around usage in both typing and gaming.
The braided cable and gold plated connector also gives the keyboards a durable/sturdy feel and should ensure that there's no signal loss between the keyboards and your PC. Those purchasing the G1NL will also get access to a full speed USB 2.0 hub and audio/mic jacks as well. The USB 2.0 ports worked as expected – a bit tight, but they worked. The two extra ports delivered the advertised 100mA allowing me to plug both the SteelSeries Diablo Gaming Headset and Mouse without issue. I did have some issues trying to fit the large USB connector from my SteelSeries headset into the USB port and the USB connector for the mouse, but once I managed to get the USB connector in, the devices worked without any issues. That said, I doubt two large sized USB flash drives would fit properly.
While both the G1N and the G1NL have media keys, the G1NL will also have integrated macro keys and a game mode. Macros are no doubt powerful tools for people who can take advantage of shortcuts. Personally I haven't really found a good way to use the macros on the G1NL as I tend to forget what keys i have mapped as there are no dedicated macro keys onboard. In order to set macros, you'll have to repurpose some key on the keyboard. Dedicated macro keys please!
Durability wise, I think the Durandal keyboards aren't the most durably built keyboards out there, but they're significantly more durable than most OEM and rubber dome keyboards out on the market. As long as you're not one to destroy computer equipment in a moment of gamer rage, the keyboard should be fine. In typical gaming scenarios, you'll really have to try pretty hard to destroy one of these things. Additionally the G1NL also comes with a wrist rest, which is a nice little bonus. That said, I did feel that it was a bit small and would have preferred getting a gel or memory foam one similar to the one that comes with the Nighthawk X8/X9. They're a whole lot more comfortable. Trust me.
Additionally, I don't think the four medium sized rubber feet were sufficient at preventing slippage. Whereas the Nighthawk series didn't have such an issue when the wrist rest is installed as it acts as a huge rubber foot, the Durandal's small/medium sized feet wasn't 100% for preventing slippage in intense gaming scenarios.  It's fine for typing but during intense gaming sessions with games like King Of Fighters XIII, I noticed that the keyboard slipped quite a bit.
Currently the Max Keyboard (Tesoro) Durandal G1N is priced at $97.99 on Amazon, and the Max Keyboard (Tesoro) G1NL Ultimate is priced at $129.99. Competitors include the Razer Blackwidow, Rosewill RK-9000, Cooler Master CM Storm Trigger, the Corsair K60, the Max Keyboard Nighthawk X8/X9, and tons more. Yes, the market for mechanical keyboards is that crowded lately.
Bottom Line
The Max Keyboard (Tesoro) G1N is a top notch mechanical keyboard with fantastic styling to match. However, while its pricing may have been competitive a couple months previous, I don't think it's as competitive as it could be at this point. Those who don't mind the clicky feel of Cherry MX Blues can opt for the Razer Blackwidow, which will only run you $69.99, nearly $30 cheaper and it includes extra features such as dedicated macro keys and a game mode option. Additionally, Cooler Master has also recently come to market with some pretty attractive keyboards as well. At the sub-$100 price range, they have the CM Storm QuickFire Pro, which sports Cherry MX Brown mechanical switches, selective LED backlighting, game mode, and a detachable USB cable. Personally, I'd say both those options would be better buys, but nevertheless, the Durandal G1N is still an excellent choice – especially if you like the design and know you want Cherry MX Brown switches.
On the other hand, the Max Keyboard (Tesoro) G1NL is no doubt a top pick in our books. It's got tons of features and Max Keyboard again did a fantastic job on implementation as well. It's practically identical in features and functionality to the Max Keyboard Nighthawk series which is a keyboard we've previously established as an excellent keyboard. Except, the Durandal G1NL is currently $15 cheaper than the Nighthawk X8 and $20 cheaper than the Nighthawk X9, making it an even better buy. Highly recommended!
| | |
| --- | --- |
| Max Keyboard (Tesoro) G1N Mechanical Gaming Keyboard | Max Keyboard (Tesoro) G1NL Mechanical Gaming Keyboard |
Special thanks to Max Keyboard for making this review possible.
The Max Keyboard (Tesoro) Durandal G1N and the Max Keyboard (Tesoro) Durandal G1NL is currently available on Amazon.