SteelSeries Siberia Neckband Gaming Headset Review
Listen to Music in Style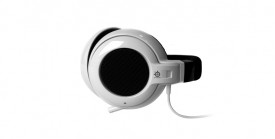 Typically when we take a look at the high end gaming headset market, we find one type of headset – the extra large over the ear headset that sits on your head. It's been that way forever and for the most part, companies have stuck to this design because it simply works. That said, while these headsets are great when you're tethered to a PC, they simply aren't that great when you're not near one. That is, unless you're that hardcore gamer who strolls around campus with a 10lb true 7.1 surround sound gaming headset fully equipped with tactical microphone.
This of course, did not go unnoticed by SteelSeries, a veteran in the field of gaming peripherals. With a ton of products (such as the previously reviewed 7H Fnatic or the Diablo 3 peripherals) that look as good as they perform in their arsenal, style has definitely played a key role in SteelSeries's success. So with this taken into consideration, it's only natural for us to be excited when they sent us the Siberia Neckband headset for review.
Based off of the extremely popular Siberia V2, the Siberia Neckband is different in a number of ways. The largest difference here is that this headset fits around your neck instead of on top of the head. Because of this, it's also much smaller then the original Siberia v2 at less than half the size. It also comes with cloth ear pads instead of leather for better ventilation, and is even compatible with the Xbox 360.
Other than that though, the internals are pretty much the same. The Siberia Neckband features the same 50mm driver found on its bigger brother, and the oh-so-standard SteelSeries retractable microphone was passed down as well. Even the famous Siberia v2 white and black color scheme was kept as well.
SteelSeries Siberia Neckband Specifications