[section label=1. Introduction]
Listen to Music in Style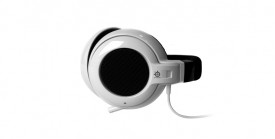 Typically when we take a look at the high end gaming headset market, we find one type of headset – the extra large over the ear headset that sits on your head. It's been that way forever and for the most part, companies have stuck to this design because it simply works. That said, while these headsets are great when you're tethered to a PC, they simply aren't that great when you're not near one. That is, unless you're that hardcore gamer who strolls around campus with a 10lb true 7.1 surround sound gaming headset fully equipped with tactical microphone.
This of course, did not go unnoticed by SteelSeries, a veteran in the field of gaming peripherals. With a ton of products (such as the previously reviewed 7H Fnatic or the Diablo 3 peripherals) that look as good as they perform in their arsenal, style has definitely played a key role in SteelSeries's success. So with this taken into consideration, it's only natural for us to be excited when they sent us the Siberia Neckband headset for review.
Based off of the extremely popular Siberia V2, the Siberia Neckband is different in a number of ways. The largest difference here is that this headset fits around your neck instead of on top of the head. Because of this, it's also much smaller then the original Siberia v2 at less than half the size. It also comes with cloth ear pads instead of leather for better ventilation, and is even compatible with the Xbox 360.
Other than that though, the internals are pretty much the same. The Siberia Neckband features the same 50mm driver found on its bigger brother, and the oh-so-standard SteelSeries retractable microphone was passed down as well. Even the famous Siberia v2 white and black color scheme was kept as well.
SteelSeries Siberia Neckband Specifications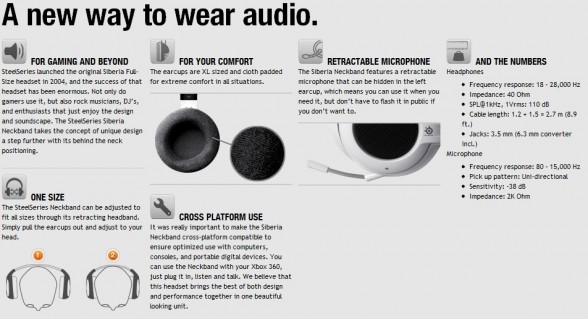 [section label=2. A Closer Look]
A Closer Look at the Siberia Neckband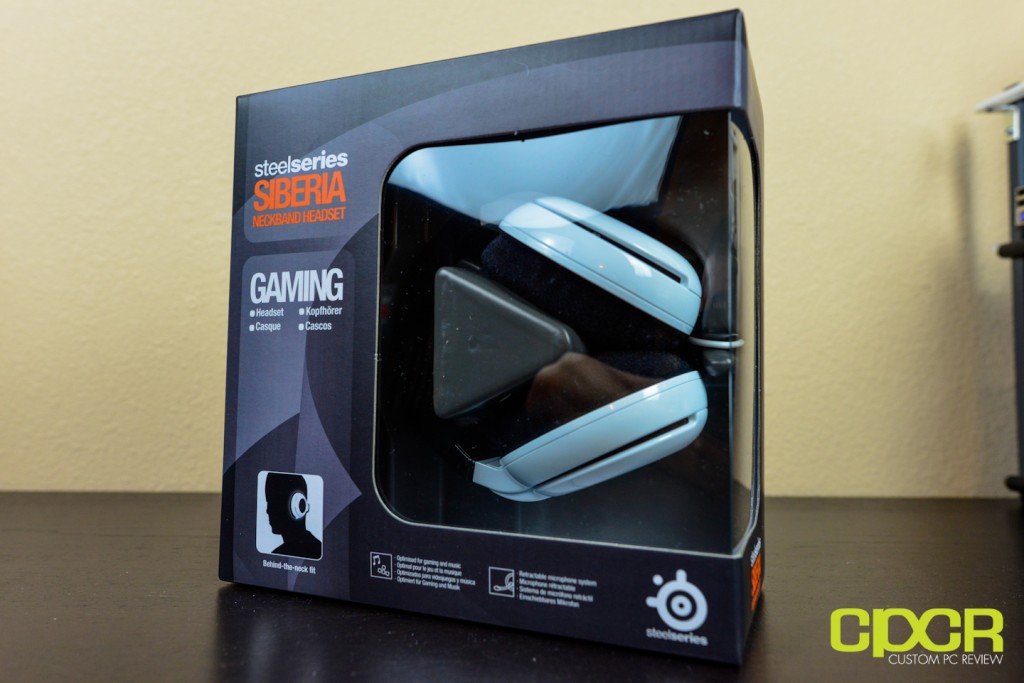 The Siberia Neckband is packaged very similarly to other SteelSeries audio peripherals. There's a window showing off the product and of course all the features wrapped around the box.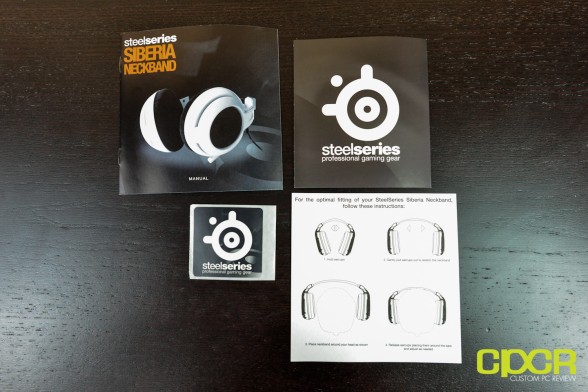 Documentation includes a SteelSeries catalogue, a mini pamphlet about the headset's features, a SteelSeries sticker, and a user's manual.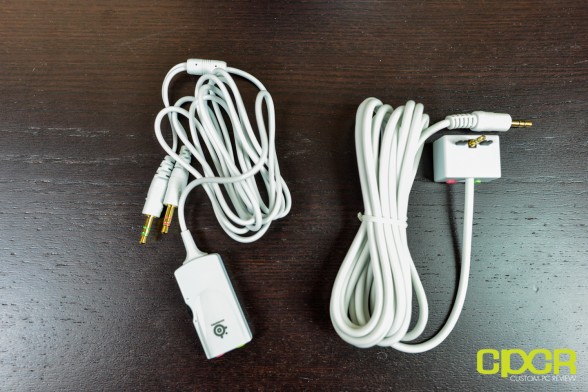 Cool thing about the Siberia Neckband is that it ships with a Xbox 360 adapter (to the right) and a 1.7m long extension cord with an inline volume control dongle (to the left). The wires are protected by high quality rubber sheaths and should be able to handle some tugging and pulling. All the jacks are gold-plated to resist against weathering and corrosion.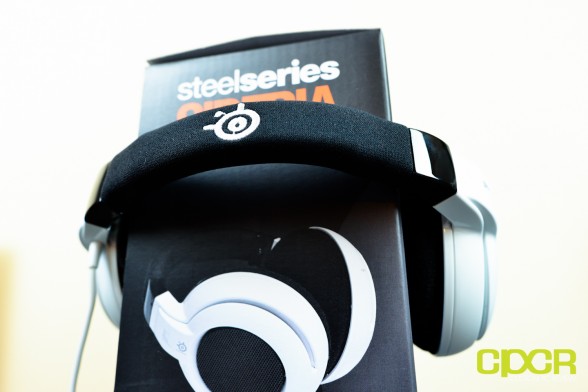 The most striking feature of the Siberia Neckband is obviously the neckband. the neck band is covered with a stretchy cloth sleeve and can be stretched or compressed to fit the head of the user. There isn't much padding on the neckband, but that's not much of a concern since you won't actually be using your neck to hold the headset up.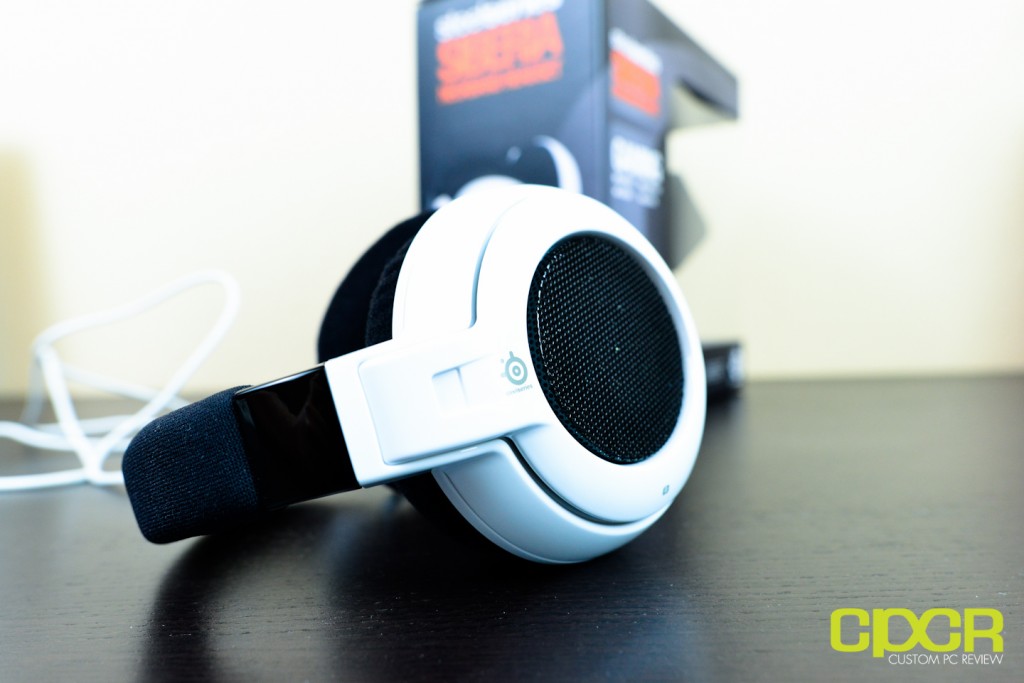 Although the construction is composed of pure plastic, the Siberia Neckband feels extremely strong and durable – even more durable than the Siberia v2 it's based off of. The paint job is very high quality and doesn't attract fingerprints at all.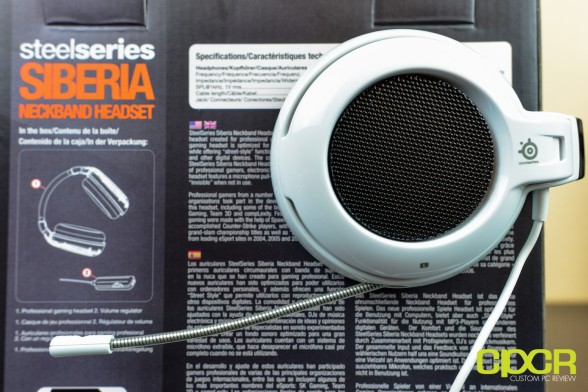 The Siberia Neckband kept the retractable microphone from the original Siberia (and practically every SteelSeries headset after that). This disguises it as a pair of normal headphones so you can still look cool walking down the street.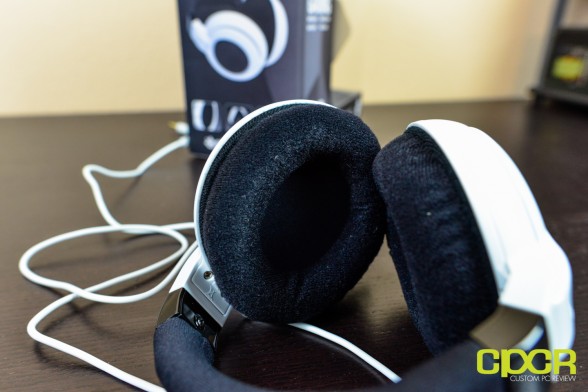 The thick ear-pads are lined with cloth. This keeps the temperature of  your ears low during extended use but does come at the sacrifice of sound insulation.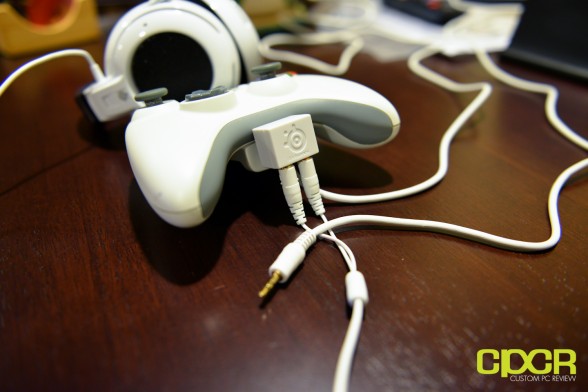 Here's a look at the Xbox adapter attached to an Xbox controller. Unfortunately, in order to get audio you will have to be tethered to the Xbox.
[section label=3. Performance]
Siberia Neckband Performance

Games
The Siberia Neckband shined in the gaming tests. In Battlefield3 and Team Fortress 2 footsteps were clearly audible and could even be heard through gunfire. Explosions were loud and deep, but it wasn't overwhelming at all. Gunshots were clear too, but didn't drown out any other sounds which of course is good. Its directional capability was decent for a stereo headset, but I had trouble locating enemies around me using sound alone. In Starcraft 2, the Siberia Neckband produced similar result, with all the sound being exceptionally clear and balanced.
Movies
The Siberia Neckband performed equally as well in the movies test as the gaming test. Crazy explosions in the action packed Mission Impossible 3 sounded rich with an incredible amount of depth. Dialogues between characters were excellent in the dialogue packed WWII film, Valkyrie. Subtle sounds such as rustling of clothes, brushing of leaves, and footsteps all sounded crisp and clear. Treble was clean and free of distortions as the Siberia Neckband reproduced sounds of glass breaking and metal creaking without a hitch. Bass was very deep (after a bit of equalizer adjustments) and sounded extremely clear even as my ears felt the oomph produced by the drivers.
Music
The Siberia Neckband produced a similarly pleasurable experience in the music test. The drivers had no problems handling the high-pitched violin notes in a number of classical music. Dubstep was equally enjoyable with the bass being deep and clear, but not overpowering.  The mids were also fairly decent as well. Similar to the Siberia v2, the Siberia Neckband is a very balanced headset so those who enjoy rock, classical, and vocals would find the headset best in its stock configuration. Those who enjoy their headsets a bit more bassy, you'll definitely want to crank up some equalizer settings to make it happen. That said, if you're really looking for the bass to rattle your head, this headset might not be for you.
Microphone
The retractable microphone was mediocre at best. For in game and Skype conversations, it's fine, but I wouldn't go recording game commentaries or anything with the headset's built in microphone. You'll definitely want to invest in a professional podcasting mic or, at the minimum use the microphone on the Plantronics 780 headset for that. Noise cancellation wasn't very good either as keystrokes from my keyboard and fan noise from my case fans were all audible. There was also a slight hissing/static as well that I couldn't pinpoint which may have been due to my computer's onboard audio.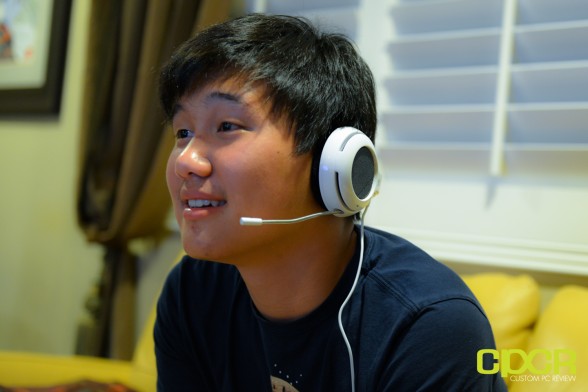 Comfort
Tom's take: The Siberia Neckband headset was perhaps the most uncomfortable headset I have ever tried. After only 30 minutes of having it on my head, there was noticeable pain on the top of my ears as the entire weight of the headset bore down on them. Although it's a featherweight in the world of headsets, it was still much too heavy to be supported by my ears alone. Maybe this headset will sit better on people with a larger head, but for me it was unbearable. Also, you probably won't want to wear a shirt with high collars while wearing this headset, as the neckband produces an extremely annoying sound when it rubs against it. The noise insulation features on the Siberia Neckband is completely helpless with this issue, since the sound is sourced from the headset itself. Speaking of noise insulation, the ear cups failed to form a good seal around my ears, so noise and sound was leaking like a broken faucet.
Sam's take: For me, I didn't experience the same comfort issues experienced by Tom with the Siberia Neckband. I admit wearing the Siberia Neckband isn't anywhere near as comfortable as wearing the SteelSeries 7H, but I didn't experience any excruciating pain or anything even after an hour or two of gaming. That's saying a lot there since I typically don't get along with 80% of headsets out on the market. Similar with Tom, sliding was a small issue for me, but for the most part that's only when I lean back and accidentally touch my chair or something. I do have a slightly larger head than most people, so it's more than likely the headset was able to grab a better hold on my head much better than most others.
[section label=4. Conclusion]
Siberia Neckband Conclusions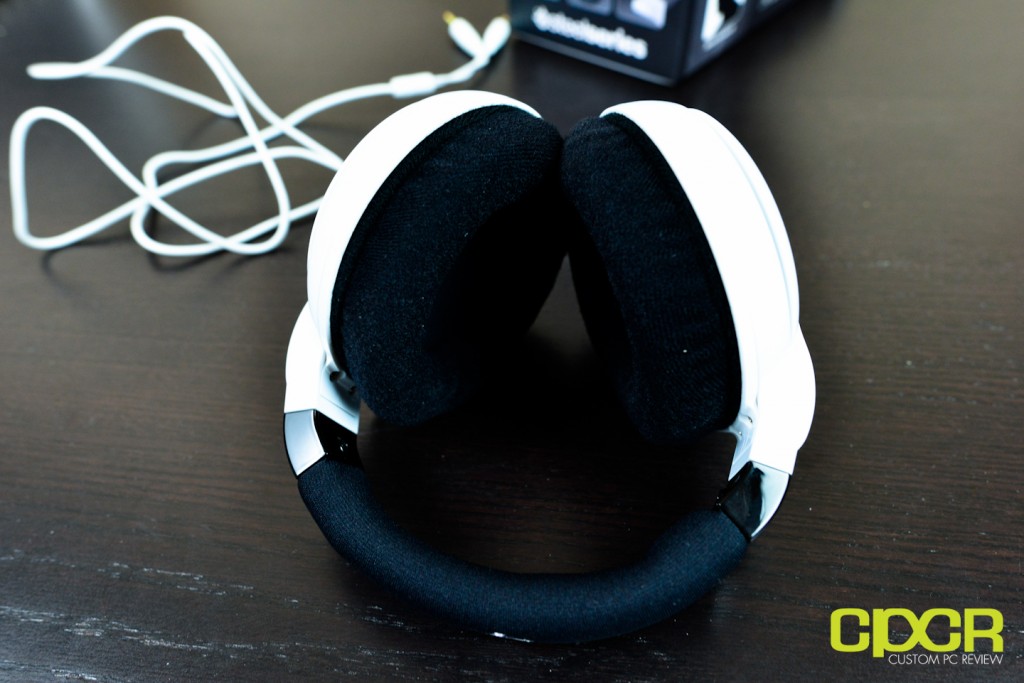 The SteelSeries Siberia Neckband is one of the more unique products out there. Sporting an elegant frame, an uncommon wear style, and a professional look, the Siberia Neckband battles against the traditional structural concept of headsets and definitely has the "wow" factor many are looking for.
There's no denying it, the Siberia Neckband looks great, and it can be even called a piece of art, but looks like this does come with some sacrifices. The comfort level on this headset isn't the best and depending on how it fits you, it may be the worst, most uncomfortable headphone you've ever put on. The headset also tends to slide down onto your neck after a while of wear and is especially bad if you have long hair. Additionally, there's also the grinding sound the neckband against your shirt collar, so be sure to put on a t-shirt prior to wearing one of these.
Comfort issues aside, the Siberia Neckband keeps the same excellent SteelSeries Siberia v2 sound quality that's been a staple of the company ever since its establishment. Movies and music is thoroughly enjoyable in terms of audio quality. The bass can hit those exceptionally deep notes, and packs enough punch for ears looking for that oomph factor – just be sure to adjust the equalizer as the extremely balanced headset won't pack much of a punch out of the box. The same goes for treble, no distortions whatsoever was detected even as violins shrieked the C#. Gaming sounds great on the Siberia Neckband as well. All the sounds ranging from footsteps to ambient were all clearly heard as I rocked through many rounds of Battlefield 3. Like I said earlier, the headset sounded extremely balanced as no one aspect overpowered another. Additionally, the SteelSeries standard retractable microphone is sufficient for VOIP chatting on programs such as Skype, just be aware that it picks up background noise like a magnet.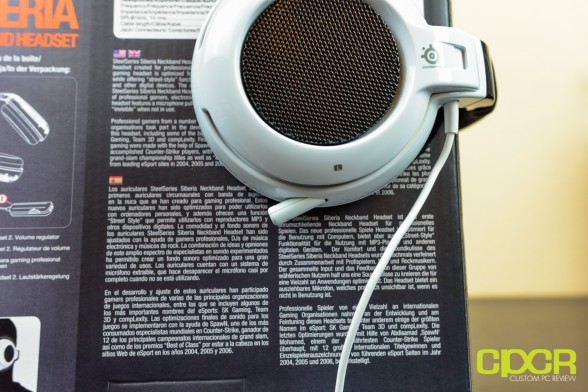 Construction quality on the Siberia Neckband feels very good, better than the construction quality of even some higher end SteelSeries headsets. The plastic on the  Siberia Neckband is sturdy and tough, so this headset should have no problems handling some gaming rage if it does occur. The cord is also long and flexible, but in order to get the inline volume control dongle, you must attach it to the 1.7m long extension cord. While this isn't a problem for desktop users, I can see this being a little bothersome for users on the go.
The Siberia Neckband can be found on Amazon at $89.99. At this price range, I'd say it's hard to recommend it over the Siberia V2 which is roughly $10 cheaper and is a whole heck of a lot more comfortable. I guess this is OK for those looking to use this with an Xbox or something though. I think if SteelSeries can come out with a revision of the Siberia Neckband with improved comfort somehow, then I can totally see it being a hit product.
To be brutally honest though, I don't think the Siberia Neckband is really designed for extended gaming use. It's more like those show headphones designed to turn heads and make you look too cool for school. Ever seen those guys walking around town with a Beats by Dr. Dre on and nothing plugged into it? Sure you have. That's probably what SteelSeries had in mind with the Siberia Neckband. At least with the neckband, it's $200 cheaper. Ha!
Bottom Line
The SteelSeries Neckband headset is probably one of the most unique gaming headsets ever made. If you're looking for a great performing over the ear headset that won't ruin your mohawk, then definitely give it a try. Keep your receipt though. This headset isn't for everyone and it may just end up being the most uncomfortable headset you've ever worn.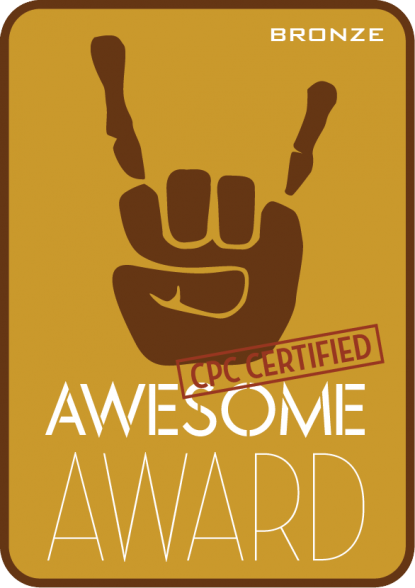 Special thanks to SteelSeries for making this review possible.
The SteelSeries Siberia Neckband is currently available on Amazon.