[section label=1. Introduction]
Commander Reporting for Duty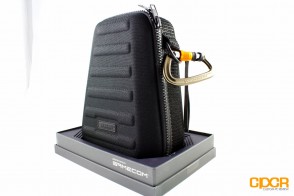 Christmas is right around the corner and it seems like Plantronics decided that it's also the perfect time to ship us a new headset to review! While normally we'd grunt at the thought of more work during the holiday season, Plantronics sent us a real treat this time around, and we were more than happy to put it through its paces.
Today we'll be reviewing Plantonics' newest product to their GameCom series of gaming headsets – the Plantronics GameCom Commander. Last time, we reviewed the Plantronics GameCom 780 and we were overall very impressed with what it had to offer for the price. Say hello then to the GameCom Commander, Plantronics' recently introduced, top-of-the-line (aka most bad-ass) gaming headset and they certainly went all out with this one. This limited edition gaming headset includes "Tournament ready" passive noise isolation, 40mm drivers with an extended frequency response, a noise cancelling microphone, a USB sound card, laser etched unique serial identification, and a carrying case.
With the briefing out of the way, let's see how the Commander performs on the field.
GameCom Commander Features
Prepare to win with tournament-ready noise isolation, game audio, and voice communication
Shut-out background noise and distractions with over-the-head, closed-ear design and be confident your team hears you loud and clear with noise-canceling, ruggedized microphone
Immerse yourself in the game as USB sound card with Dolby Headphone and Pro Logic IIx technologies transforms standard audio into immersive 7.1 surround sound
Transport and display your headset, cables, and accessories in the sleek, strong ballistic nylon wrapped travel case
Own it with a laser-etched, limited edition serial number that uniquely identifies your headset
Adjust volume and mute with inline controls at your fingertips
Effortlessly switch between PC, Smartphone and other mobile devices with Quick Disconnect adapters
Universal 3.5mm analog plugs for use with other electronic devices
[section label=2. A Closer Look]
A Closer Look at the GameCom Commander
The exterior of the box doesn't show much, but the box is definitely of high quality and should prevent any shipping damage.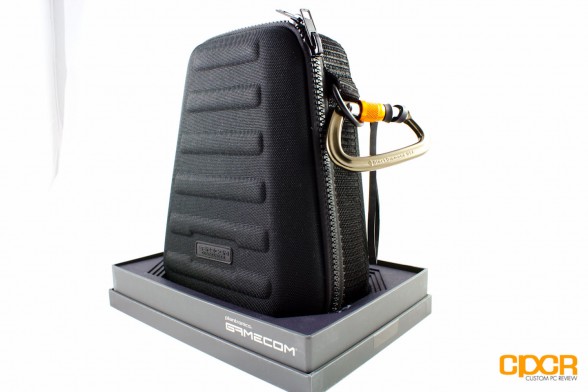 Upon opening the box, we re greeted by the tough-as-nails carrying case.

We weren't so lucky with our sample this time around and received one that's quite obviously been rotated between a lot of sites already, so the interior is a bit messy. Rest assured though, the one you buy is probably going to be packaged a lot better than this.

There's a ton of wires included with the Commander. Inside the box we get an extension cable, an external USB soundcard, and a 3.5mm audio/microphone combo jack.

The headband of the Commander is covered by a rubberized velcro name-tag.

With the name tag ripped off (don't worry, it's supposed to be removable), the soft leather layer is revealed.

The underside of the headrest is also covered in a nice layer of leather. The edges are double stitched to ensure durability.

The ear cup hinge of the Commander may look flimsy, but it's definitely tough.

The ear cups are connected to the headrest via thin-looking metal rods. There are no set height notches on the bars, which allows for fine adjustment of height depending on the user's head size.

The insides of the circumural ear cups are lined with premium grade pleather ear pads. Though they look great and feel damn smooth, they were a bit stiff.

The included noise cancelling microphone incorporates the swivel arm design. The arm of the microphone is very flexible.

The tip of the microphone is covered with a sponge cap to prevent your breathing from disrupting your teammates concentration.

The plastic in-line control dongle has only the basic volume adjustment wheel and the microphone on/off switch.

Here's where things get a little interesting. Instead of having the USB/3.5mm jacks built directly into the cable attached to the headset, Plantronics used its own proprietary connector. This connector is compatible with any of the included accessories. Unfortunately, this means if any of the connectors become lost or damaged, you'll have to purchase a new one directly from Plantronics.

Here we have the included USB sound card that supports Dolby 7.1 Virtual Surround Sound. It's compatible with any headset with 3.5 mm jacks.

Here we have a look at the connections of the extension cable. One end is connects to the proprietary plug on the Commander while the output is the 3.5mm audio in and microphone jack.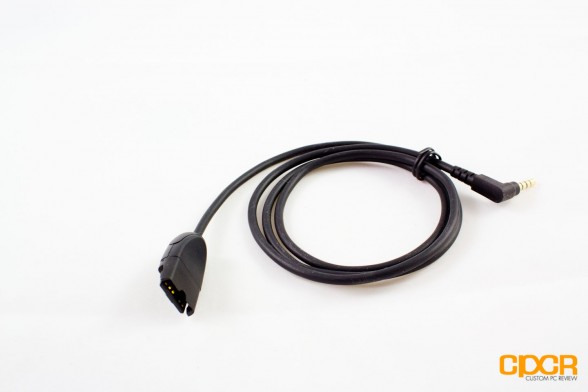 Just in case you want to use the colossal Commander on the go (mobile phones), Plantronics threw in an audio/microphone combo jack.
[section label=3. Performance]
GameCom Commander Performance

Gaming
To test the headphone's performance, I fired up EA's Battlefield 3 and got to work. In game, the GameCom Commander was able to reproduce voice and gunfire with fantastic clarity and crispness. Explosions sounded realistic too, although the bass response is slightly shallower than a number of the more recent gaming headsets I've tested. Ambient noise and footsteps sounded great as well, and the audio separation did a good job allowing me to identify the difference.
To test the ability for the headset to produce positional audio, I played a couple rounds of Counter Strike: GO. With the in-game output set to 5.1 Surround Sound (CS:GO does not seem to support 7.1), I was much better able to accurately locate my enemies through sound alone, even with the element of height. I felt this gave me an edge during game-play, although I must warn you that an edge doesn't necessarily mean guaranteed victory.
Movies
For movie testing, I put the GameCom Commander through the gunfire-frenzied Mission impossible 3 and the suspenseful WWII film, Valkyrie. Additionally, I flipped on the Dolby Surround Sound switch on the included USB sound card. As expected, the GameCom Commander mopped the floor in both movies and provided an incredibly satisfying movie watching experience. In MI3, every bit of glass breaking, footsteps on asphalt, and shell fired sounded crisp and detailed. Dialogues and speeches also came through incredibly clear in the dialogue heavy Valkyre. The virtual surround sound did a good job simulating surround, but ultimately I felt that it falls short of a true 5.1 or 7.1 surround sound system.
For some reason, I didn't feel that the more shallow bass response was a problem in the movies test. Explosions and depressing cello background music still felt extremely satisfying.
Music
With music, I felt that while the GameCom Commander was decent, but it's slightly a mixed bag. When it came to trebles in classical pieces, it was able to output rich, almost audiophile-level like clarity. Mids were warm and praise-worthy as well which made Queen's famous "Don't Stop Me Now" a thoroughly enjoyable experience. No distortions, audio drown-outs, and digital noise were detected throughout testing. Noise insulation was possibly the best I've ever on a passive noise canceling headset too. The whine of my case fans was completely eliminated while the loud clacks of my Cherry MX Black switches bottoming out were reduced to nothing but a soft thud. With any music playing through the headphones, all but the loudest sounds were completely drowned out.
I felt the major drawback for the GameCom Commander became apparent when I hit the play button on my favorite dubsteps. Although the GameCom Commander was able to give me one of the cleanest bass experiences I have ever received from a gaming headset, it lacked the depth I usually find on headsets with quality 50mm drivers. This left me feeling a bit sour considering this is Plantronics' top-tier, limited edition product. That said, when it comes to audio performance, it definitely would depend on the preferred sound signature for the specific user.
Also for those who end up picking one of these up, I highly recommend switching off the Dolby Surround Sound option when listening to music. I find that sometimes it adds unnecessary echoes and other strange sound effects that dramatically deducted from the listening experience. So far this issue has been associated with most simulated surround sound technology.
Comfort
At 450 grams, the monstrously sized Commander is quite far from being a lightweight, but that didn't bother my neck much since its weight was very evenly distributed. What really bothered me was that it clamped onto my head like a wrench. Although the large, circumural earpads made short-term wear very comfortable, the back of my ears started to hurt after about 2 hours of continuous use. The earpads were also quite stiff, which I understand is what gives it its incredible noise insulation properties, but it was just too hard to wear comfortably for hours on end. Also, since the Commander uses pleather earcups, it got pretty hot after about an hour of use as there's very little breatheability.
Microphone
Plantronics has traditionally had fantastic microphones on their headsets, but with the GameCom Commander, it seems like they've pulled out all the stops. While using voice chat, the microphone was able to pick up voice loud and clear while noise cancellation does a fastastic job of cancelling out unwanted noise. In testing, I hopped into Skype and purposefully turned up my case fans along with the TV in my room. Nobody noticed!
[section label=4. Conclusion]
GameCom Commander Conclusions

The over-the-top build quality of the Commander is second to none. Everything about this headset simply screams craftsmanship, and given the fact that the GameCom Commander is a limited production product, it's definitely a good thing too. The entire chassis is constructed out of super heavy-duty industrial grade plastic. The cables are encased in a nice durable sheath of rubber. The leather layer on the earcups feel much thicker than most pleather earcups I've used before and the included headband identity patch not only makes identifying easy, it also protects the exterior of the headband from being scratched by sharp edges.
A true commander can't just be all looks and no brains though, and the GameCom Commander covers that respect nicely. The audio quality of the GameCom Commander is one of the best I've heard to date with the smaller 40mm drivers easily going toe to toe with larger 50mm drivers. Trebles in classical music did not faze the Commander one bit, and it handled mids with utter professionalism. The only problem I felt was the amount of depth in its bass response. I'm sure Plantronics has tuned the GameCom Commander given their product expertise in products designed for professional and VoIP applications, but it seems like the small 40mm drivers are just incapable of producing that extra low, extra powerful oomph factor. However, this problem only seemed to persist throughout the music test, and I didn't feel it was much of a limitation in both the movies and gaming testing.
Speaking of gaming and movies, I felt that the GameCom Commander was able to deliver a fantastic experience here as well. I don't normally group these two tests together, but the Commander is a special case because it comes with a USB sound card that enables Dolby Virtual 7.1 Surround Sound.  With Dolby Virtual 7.1 Surround Sound enabled, movies felt much more immersive with the added element of direction. Combined with the excellent sound quality, it makes a perfect companion for movie junkies who lack a true surround sound set up. The Commander delivered exceptional results in games as well. Every sound, whether it be an explosion or the footsteps of an enemy trying to sneak past, you'll hear them all. This made the audio-rich Battlefield 3 even more awesome to play. The virtual surround function was enough to help me pin-point my enemy's location using sound alone in Counter Strike: GO, but compared to a dedicated sound card and a true 5.1 or 7.1 setup, the Commander will fall short. That said, as an all in one gaming headset package, the GameCom Commander is one of the cleanest sounding gaming headsets I've ever put on my head.
Another neat feature of the Commander is that it's completely driver-free. All I had to do to make it work is to plug it in to my computer. The included sound card had a physical switch that enables/disables the Dolby Surround Sound function. The inline controller worked well, but it only allowed the most basic adjustments such as the volume and microphone on/off.
One of the claim to fame features of the Commander is that it has top notch passive noise cancellation designed for fighter pilots and Plantronics certainly wasn't lying here. With the GameCom commander on, the incessant humming of my case fans were completely eliminated and the loud bottoming out of my Cherry MX Black key strokes were reduced to nothing but a soft thud. However, this level of noise cancellation is not without its costs. The over-sized earpads are unusually stiff, which obviously increases noise insulation but also deducts from comfort and the heavy-duty earcup plastic that also repels noise is very heavy, making the Commander a weighty 450g. That's almost as heavy as some true surround sound headsets with 6-8 drivers! The sheer bulk of the earcups makes turning your head difficult as it will bump into anything within a 2 meter radius.
With the microphone, Plantronics heritage as a provider of bluetooth headsets, and VoIP products shows as the GameCom Commander's swivel-able microphone bested all the headset microphones I've tested so far, including the one on the Plantronics 780. My speech was crystal clear and static free, with background noise being virtually non-existent during testing.
The Plantronics GameCom Commander can currently be found at Amazon for $299.99 and as a set of gaming cans, I felt that the GameCom Commander answered its call to duty very well. However, I feel like there's still a little to be desired, especially considering the GameCom Commander's asking price. Other headsets, such as the SteelSeries 7H Fnatic with its SND Block earpads, can deliver nearly the same level of audio quality and noise isolation for literally less than half the price. Yes, the Commander does have extraordinary build quality and a microphone far better than most other gaming headsets, but for the same price you can get a dedicated sound card, a decent pair of cans, and a nice microphone. They may not fit in one package, but if you don't have a desktop, you definitely get more for the money.
Bottom Line
The Plantronics GameCom Commander is one of the best sounding gaming headsets we've laid our hands on and it has one of the best sounding microphones out there as well. Although its bass response was slightly disappointing, its audio transparency and microphone quality was simply incredible. That said, there's no moving around the fact that the headset is going to run you $300 and you'll be paying dearly for a limited edition product. There certainly are better setups out there for the money, but if you want a simple solution for fantastic audio and you've got a pocket that's deep enough to fit a small country, feel free to pick one up. You certainly won't be disappointed.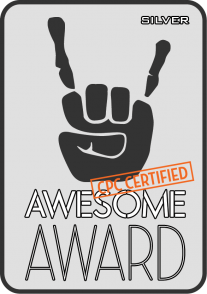 Sample provided by: Plantronics
Available at: Amazon