[section label=Introduction]
A New Standard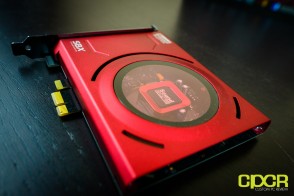 It's only been about a year since we reviewed Creative's Sound Blaster Recon 3D soundcard and they're back again with a new line of products, the Sound Blaster Z series. Today we'll be reviewing the Sound Blaster Z, which is the entry level soundcard in the Sound Blaster Z series of soundcards. While the Sound Blaster Z will be available for purchase starting now, Creative also has the Sound Blaster ZX and the Sound Blaster ZXR coming, both of which I'm told should be available for purchase in Q1 2013.
Despite the Sound Blaster Z being the entry level Sound Blaster Z series soundcard, the Sound Blaster Z is still a very high end product with features such as a SNR of 116dB, a 600 ohm headphone amp, 24 bit resolution, 192kHz sample rate, and of course, Creative's Sound Core 3D audio processor.
Is Creative's latest and greatest worth the money? Let's find out!
Sound Blaster Z Specifications
Feature
Description
Output Level (Full Scale)

Front Channel Out : 2Vrms
Headphone (33 ohms): 1.3Vrms
Headphone (600 ohms): 2Vrms

Maximum DAC Resolution

Front Channel Out : 24-bit, 192kHz
Headphone (33 ohms): 24-bit, 96kHz
Headphone (600 ohms): 24-bit, 96kHz

SNR (20kHz Low-pass filter, A-Wgt), @ 24-bit, 96kHz

Front Channel Out : 116dB
Headphone (33 ohms): >105dB
Headphone (600 ohms): >105dB

Frequency Response @ 96kHz

Front Channel Out : 10Hz to 45kHz
Rear Channel Out : 15Hz to 45kHz
Center Out : 10Hz to 45kHz
Headphone (33 ohms): 10Hz to 45kHz

Frequency Response @ 192kHz(Stereo only)

Front Channel Out : 10Hz to 88kHz
| Speaker Support | Description |
| --- | --- |
| Supported Output | Stereo/2.1 Speakers |
| | 5.1 Speakers |
| | Headphones |
| Connectivity | Description |
| --- | --- |
| Headphone | 1 x Amplified 1/8″ mini jack |
| Speaker Out | 3 x 1/8″ mini jacks |
| Optical Out | TOSLINK |
| Optical In | TOSLINK |
| Line In / Microphone In | Shared 1/8″ mini jack |
[section label="A Closer Look"]
A Closer Look at the Sound Blaster Z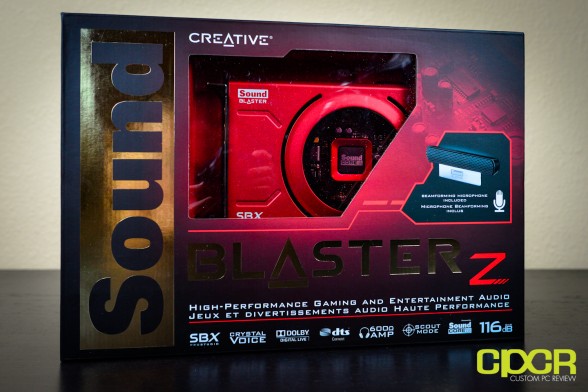 Here's a look at the packaging for the Sound Blaster Z. It's pretty reminiscent of Sound Blaster packaging from the past with the exception of a new color scheme. We also get a number of features plastered over the front such as SBX Pro Studio, integrated headphone amp, Sound Core 3D, 116dB SNR, etc.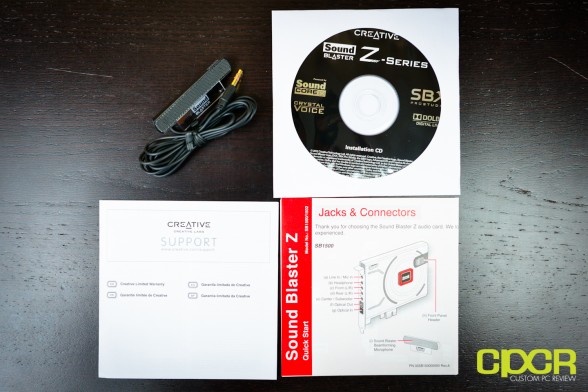 Included in the packaging, we get the usual documentation along with a driver disk. Although the Sound Blaster Z is the entry level Z series soundcard, Creative has also included what they call a "Beamforming" microphone. It's actually a decent microphone and it works very well with the soundcard. It also looks quite nice as it has a small plastic piece that allows it to sit right on top of your monitor.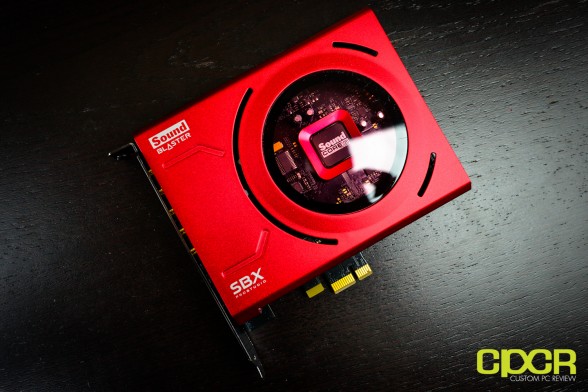 Here's a first look at the Sound Blaster Z itself. Looks pretty much like a revamped version of the Recon 3D Fatal1ty with a a couple tweaks and a different color scheme. The entire card is wrapped in a metallic cover, which acts as an EMI shield to reduce electrical interference from the rest of the system. As usual, it's a PCIe 1x card, so you'll want to have a free PCIe 1x, 4x, 8x or 16x slot available.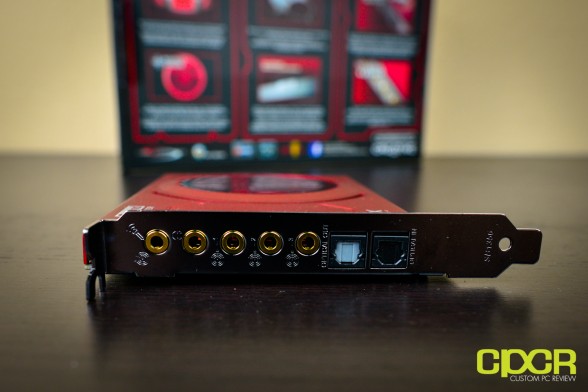 Here's a look at the connectors on the Sound Blaster Z. We get a headphone jack, microphone jack, as well as additional line out jacks for up to a 5.1 channel sound system. There's also optical in and optical out as well. This should be good for those looking to connect to a home theater system.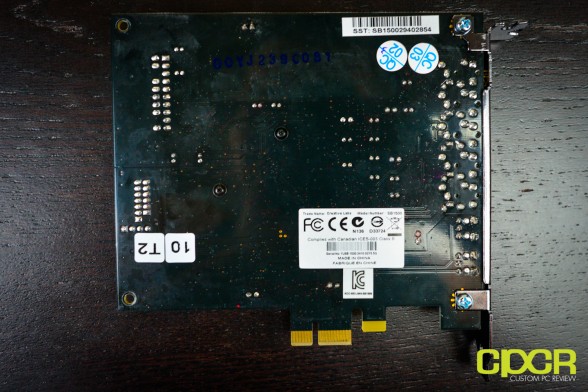 Here's a look at the rear of the card. Not much going on here, so let's move on.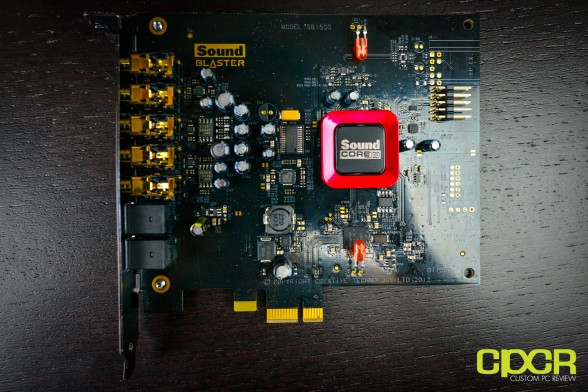 After taking out a couple screws, we can remove the shroud covering the Sound Blaster Z. While the PCB is still relatively empty in comparison to the older generation Sound Blaster products such as the Sound Blaster Titanium, it's got quite a bit more going on in comparison to the more recent Sound Blaster Recon 3D.
Also notice the two red LEDs mounted at the top and bottom of the PCB. These light up during operation and should be great for those who want some red case lighting. Unfortunately, these LEDs cannot be turned off and only light up red, which sucks if you have some other colored theme going on in your system.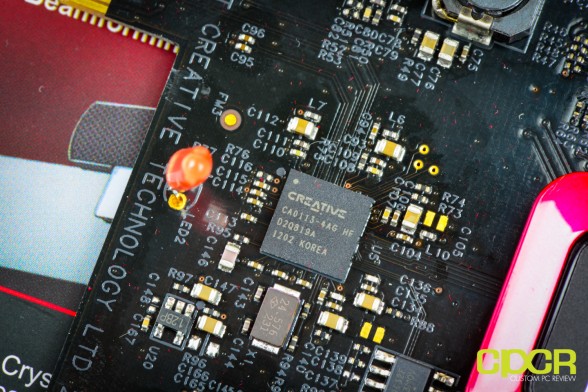 Here's a look at the heart of the Sound Blaster Z. Like the Recon 3D series, the Sound Blaster Z also uses the exact same CA0113-4AF chip aka "Sound Core 3D". Creative hasn't published a ton of information regarding the chip's design, but here's some information that can be found on a Creative Sound Core 3D press release from early last year.
Designed by Creative's in-house team of audio scientists and engineers, Sound Core 3D is Creative's first sound and voice processor to integrate an array of high-performance digital signal processor (DSP) cores and a high-quality HD audio codec on one chip, giving it tremendous versatility.  Sound Core3D is engineered for low power consumption and high performance audio.  It incorporates Creative's innovative Quartet DSP with four independent processor cores, 6-channel 24-bit 102dB digital-to-analog converters, 4-channel 24-bits 101dB analog-to-digital converters, integrated headphone amplifier-out, digital microphone interface, S/PDIF inputs and outputs and general purpose inputs and outputs (GPIO) all in a compact 56-pin QFP package.
From what I've gathered here, the Sound Core 3D processor itself is actually a beast of a chip with a ton of stuff bundled into one. It's got an integrated DAC, an integrated ADC, it's an amp, it has a quad core processor used for processing all of the SBX Pro Studio effects, and more.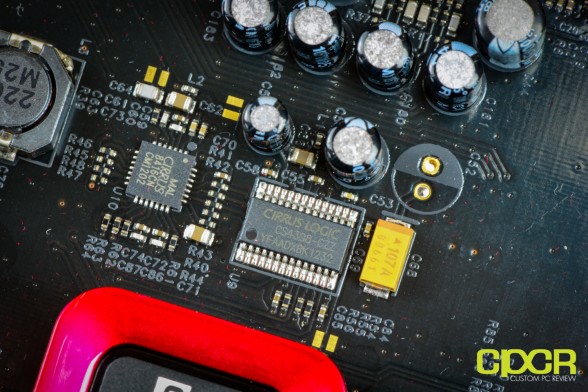 While the Sound Core 3D chip itself has its own DAC, Creative has included an additional dedicated Cirrus Logic CS4398-CZZ DAC. This is labeled by Cirrus Logic as their flagship DAC, supporting a 24 bit resolution, a 192 kHz sample rate and a dynamic range of 120dB.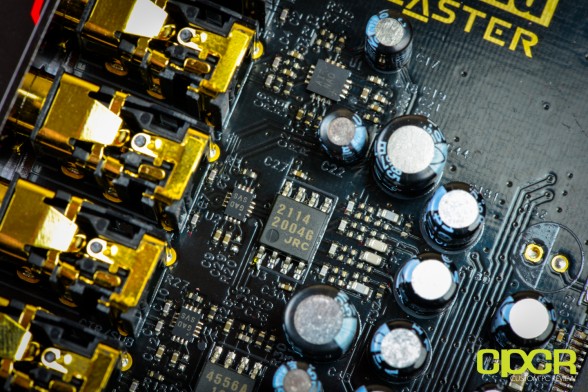 Here's a look at one of the op amps on the Sound Blaster Z. Creative is using the JRC 2114, which is a pretty common, pretty decent low cost op amp. From its placement, I'm guessing this op amp is being used for the headphone out.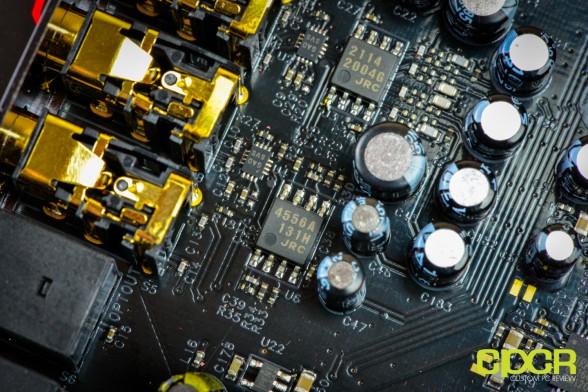 In addition to the JRC 2114, it seems like Creative is also using the JRC 4556A op amp as well. Another low cost op amp, most likely being used for the the line outs.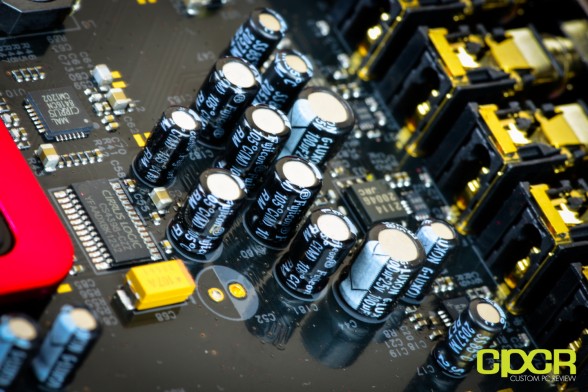 Here's a look at some of the capacitors onboard. With the Sound Blaster Z, Creative has gone with a mixture of G-Luxon and Fujicon capacitors. Definitely not the best capacitors out there, but I wouldn't expect to see WIMA, Nichicon, etc. on anything under $150. That said, I do like being surprised at least once in a while…
[section label= Software]
SBX Pro Studio – Sound Blaster Z Software
Before we dive into some testing, let's first take a look at Creative's new SBX Pro Studio software. For those who've been following our Creative reviews lately, SBX Pro Studio was first introduced to us when we reviewed Creative's Axx SBX 10 and SBX 20 speakers. While the software bears a striking resemblance to the older THX TruStudio Pro as well (probably just a rebadge due to licensing) there are a couple new features/tweaks. Throughout this section, I'll talk a little about the software, but those really interested in learning more, be sure to check out Creative's Sound Blaster YouTube channel here.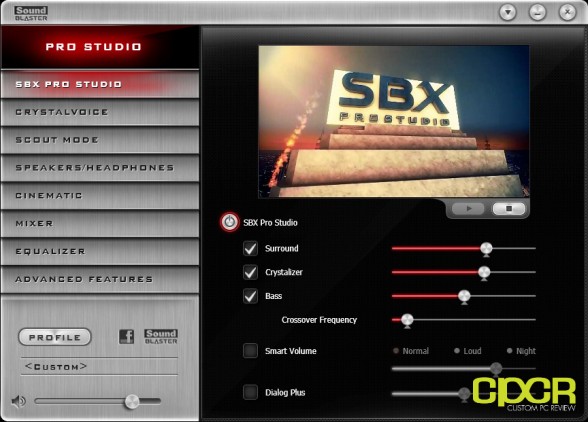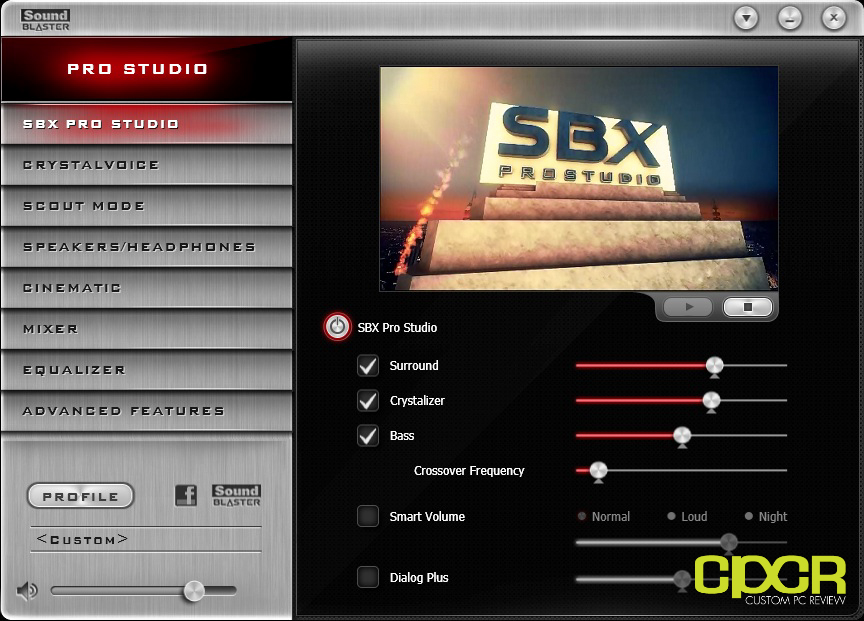 Here's a look at the SBX Pro Studio control panel. This should be quite familiar for those who've used Creative products over the past couple of years. For those who aren't, feel free to check out Creative's videos on Surround, Crystalizer, Bass, Smart Volume, and Dialog Plus.
Personally, I've found Crystalizer to work extremely well for low quality music and web content as it helps make the audio sound a lot more clear and rich.
I've also found surround to work well too for helping widen the soundstage. The effect is quite noticeable especially when using a 2.0 or 2.1 speaker setup or headphones.
Another one of the features I've been using lately is smart volume. Those who regularly surf YouTube (such as myself) will find that some videos are encoded with extremely quiet audio track and some are encoded with extremely loud audio tracks. What happens without smart volume is that sometimes you go watch video with a quiet audio track and you have to turn up the volume… a lot. Then you watch another video that just so happens to be encoded with an extremely loud audio track and your ears instantly get blown out. With smart volume, the Sound Blaster Z keeps the audio at a normalized level so this doesn't happen.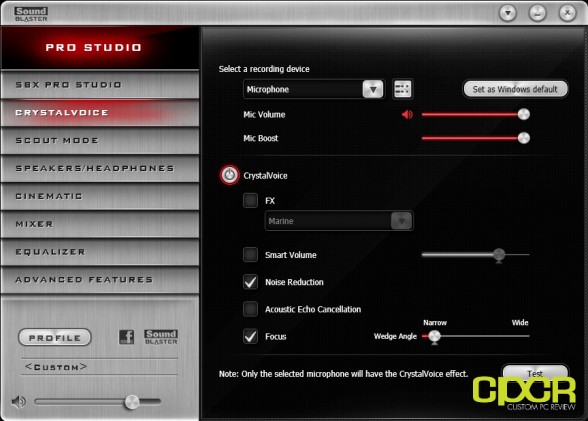 The next major feature of the Sound Blaster Z is Crystal Voice, which is a series of audio processing algorithms that basically help improve your terrible sounding microphone. Yup, Creative's got video demos of each of these settings as well. Check out smart volume, noise reduction, acoustic echo cancellation, and focus.
Overall, I've found that Crystal Voice generally works as advertised and they actually work quite well, but definitely be mindful not to activate all the options when they're not necessary. While the algorithms such as acoustic echo cancellation is very effective when echo loops occur, it seems to have a strange quieting effect on your microphone when using a headset. Similarly, sometimes smart volume makes you sound like you're in a tunnel and sometimes noise reduction makes you sound digitized. Your mileage may vary.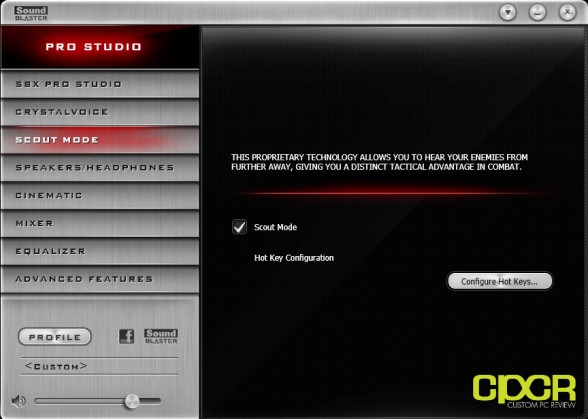 As usual, we get scout mode as well. This was a feature previously introduced when the Recon 3D series was introduced, so I'm actually quite familiar with the feature. What scout mode does is increase the treble and mid response while decreasing the bass. This way, sounds such as gunfire and footsteps are enhanced while background music and other non-essential audio is minimized. As you may imagine, this will help provide a slight tactical advantage especially in games where hearing footsteps and gunfire is critical, for example CS:GO. It seems like no additional tweaks were introduced in this iteration.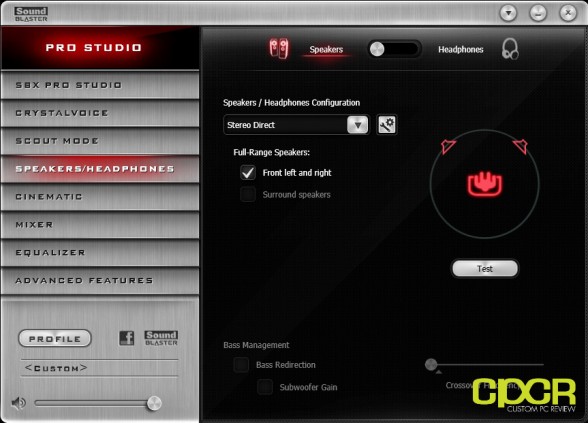 Here's the speaker/headphone selection menu. This menu makes it fairly easy to select between the different types of speaker setups as well as making the switch to headphones. The nice thing about this menu is that is that it makes it extremely easy to swap between headphones and speakers if both devices are connected.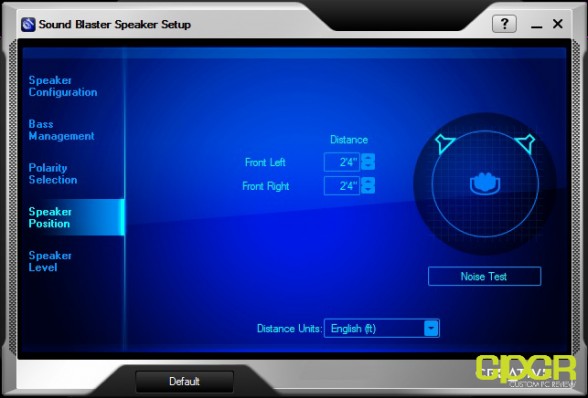 For those with speaker systems, more advanced speaker configuration options are available so adjustments can be made depending on speaker distance, level, etc.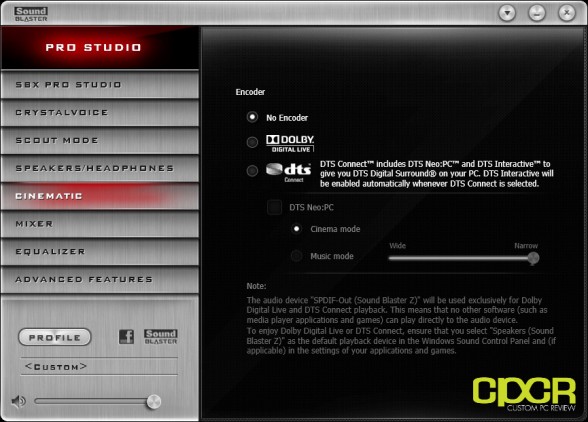 In addition to the analog outputs, the Sound Blaster Z is also includes digital outputs, which feature Dolby Digital Live or DTS Connect. This allows multi channel audio via the digital outputs, and the encoding is done in real time with the Sound Core 3D processor. Unfortunately, DTS Connect does not ship with the driver disk, but you will be prompted to download it once it's selected. Once it's downloaded and installed, DTS Connect will pump a real time encoded DTS signal via the optical connection.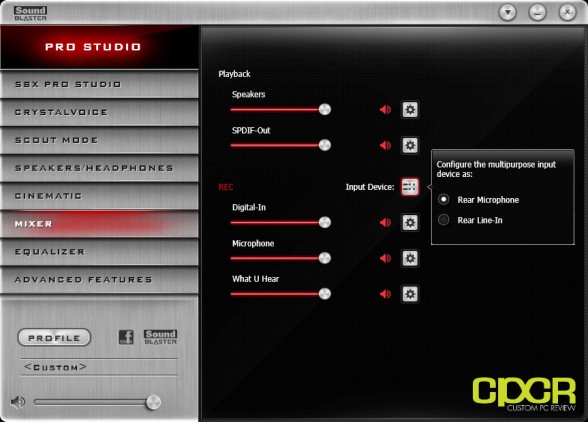 Here's the mixer menu. Pretty self explanatory.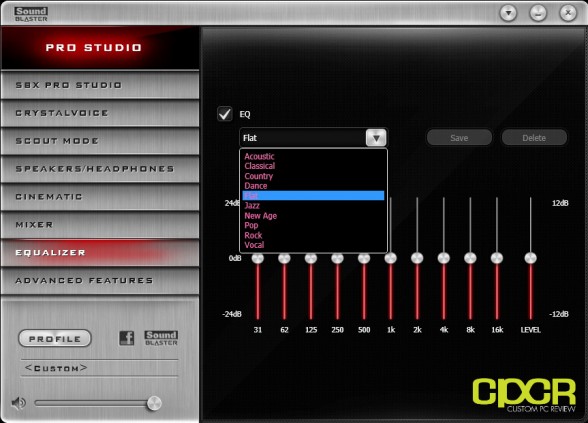 There's also the equalizer with a number of presets.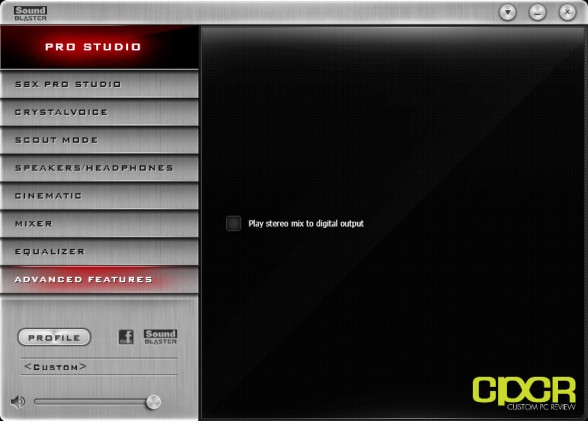 Some advanced features. Let's move on…
[section label=Performance]
Sound Blaster Z Performance (Listening Tests)
Ivy Bridge Test Bench
Equipment Setup
Unfortunately since there's such a wide range of speakers, headphones, and a/v receivers on the market, I can't speak for all the audio equipment on the market, but today we'll be testing the Sound Blaster Z in a number of popular use setups.
2.0 speaker configuration via 3.5mm line out – Audioengine 5+ speakers
5.1 speaker configuration via optical – Yamaha RX-V659 Receiver, Polk Audio RM705
Headphone configuration via 3.5mm headphone port – Logitech Ultimate Ears TripleFi 10, SteelSeries 7H Fnatic
Gaming
In games, the Sound Blaster Z was able to provide clear and crisp sounding audio to a variety of different games tested. Audio imaging was very good, which helped when trying to find the location of different enemies. SBX Pro Studio wasn't all too helpful in game, but I did find the surround and crystalizer to help make the soundstage a whole lot wider and the in-game audio to sound a bit more crisp and clear, especially when using the headphones or in a 2.0 speaker setup.
Scout mode was definitely an interesting feature that's been carried over since the last generation Recon 3D soundcards. While I find that scout mode makes in game audio sound a bit unreal since the highs and mids are cranked way up, I found that it does indeed provide a massive tactical advantage when I was playing Hitman: Absolution, a game where elements of stealth were of the essence.
In addition to enhancing in game audio, I was also very impressed with the Crystal Voice suite of technologies when applied to gaming as well. Friends on the line commented that the included microphone worked very well and was able to produce very clear audio. Also, features such as acoustic noise cancellation for example was very useful in certain situations such as when using either a 2.0 or a 5.1 speaker system. For those who've ever experienced huge echo loops while using speakers in Ventrilo or any other VoIP app, acoustic noise cancellation will be your best friend. That said however, I definitely would not recommend any additional Crystal Voice features when it's not needed as features will sometimes make voices sound funky or digitized.
Movies
For movie testing, I watched Abraham Lincoln: Vampire Hunter on Blu-Ray, which has a very nice, very top notch lossless DTS-HD Master Audio 7.1 soundtrack. Unfortunately, 7.1 channel audio is not supported via the Sound Blaster Z, so I watched portions of the movie in 2.0 and portions in 5.1. Overall, the movie sounded very impressive with the powerful soundtrack along with weapons clashing, people screaming, and vampires growling. As I noticed while gaming, audio was noticeably clean and crisp in movies, especially when compared to my motherboard's VIA VT2021 onboard sound. When testing with the 5.1 speaker system, Dolby Digital Live and DTS Connect encoding worked flawlessly, encoding the 7.1 channel audio to 5.1 channel to be played via the speakers. That said, with a high quality audio source, I couldn't tell much of a difference between optical (PCM), Dolby Digital Live or DTS Connect.
Music
With the additional DAC and amp hardware Creative has tossed into the new Sound Blaster Z, I think Creative has really stepped up the game this time around. Pitting the Sound Blaster Z against the Recon 3D, I felt there was a huge improvement in clarity and how crisp music sounded. With the Audioengine 5+, I felt that the mids were slightly warmer and more pronounced than what I heard on the Recon 3D, which I think may be due to Creative's addition of the Cirrus Logic CS4398-CZZ DAC.
As expected, imaging and soundstage was very good as well. With some careful listening, it's quite impressive to notice some of the smaller, less pronounced instruments used in Gotye's Somebody I Used to Know. Other genres generally saw quite a consistent improvement as well, mostly in audio clarity, crispness and the reduction of unwanted static noise.
[section label=Conclusion]
Sound Blaster Z Conclusions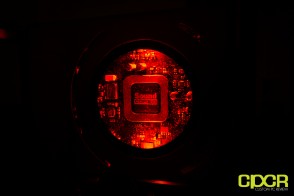 Ever since Creative's introduction of Sound Blaster soundcards, they've been generally known to be top of the line products, keeping Creative in the high end audio game even as better and better integrated audio has continuously eaten away at the dedicated sound card marketshare. However, with the introduction of the Recon 3D, I felt like Creative dropped the ball a bit. While the Recon 3D was still a fairly decent sound processor that was able to do some pretty interesting things with audio, it didn't have any "real" high end audio processing hardware, which seemed like a step backwards from the older Sound Blaster X-Fi series products. With the Sound Blaster Z, I think Creative has taken a lot of the feedback from the Recon 3D and created what I think should've been Creative's successor to the X-Fi series products.
Performance wise, I felt that the Sound Blaster Z is very good, creating nice and balanced mid tones and tight accurate bass. The general theme around all my testing was excellent clarity and crispness which is something I noticed throughout movie, gaming and music testing. An inspection of the AD processing hardware along with the op amps confirm this as well. The software suite included on the Sound Blaster Z seems like Creative's latest evolution from the older THX TruStudio Pro, now called SBX Pro Studio. This software is fairly similar to THX TruStudio Pro, but includes a couple new features, which makes it feel like nothing more than a minor update/rebadge rather than a rehaul of the entire software suite. Considering the older Recon 3D series and the Sound Blaster Z series use the identical Creative Sound Core 3D audio processing hardware, I don't think it's much of a leap to say that the software is pretty much the old stuff with a couple new tricks.
Generally one big issue for Creative is stable driver software, and I think the driver suite for SBX Pro Studio could still stand to use a bit more tweaking. I've had the driver suite crash on me a couple times in testing, but this is definitely a huge improvement over what could've been. One huge problem with the driver I noticed is going into "Stereo Direct" mode. This option allows for direct playback to the stereo speaker channel over a sampling rate of 192kHz; however, when switching between any other audio mode and stereo direct mode, the driver sometimes crashes or sound cuts out until the next restart. Now, do realize that this is the first iteration of the software for the Sound Blaster Z, so there probably will be updates coming in the future, but this shouldn't happen in the first place.
The Sound Blaster Z is currently available on Amazon for $108.30, which puts it well in the mid range in terms of dedicated sound cards. This has traditionally been Creative's sweet spot for their sound cards, and it seems like the Sound Blaster Z is is going to be the new product of choice. While the older Recon 3D is now selling for only $54.05, I'd definitely recommend going with the Sound Blaster Z instead. You're just getting so much more in terms of "real" audio processing hardware.
Bottom Line
If you're looking for a well rounded sound card at a mid-range price point this holiday season, I'd definitely recommend jumping on the Sound Blaster Z.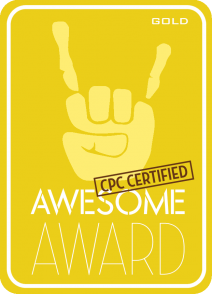 Sample provided by: Creative
Available at: Amazon